Bacon-wrapped scallops with lime and maple glaze are quick and easy and can be served as finger food, appetizer or a light lunch with a side salad. This recipe is gluten-free, paleo, and low-carb friendly.
---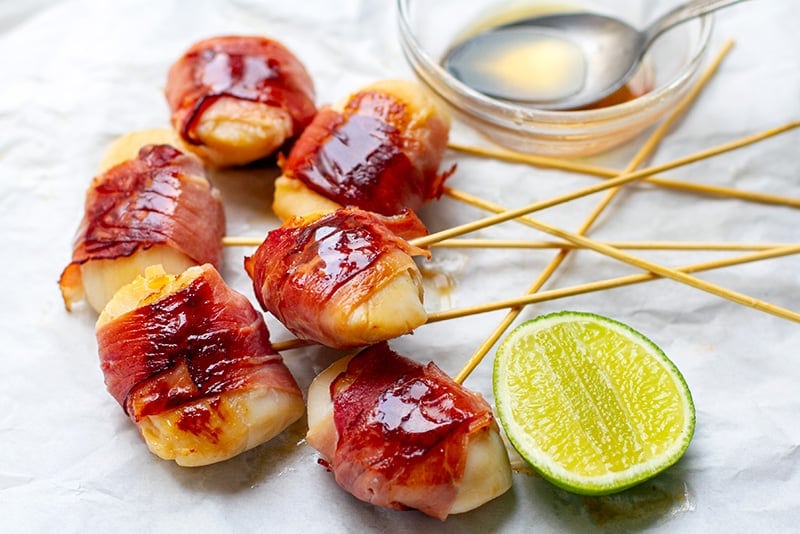 Lollipops for grown-ups is what I imagined when I was making these tender, flavourful maple and lime glazed bacon-wrapped scallops. These bite-size balls of happiness are perfect as a starter for your next dinner party or as finger food to go with cocktails. I also love them as a little fancy weekend lunch with a side salad.
What are scallops? What do scallops taste like?
If you've never had scallops, they are a type of shellfish called bivalve mollusk and are similar to clams, mussels and oysters in a sense that they come inside a shell (a very beautiful one, too). However, they are more similar to shrimp and codfish in texture.
Inside the scallop shell, you will find a round, creamy white ball with a little red or orange piece (eye). Scallops have a lovely sweet, subtle flavour similar to crab or lobster, or a sweet prawn. In texture, they are buttery soft and delicate if cooked correctly. If overcooked, they can get a little chewy.
Scallops can be a little intimidating because they're not cheap and you feel like you don't want to stuff them up, but the main thing to remember is not to overcook them.
When it comes to scallops nutrition, unless you are allergic to shellfish, scallops are a great addition to any diet, even if only on special occasions. They are rich in protein, low in calories and have many essential vitamins and minerals, including omega-3 fatty acids. They have zero carbs so they are great for a keto diet. Another nice thing about using scallops is that they are a good, sustainable choice of seafood.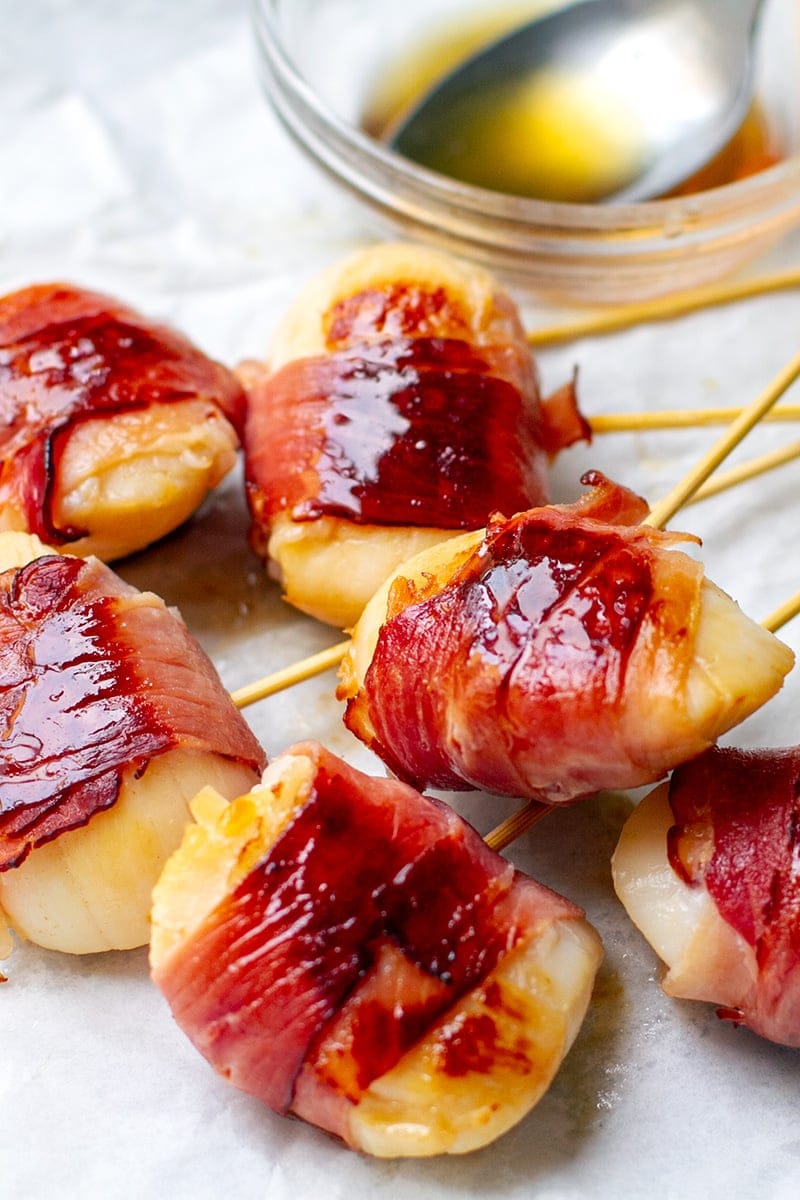 HOW TO MAKE BACON WRAPPED SCALLOPS
Wrapping scallops in bacon or prosciutto and searing or grilling them in a pan or over a BBQ creates a little magic. Scallops have that subtle sweetness and buttery texture which is contrasted and enhanced by the crispy, salty bacon.
I suggest buying scallops out of the shells and all you'll have to do is to trim off any side muscles and make them neat and round.
Choose thing rashers of bacon or prosciutto and wrap each slice over the scallop before sliding it onto a bamboo skewer. If you don't have the skewers, you can pan-sear the bacon-wrapped scallops as they are.
How To Grill or Sear Scallops
Grilled scallops or pan-seared don't need much cooking time, similar to shrimp or prawns, however, as they are wrapped in bacon, they will need a little longer to get the crispy finish. The bacon will protect the scallop from overcooking too quickly. You can use a large frying pan, griddle pan or the BBQ grill on high heat and a little oil (coconut or olive oil will do). About 2-3 minutes on medium-high heat should do the trick. 
Once the bacon is browned and crispy and the scallop has changed to a brighter white colour, simply scoop the lime and maple glaze over the top and serve. The glaze adds a little sparkle – extra sweetness and tang – to the scallops but can be omitted.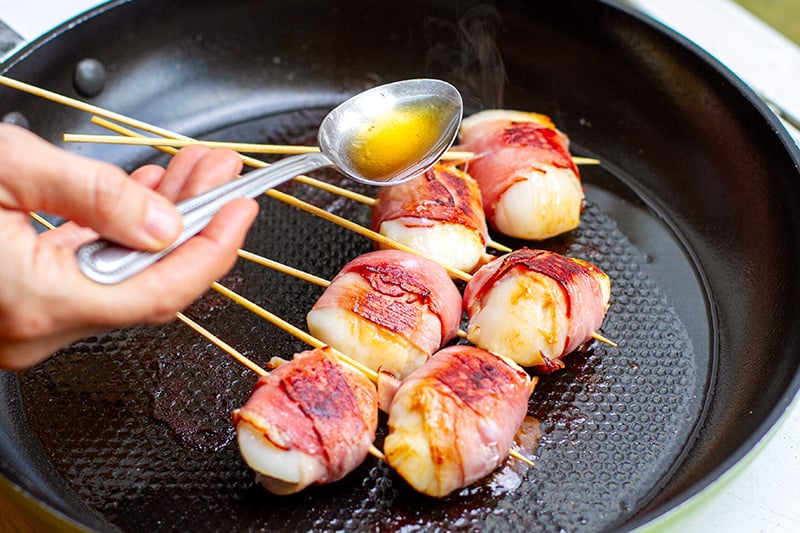 MORE SEAFOOD RECIPES YOU MIGHT LIKE
Spanish Grilled Garlic & Chili Squid 
Grilled Shrimp With Three Sauces
Oysters With Vietnamese Dressing
Golden Coconut Prawns With Honey Lemon Glaze
Print
---
Description
Grilled or pan-seared, these bacon wrapped scallops are brushed with a tangy, sweet lime and maple glaze. Great as an appetizer, starter at a dinner party or finger food. Gluten-free, paleo, low-carb.
---
---
To prepare the scallops, check for any firm muscle band still attached to the sides of the meat. It's like a little tag that you can peel off. It's safe to eat but becomes rubbery when cooked. Sometimes your fishmonger will have those already removed. The little orange part is the roe, called the coral, which is also fine to eat but I removed them to keep the scallops perfectly round and easier to wrap. Pat scallops dry with paper towels.
Wrap each scallop in a piece of prosciutto or bacon, overlapping it twice and then use the skewers to pierce through and secure everything in place.
Heat coconut oil in a large frying pan or use your outdoor BBQ grill. Once sizzling hot, add the wrapped scallops and bring the heat down to medium-high. Grill for about 2.5 minutes on each side.
In the meantime, combine the lime juice with maple syrup and drizzle over or brush the scallops on each side once cooked.
---
Notes
Prosciutto, streaky bacon or pancetta can be used to wrap the scallops.
Raw king prawns can be used instead of scallops and will work in this recipe.
Nutrition
Serving Size:

2-3 scallops

Calories:

212

Sugar:

6.5 g

Sodium:

341.3 mg

Fat:

16.2 g

Saturated Fat:

6.8 g

Carbohydrates:

8.5 g

Fiber:

0 g

Protein:

7.9 g

Cholesterol:

29.4 mg
GRILLED SCALLOPS SUBS & SWAPS
For these grilled skewers, you can also use raw king prawns instead of scallops as the combination of salty prosciutto or bacon works well with both and the maple syrup offsets the saltiness and highlights the sweetness of the scallops or prawns. If you don't eat seafood, chicken pieces can also be used, although you will need to cook them for longer.
To make a Keto scallops version, simply omit the maple glaze (although you can check the macros below the recipe if you can still have it). Otherwise, you could serve a side of spicy ranch dressing to dip them into.
SAVE THIS GRILLED SCALLOPS RECIPE TO PINTEREST