This website may contain affiliate links and advertising so that we can provide recipes to you. Read my privacy policy.
Cream cheese chicken taquitos are filled with a tender chicken mixture with cheese sprinkled over top then rolled in a flour tortilla and baked to perfection. These taquitos are a family favorite!
Similar to baked chicken tacos these taquitos are simple to make and won't last long! It is a Mexican dish that everyone will love.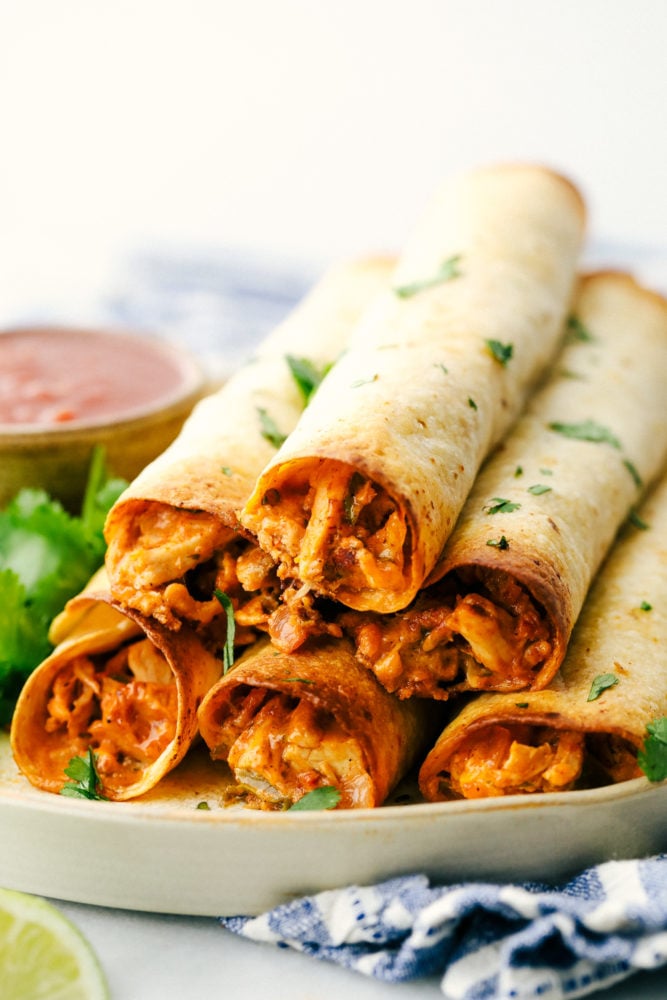 Baked Cream Cheese Chicken Taquitos
I have had to get pretty creative with lunches for my boys since they have been home during the summer. It is so easy to just send them to school and not have to worry about what we are going to eat for lunch. And I know that we all are so excited to get back to Utah and get back to school, friends and family. I saw an idea for baked taquitos on pinterest and I knew that my boys would love them!
Sure enough! They gobbled these bad boys up. The cream cheese chicken was awesome inside of these and gave them amazing flavor. They were creamy and absolutely delish! I love recipes that become an instant favorite. I will take baking over frying any day and it gave the outside a yummy crunch. We absolutely loved these things. They are going to be made a lot at our house and make a perfect lunch or dinner!
What are Taquitos?
Taquitos are a favorite Mexican dish that can be an appetizer, snack or main meal for dinner. Fill a small tortilla with meat and cheese then tightly rolled it up. Once it is rolled up, it is traditionally deep fried but they can be baked too.
Baked Chicken Taquitos Ingredients:
This is a recipe that I love! It is quick and easy to make plus it has pantry staple ingredients that are already in the kitchen. Mix them all together and the chicken filling is complete.
Chicken: Cooked and shredded chicken that can be already pre-cooked or cooked the same day.
Cream Cheese: This will be softened to add to the chicken mixture.
Salsa: Any salsa that is preferred will taste delicious. My restaurant style salsa is a favorite.
Cumin: A dry and earthy seasoning adds to this chicken mixture.
Chili Powder: Hint of spice from the chili powder can be omitted or left in.
Garlic Powder: I love the flavoring of garlic in my dishes.
Salt: Just a pinch!
Green Onion:

 

Always a flavorful texture and color. 

Cilantro: This brings out an authentic Mexican flavor.
Lime Juice: Squeeze the lime juice over top the chicken mixture.
Colby Jack Cheese: The cheese is melted down in the filling when being baked.
Flour Tortillas: Small ones are best. Homemade tortillas are my favorite to make!
How to Make Homemade Chicken Taquitos:
Let's make some taquitos! These homemade baked chicken taquitos are just simple to prepare and baked within minutes. They are filled with chicken mixture and then tightly rolled up making these taquitos a family favorite for sure.
Prepare baking sheet: Preheat oven to 425 and prepare a baking sheet by lining it with foil and spraying it with cooking spray. Set aside.
Combine filling ingredients: Soften the cream cheese in the microwave for about 15-20 seconds. In a mixing bowl, combine cream cheese, salsa, cumin, chili powder, garlic powder, lime juice, and salt. Add in the shredded chicken, colby jack cheese, green onions, and cilantro. Stir until combined well.
Fill tortillas: Add about 3 Tablespoons of the chicken mixture about 1 inch from the edge of the flour tortilla. Roll it up and place it seam side down on the baking sheet. Repeat with each one and place about 1 inch apart not touching each other on baking sheet.
Bake until brown and serve: Bake for 15-20 minutes or until the tortilla is lightly browning around the edges. Serve with sour cream, ranch, or your favorite sauce!
Make a Complete Meal with Chicken Taquitos:
Another great thing about this taquitos recipe is it can be an appetizer, dinner time or even as a snack for after school. There are so many possibilities that are endless with these homemade chicken taquitos.
Can you make these baked taquitos ahead of time?
Yes! Make this recipe as easy as you would like or more on the homemade side. These baked chicken taquitos are simple and one you will want to make over and over again.
Chicken: Make this a day ahead of time or use a pre-shredded chicken for the chicken ingredient.
Salsa: Pick your favorite salsa to make or have from the store.
Chicken mixture: Mix all the ingredients together and store in an airtight container for 24 hours long in the refrigerator.
Tortillas: Any flour tortilla will work for this. Homemade or store bought.
Storing Taquitos:
Being a busy mom and family having these already made up and letting the kids warm them up on their own when they are ready to enjoy makes this even easier. These are a great freezer meal as well as make ahead meal.
Refrigerator: Once cooked place in the refrigerator for in an airtight container or ziplock bag for 3 to 5 days. Reheating when desired.
Can you freeze taquitos? Yes, luckily the cream cheese and chicken mix freezes well. Place the already cooked chicken taquitos in a ziplock bag. These will stay frozen for up to 3 months long.
Reheating: When ready to reheat, place on a sprayed baking sheet frozen and bake at 400 degrees Fahrenheit for 15 to 20 minutes or until baked. Microwave is also another option that is much quicker.
Enjoy More Taquito Recipes: