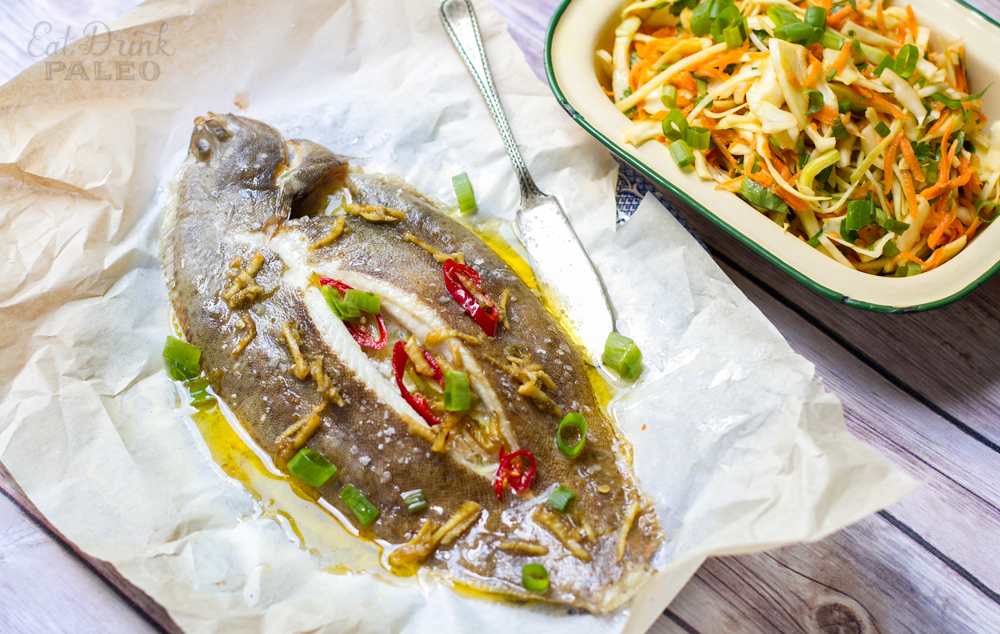 Recipe: Baked lemon sole with ginger chilli ghee recipe
You have probably seen a whole lemon sole fish at your local fishmonger and wondered how to cook this quirky, flat looking creature. Unlike its name, this fish has nothing to do with lemon or shoes but it is very tasty and according to the Marine Conservation Society, it's a decent choice on the sustainability scale.
Cook's notes: You can buy sole as fillets but I really like cooking it whole, either pan fried or baked, with some delicious sauce on the side. The flesh of the fish is delicate and mild so it goes well with some strong flavours like lemon, capers, or in our case ginger, chilli and lime. I used ghee as the base for the sauce but if you're avoiding all dairy (even the 95% dairy free ghee), then you can try using something like macadamia oil or coconut oil, although I can't vouch that the flavour will be the same.
For this recipe, I asked my fish guy to make a deep slit in the middle as I wanted to stuff the flesh with some ginger and lime. I then used a small sharp knife to cut the flesh on each side of the slit away from the bone, so you have two little pockets. Make sure to ask you fishmonger to clean the scales as well, unless you know how to do it.
The recipe is designed to serve one whole fish per person so adjust ingredients to suit your needs. It's easy to share one fish between two people with extra salad.
Ingredients
1 whole lemon sole (not too big if doing a single fish per person)
1 whole lime
1 tbsp thinly sliced fresh ginger + 2 thin round disk slices
2 tbsp ghee (clarified butter)
5-6 slices of long red chilli
1 tsp fish sauce
sea salt
1 tbsp diced spring onion or chives for garnish
Asian slaw
1 cup sliced or grated white cabbage
1 small carrot, grated
1-2 tbsp diced green onions
small handful of fresh coriander (cilantro) leaves
Juice of 1/2 lime
2/3 tbsp fish sauce
1/2 tsp honey or maple syrup
Pinch of sea salt
Pinch of chilli or black pepper
3 tbsp extra-virgin olive oil
1 tsp sesame oil

Instructions
Preheat oven 200ºC/400ºF.
Make a long slit in the middle of the fish and cut inside the flesh, peeling it away from the bone to create a little pocket on each side. See Cook's Notes.
Grate some lime zest, about half a teaspoon, and cut 2-3 thin slices to insert inside the fish. Sprinkle the sole with a little sea salt on each side. Stuff the ginger and lime slices inside the flesh pockets on one side of the fish and place it on an oven tray line with some baking paper (grease the baking paper with a little ghee or coconut oil).
Place fish in the oven and cook for 12-15 minutes, depending on the size of the fish. I think I did mine for 13 minutes at 200ºC
In the meantime, add ghee to a medium frying pan and bring to medium-high heat. Add ginger and chilli and cook until golden brown and slightly crispy, a couple of minutes. Add lime zest, juice of half a lime, and fish sauce. Stir through and take off the heat.
Prepare the Asian slaw by combining all dressing ingredients together and tossing them through the salad.
Remove sole from the oven and pour over the ghee sauce with ginger and chillies. Sprinkle with some diced onion, a little extra sea salt and maybe some more fresh lime juice. Serve with the Asian slaw or a side of favourite vegetables.
Preparation time: 15 minutes
Cooking time: 15 minutes
Number of servings (yield): 1
If you have any questions about the recipe or you would like to share your feedback, please leave a comment. I love seeing the pictures of your own adaptations, so please share them on my Facebook page, Twitter or Instagram and tag #eatdrinkpaleo