This website may contain affiliate links and advertising so that we can provide recipes to you. Read my privacy policy.
Crispy on the outside, tender on the inside, and topped with a balsamic honey glaze, these grilled brussels sprouts are the best side dish for summer and early fall! The amazing tangy flavor and tender, caramelized texture of these brussels sprouts will make even the pickiest of eaters a fan.
No barbecue is complete without grilled veggies! For more recipes that will complement your main dish perfectly, try grilled zucchini, asparagus, or artichokes!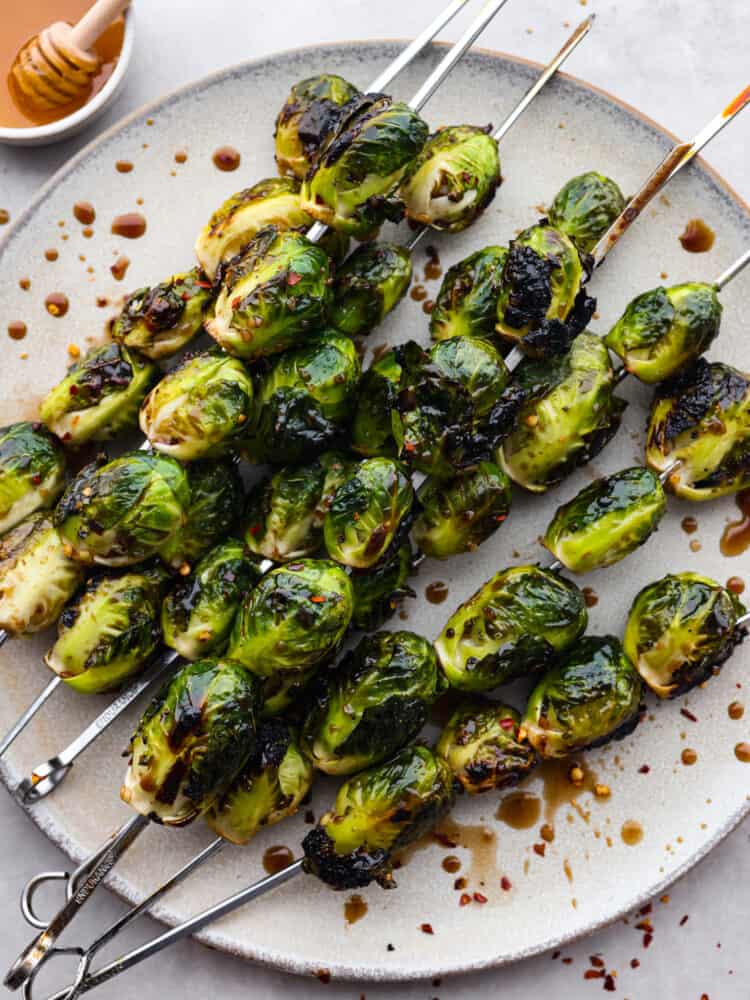 Grilled Brussels Sprouts With Balsamic Honey Glaze
Brussels sprouts seem to be the kind of thing you either love or hate. I personally love them, and I think even the non-believers will change their minds after trying them grilled. Grilling brussels sprouts makes the outside perfectly caramelized and crispy while keeping the insides tender and juicy. I've paired these brussels sprouts with a tangy balsamic honey glaze for mouthwatering flavor you won't be able to get enough of. They're my new favorite thing to make on the grill. (Well- maybe tied with these grilled Asian garlic steak skewers.)
The good news is- balsamic honey grilled brussels sprouts come together with just a few simple ingredients. Plus, they only take 10 minutes to cook making them the perfect last-minute barbecue addition! And if you're looking for more healthy and delicious sides to add to your summer menu, try grilled tomatoes or even grilled watermelon! Because, let's be honest, the sides are what make or break a barbecue. You can find my full list of quick and easy summer grilling recipes here!
Everything You'll Need to Make Them
All you need are fresh brussels sprouts and a handful of kitchen staple seasonings and sauces to make this tasty side! You'll be surprised at the amazing flavor you get from just a few simple ingredients. You can find exact measurements in the recipe card below.
Brussels Sprouts: Since these are the star of the show, you'll want to make sure they're fresh! Look for brussels sprouts that are vibrant green and nice and firm.
Honey: Adds sweetness and helps the glaze to stick to the brussels sprouts.
Garlic: For a punch of savory flavor in each bite.
Balsamic Vinegar: This is the foundation of the glaze. It will add the best sweet and tangy flavor to your veggies!
Olive Oil: Adds moisture and helps all the delicious flavors to stick!
Seasonings: I used salt, pepper, and a pinch of crushed red pepper.
How to Make the Best Grilled Brussels Sprouts
These grilled brussels sprouts with a honey balsamic glaze will be a favorite at the dinner table this summer. They're just too good! The best part, in my opinion, is the fact that they're so quick and easy to make. I'm always looking for new vegetable side dishes to switch things up and these have quickly become a new favorite of mine! The flavor is so addictive.
Preheat Grill: Preheat the grill to medium-high heat.
Trim Brussels Sprouts: Cut the bottoms of the brussels sprouts off.
Blanch: Place them in a large bowl and fill with water until they are covered. Microwave for 5 minutes or until they become slightly soft, then strain out the water.
Prepare Glaze: In a small bowl, whisk together the honey, balsamic vinegar, olive oil, garlic, and salt and pepper.
Coat, Add to Skewers: Pour the sauce over the brussels sprouts, then thread them onto the skewers.
Cook and Serve: Add to the grill and cook for 5 minutes on each side, while basting the extra sauce on. Serve immediately.
Cooking Tips
These are a few extra things to keep in mind when you grill your brussels sprouts so that they turn out perfectly!
Don't Skip Blanching: I always like to precook my brussels sprouts in the microwave so that they soften a little before grilling. If you skip this, the outsides may burn before the insides get nice and tender.
Use Foil: If you don't want to cook your brussels sprouts on a skewer, you can cook a batch of them in foil instead. Lining your grill with tin foil helps to keep in all of the delicious seasonings and prevents your brussels sprouts from falling through the grate.
Add Spice: If you want your balsamic glaze to have more spice, feel free to add more red pepper flakes or even a pinch of cayenne until you reach your desired flavor.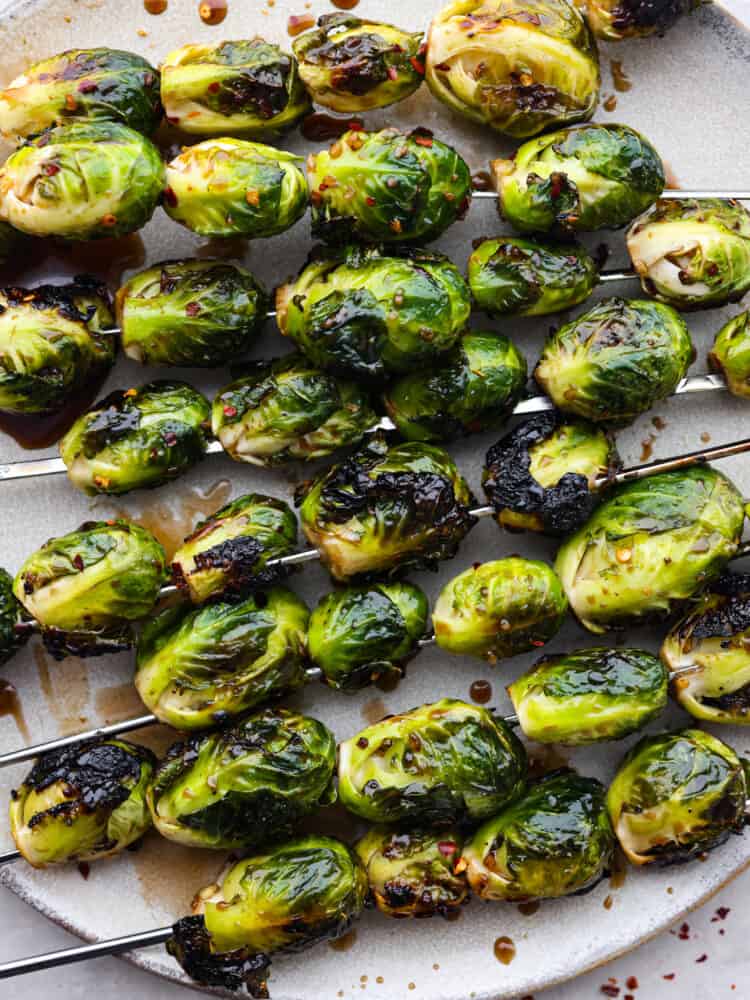 Storing Leftovers
Fresh off the grill is the best way to eat this delicious side, but if you have leftovers, here's how to keep your grilled brussels sprouts tasting fresh and delicious!
In the Refrigerator: Store leftover brussels sprouts in an airtight container for up to 4 days.
Reheating: Lay your brussels sprouts out evenly on a baking sheet and cook for 5 minutes or until warmed through at 400 degrees Fahrenheit.