Try this Buffalo Salmon with Blue Cheese Slaw for a mouth-watering variation on salmon that Buffalo chicken fans are going to love!

PIN the Buffalo Salmon recipe to try it later!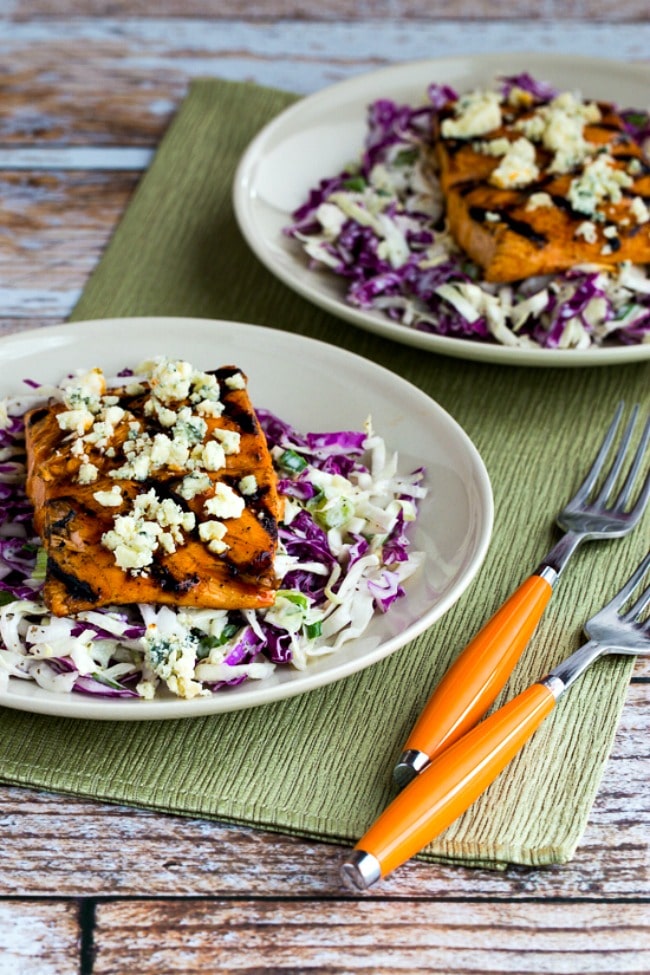 We loved everything about this Buffalo Salmon with Blue Cheese Slaw! Of course, I'm a huge fan of grilled salmon, something I make all year long on my outdoor grill or using a stove-top grill pan when it's too cold to grill outside. And while I do have some favorite grilled salmon recipes that I make over and over, I'm always thinking about how to add a new twist to salmon cooked on the grill.
So when I got obsessed with Frank's Red Hot Sauce (affiliate link) and Blue Cheese Coleslaw this idea popped into my mind, and it was a total winner! I loved the way the spicy buffalo glaze on the salmon was cooled down by the creamy coleslaw, and even though some people say cheese doesn't go with fish, we thought the crumbled blue cheese on top of the salmon was the perfect finishing touch.
What ingredients do you need for this recipe?
Is Buffalo Sauce low in carbs?
One thing that made me get so infatuated with Frank's Red Hot Sauce (affiliate link) is that it has zero carbs. I love the way it adds a spicy flavor to so many tasty dishes!
How can you keep salmon from sticking to the grill?
I'm not going to lie, cooking fish on the grill is a bit trickier than cooking meat or chicken. To prevent the fish from sticking I preheat the oiled grill to medium high, and then right before I put the fish on the grill I carefully oil the grill again. The method I like best is to dip a folded paper towel in oil and spread the oil on the grill grates. But if you're careful you can also spray the grill with a non-stick spray like Pam for Grilling (affiliate link). Having an oily surface on the fish itself can also help prevent sticking.
What if you're not a fan of blue cheese?
If you like the sound of buffalo-glazed salmon but the blue cheese slaw doesn't sound like your thing, this tasty salmon would also be delicious with Spicy Cilantro Peanut Slaw, Spicy Lime Coleslaw, Kalyn's Low-Carb Coleslaw, or Spicy Mexican Slaw.
Want more ideas for grilled salmon?
If you're a grilled salmon fan you might also like Maple Glazed Salmon, Salmon with Tomato Olive Relish, Korean Salmon with Dipping Sauce, Salmon Foil Packets with Tomatoes and Olives, or Grilled Salmon Burgers with Caper Mayonnaise.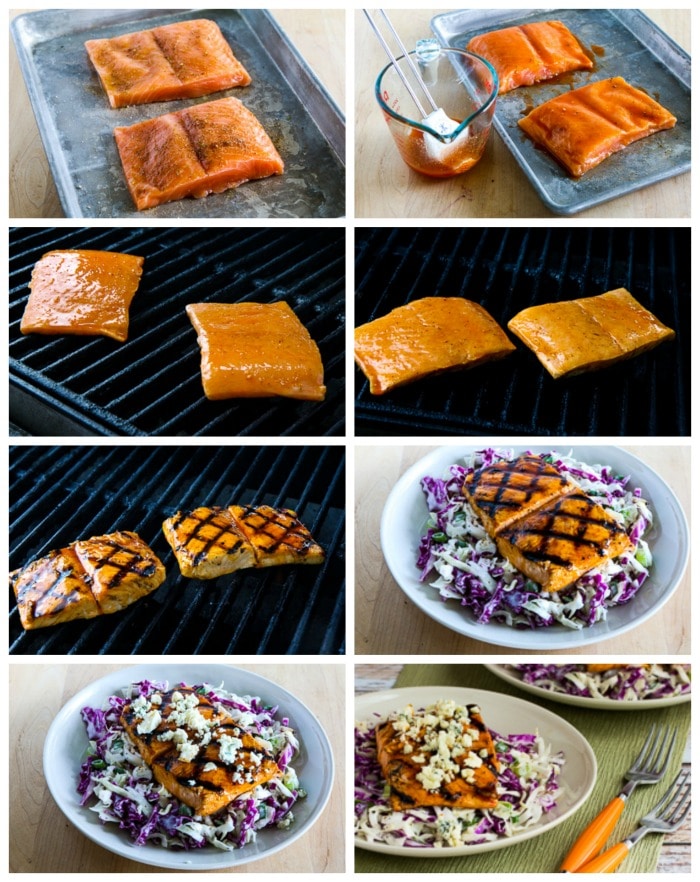 How to make Buffalo Salmon with Blue Cheese Slaw:
(Scroll down for complete recipe with nutritional information.)
Preheat clean oiled grill while you let salmon come to room temperature.
Brush salmon with olive oil, season with Szeged Fish Rub, (affiliate link) and brush the fish on both sides with the Buffalo sauce glaze.
Spray or brush the hot grill with oil again (carefully!) right before you put the fish on, then cook salmon on an angle to the grill grates for 2-3 minutes, rotate and cook 2-3 minutes more. 
Turn salmon to the other side, brush with remaining glaze, and cook 3-4 minutes more (until the salmon is barely firm to the touch.)
Serve salmon over Ridiculously Easy Blue Cheese Coleslaw (or other slaw or salad), sprinkled with some crumbled blue cheese.
We absolutely devoured Buffalo-Glazed Grilled Salmon with Blue Cheese Coleslaw when we tested the recipe; hope you enjoy it as much as we did!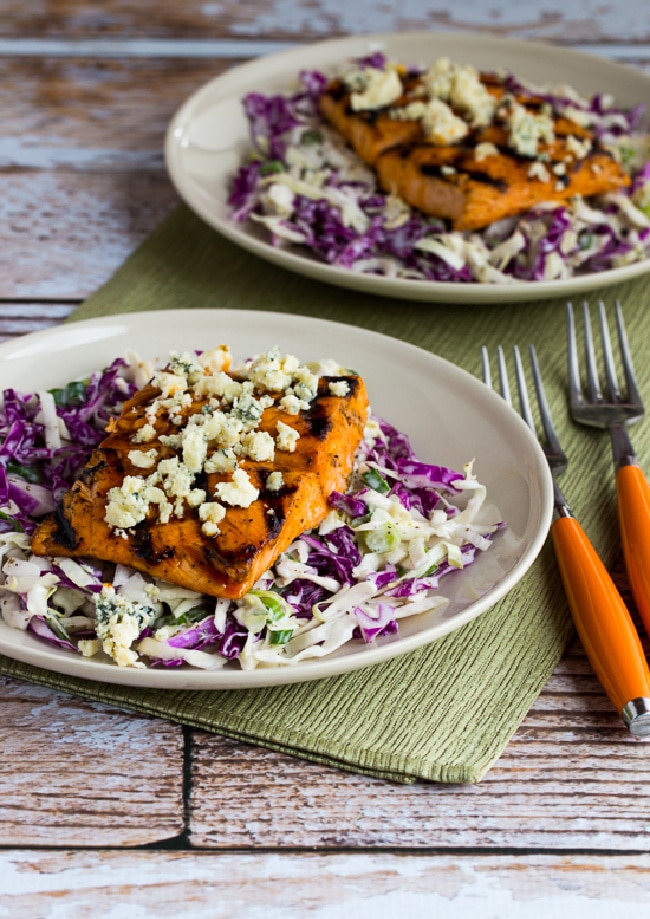 More Tasty Recipes with Buffalo Sauce:
Ingredients
Salmon Ingredients:
2 salmon fillets, thawed overnight in the fridge if frozen
2 tsp. olive oil
1 tsp. Szeged Fish Rub (or your favorite brand, see notes)
2 T crumbled blue cheese (optional)
Buffalo Glaze Ingredients:
2 T Frank's Red Hot Sauce
1 T lemon juice
1 T Golden Monkfruit Sweetener
Instructions
Start with a clean grill, brush or spray with oil or grilling spray, then preheat outdoor grill or stovetop grill pan (affiliate link) to medium-high heat.
Mix together Frank's Red Hot Sauce (affiliate link), lemon juice, and sweetener to make the glaze, and have Ridiculously Easy Blue Cheese Coleslaw (or other slaw or salad of your choice) ready for serving.
If using frozen salmon, thaw overnight in the fridge; then remove from package and pat dry with paper towels.
Brush salmon with olive oil, rub with fish rub, and brush with the glaze, saving some to brush on when you turn the salmon on the grill.
Right before you put the salmon on the hot grill, either spray with non-stick grilling spray (very carefully; this can cause flare-ups) or dip a folded paper towel in olive oil and use tongs to spread the oil on the grill (this method is safest and best, in my opinion.) Don't skip this step or your fish will stick to the grill.
To cook, lay salmon pieces at an angle on the grill grates and cook 2-3 minutes (or until you see grill marks; lift up the corner to check at about 2 minutes.)
Carefully rotate the fish to get cross-wise grill marks and cook 2-3 minutes more (again, lifting the corner of the fish after two minutes to check the grill marks.)
Carefully turn fish over, brush with remaining glaze, and cook about 3-4 minutes more, or until the fish feels barely firm to the touch when you press with your finger.
Serve hot salmon on top of Ridiculously Easy Blue Cheese Coleslaw or other slaw or salad of your choice, sprinkled with crumbled blue cheese if desired.
Notes
The salmon in the photos is served over Ridiculously Easy Blue Cheese Coleslaw. You can cut that recipe in half if you don't want to have leftover slaw, or serve the salmon over another coleslaw or salad of your choice.
I would use Golden Monkfruit Sweetener (affiliate link) for this recipe; use any sweetener of your choice. I'm a huge fan of Szeged Fish Rub (affiliate link) and use it on any type of fish.
Recipe created by Kalyn.
Nutrition Information:
Yield:
2

Serving Size:
1

Amount Per Serving:
Calories: 546Total Fat: 35gSaturated Fat: 8gTrans Fat: 0gUnsaturated Fat: 24gCholesterol: 151mgSodium: 615mgCarbohydrates: 2gFiber: 0gSugar: 1gProtein: 53g
Nutrition information is automatically calculated by the Recipe Plug-In I am using. I am not a nutritionist and cannot guarantee 100% accuracy, since many variables affect those calculations.
Low-Carb Diet / Low-Glycemic Diet / South Beach Diet Suggestions:
This recipe would be great for low-carb or Keto diet plans. Blue cheese is a limited food for South Beach, but if you use my trick of mixing buttermilk with blue cheese dressing to lighten it up (and use a moderate amount of blue cheese sprinkled over the fish) I would eat this for any phase of the original South Beach Diet. 
Find More Recipes Like This One:
Use Seafood Recipes or Grilling for more tasty ideas like this one.Use the Diet Type Index to find more recipes suitable for a specific eating plan. You might also like to follow Kalyn's Kitchen on Pinterest, on Facebook, on Instagram, or on YouTube to see all the good recipes I'm sharing there.
Historical Notes for this Recipe:
This buffalo-glazed salmon with blue cheese coleslaw was first posted in 2015. The recipe was last updated with more information in 2022.
We are a participant in the Amazon Services LLC Associates Program, an affiliate advertising program designed to provide a means for us to earn fees by linking to Amazon.com and affiliated sites. As an Amazon Associate, I earn from qualifying purchases.