This website may contain affiliate links and advertising so that we can provide recipes to you. Read my privacy policy.
All of the goodness of chicken parmesan packed into a delicious cheesy casserole! Crispy chicken, marinara sauce, penne pasta, and cheese come together in this easy to make dish!
Casseroles are simple and delicious to make. If you love casseroles as much as we do try this Easy Teriyaki Chicken Casserole, No Peek Chicken and Rice Casserole or Easy Sausage and Rice Casserole.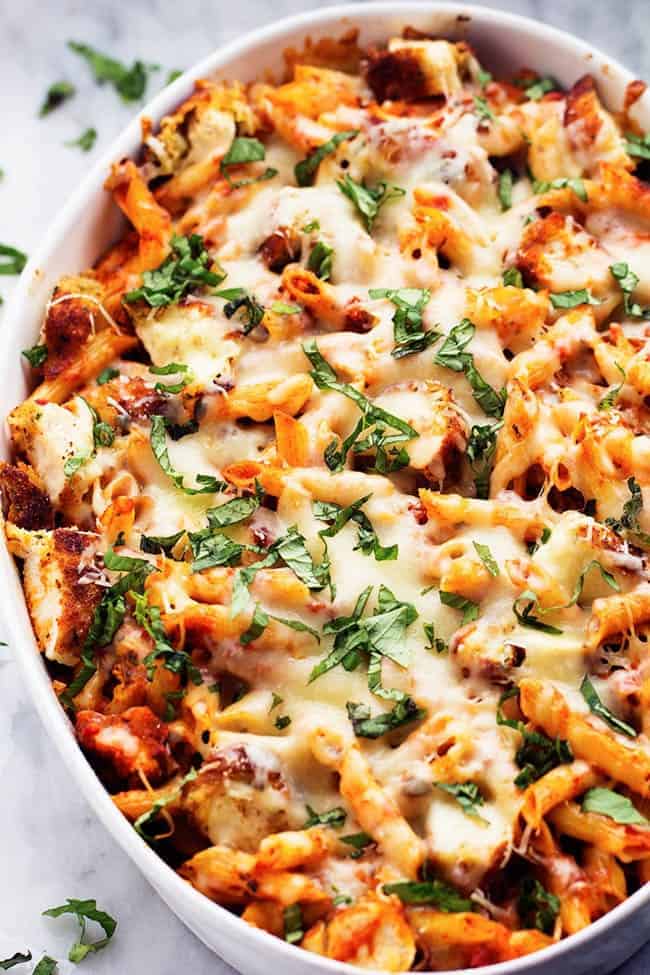 Chicken Parmesan Casserole
This time of the year is great for a delicious casserole.
It is starting to cool down outside and a good casserole is comfort food at its finest.
Chicken parmesan is one of my favorite dishes! I love the crispy breaded chicken with the marinara sauce on top and melted cheese.
So why now turn it into a delicious casserole for my family?
I wanted to add all of my favorite things about chicken parmesan into this casserole.
Especially the crispy breaded chicken.
Oh and don't forget the melty cheese on top and throughout!
What you need to make chicken parmesan casserole
This classic Chicken Parmesan is perfect for a casserole dish!
You can't go wrong with this simple recipe that will please everyone around the dinner table.
Penne pasta: cooked according to package on the back of box.
Chicken breasts: boneless, skinless chicken breasts are best.
Vegetable oil: this will be used for frying.
Flour: combines the ingredients together.
Eggs: helps bind the ingredients and helps baking the casserole all together.
Bread crumbs: I prefer the Italian seasoned flavoring bread crumbs.
Mozzarella cheese: shredded and divided for two different spots in the recipe.
Parmesan cheese: fresh is best and shredded.
Marinara sauce: pick your favorite marinara sauce.
Chopped basil for garnish: this is an option but it also brings in color and added seasoning.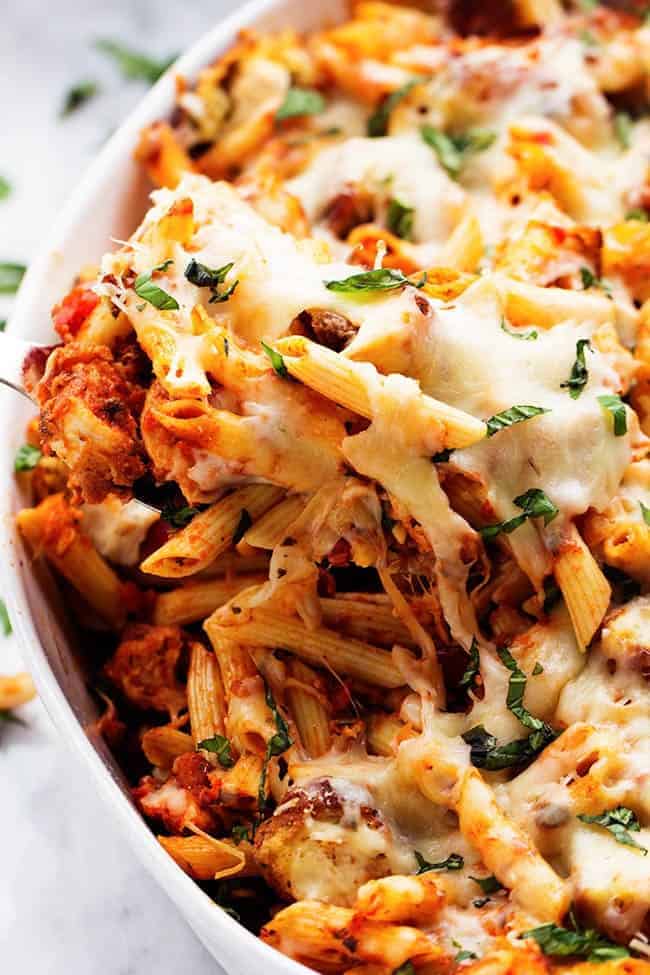 How you make chicken parmesan casserole
Cook your pasta: Cook the pasta according to package directions. Rinse and drain the pasta in a colander.
Prepare and fry your chicken: In a large skillet heat the oil over medium heat. Pound the chicken to be about ¼ inch thick or slice in half so they fry easily. Place the flour, egg, and Italian bread crumbs in separate bowls. Coat the chicken in the flour, then the egg and lastly the bread crumbs. Place to fry in hot oil until brown on each side and no longer pink in center. Remove from the skillet and slice into pieces.
Combine ingredients: In a large bowl combine cooked pasta, chicken, 1 cup mozzarella cheese, ½ cup shredded parmesan cheese and marinara sauce. Mix until combined.
Bake casserole: Spread the pasta in a 9×13 inch casserole dish and cover with foil. Bake at 350 degrees for 30 minutes. Remove from the oven and uncover and top with remaining cheeses. Continue to bake for about 10 minutes until cheese is melted and casserole is heated through. Garnish with chopped basil if desired.
Best pasta for chicken parmesan casserole
Any type and shape of pasta works great for this tried and true Chicken Parmesan casserole.
My personal favorite is penne because it is dense and thick enough to enjoy the sauce and chicken all together.
Spaghetti is a little harder to enjoy this casserole with so I would avoid that pasta.
Penne or bowtie pasta holds up well and even helps to freeze well in the long run.
A thicker and dense pasta noodle is best because it can catch and hold the sauce in the grooves of the pasta.
This makes the casserole juicy and more tender chicken as well as thick and rich.
One of my favorite pasta casserole dishes!
Penne
Rotini
Penne
Fettuccini
Bowtie
Add ins to the chicken parmesan casserole
If you're using a larger vegetable with a longer cooking time (like broccoli), you may want to steam the vegetables first before adding to the dish.
For something small like frozen peas, you can just add them (still frozen) straight to the baking dish towards the end of the cooking time.
Zucchini
Broccoli (frozen is best)
Peas
Beans
Bell peppers
Chopped up onion
Tips for making chicken parmesan casserole
Bite sized pieces of chicken is best when cutting it up. This will help it cook faster as well as helping while you are eating. You do not have to cut it up as you are enjoying your dinner.
To ensure a crispy texture that is similar to a traditional chicken parmesan, I prefer panko breadcrumbs over regular breadcrumbs.
If you are hoping for a healthier dish, simply use whole grain or whole wheat pasta and even panko breadcrumbs.
Add in vegetables or different types of meat to your casserole. Having a variety of different add-ins help make this casserole more fun when making it regularly.
Garnish with parsley or basil for more color and flavoring on top.

Storing chicken parmesan casserole
This casserole became a instant family favorite.
And the best part is that if you have a smaller family you can freeze half of it for another night.
My entire family raved about this delicious casserole and I know that it will become a family favorite at your house as well!
Making ahead: This can be made up to 24 hours in advanced. Just cover and store in the refrigerator until ready to bake. You may need to add an additional few minutes or let rest for a few minutes outside of the refrigerator before baking it.
Freezer: It is best to freeze before baking. Cover the pan tightly with foil and write down the directions on top of the container. Remove the casserole from the freezer and let it thaw in the refrigerator during the day before baking. This will freeze for 1 month.
Warming up: Because of the marinara sauce in this casserole, it reheats really well and won't dry out. To reheat leftovers, heat your oven to 350 degrees Fahrenheit and bakes for 20-25 minutes or until it is warm through. You do not want to over bake.
More chicken parmesan recipes for you to enjoy