I love the variety of colorful peppers in this Chopped Greek Salad with Peppers, but you can use all one color if that's what you have. And every year I make this version of Greek Salad with peppers and cherry tomatoes when I don't have any garden tomatoes yet.
PIN Chopped Greek Salad with Peppers to try it later!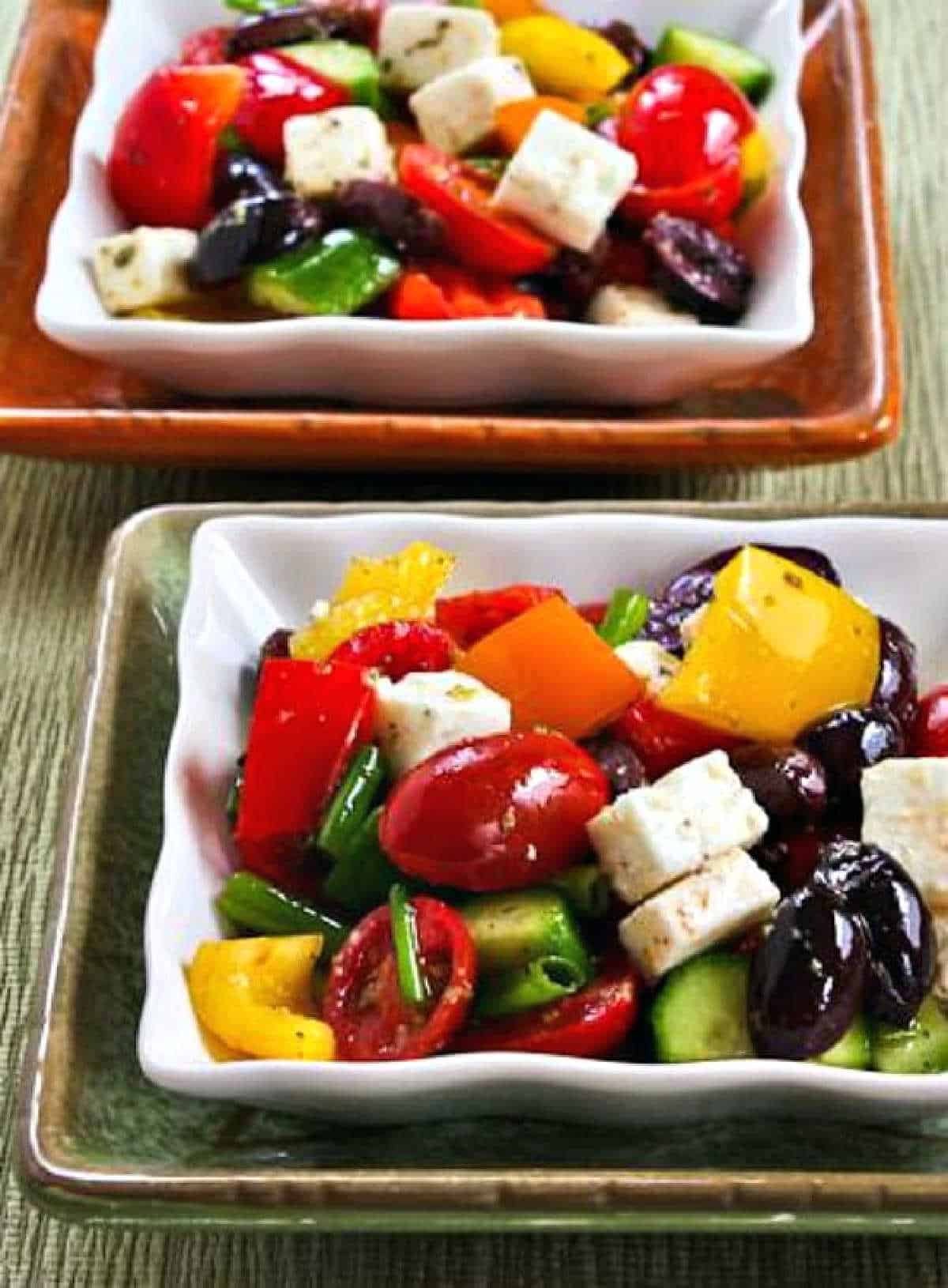 When I went to Greece I noticed every little restaurant had a dish they called country salad or village salad, which had cucumbers, tomatoes, onions, green peppers, Kalamata olives, and Feta, and a dressing which always contained oregano. And then I started noticing that many of the salads like this in America didn't have peppers.
But I love the peppers in this Chopped Greek Salad with Peppers, and this is a simple salad I've made over and over. And I like this pepper-loaded Greek salad variation so much that I'm reminding you about it for my Friday Favorites pick this week!
When I first made the chopped salad shown in these photos, it was too early for garden tomatoes so I used cherry tomatoes for the salad and replaced the green pepper with chopped orange, red, and yellow peppers which are loaded with anti-oxidants. I used all the colors or peppers because they were on sale, but you could use just one color and it would still be pretty. 
There's no need to measure the ingredients for this type of salad, so you can vary the proportions of the various ingredients according to your own taste. But whatever you do, don't skimp on the Feta Cheese! For me, that's definitely the ingredient that makes any type of chopped Greek Salad such a wow!
What ingredients do you need for this recipe?
Is this an authentic Greek Salad recipe?
I'm definitely not claiming this is an authentic Greek salad, but it's a tasty variation on the type of salads I had in Greece. For me, this is the version I love to make in early summer when I don't have garden tomatoes yet. And one of my favorite Salt Lake City Greek restaurants calls this combination Greek Salad and when it has lettuce added, they call it American Greek Salad. That works for me, and I do really like both this type of Chopped Greek Salad and the Americanized variation with lettuce.
Want to make your own Greek dressing for this salad recipe?
I used a purchased salad dressing with some dried Greek oregano added for this easy salad recipe, but you could combine olive oil, lemon juice, oregano and salt and pepper if you wanted to make your own Greek dressing.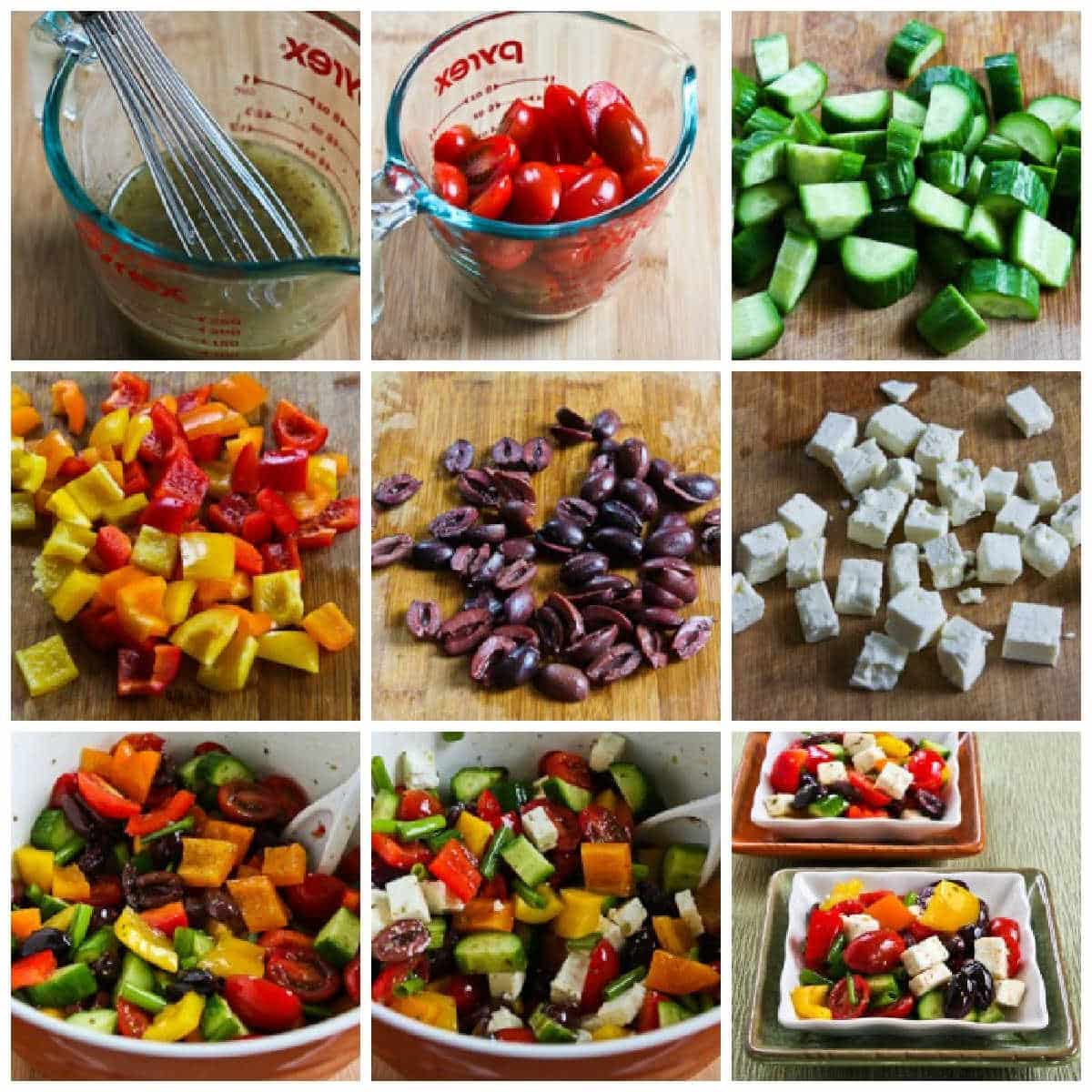 How to make Chopped Greek Salad with Peppers:
(Scroll down for complete printable recipe with nutritional information.)
Whisk the dried Greek oregano into 1/2 cup prepared vinaigrette dressing (or make your own homemade vinaigrette if you prefer.) I used Newman's Own Olive Oil and Vinegar Dressing (affiliate link) which is really low in carbs.
I used about a cup of grape tomatoes cut in half, but I'd like this salad even better with chopped tomatoes fresh from the garden.
I'm starting to get a few garden cucumbers, but for this salad I used mostly small Persian cucumbers from Costco.
I chopped the red, yellow, and orange bell pepper into bite-sized pieces. I'm not a big fan of raw onion in a salad, so I also chopped up some sliced green onions.
I'm crazy about Kalamata olives, but if I was making this for picky eaters I might even use black olives from a can.  (That would make the salad even less authentically Greek, but it would still taste good!)
I cut the Feta cheese into cubes about a half-inch square for this salad, but in Greece they usually served a thin slice of Feta on top of the salad.
Put the tomatoes, cucumbers, bell peppers onions, and olives into a bowl and stir in enough dressing to moisten all the ingredients. (You may not need all the dressing.)
Then gently stir in the feta cubes, season the salad with fresh ground black pepper to taste, and enjoy! 
This salad tastes even better if you let it marinate for a few hours, and I found the leftovers to still be good even when it had been in the fridge a few days.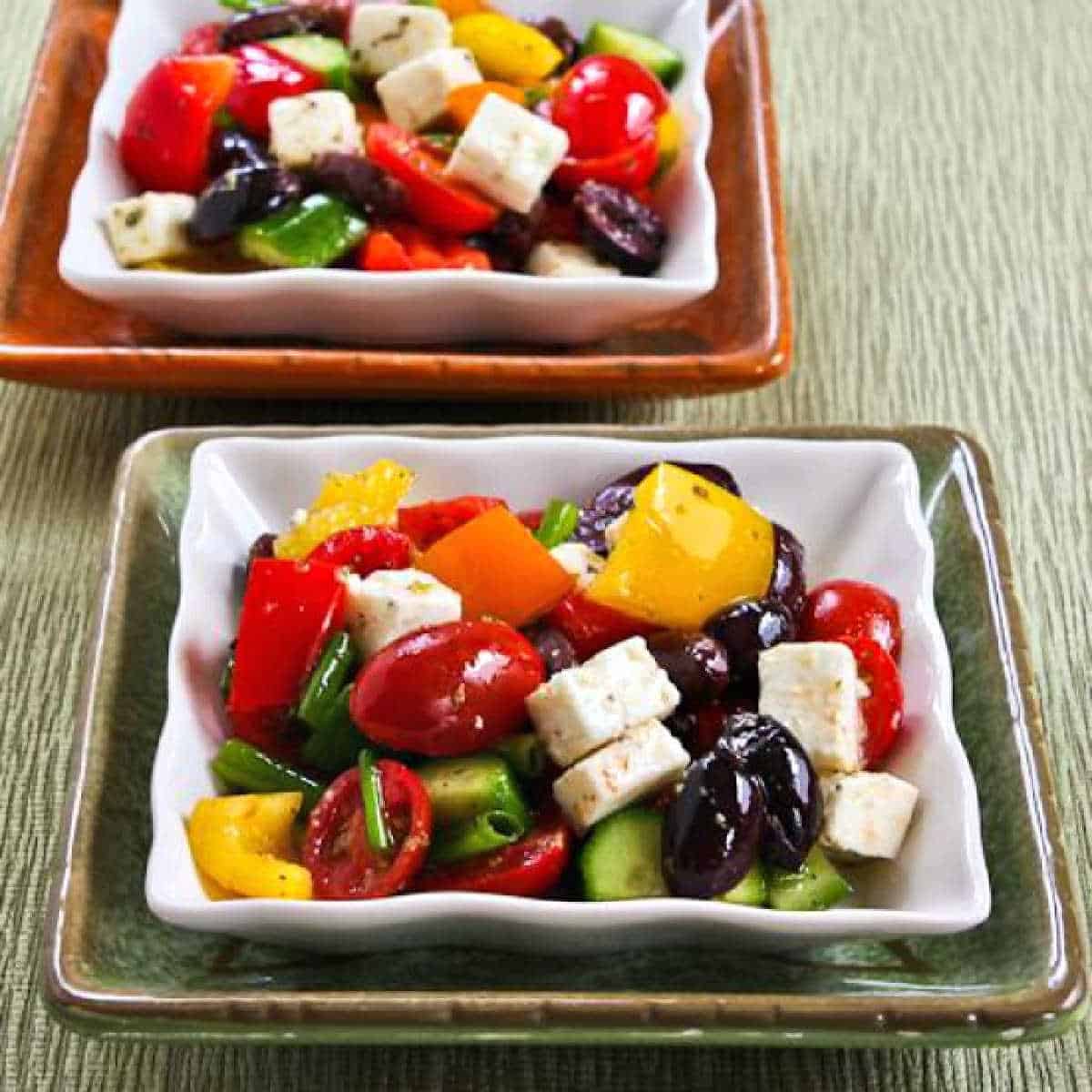 Make it a Low-Carb Meal:
Main dishes like Almond and Parmesan Baked Fish, Marinated Flank Steak, Grilled Shrimp Skewers, Baked Parmesan Crusted Chicken, or Greek Lemon Chicken would be taste great with this salad for a low-carb meal.
More Greek-Inspired Ideas You Might Like:
Grilled Zucchini Greek Salad
Greek Chicken Salad with Peperoncini
Kale Greek Salad
Greek Cabbage Salad
Greek Salad Spaghetti Squash Bowl
Ingredients
Salad Ingredients:
1 cup grape tomatoes, cut in half lengthwise (see notes)
1 large European cucumber (see notes)
1/2 red bell pepper
1/2 yellow bell pepper
1/2 orange bell pepper
1/2 cup pitted Kalamata olives, cut in half
1/4 cup sliced green onion (optional)
1/2 cup diced Feta cheese (or more)
Dressing Ingredients:
1/2 cup Newman's Own Olive Oil and Vinegar Dressing (see notes)
1 tsp. dried oregano
Instructions
Mix oregano into salad dressing, set aside.
Cut tomatoes in half lengthwise, or dice garden tomatoes.
Peel cucumber in strips, leaving some green stripes lengthwise. (For small garden cucumbers or Persian cucumbers you may not need to peel.) Cut cucumbers in half lengthwise, then in slices.
Remove seeds from peppers and dice peppers in 3/4 inch square pieces.
Slice green onion into 1 inch long pieces.
Drain olives and cut in half lengthwise.
Cut Feta into cubes about 1/2 inch square.
Combine tomatoes, cucumbers, peppers, onions, and olives and toss with desired amount of salad dressing. (You may not need all the dressing.)
Stir feta cubes into salad and season with fresh-ground black pepper.
The salad can be served immediately, but I like it best when the ingredients marinate for an hour or two.
This salad keeps surprisingly well in the refrigerator for a few days.
Notes
You can definitely use diced fresh garden tomatoes if you have some! If you don't have a European Cucumber, just use 2-3 small regular or Persian cucumbers. I love Newman's Own Olive Oil and Vinegar Dressing (affiliate link) but you can use any purchased vinaigrette that's low in sugar.
This recipe created by Kalyn.
Nutrition Information:
Yield:
4

Serving Size:
1

Amount Per Serving:
Calories: 119Total Fat: 8gSaturated Fat: 3gTrans Fat: 0gUnsaturated Fat: 4gCholesterol: 17mgSodium: 281mgCarbohydrates: 10gFiber: 2gSugar: 4gProtein: 4g
Nutrition information is automatically calculated by the Recipe Plug-In I am using. I am not a nutritionist and cannot guarantee 100% accuracy, since many variables affect those calculations.
Low-Carb Diet / Low-Glycemic Diet / South Beach Diet Suggestions:
This delicious and nutrient-rich Chopped Greek Salad with Peppers is great for low-carb diets, and it's also gluten-free, and suitable for any phase of the original South Beach diet.
Find More Recipes Like This One:
Use Salad Recipes to find more recipes like this one. Use the Recipes by Diet Type photo index pages to find more recipes suitable for a specific eating plan. You might also like to follow Kalyn's Kitchen on Pinterest, on Facebook, on Instagram, or on YouTube to see all the good recipes I'm sharing there.
Historical Notes for this Recipe:
This salad was first posted in 2011! I've been making it ever since then and the recipe was last updated with more information in 2022.
We are a participant in the Amazon Services LLC Associates Program, an affiliate advertising program designed to provide a means for us to earn fees by linking to Amazon.com and affiliated sites. As an Amazon Associate, I earn from qualifying purchases.