This website may contain affiliate links and advertising so that we can provide recipes to you. Read my privacy policy.
This delicious crab salad is hearty and cool, perfect for sandwiches or a side dish! Each bite is loaded with meaty crab, lemon, fresh herbs, and a hint of spice for flavor you won't be able to resist. It's the perfect companion for all of your summer get-togethers!
Creamy salads are the bread and butter of summer potlucks! Classic chicken salad is always a good idea. Everyone loves a good egg salad, too! And if you're looking for a way to switch things up a little, try this AMAZING avocado egg salad!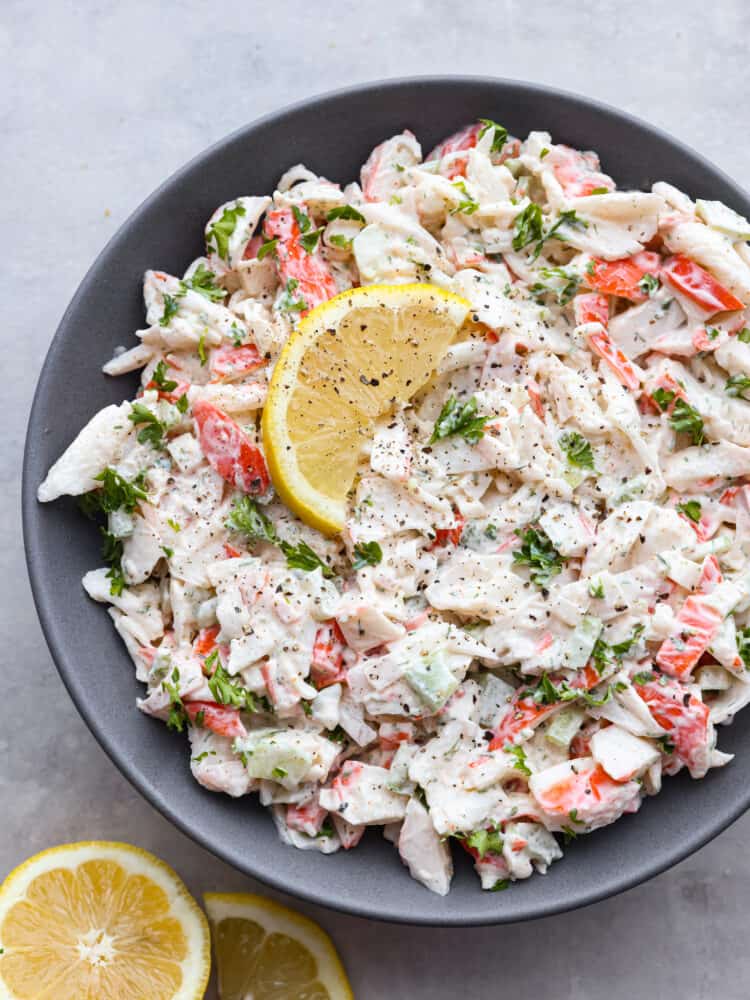 Easy and Delicious Crab Salad Recipe
Crab salad is a summer staple. Not only is it nice and cool for scorching hot days, but so flavorful and satisfying! It's a great alternative to chicken salad for all of the seafood lovers in your family. This crab salad recipe is flavored with zesty lemon, fresh herbs like dill and parsley, then topped off with a pinch of cayenne for spice! It tastes so bright and delicious, you won't be able to get enough!
You can serve this amazing salad as a side dish or in hoagie rolls for crab salad sandwiches! It has the best flavor, it's sure to be a favorite wherever it goes. You may need to make a double batch, the creamy goodness is too hard to resist. And if you're looking for more quick and easy potluck favorites, try this strawberry cheesecake salad or easy Rotel dip!
Everything You'll Need to Make It
The best thing about these kinds of salads is that you only need a few simple ingredients to achieve creamy goodness. Simple, budget-friendly, and so delicious! You can find exact measurements in the recipe card at the end of the post.
Imitation Crab: Using imitation crab meat makes this salad an inexpensive (but delicious!) option! You can use real crab meat too if you prefer.
Celery: Chopped celery gives this salad the most amazing crunch!
Shallot: Diced shallot adds sharp, savory flavor throughout the crab salad.
Mayonnaise: Mayo gives this salad its signature creaminess. You can make fresh mayonnaise at home with just a few simple ingredients! Find my full recipe here.
Lemon Juice: I recommend using fresh lemon juice for the best flavor.
Seasonings: Here I used a mix of Old Bay Seasoning, kosher salt, pepper, and a pinch of cayenne.
Herbs: I added dried dill and parsley for a boost of bright, fresh flavor.
How to Make the Best Crab Salad
This crab salad recipe is foolproof and perfect for when you're short on time. You'll want to keep it on repeat all summer long!
Shred Crab: Add the crab to a large mixing bowl and use a fork to flake the pieces apart. Add the diced celery and diced shallot.
Mix Seasonings With Mayo: In a small bowl, add the mayonnaise, lemon juice, seasonings, and herbs. Whisk to combine.
Combine With Crab: Pour the dressing mixture over the crab ingredients and mix well.
Chill: Serve immediately, or cover and chill until ready to use.
Add Garnish: Sprinkle with fresh parsley or dill for garnish if desired.
Serve: Serve as is, on a bun, with crackers, on lettuce, in a croissant, any way you like!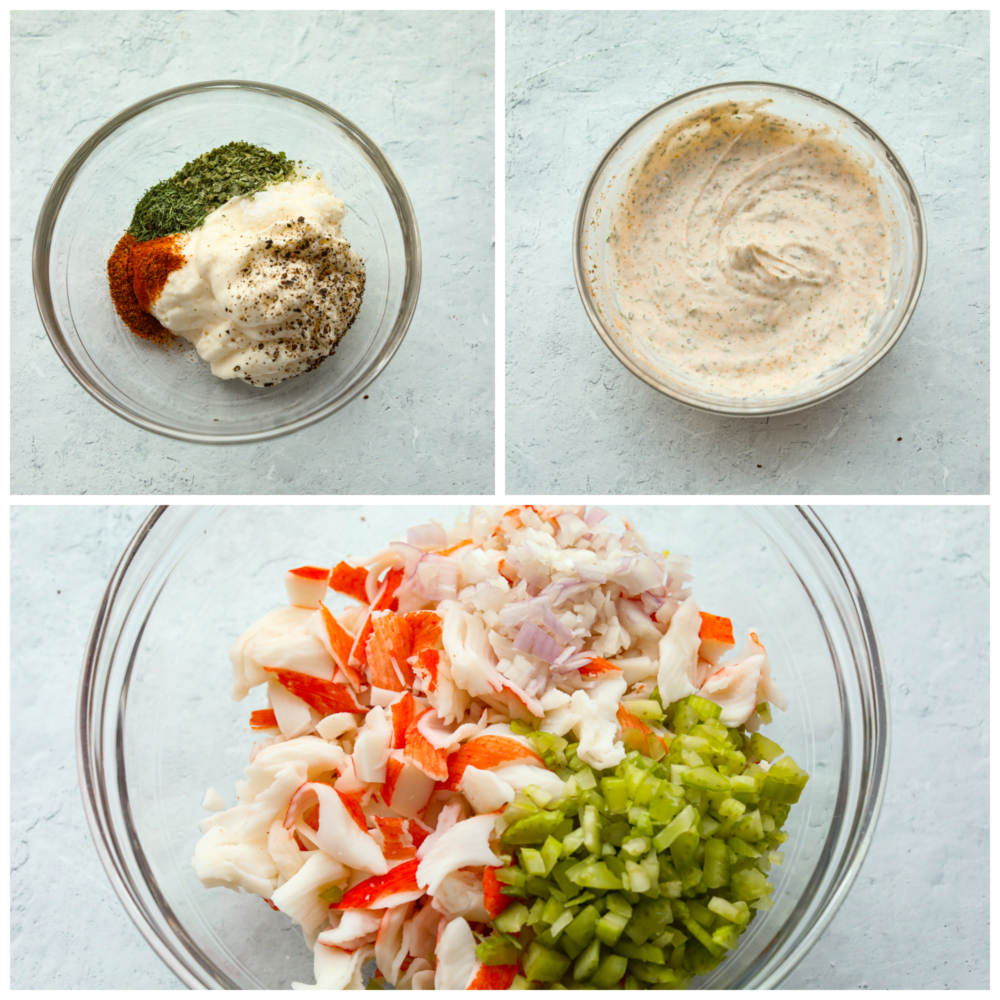 Tasty Variations
Crab salad is super versatile and there are so many ways you can customize it! Here are a few ways to get you started.
Add Noodles: Crab pasta salad is so delicious! Try adding in elbow macaroni, farfalle, rotini, or any other noodles that have plenty of nooks and crannies for holding all of the creamy goodness!
Extra Veggies: For a little extra crunch and flavor, try adding in chopped red onions or bell peppers! Corn and peas are also great additions.
Storing Leftover Crab Salad
The best part about these kinds of creamy, refrigerated salads is that they store really well. You can eat them straight out of the fridge for a quick lunch or dinner!
In the Refrigerator: Your crab salad will stay good for 3-4 days in an airtight container.
Note: I don't recommend freezing this crab salad, as mayonnaise tends to have a strange texture when thawed.