This delicious Crockpot Anasazi Bean Soup is a fun soup to make using Anasazi Beans, but see ideas for other beans if you can't find those. And there are instructions for making this on the stove if you prefer.
PIN Crockpot Anasazi Bean Soup to try it later.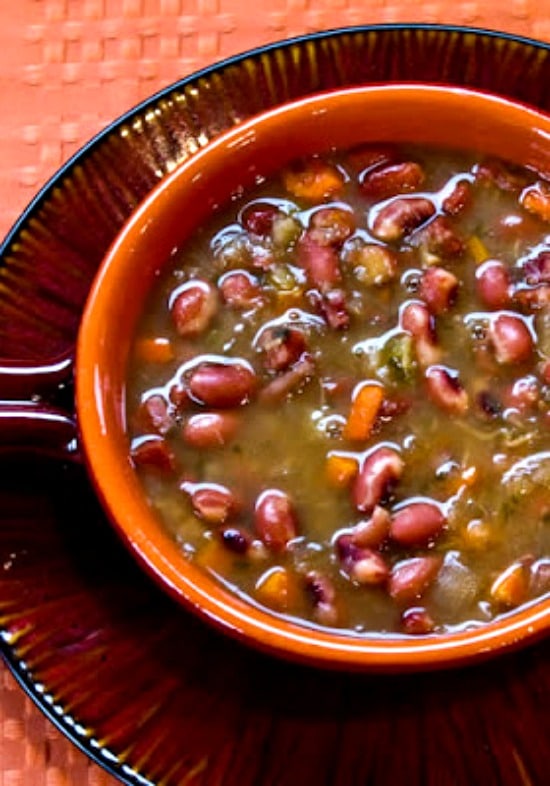 I love the slightly sweet flavor of Anasazi Beans, and when I taught Utah history in fourth grade I used to cook them for the students when we had our Anasazi Feast at school. This Crockpot Anasazi Bean Soup is one of my favorite ways to cook these delicious dried beans that have such an interesting history. Unfortunately they lose much of the delightful speckled look when they're cooked, but they still taste great.
In Utah I can find Anasazi beans at Whole Foods, or you can order them online.  You can also make this tasty soup with pinto beans if you can't locate the Anasazi beans. I like to make this soup in a slow cooker, but if you're not a crockpot fan, I've got instructions for cooking them on top of the stove as well. 
What ingredients do you need?
What are Anasazi Beans?
I learned about Anasazi Beans when I taught Utah history! Anasazi is a Navajo word meaning "ancient ones" and the Anasazi people were early native Americans living in the four corners area as far back as 130 A.D. They often lived in the structures called cliff dwellings. Anasazi Beans were one of very few crops cultivated by the Anasazi. The beans were first found in the ruins by people who settled that area.
What makes Anasazi Beans so good?
Anasazi Beans are a slightly sweet bean that contains less of the gas-producing carbohydrates found in many types of dried beans!
What size Slow Cooker did I use?
I'd recommend at least a 5 Quart Slow Cooker (affiliate link) for this recipe, and a slightly bigger size wouldn't hurt.
Can you make Anasazi Bean Soup on the stove?
Scroll down to the complete recipe below and you'll find easy instructions for making this tasty soup on the stove.
More Slow Cooker and Instant Pot Bean Soup Recipes:
If you're a fan of using dried beans in soup, there are lots of tasty ideas in the collection of Slow Cooker and Instant Pot Bean Soup Recipes on my Slow Cooker or Pressure Cooker site!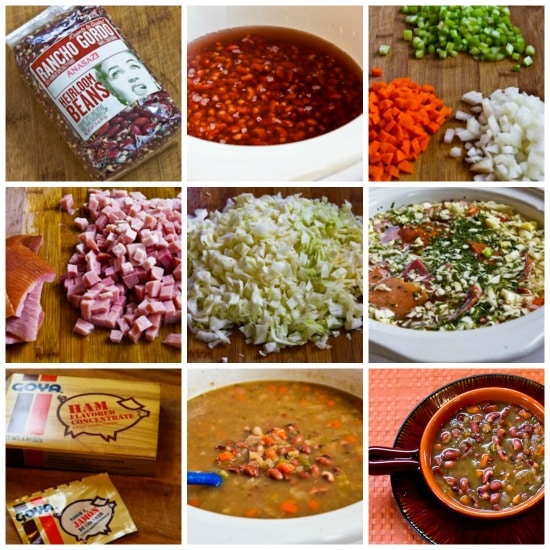 How to Make Crockpot Anasazi Bean Soup:
(Scroll down for complete recipe with nutritional information.)
I first bought Anasazi Beans from Ranch Gordo but now I don't find them on their website. Luckily you can buy Anasazi Beans at Amazon.com! (affiliate link)
I soaked the beans overnight in cold water in the crockpot. I recommend soaking for this soup, so plan ahead. 
In the morning, drain beans, discard the soaking water, and return beans to the crockpot with 8 cups of water.
Chop one cup each of finely chopped onion, carrot, and celery, and add to the crockpot.
Chop 2 cups ham into small cubes and add to the crockpot.
I always buy a ham with a rind on it, and I add the rind to the soup for even more flavor.
Add 2 cups of very finely chopped green cabbage to crockpot.
Add dried parsley, garlic powder, onion powder, and bay leaves to crockpot and start to cook on high.
Depending on the model of slow cooker you have and how hot it gets, you may want to reduce heat to low after 4-5 hours.
After the soup has cooked for about 8 hours (or a bit less if your slow cooker gets hotter), I remove ham rinds and taste to see if I want to add ham flavor base. I love Goya Ham Flavor Concentrate (affiliate link), for a flavor-boost in soups with ham. (This is optional, some ham is so flavorful you won't need it.)
Soup is done when the beans are starting to break apart and the cabbage has almost completely dissolved into the soup.
Cooking time will depend on how hot your slow cooker gets, but the soup in this photo was cooked nearly 10 hours on high.
Serve hot, with a sprinkle of balsamic vinegar if desired.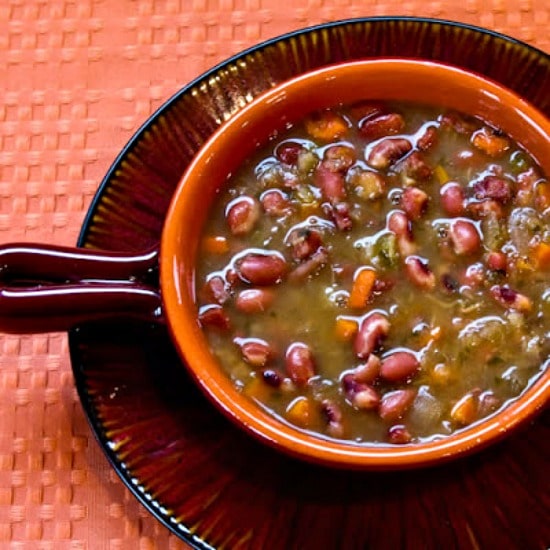 More Favorite Soups with Dried Beans:
Chicken, Black Bean Soup
White Bean Soup with Italian Sausage, Zucchini, and Basil
Italian Sausage and Bean Soup with Chard
Weekend Food Prep:
This recipe has been added to a category called Weekend Food Prep  where you'll find recipes you can prep or cook on the weekend and eat during the week!
Ingredients
1 pound dried Anasazi Beans, soaked overnight in crockpot
1 cup diced celery
1 cup diced carrots
1 cup diced onion
2 cups very finely chopped cabbage
2 cups ham, cut into small dice
ham rind if available (remove for the last few hours of cooking time)
8 cups water (you can also use partly ham stock if you have it)
2 T dried parsley
1-2 T garlic powder
2-3 tsp. onion powder
2-3 bay leaves
fresh ground black pepper to taste
ham flavored concentrate or ham bouillon (optional but good)
balsamic vinegar for serving, optional
Instructions
Soak beans overnight in cold water in the crockpot.
The next morning, drain beans, discard soaking water, and put beans back in the crockpot with 8 cups water (or a combination of water and ham stock if you have it.)
Cut up celery, carrots, onions, cabbage, and ham.
Put all ingredients in crock pot (including ham rind if you're lucky enough to have some) with dried parsley, garlic powder, onion powder, and bay leaves, and start to cook on high. (It may look like there isn't enough liquid, but in the crock pot foods give up liquid and you end up with more than you started with.)
I cooked this soup on high for 10 hours or longer, until about half of the beans have disintegrated into the soup and the cabbage is mostly dissolved. My large crock pot is the original "slow-cooker" type, which may cook a bit less hot than some. If you have a newer model, you might want to cook on high 4-5 hours, then reduce to low.
After about 8 hours, remove ham rind if using, then taste for seasoning and add ham bouillon or ham flavor concentrate if desired. (Use of this is optional, and will depend on how much flavor is in your ham. If you have really good ham you might not need it.)
Cook until beans are starting to break apart and the cabbage has mostly dissolved into the soup.
Serve hot, with a drizzle of balsamic vinegar if desired.  This soup freezes well.
Stovetop Instructions:
You could cook this on the stove if you don't have a crock pot or want it done sooner. For stovetop cooking, add all ingredients to heavy soup pot and simmer about 3 hours, or until beans are very well done and cabbage has disintegrated into the soup.
I would increase the amount of water I started out with  by several cups if I cooked it on the stove, since some of the liquid will evaporate. Check for seasoning after a few hours, and add more ham ham flavor base as desired.
Nutrition Information:
Yield:
8

Serving Size:
1

Amount Per Serving:
Calories: 195Total Fat: 4gSaturated Fat: 1gTrans Fat: 0gUnsaturated Fat: 2gCholesterol: 43mgSodium: 1006mgCarbohydrates: 24gFiber: 5gSugar: 9gProtein: 19g
Nutrition information is automatically calculated by the Recipe Plug-In I am using. I am not a nutritionist and cannot guarantee 100% accuracy, since many variables affect those calculations.
Low-Carb Diet / Low-Glycemic Diet / South Beach Diet Suggestions:
Soup with Beans is probably too high in carbs to be suitable for a traditional low-carb diet but check nutritional information and see what you think. Dried beans are considered a "good carb" on the original South Beach Diet, but you'd have to leave out the carrots for this Crockpot Anasazi Bean Soup to be approved for phase one. 
Find More Recipes Like This One:
Use Slow Cooker Recipes to find more recipes like this one. Use the Diet Type Index to find recipes suitable for a specific eating plan. You might also like to follow Kalyn's Kitchen on Pinterest or on Facebook to see all the good recipes I'm sharing there.
We are a participant in the Amazon Services LLC Associates Program, an affiliate advertising program designed to provide a means for us to earn fees by linking to Amazon.com and affiliated sites. As an Amazon Associate, I earn from qualifying purchases.