This low-carb Cucumber Salad with Balsamic Dressing just might become the cucumber salad recipe you make all summer long! And this balsamic cucumber salad is so easy and delicious, and when you have fresh garden cucumbers, that will only make it better!
PIN the balsamic cucumber salad to try it later.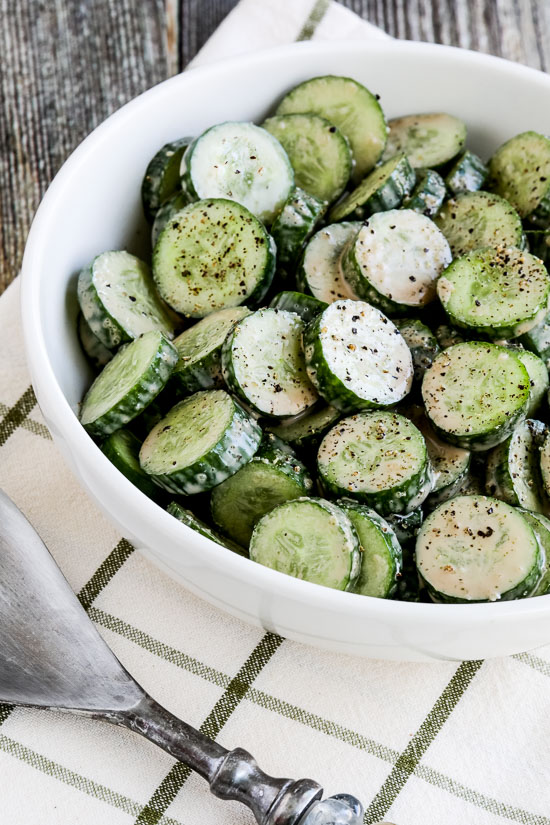 I found this easy, easy, easy but amazing cucumber salad years ago on a big recipe site that's no longer online, and I've been making the salad every summer since I first tried it! And cucumber salad weather is finally here in Utah, and recently I made this Cucumber Salad with Balsamic Dressing again and remembered how much I love it.
I first made the salad when I was growing cucumbers in my garden, and oh my, if you have fresh garden cucumbers that will make this amazing salad even better! And I'm always searching for new ways to use up garden veggies like cucumbers, squash, and tomatoes, so when I make a cucumber salad over and over you know it's really a winner.
I'll be honest, it's partly the mayonnaise in the slightly sweet and sour tasting but creamy dressing that makes me like this salad so much! I hope you'll remember it when cucumbers are so abundant later this summer.
What ingredients do you need for this recipe:
Should you use White Balsamic Vinegar for this salad?
I don't mind the slightly brown color from the balsamic vinegar, but I would probably use white balsamic vinegar (affiliate link) for the balsamic cucumber salad if you have some.
What gives this cucumber salad the sweet and sour flavor notes?
Of course balsamic vinegar has both sweet and sour flavors, but there are other ingredients that add to the easy dressing for this salad. I sweetened the dressing with Monkfruit Sweetener (affiliate link), and used my fresh-frozen lemon juice.
Want more refreshing cucumber salad ideas?
You can use Low-Carb Cucumber Salads to Keep You Cool to see more of my many favorite salads with cucumbers!
How to make Cucumber Salad with Balsamic Dressing:
(Scroll down for complete printable recipe with nutritional information.)
I used small Persian cucumbers which don't need to be peeled. Cut the Cucumbers into same-size slices.
Whisk together balsamic vinegar, mayo, sweetener, lemon juice, and garlic to make the dressing.
Mix the desired amount of dressing on to the cucumbers, season with salt and fresh ground black pepper, and serve!
It really doesn't get much easier than this for a salad with cucumbers! Hope all the cucumber fans enjoy the recipe.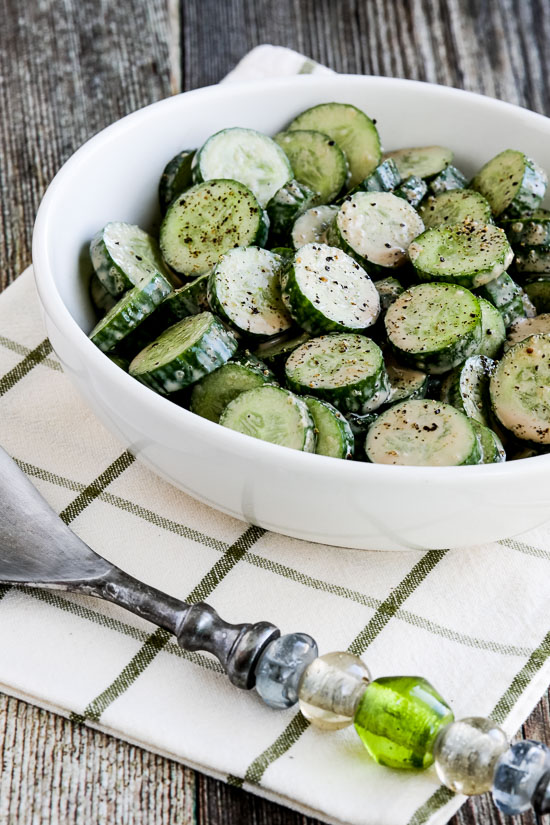 More Swoon-Worthy Salads with Cucumbers:
Al's Famous Hungarian Cucumber Salad
Cucumber and Radish Salad with Feta Dressing
Thai Cucumber Salad
Cucumber Salad with Parsley and Feta
Tomato Cucumber Avocado Salad
Ingredients
8 mini cucumbers
1/4 cup mayo (see notes)
1 T best quality balsamic vinegar (see notes)
2 T Monkfruit Sweetener or other sweetener of your choice (see notes)
1 tsp. fresh lemon juice
1 tsp. garlic puree (also called ground garlic)
sea salt to taste
fresh ground black pepper to taste
Instructions
Trim ends off the cucumbers, and cut into slices about 3/8 inch thick. (I didn't peel the Persian cucumbers I used. If you have garden cucumbers you could cut some of the peel off to make strips, which would look nice. If you have waxed cucumbers from the grocery store, I would peel them completely.)
In small bowl or measuring cup, use whisk to combine mayo, white balsamic vinegar (affiliate link), Monkfruit Sweetener (affiliate link) or sweetener of your choice, lemon juice, and garlic.
I would start with the smaller amount of sweetener and taste to see if you want to add more sweetener.
Place the cucumbers in serving bowl.
Combine cucumbers with dressing, season with sea salt and pepper, and serve.
The salad can also be chilled for an hour or two before serving.
Notes
Use regular or light mayo, whichever you prefer. You can use white balsamic vinegar if you prefer a whiter dressing. Use more or less sweetener, depending on the quality of your vinegar; I would add one tablespoon and taste and keep adding more until it seems right to you. I love Monkfruit Sweetener (affiliate link) but use any sweetener you prefer.
Adapted slightly from a recipe I found online in 2006, on a big recipe site that's no longer online.
Nutrition Information:
Yield:
4

Serving Size:
1

Amount Per Serving:
Calories: 118Total Fat: 10gSaturated Fat: 2gTrans Fat: 0gUnsaturated Fat: 9gCholesterol: 6mgSodium: 236mgCarbohydrates: 6gFiber: 1gSugar: 3gProtein: 1g
Nutrition information is automatically calculated by the Recipe Plug-In I am using. I am not a nutritionist and cannot guarantee 100% accuracy, since many variables affect those calculations.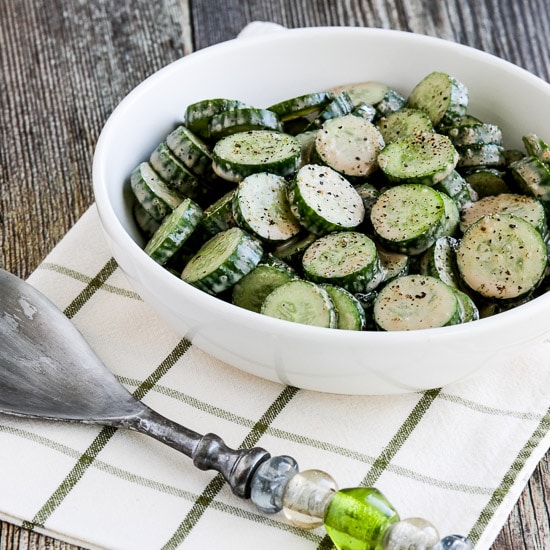 Low-Carb Diet / Low-Glycemic Diet / South Beach Diet Suggestions:
Cucumber Salad with Balsamic Dressing is a perfect side dish for low-carb or Keto diets or any phase of the original South Beach Diet. Use the type of mayo that fits your diet plan.
Find More Recipes Like This One:
Use Cucumber Recipes or Salad Recipes to find more recipes like this one. Use the Diet Type Index to find recipes suitable for a specific eating plan. You might also like to follow Kalyn's Kitchen on Pinterest, on Facebook, on Instagram, on TikTok, or on YouTube to see all the good recipes I'm sharing there.
Historical Notes for this Recipe:
This balsamic cucumber salad recipe was first posted in 2006, and I've made it every year since then! The recipe was updated with new photos in 2017 and last updated with more information in 2022.
We are a participant in the Amazon Services LLC Associates Program, an affiliate advertising program designed to provide a means for us to earn fees by linking to Amazon.com and affiliated sites. As an Amazon Associate, I earn from qualifying purchases.