This website may contain affiliate links and advertising so that we can provide recipes to you. Read my privacy policy.
Easy and Amazing Cajun Shrimp and Sausage Skewers are simple to make and taste out of this world, good! Bold, flavorful Shrimp and Sausage make the perfect pairing on your next barbecue. 
Impress your family with this easy combination that tastes Amazing! Love skewers try some of our favorites like these Grilled Tuscan Pork Skewers, Grilled Hawaiian Teriyaki Chicken Skewers or Grilled Asian Garlic Steak Skewers.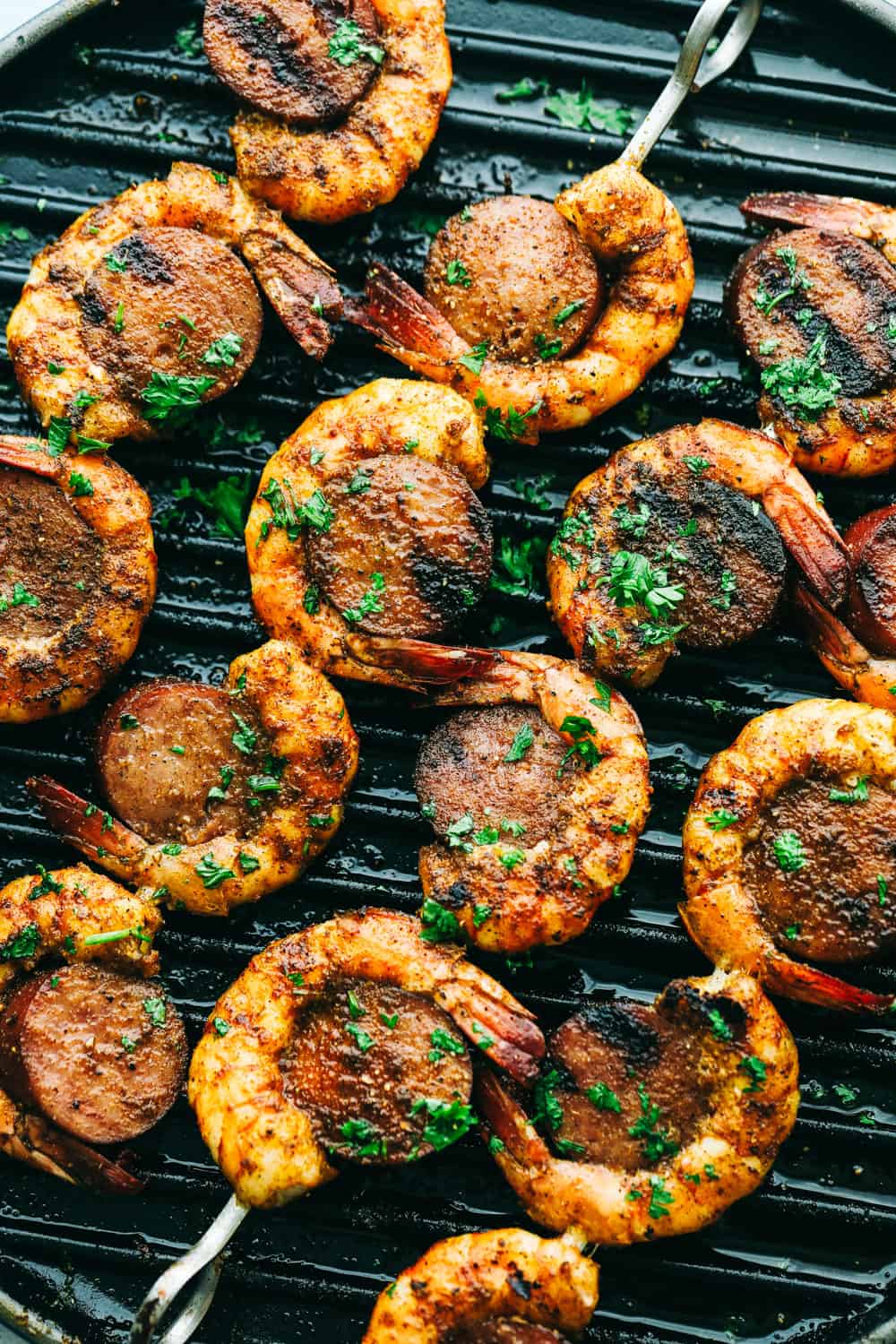 Cajun Shrimp and Sausage Skewers
Grilling is my favorite way of making meals in the summer time. Spending summer nights outside with my family is a highlight for me. Any chance I have to grill I will be outside creating new and fun recipes that I love.
Enjoy this bold flavor of cajun on the shrimp and sausage. You won't go wrong with an easy meal that is sure to please all family members. I love how simple these skewers are to assemble.
These Shrimp and Sausage Skewers are perfect for a quick and simple meal paired with a few sides, an appetizer to start your evening off with or even used as a side dish for a larger entree you are making. Endless options to choose from with these skewers!
How do you make Cajun Shrimp and Sausage Skewers?
In a large bowl add the shrimp and salt and pepper. Add the pork sausage, olive oil, and cajun seasoning and toss.
Thread the shrimp on the skewer with the sausage in the center. Preheat the grill to medium high heat. Cook on each side for 1-2 minutes until the shrimp is opaque.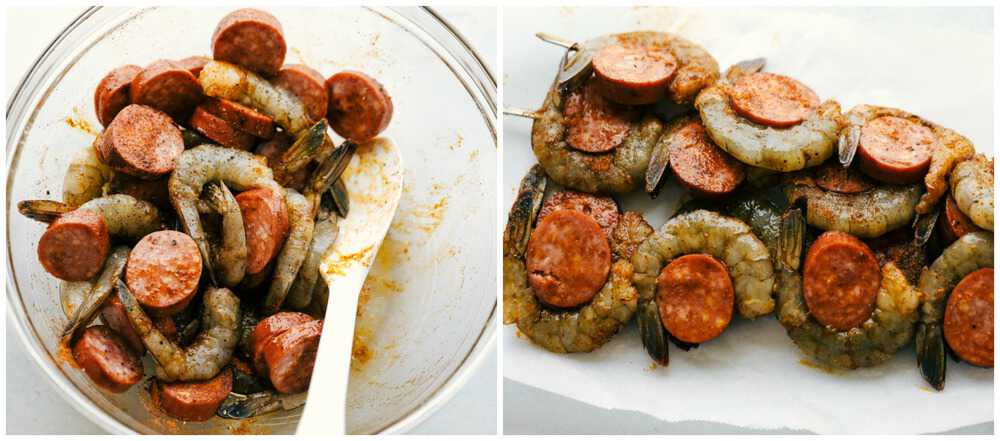 How long does it take to grill shrimp skewers?
These kebabs take only 1-2 minutes on each side. Once the shrimp is opaque and the veggies are tender, you remove them from the grill.
How Long Do Skewers Need to Soak in Water?
While 30 minutes is the minimum, it's best to plan ahead and soak your bamboo skewers overnight in water. It takes a long time for the skewers to soak up the water, but well-soaked skewers, which are slow to give up their moisture, will last longer on the grill without burning up.
Can You Prepare the Skewers the Night Before?
Yes! Place the skewers in the dish or pan, cover with plastic wrap and marinate in the refrigerator for at least 2 hours, preferably longer. I often prepare the shish kebabs the night before a dinner, so they have marinating almost 24 hours.
What sides are good to serve at a BBQ?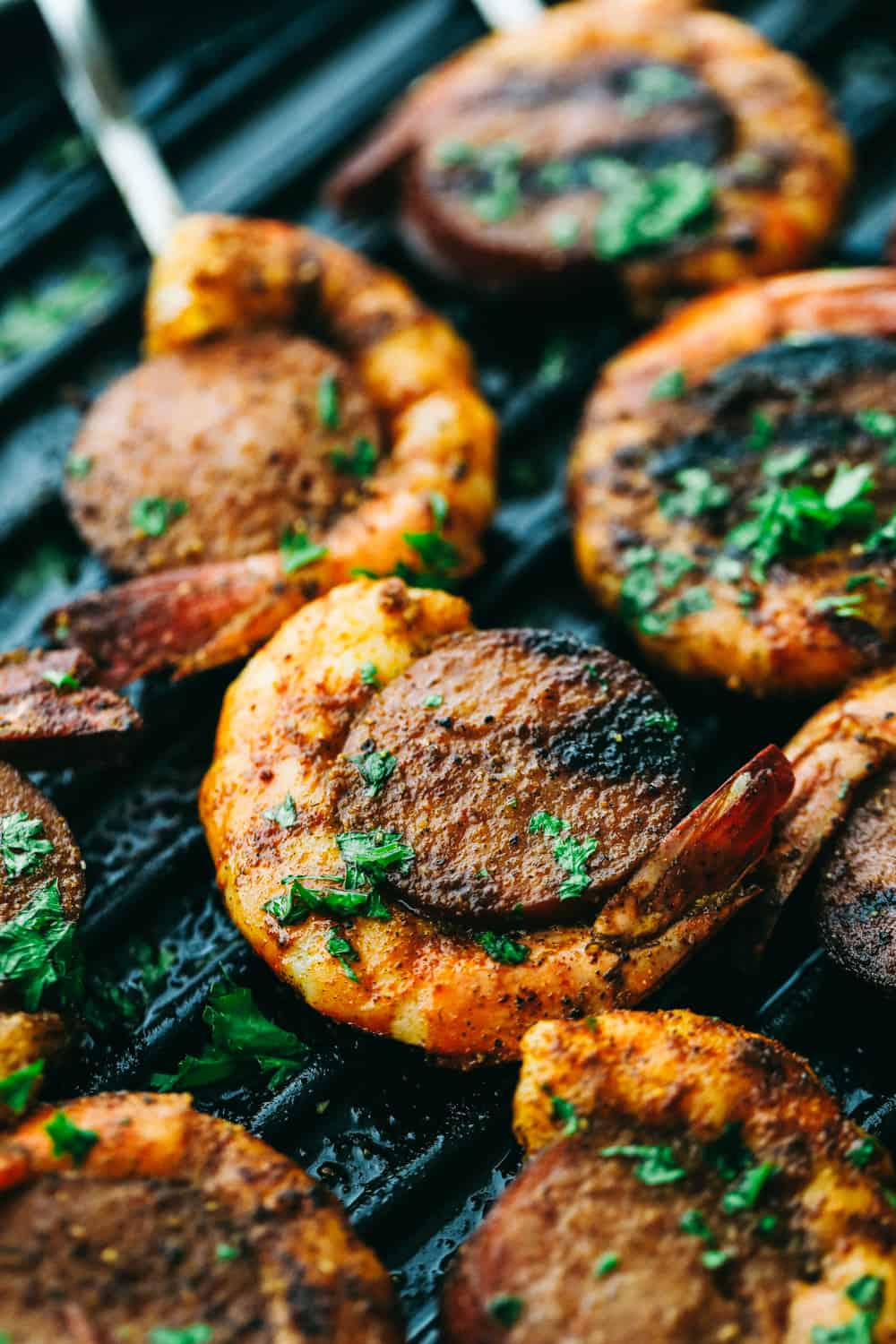 Looking for more Cajun Shrimp recipes?! Try these!