This website may contain affiliate links and advertising so that we can provide recipes to you. Read my privacy policy.
Moo Goo Gai Pan is a classic Chinese dish with tender chicken pieces and mushrooms then add in crisp vegetables such as carrots, water chestnuts, snow peas all stir fried together with a special white sauce poured over top and simmered all together. Way better than take out and only 20 minutes!
I am all about skipping the take out and making Chinese food at home. If you love Chinese food as much as I do try this Skinny Slow Cooker Kung Pao Chicken, Awesome Kung Pao Shrimp or Instant Pot Beef and Broccoli.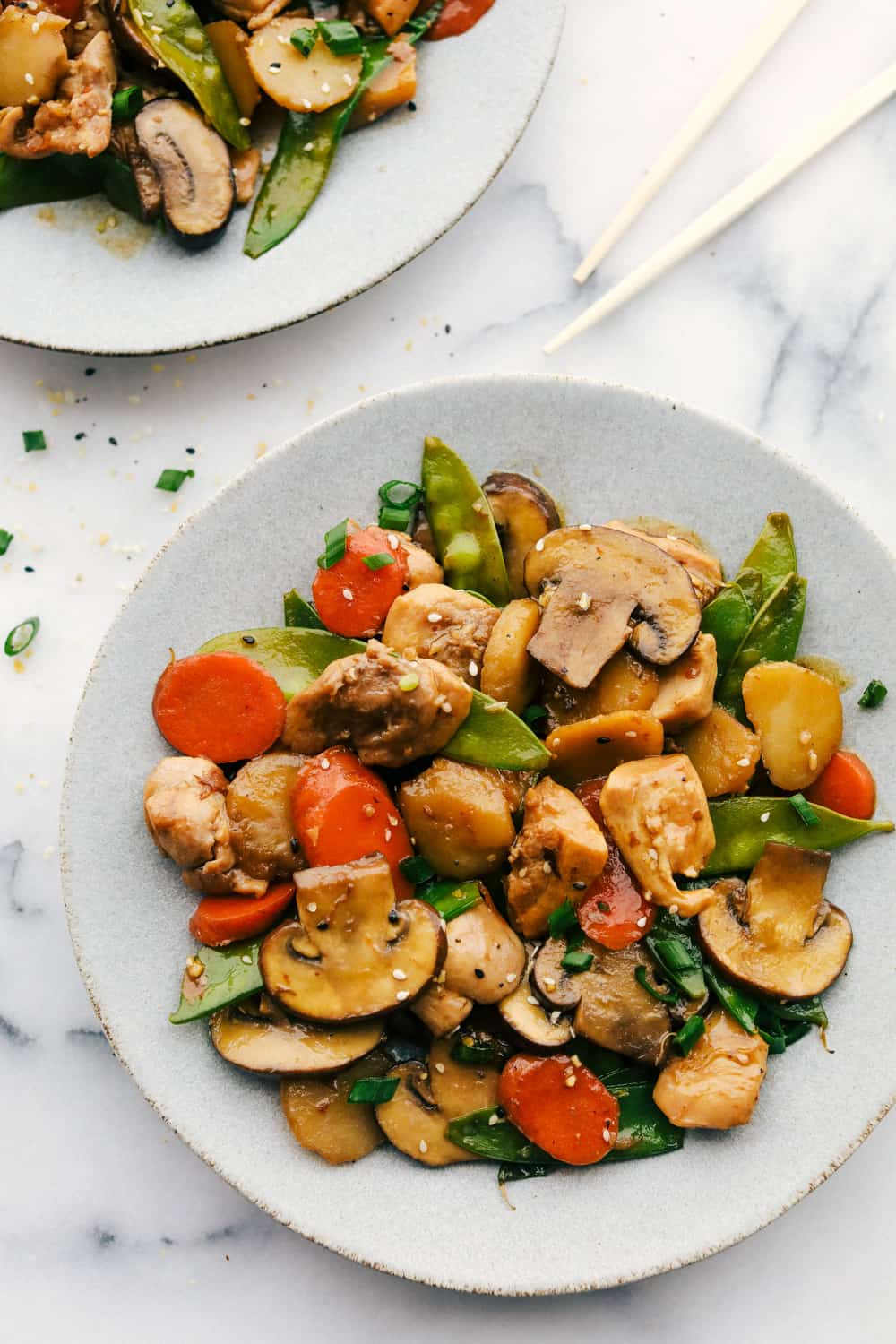 Moo Goo Gai Pan
Seriously! Skip take out and make this at home. It is one of my favorite Chinese restaurant dishes. They serve is so fresh and warm every time and the chicken is so tender, good! I knew I just needed to make it at home and enjoy it in the comfort of my sweatpants. It is so much better than I thought it could ever be!! The chicken is so simple to cook up and adding in the vegetables just crisped them with the olive oil flavoring then whisk together the special Moo Goo Gai Pan sauce that is poured over and simmered all together. You are going to love how easy this Moo Goo Gai Pan recipe is!
There is little to no seasoning on this Moo Goo Gai Pan dish. Just the perfect sweet and savory Moo Goo Gai Pan special sauce that enhances all the flavors in this dish! It is served with vegetables and chicken with some green onions or sesame seeds for garnish. It is that simple and easy to make! You will have dinner on the table in less than 20 minutes. If you are craving Chinese food, skip the ordering and make this Moo Goo Gai Pan recipe immediately! You will not regret it and your family will love every bite of it.
Where does Moo Goo Gai Pan Come From?
Moo Goo Gai Pan is known for its famous Chinese takeout. It is a Cantonese cuisine that is known to be a delicious chicken and mushroom dish that is served with other vegetables depending on your preference and where it is prepared. It is a quick and easy Chinese dish that is now modernized into an American-Chinese stir fry.
While preparing it, the chicken and vegetables are cooked and mixed with a Chinese white sauce and served with rice or noodles on the side. There are little to no seasonings and is very mild with no spices.
What does Moo Goo Gai Pan Mean in Chinese?
When I looked it up, Moo Goo Gai Pan means "Mushroom chicken slices" or stir fried chicken with mushrooms.
What you need to make Moo Goo Gai Pan:
With these simple ingredients for making Moo Goo Gai Pan you will see how quickly and easily this recipe comes together. I cut my chicken thighs in 1 inch chunks but if you like the classic Chinese thin sliced cuts of meat that will work too. Just be sure not to over cook your sliced chicken since it is thiner. Next, add in all your vegetables and cook together for a tender and juicy meal. All the flavors from the ingredients blend so well together and make this a complete meal.
Olive Oil
Chicken Thighs
Salt and Pepper
Carrots
Mushrooms
Water Chestnuts
Snow Peas
Chopped Green Onions and Sesame Seeds

 
How to Make Moo Goo Gai Pan:
You can't go wrong with this Chinese dinner recipe. It is quick, simple to make and served up hot and ready in less than 20 minutes. First you will stir fry your chicken. I like to use a wok but a large skillet will work great too. Once your chicken is cooked and lightly golden, crisp on the outside add in your vegetables. Stir fry them together in olive oil until they are all cooked and the vegetables are softened. Prepare the Moo Goo Gai Pan sauce and simmer over the chicken and vegetables. Serve immediately while it is warm! This meal won't last long and you will be so happy you skipped the take out order all together.
Stir Fry your chicken: In a large skillet add the olive oil and turn to medium high heat. Salt and pepper the chicken and cook in the wok until cooked throughout and no longer pink. Remove and set aside on a plate.
Add in vegetables and olive oil: Add a tablespoon of olive oil and carrots and sauté until almost tender 1-2 minutes. Then add the mushrooms and sauté for 1-2 minutes. Add in the water chestnuts and snow peas and sauté for a minute more.
What is the Sauce Made of?
This sauce is the stable of the Moo Goo Gai Pan Chinese recipe. This pan is light and tasty but still adds in loads of flavor. It is a sweet and savory sauce that has the perfect combination with the chicken and vegetables. It is simple to make and most ingredients you already have in your pantry!
Chicken Broth
Soy Sauce
Brown Sugar
Garlic
Hoisin Sauce
Sesame Oli
Cornstarch
Water
How to Make Moo Goo Gai Pan Sauce:
Once your Moo Goo Gai Pan Sauce is whisked together and becomes thick with the cornstarch, pour it over the chicken and vegetables then let simmer for a few minutes. This will enrich the chicken and vegetables in the rich sauce. This Moo Goo Gai Pan Sauce is the perfect combination and a MUST try Chinese dish!
Whisk together ingredients: To make the sauce, whisk in a small bowl the chicken broth, soy sauce, brown sugar, garlic, hoisin, and sesame oil. Combine the cornstarch and water in another small bowl and whisk into the sauce.
Pour the sauce over the chicken: Add the chicken back to the wok and pour the sauce on top and let summer until it starts to thicken.
Tips and Variations:
Vegetables: It is best to cut the vegetables all the same size and width. This will help ensure that they are all cooked evenly.
Chicken: When cutting the chicken a simple trick is to place the chicken in the freezer for about 20 to 30 minutes. Letting the chicken become hard but not frozen helps cut the chicken easier. Be sure to cut against the grain for best results. At this time, it is best to slice the chicken into thin slices or one inch chunks depending on what you prefer.
Keep you wok or skillet hot: Make sure your wok or skillet is always hot when cooking the chicken and vegetables.
Make a Complete Meal!
This Moo Goo Gai Pan recipe is perfect as a complete meal and will be satisfying to all. Adding a side salad like my Chinese Chicken Pasta Salad with Sesame Dressing, 20 Minute Vegetable Lo Mein or a simple white rice can make this into a complete meal with a few options.
If you are wanting to add in more of a complete Chinese meal with extra side dishes here are a some of my favorite sides to go along with Moo Goo Gai Pan:
Here are More Amazing Asian Recipes: