This Greek Lemon Chicken can marinate all day while you're at work; then simply roast the chicken for an easy low-carb dinner. This is absolutely delicious, and your house is going to smell amazing while the chicken cooks!
PIN  Greek Lemon Chicken to make it later!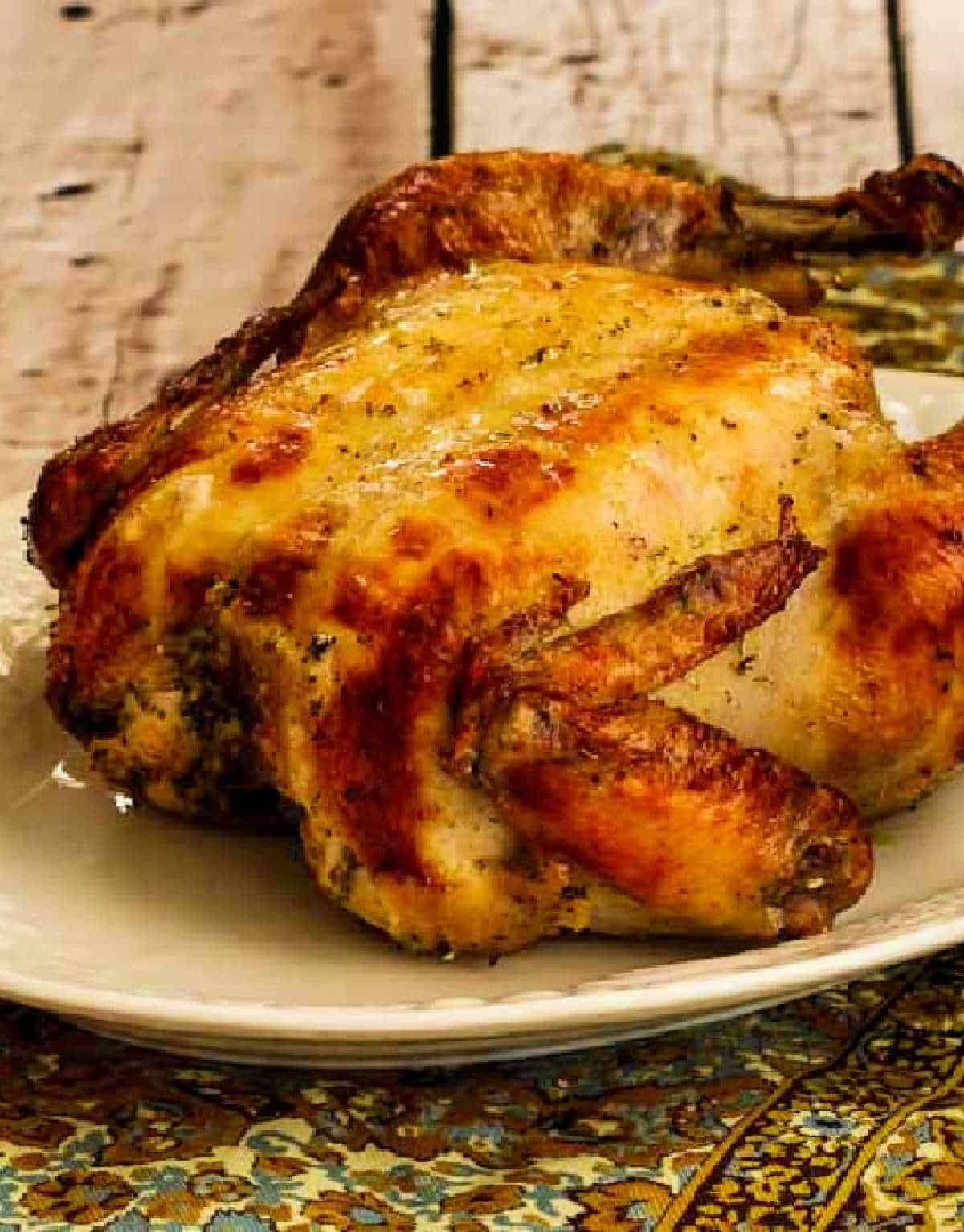 Today I'm reminding you about this delicious Greek Lemon Chicken that's perfect for a special dinner on a week night, and this easy recipe will be a hit with everyone who likes chicken with lemon and Greek seasonings! I don't know how many people still roast chicken at home, but not only is this chicken so, so delicious, the wonderful smell that fills your house while the chicken is roasting makes it worth the little bit of effort.
The Greek Lemon Chicken marinates all day in a Ziploc bag in a mixture of lemon juice, olive oil, and Greek spices, and in the evening you just pop it in the oven for an easy dinner that's done in about an hour. And of course this is amazingly low in carbs, for people who are interested in that.
What ingredients do you need for this recipe?
(This is only a list of ingredients; please scroll down for complete printable recipe. Or if you use the JUMP TO RECIPE link at the top of the page, it will take you directly to the complete recipe.)
olive oil, preferably good quality Greek olive oil
grated lemon zest (optional but recommended)
fresh lemon juice, I used my fresh-frozen lemon juice for some of the juice
Greek Seasoning (affiliate link)
salt and fresh ground black pepper
What gives this chicken Greek flavors?
This roasted chicken uses the combination of olive oil, lemon zest and juice, and Greek oregano that is such a classic in Greek cooking.
What if you don't have Greek Seasoning?
Greek Seasoning is an herb and spice blend that's available in most stores. But if you don't want to buy it, is usually contains salt, garlic powder, Oregano (preferably Greek oregano), Marjoram, and dried lemon peel. Some brands also contain onion, parsley and black pepper. The most essential ingredient is Oregano; if you have that just add a pinch of the other ingredients you do have.
How to Make Greek Lemon Chicken:
(This is only a summary of the steps for the recipe; please scroll down for complete printable recipe. Or if you use the JUMP TO RECIPE link at the top of the page, it will take you directly to the complete recipe.)
Mix the fresh lemon juice, lemon zest, Greek Seasoning (affiliate link), olive oil, salt, and pepper to make the marinade. 
Tying the chicken is optional, but I like to do it, and it keeps it together.
Put the chicken in a plastic bag with the marinade and let it marinate all day in the fridge.
I rig up a roasting pan by putting a rack inside a baking dish, which lets the hot air circulate under the chicken, but you can roast it just on a baking sheet as well. 
Start the chicken with breast side down and cook at 450F/220C for 25 minutes.
Then turn the chicken over, lower the heat to 350F/180C and cook 35-45 minutes more. I use an Instant-Read Meat Thermometer (affiliate link) to cook until the chicken reaches 170F.
You can broil the chicken for a couple of minutes if you'd like to brown the top a bit more, but even if you skip that step, this chicken is pretty photogenic!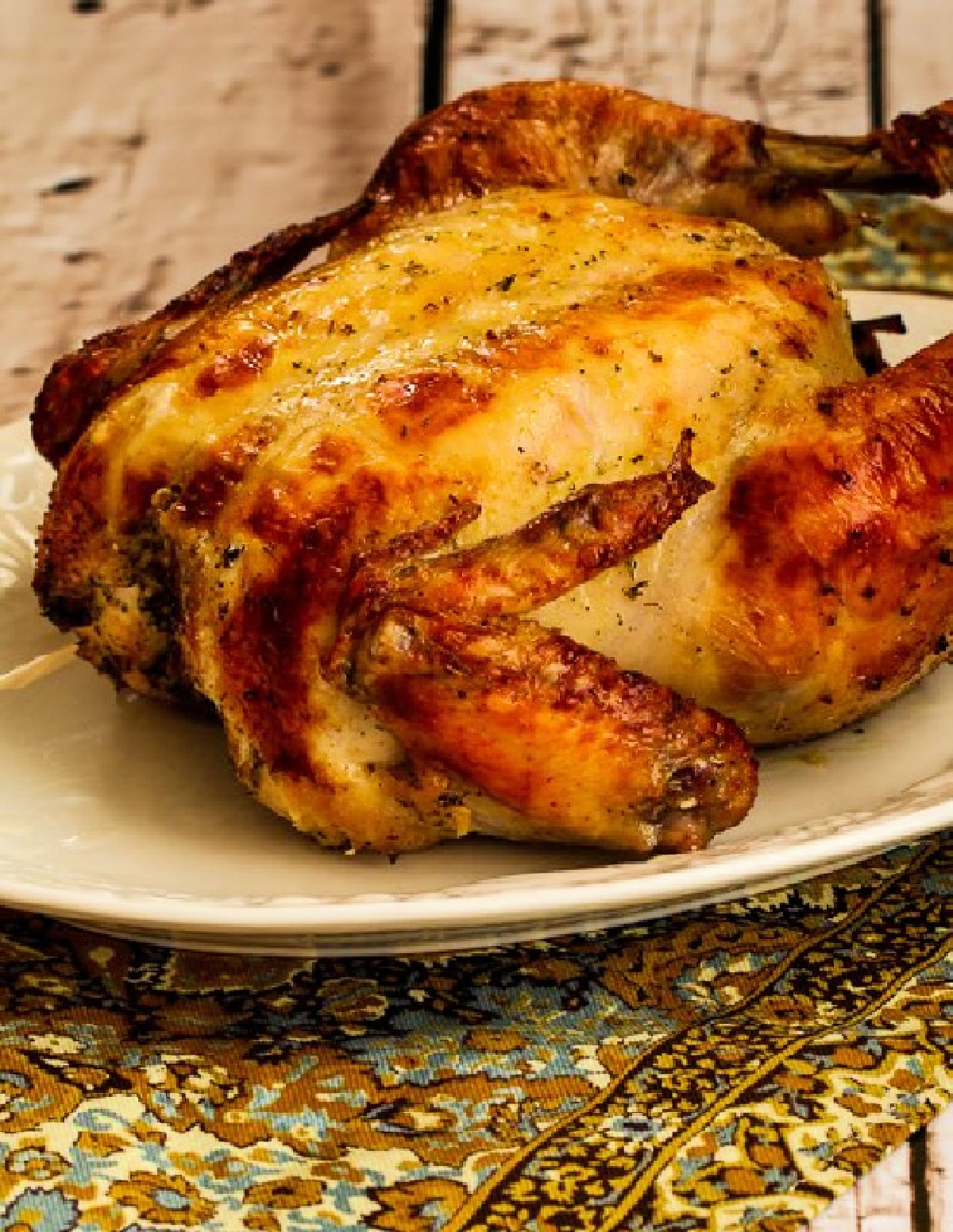 Make it a Low-Carb Greek Meal Meal:
Greek Lemon Chicken would taste great with Spicy Chopped Greek Salad with Peperoncini, Greek Cauliflower Rice Bake, Easy Grilled Greek Zucchini, Greek Style Zucchini Noodles, or Greek Cabbage Salad for an amazing meal with greek flavors!
More Low-Carb Chicken Dinners:
Weekend Food Prep:
Roasted chicken is great left over, so this recipe has been added to a category called Weekend Food Prep where you'll find recipes you can prep or cook on the weekend and eat during the week!
Ingredients
Whole chicken, about 5 pounds (I used a whole chicken from Costco for this photo)
Marinade Ingredients:
1/3 cup olive oil, good quality
1 tsp. grated lemon zest (optional but recommended)
1/4 cup lemon juice (see notes)
1 T Greek seasoning, see note below
Salt and fresh ground pepper to taste
Instructions
I usually tie the chicken with string, but you don't have to.
Zest the skin of the lemon and then squeeze the juice. If you don't have a lemon zester (affiliate link), any type of microplane grater (affiliate link) or even a fine cheese grater will work.
Mix marinade ingredients in measuring cup.
Put chicken in large Ziploc bag, pour marinade over, then zip bag shut and mix well, until chicken is well coated. Put in fridge and let chicken marinate all day while you're at work.
After work, preheat oven to 450F/220C, drain marinade off and put chicken in glass or heavy metal roasting pan, breast side down. (I like to use a pan with a rack in it so the hot air circulates under the chicken, but any roasting pan or baking dish will work.)
Roast about 25 minutes, then turn breast side up and baste with pan juices.
Lower heat to 350 and roast about another 35-45 minutes, or until top is browned and Instant-Read Meat Thermometer (affiliate link) reads about 170. It takes about an hour and 15 minutes for a 5 pound chicken.
Let rest 10 minutes before carving.
Notes
You could use fresh-frozen lemon juice for this recipe.
There are many good brands of Greek Seasoning (affiliate link).  If you don't have Greek Seasoning, I'd use 1 tsp each oregano, garlic powder and marjoram; or other spices you like on chicken.
Nutritional information for calories, fat, and protein is going to be much lower than shown for this recipe because of course you're not eating all the oil that's in the marinade and some of the 5 pounds of chicken is bones!
This recipe created by Kalyn.
Nutrition Information:
Yield:
6

Serving Size:
1

Amount Per Serving:
Calories: 1013Total Fat: 63gSaturated Fat: 16gUnsaturated Fat: 41gCholesterol: 333mgSodium: 1169mgCarbohydrates: 1gFiber: ogSugar: 0gProtein: 103g
Nutrition information is automatically calculated by the Recipe Plug-In I am using. I am not a nutritionist and cannot guarantee 100% accuracy, since many variables affect those calculations.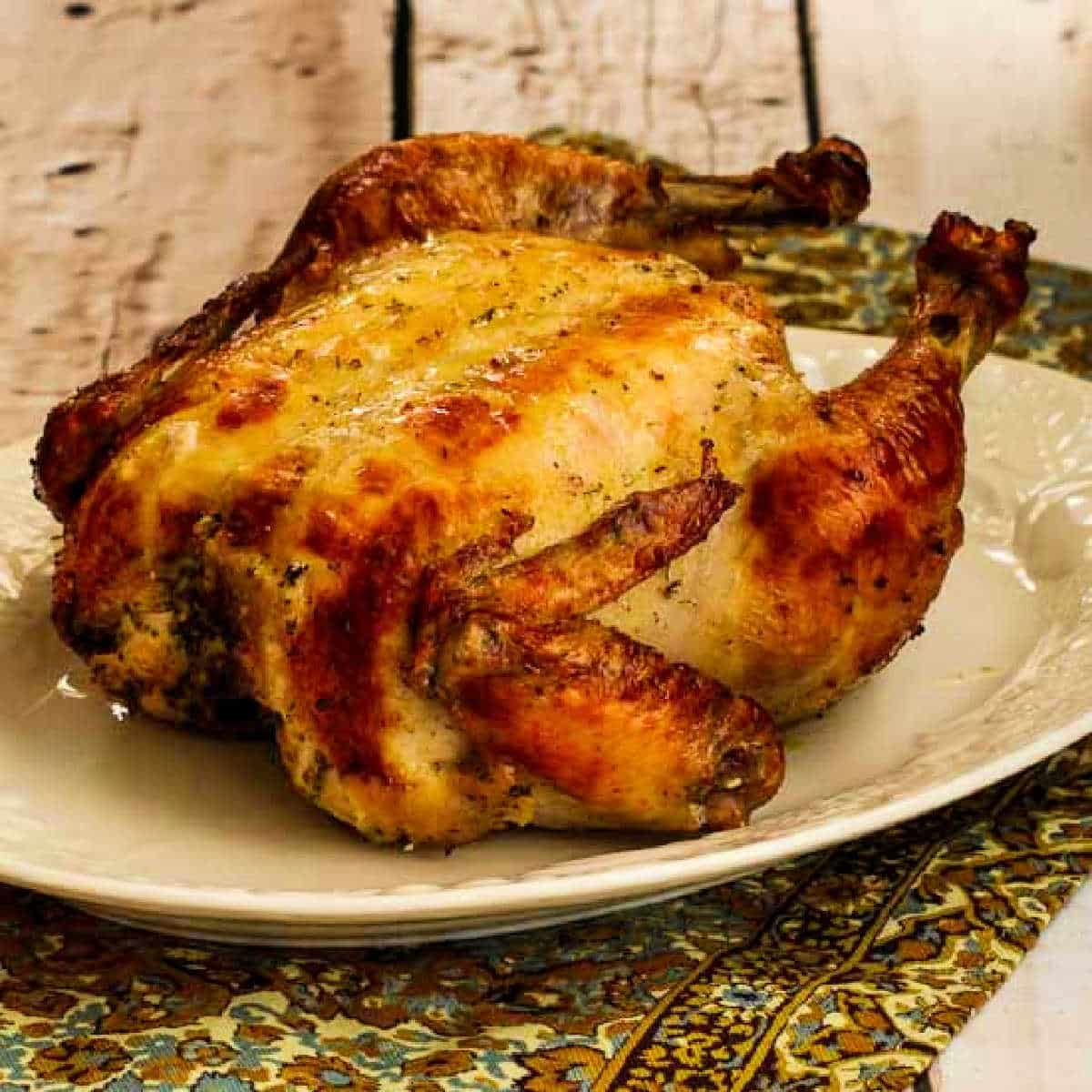 Low-Carb Diet / Low-Glycemic Diet / South Beach Diet Suggestions:
Greek Lemon Chicken would be a great dish for the South Beach Diet, and low-carb eating plans, even Keto. Those who are South Beach Dieters who are following the letter of the law should should let other family members have the legs and thighs and eat the breast meat, which has less saturated fat.
Find More Recipes Like This One:
Use Oven Dinners to find more recipes like this one. Use the Recipes by Diet Type index pages to find more recipes suitable for a specific eating plan. You might also like to follow Kalyn's Kitchen on Pinterest, on Facebook, on Instagram, on TikTok, or on YouTube to see all the good recipes I'm sharing there.
Historical Notes for this Recipe:
This recipe for Greek Lemon Chicken was first posted in 2006, probably without a single photo. I've made it many, many times since then, and the recipe was last updated with more information in 2023.
We are a participant in the Amazon Services LLC Associates Program, an affiliate advertising program designed to provide a means for us to earn fees by linking to Amazon.com and affiliated sites. As an Amazon Associate, I earn from qualifying purchases.