This website may contain affiliate links and advertising so that we can provide recipes to you. Read my privacy policy.
Grilled Caesar Salad is a smokey spin to the classic recipe. Leafy sections of romaine are seared on the barbecue to create a lightly charred texture. The flavors come together with a drizzle of creamy homemade caesar dressing, croutons, and parmesan cheese.
Switch up your typical salad game by grilling the lettuce! The contrast between crisp leaves with lightly grilled warm pieces is unexpectedly delicious. Looking for more tasty salad recipes? Then try Greek Broccoli Pasta Salad, Farro Caprese Salad, or Summer Corn Salad.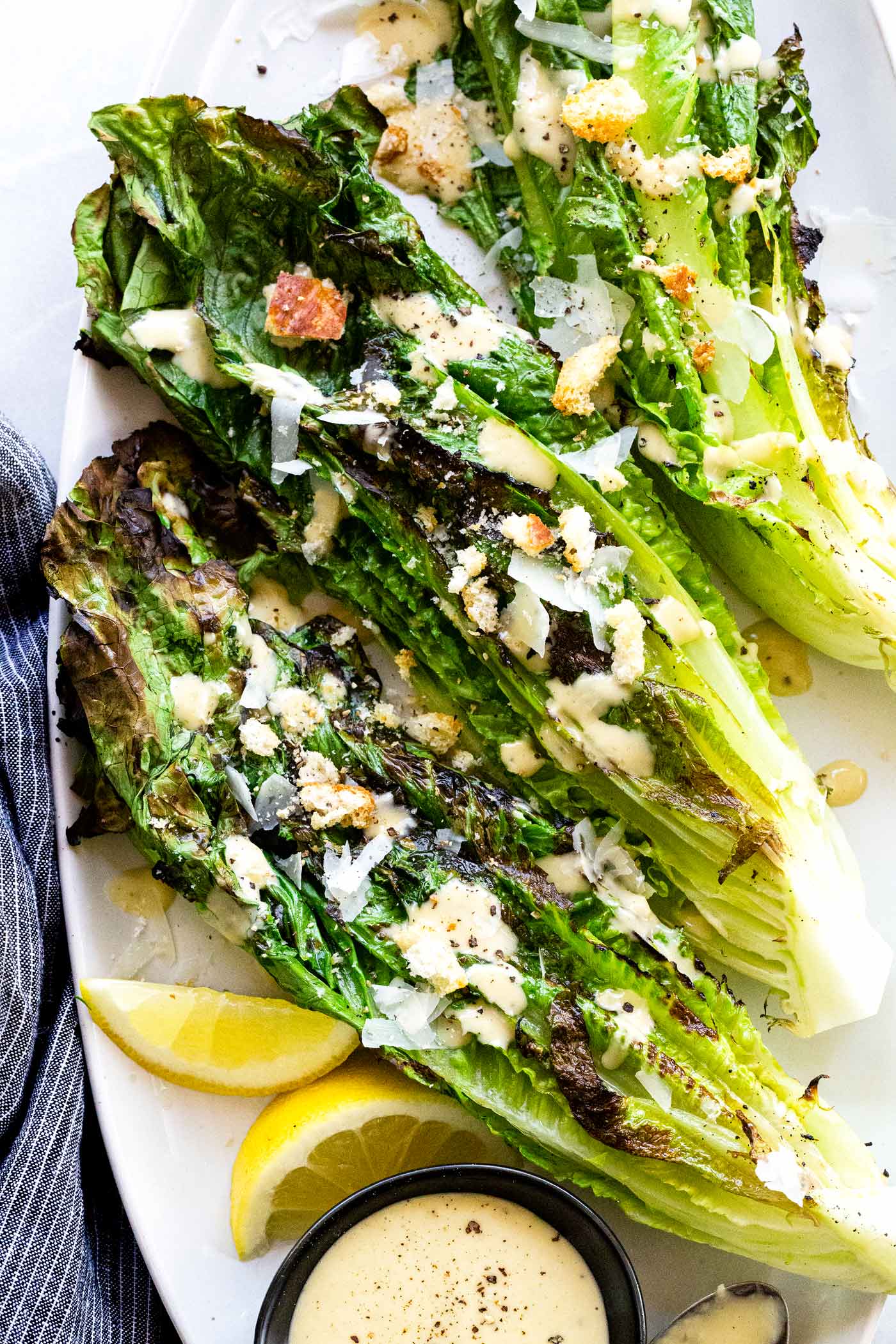 Grilled Caesar Salad
Caesar salad is a staple on restaurant menus, but it can be easily made at home. Crisp chopped greens tossed in a creamy anchovy dressing is a classic combination. To take the taste to the next level, the lettuce is grilled to add a hint of char flavor.
It's important to use hearty types of lettuce like romaine for this recipe. The sturdy structure keeps makes it easy to sear on the grill. This dish is great to make during the summer when you want to cook every meal outdoors.
How to make Grilled Caesar Salad
Whisk together mayonnaise, lemon juice, anchovy paste, garlic, salt, and pepper.
Slowly drizzle and whisk in olive oil into the dressing until smooth and creamy.
Cut the romaine lettuce into quarters. Brush with olive oil and season with salt.
Heat the grill to medium-high and grease the grates.
Place the lettuce cut side down, cook until light grill marks appear, 1 to 2 minutes.
Repeat on the other cut side.
Serve grilled romaine with caesar dressing, croutons, and parmesan cheese.
How do you grill romaine lettuce?
Learning how to grill romaine is easy! Depending on how large the head of lettuce is, cut it in half or into quarters. To prevent the lettuce from sticking to the grill lightly brush some olive oil on the cut sides. I like to season it with a little bit of kosher salt to enhance the savory flavor.
Sear the lettuce for just a few minutes until light grill marks appear and the edges become toasted. The lettuce should not be completely wilted. The warm edges and cool centers make for a nice taste-texture variation.
How do you make caesar dressing?
The essential ingredients are anchovy paste, parmesan cheese, lemon juice, egg yolks, mustard, minced garlic cloves, and extra-virgin olive oil. I often make a classic caesar salad using egg yolks for the dressing.
If you're hesitant about using raw eggs, substituting some mayonnaise is a great solution. I did that for this recipe. It has pasteurized yolks and provides a creamy mouthfeel.
What toppings do you add?
Freshly grated aged parmesan cheese is always a must. I love how restaurants add a big speck of black pepper right before eating the salad and have been doing that at home every since.
Whenever I have leftover bread slices or loaves, I make homemade croutons. It's super easy to prepare and stores for months! Since you have the barbecue fired up, for a more hearty entree salad, add some chopped grilled chicken.
Looking for more grilled salad recipes? Try these ones!