Healthy and delicious, these chicken tenders are marinated with marjoram, tomato and garlic then grilled or pan-fried. Enjoy the fabulous flavours of the Mediterranean in this nutritious chicken tenderloin recipe with just a handful of ingredients.  Gluten-free, paleo, Whole30, low-carb recipe.
---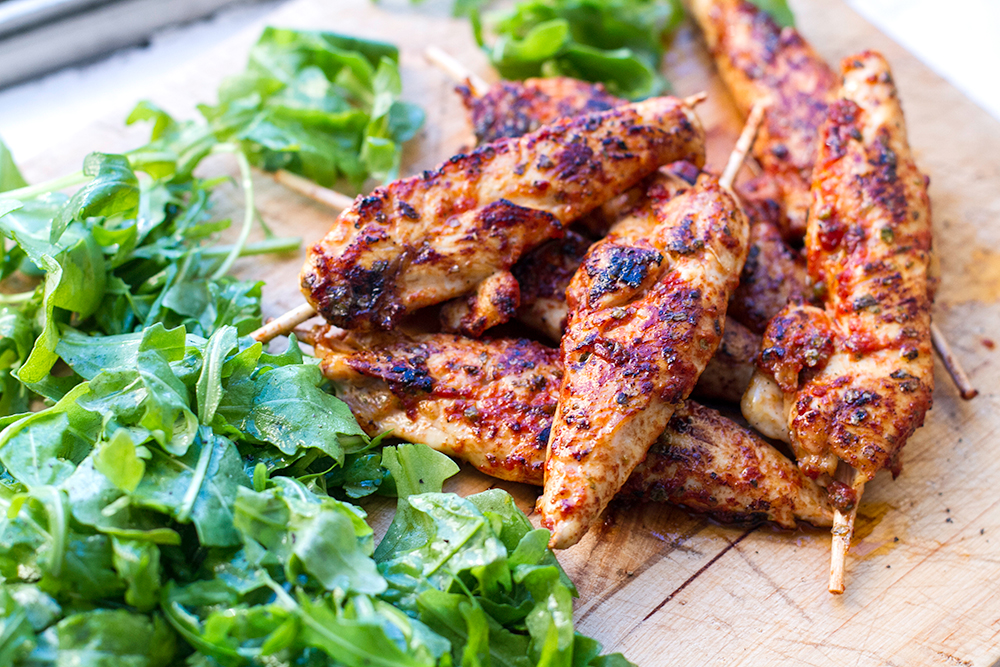 Chicken Tenders With Marjoram & Tomato Marinade
Flavoured with delicious marjoram, garlic and tomato marinade, these chicken tenders can be grilled or pan-fried as skewers or individual pieces. Serve with a side of green salad or broccoli, this chicken tenderloin recipe is healthy and delicious.
I will often make these as a protein-rich main for dinner or lunch and add extra veggies, rice or potatoes for something more substantial. You can marinate a batch of these chicken skewers for a barbecue. They are very convenient as finger food or to share around. 
Chicken Tenderloin vs Breast 
Chicken tenderloins (or tenders) are thin strips of muscle loosely attached to the underside of the breast. The tenderloin is often removed and sold separately as chicken tenders, fingers or goujons depending on where you are. Compared to the rest of the chicken breast, the tenderloin meat is more tender when cooked. 
The reason I wanted to use tenderloins for this recipe is that they are the perfect size for individual skewers so you don't need to cut anything up. And, they do come out more succulent once grilled or pan-fried. You can use chicken breast or thigh meat or even pork will work with this super simple marjoram marinade.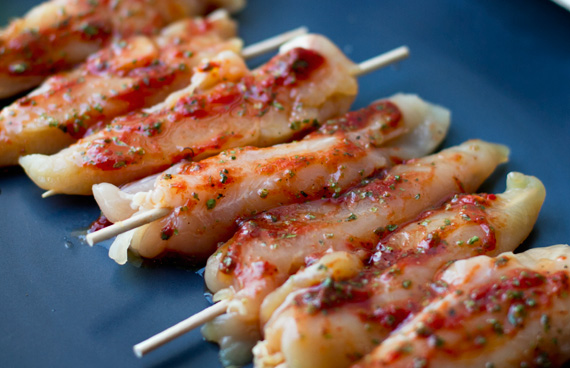 What Is Marjoram?
Marjoram is a hardy Mediterranean herb of the same family as oregano and can be used fresh or dried, and added to cooking. It's popular in the Middle East, Turkey and Cyprus and can be used in many Western recipes. It's fantastic in a chicken marinade. 
You might be wondering what does marjoram taste like? It has camphor-like aromatic green and grey leaves and combines flavours of oregano, pine and citrus. Marjoram goes well in Mediterranean dishes, with vegetables, tomatoes, lemon, wine, garlic, olive oil, fish, duck, mushrooms, most meats, potatoes and spinach. If you're looking for marjoram recipes, this is a great one to start with! 
What can I substitute for marjoram? You can often purchase dried marjoram in the herbs and spices aisle of the supermarket and sometimes it's sold fresh in the produce section. If you can't find it dried or fresh, oregano and marjoram are interchangeable.  
More Healthy Chicken Recipes
Print
---
Description
Try these delicious chicken tenders marinated with marjoram, tomato and garlic then grilled or pan-fried and enjoy the fabulous flavour of the Mediterranean in this nutritious chicken tenderloin recipe. If you're new to cooking with marjoram, put this one on your to-do list.
---
Marjoram marinade
Plus
Sides I served with chicken tenders
---
Combine and whisk dried marjoram, garlic, tomato paste, olive oil, lemon juice, salt and pepper in bowl.
Add chicken tenderloin pieces and set aside for at least 15 minutes to marinate. You can leave the chicken in the marinade overnight in the fridge for more flavour. Make sure to leave them out of the fridge for 10-15 minutes before cooking.
Skewer the chicken tenders onto bamboo skewers (soaking the wooden skewers in some water ahead of time will prevent them from burning). If you don't have the skewers, you can leave the chicken as tenderloin strips.
Heat a little oil in a large frying or grill pan. Cook the chicken skewers or strips for 4 minutes on each side. Remove from the pan and sit for a few minutes for the juices to flow back inside the meat.
At the same time, set a saucepan of water to boil. cook the broccoli for 2-3 minutes and mix rocket/arugula salad leaves with lemon juice and extra-virgin olive oil. Toss cooked broccoli with some butter or ghee and a little sea salt.
---
Nutrition
Serving Size:

2 skewers + 1 cup arugula salad + 1/2 cup broccoli with butter

Calories:

361

Sugar:

1.9 g

Sodium:

681.5 mg

Fat:

19.8 g

Carbohydrates:

5.8 g

Fiber:

2 g

Protein:

40.4 g

Cholesterol:

126.6 mg
Keywords: Chicken, Chicken Tenders, Chicken Tenderloin, Marjoram, Skewers, Marinade