This website may contain affiliate links and advertising so that we can provide recipes to you. Read my privacy policy.
These Grilled Steak Fajitas are the perfect departure from burgers and hot dogs for simmer grilling. Marinated in the morning, throw on the grill with a medley of bell peppers and onions, and serve in charred tortillas with all your favorite fixings.
Fajitas are the EASIEST dinner on the planet, so be sure to check out these Sheet Pan Garlic Lime Salmon Fajitas, these Sheet Pan Fajita Bowls with Chicken Sausage, and these Sizzling Steak Fajita Roll Ups.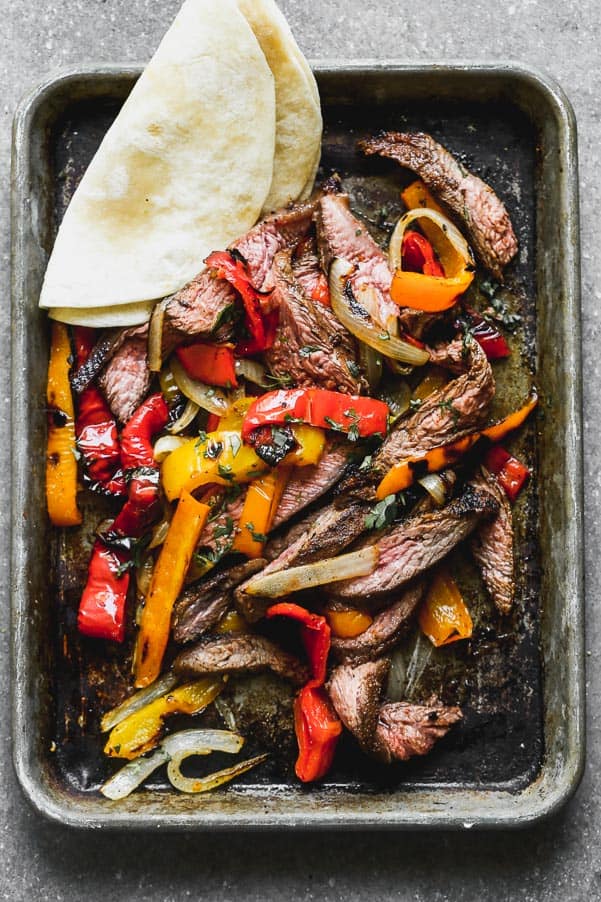 Grilled Steak Fajitas
Easy meals are the name of the game in the summer. And it doesn't get much easier than these Grilled Steak Fajitas! All you have to do is marinate the steak, throw it on the grill with peppers and onions and serve them in warm flour tortillas. Our favorite steak fajitas marinade has plenty of acid from lime juice and all the classic flavors of traditional fajitas.
I love grilling in the summertime – it keeps my house nice and cool and doesn't dirty up the kitchen. A lot of people are intimated by it, but if you use a meat thermometer, there's no way you can mess it up.
Let's make them!
Ingredients in Grilled Steak Fajitas
Steak: For this particular recipe, I like to use skirt or flank steak. They're both very inexpensive cuts of meat, but tend to be tough so we make sure to marinate long enough to break down some of the tougher parts of the meat. You also only want to cook the steak to a medium-rare or medium temperature, otherwise the meat can be tough.
Quick Tip: One last tip when it comes to cooking a tough piece of meat like a flank steak, when you slice the steak, make sure to slice it against the grain.
Lime: I like the acidic notes of lime juice in this marinate, not only is it flavorful, but it helps to tenderize the meat as well.
Olive oil. You don't need an expensive olive oil here, anything will work!
Spices: The spice blend in these Grilled Steak Fajitas is simple – chili powder, garlic powder, onion powder, cumin, paprika, and just a little bit of cayenne if you're up for it.
Garlic: I like to grate the garlic into the marinade by using a microplane, but you can also smash it or mince it.
Peppers: Use a medley of your favorite bell peppers. I prefer red, yellow, and orange peppers because they tend to be a bit sweeter than green peppers.
Tortillas: Any tortillas will work. We prefer flour tortillas, but if corn is your thing, go for it!
How to make Grilled Steak Fajitas
Marinate the steak: Add the flank steak to a ziplock baggie along with the lime juice, olive oil, spices, and garlic. Marinate for at least two hours and up to eight.
Prep the grill: Once the steak has marinated, pull it out and season with salt and pepper. Turn all the burners on a high heat. You want the grill to be about 450-degrees.
Prep the veggies: Toss sliced bell peppers and onions (or any other veggies!) with a little bit of olive oil, salt, and pepper.
Grill! Place a grill pan or sheet on one half of the grill. Cook the veggies. After they start to blister, add the steak. Grill for about 4 minutes on one side, flip and grill another 3-4 minutes on the other side. Toss the veggies when you add the steak and then when you flip the steak.
Let Steak Rest: Remove everything from the grill and let the steak rest for 10 minutes before slicing.
Serve: Transfer a little bit of the steak, peppers and onions into tortillas. Top with your favorite fajita condiments.
Substitutions, Tips and Tricks for Recipe Success:
Make sure you let your meat rest before slicing, otherwise, all of that good juice won't stay in the steak.
Feel free to swap our your favorite fajita veggies. Zucchini, mushrooms, or squash would also be great.
For even more flavor, throw your tortillas on the grill for a second or two to char them up a little bit.
Sprinkle the final produce with a little bit of chopped cilantro.
What to serve with Grilled Steak Fajitas!
salsa
sour cream
shredded cheese
guacamole
pico de Gallo
avocado
If you love grilling, check out these other grilled favorites!