This website may contain affiliate links and advertising so that we can provide recipes to you. Read my privacy policy.
A five star salmon recipe that gets infused with a lemon, lime and orange marinade. It grills to tender and flaky perfection and has the best sweet and tangy flavor!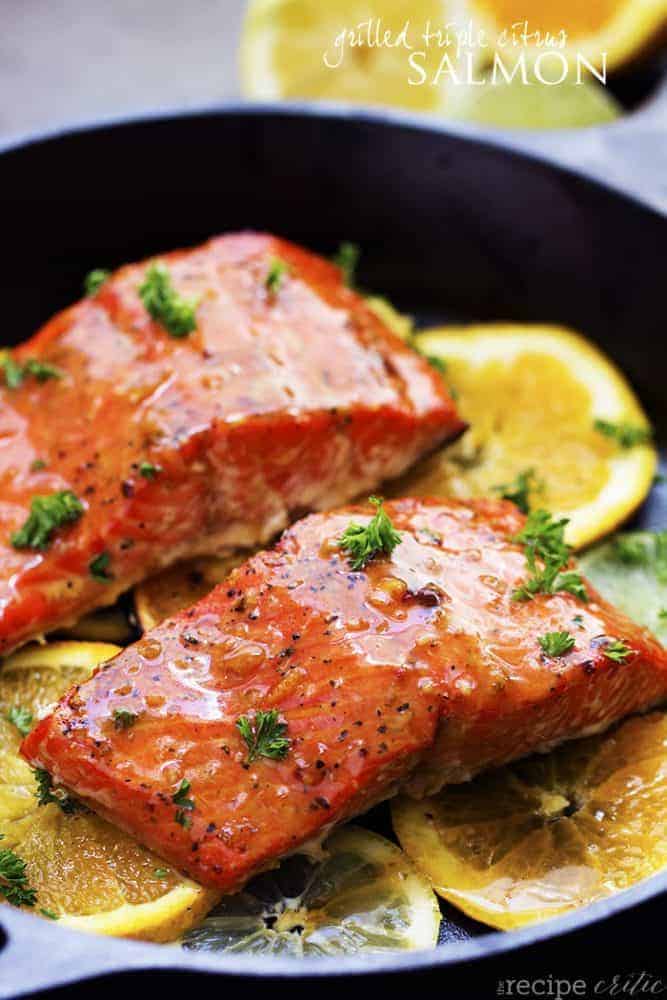 I have loved being an ambassador this year for The Salmon Council. I get so excited to create a delicious salmon recipe. Salmon has been such a huge part in my healthy lifestyle. I eat salmon 4-5 times a week! Not only is it full of amazing flavor, I love all of the health benefits that it has to offer. You can enjoy a delicious tender and juicy salmon and stay looking good in that summer swim suit! 🙂
This recipe today is so simple and the marinade is so easy to make. I am going to give you some tips on how I grill the best salmon every single time. Salmon can be tricky at times to grill. But you will amaze yourself at how you can bring a restaurant quality salmon to the dinner table.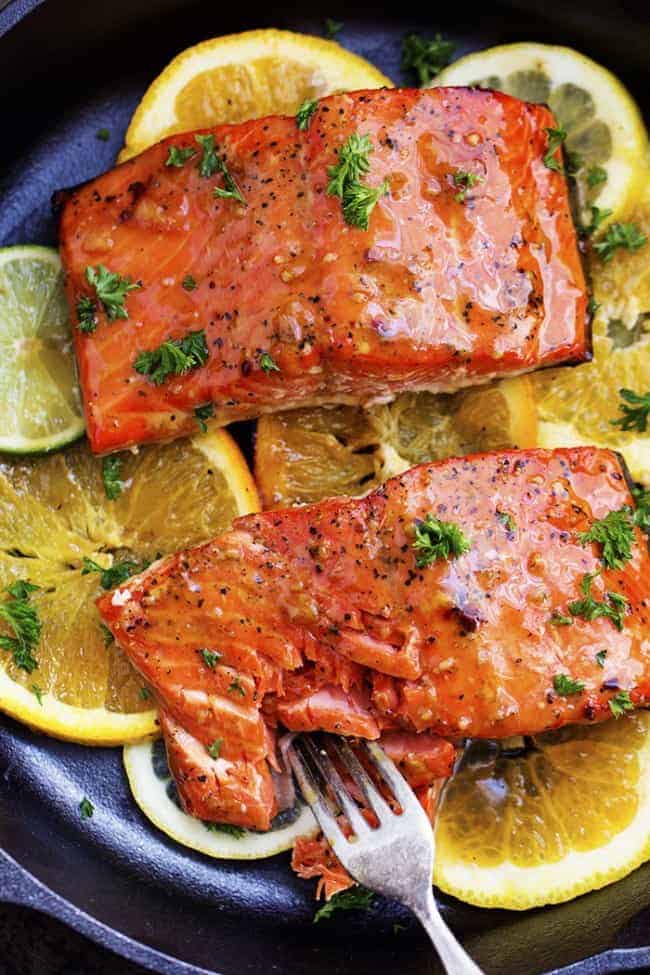 I love grilling my salmon on cedar planks. I recently discovered Fire & Flavor's amazing products to help me grill the best salmon every time. Cedar planks add such an amazing smoky flavor to your salmon. I love to use them because salmon can be delicate on the grill and it is the perfect thing to grill your salmon on top of a plank. Here are some tips when grilling with planks:
Soak your cedar planks for 1-2 hours before grilling.
Heat the grill to medium low heat and lay the planks on the grill.
Lay the salmon on top of the cedar plank skin side down. Shut the grill and allow to cook for 12-15 minutes. This is my favorite part because the grill fills up with smoke and gives the salmon amazing flavor!
When the salmon is done, transfer to a baking sheet and gently use a spatula and remove the skin from the salmon and serve.
This triple citrus glaze is absolutely incredible. Lemon, lime, and orange fuses together to bring a sweet and tangy marinade. It is the perfect summer marinade in my opinion.
I used a sockeye salmon and I love the bright red color and flavor.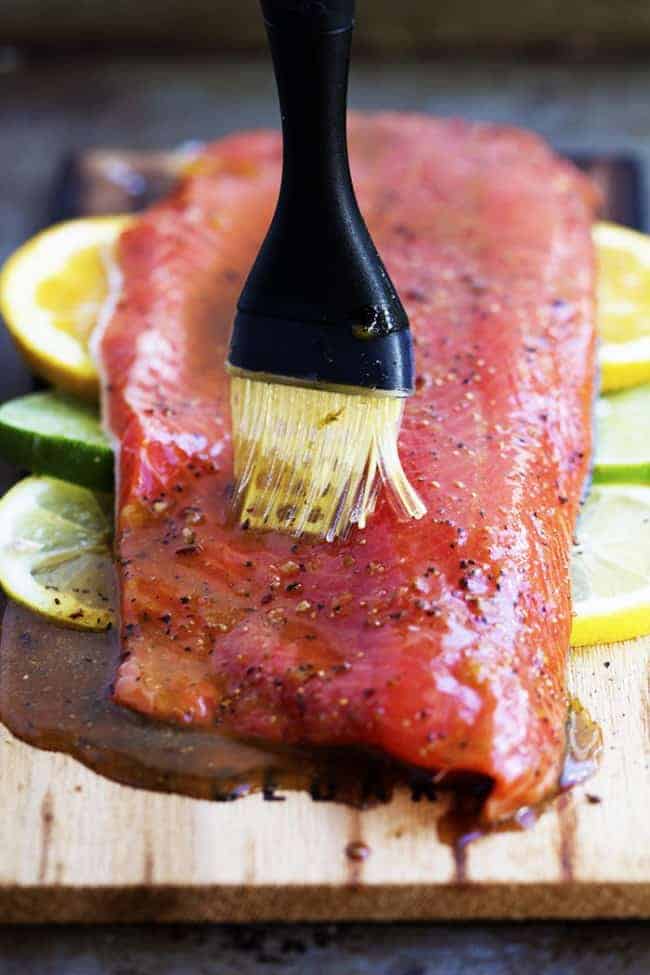 I added some slices of lemon, lime, and orange on the sides of the salmon as it grilled.
After only about 12 minutes, I had a gorgeous salmon just begging for me to eat it. The plank gives it such an amazing presentation and it grills in the marinade and keeps the flavor as it grills. The result is out of this world!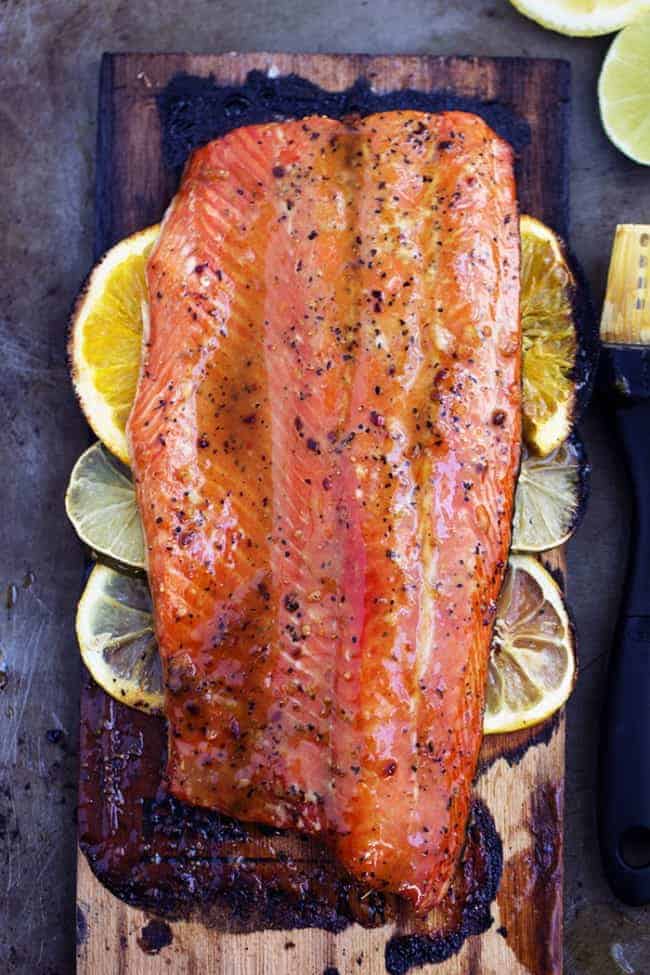 I love that I have found Fire & Flavor and their products to help make grilling easier. They have so many great products and I especially love their rubs. I can simply rub them onto what I am grilling and have a flavorful meal ready in no time at all. They also have flavored smoking chips and cedar grilling paper. You are sure to impress your family with all of their easy to use products.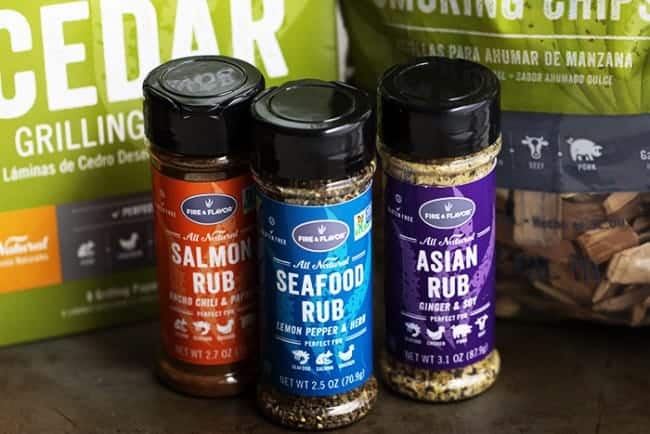 This salmon recipe is incredible and I promise that it will be one of the best things that you grill this summer. I instantly fell in love with my first bite. I couldn't believe the amazing flavor of this salmon and I couldn't get enough. I know that you are going to love it just as much as our family did. It is perfect for summer and will become a family favorite!
And if you love salmon just as much as I do, don't forget to stay connected with Hooked on Salmon's Facebook Page and Pinterest. You will want to keep up with all of the latest and greatest recipes that they have to offer! 🙂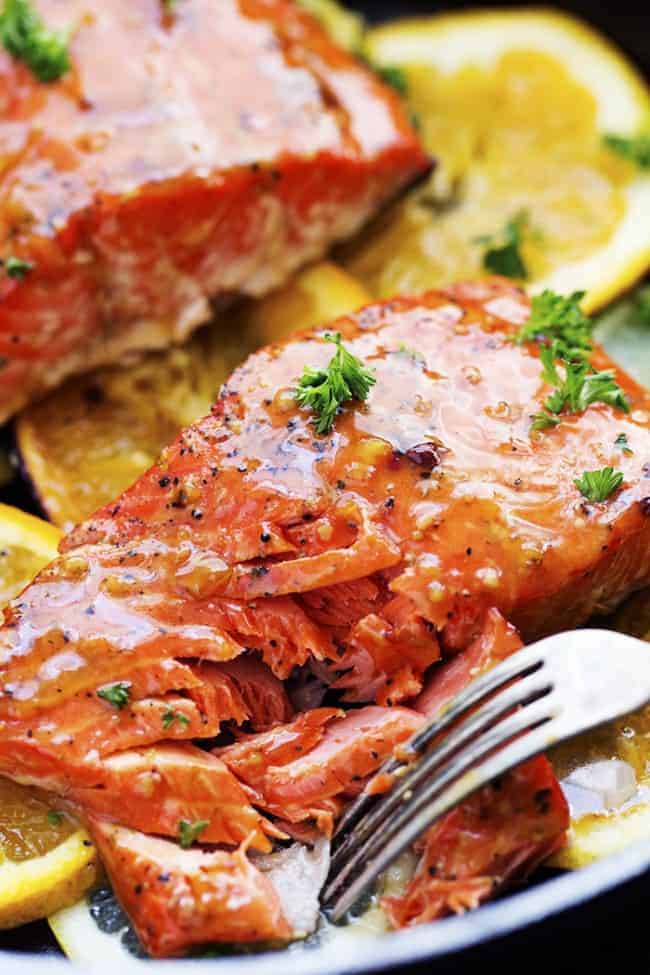 I am working with The Salmon Council and this post has been sponsored. All opinions expressed are my own!