This website may contain affiliate links and advertising so that we can provide recipes to you. Read my privacy policy.
Hawaiian-style garlic shrimp is cooked up in a dreamy garlic butter sauce. Inspired by the food trucks in Hawaii, the punch of savory flavor in each bite will have you feeling like you're on vacation!
There's nothing better than the food in Hawaii. It's so delicious, flavorful, and diverse! I love the Asian flavors you can find in the cuisine. Bring the flavor of the islands to your kitchen with a homemade poke bowl, Hawaiian meatballs, and Huli-huli chicken!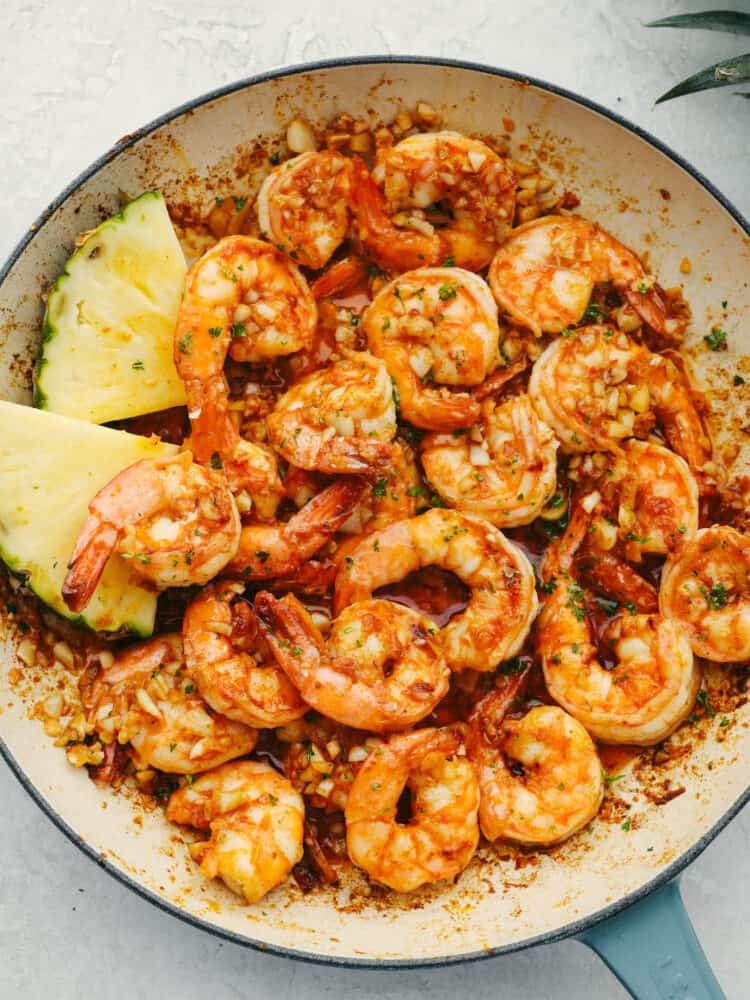 Amazing Hawaiian-Style Garlic Shrimp Recipe
Everyone knows that while you are in Hawaii, no vacation is complete without a trip to a shrimp shack! My hubby and friends absolutely loved the shrimp shacks in Hawaii and we stopped at them three different times. I asked the famous Giovanni shrimp shack what ingredients they use and was able to completely make this buttery shrimp taste exactly like it was from Hawaii!
The butter garlic sauce turned out perfectly. It has the same delicious blend of garlic and paprika, just as it was in Hawaii! And if you have been lucky enough to experience the shrimp in Hawaii, you know that it is loaded with tons of caramelized garlic. You will definitely need a breath mint after trying this, but the sauce is just too good to resist! And according to my hubby, I made it taste and smell just like it came from Giovanni's shrimp truck in Hawaii. That's a win in my book! This Hawaiian garlic shrimp recipe is a must-make. Pair it with fresh white rice and macaroni salad for a hearty meal your family won't be able to get enough of.
Everything Needed to Make It
A handful of simple ingredients is all it takes! The delicious garlic butter sauce uses a lot of basic ingredients but has such incredible caramelized flavor. You're going to absolutely love it! And if you're looking for measurements, they can all be found in the recipe card at the end of the post.
Shrimp: I used jumbo white shrimp here. I recommend buying it deveined for easy prep!
Flour: A dash of all-purpose flour helps the sauce to thicken up nicely.
Paprika: Adds delicious warm spice to this dish. It balances out the savory flavors perfectly. If you want more heat, you can sub this for cayenne pepper.
Sea Salt: I used coarse Hawaiian sea salt, but regular sea salt or even kosher salt work too! You just want something with a chunkier grain.
Black Pepper: A little pepper is a must to enhance the overall flavor of the garlic shrimp sauce.
Salted Butter: Butter is the base of the sauce and makes everything so rich and tasty! I use salted butter to help enhance the overall flavor of the shrimp.
Fresh Garlic: Time to break out all the garlic cloves you've got! Garlic is the main event here and tastes so incredibly delicious when it's caramelized.
Olive Oil: I always opt for extra virgin olive oil for the best flavor.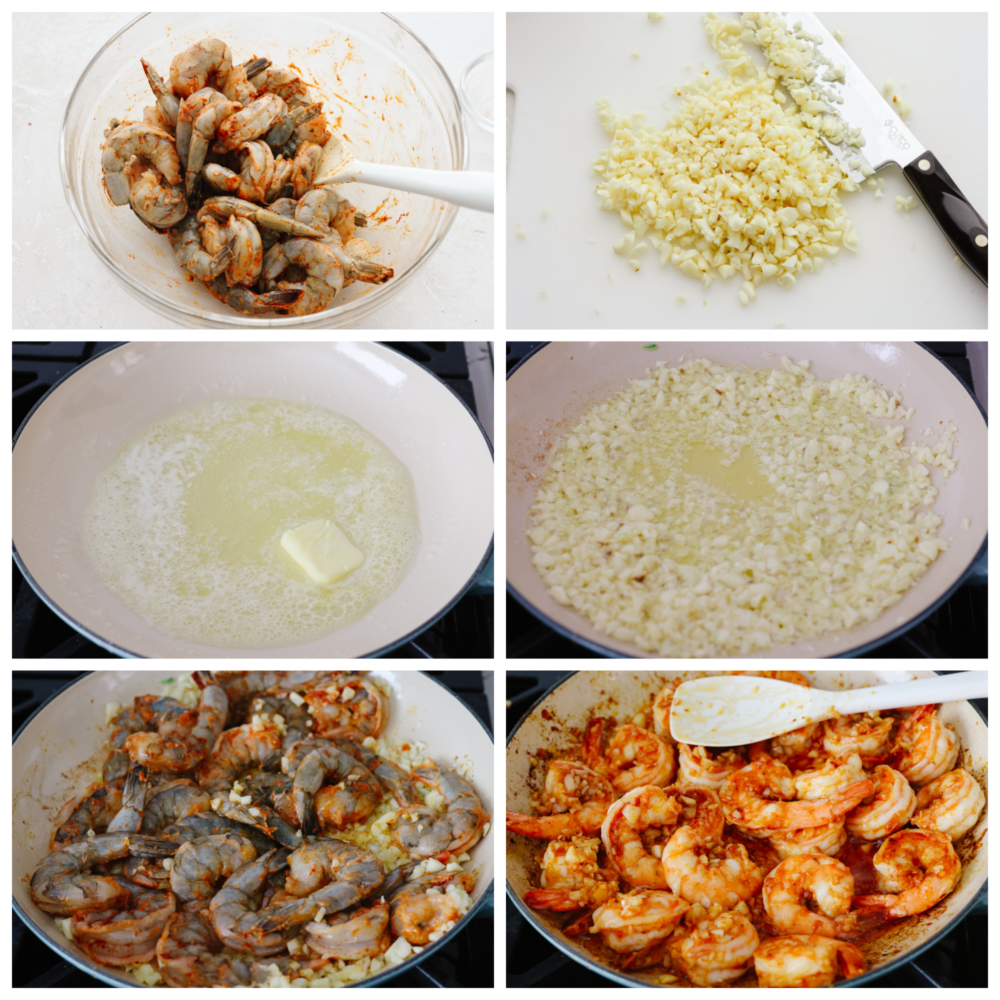 How to Make Hawaiian Style Garlic Shrimp
It's a good thing Hawaiian garlic shrimp is so easy to make, your family is going to want it on repeat! It cooks up in 10 minutes and only needs a few simple steps to throw it together.
Create Flour Mixture: In a medium-sized bowl, combine the jumbo shrimp, flour, paprika, salt, and pepper.
Caramelize Garlic: In a large skillet on medium-high heat, add butter, and minced raw garlic
Combine and Cook: Add the olive oil and shrimp to your pan and cook until the shrimp is pink, about 3-5 minutes.
Serve: Serve the shrimp with rice and fresh pineapple. And to get the full Hawaiian effect, use the leftover garlic sauce to serve on top of the rice.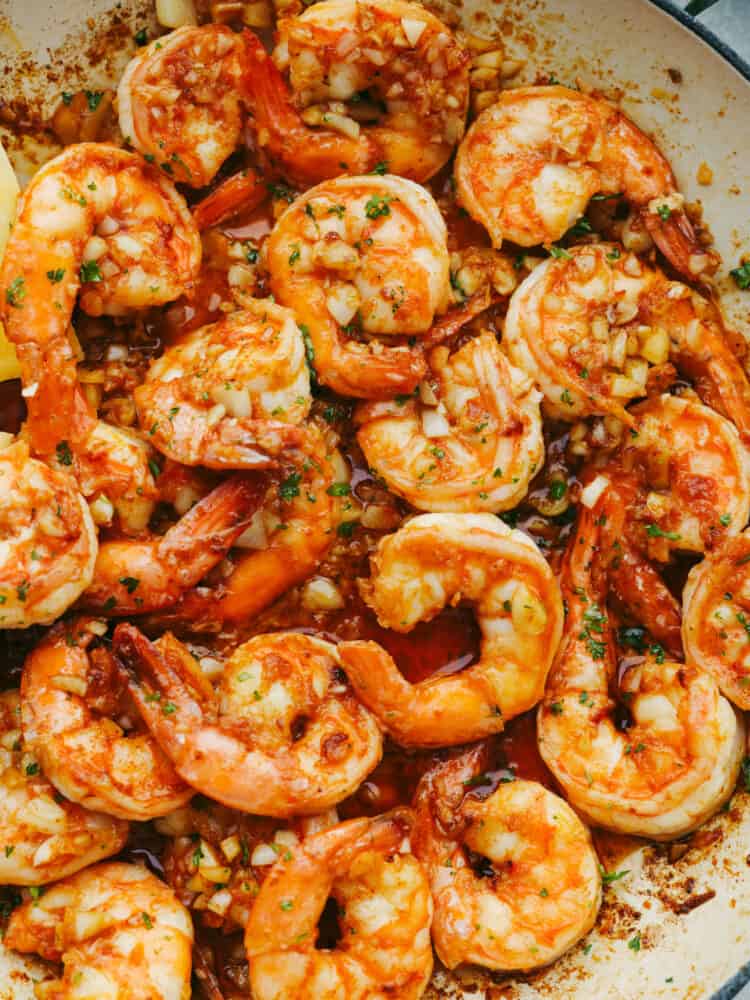 Tips and Tricks
These are a few ways to get your garlic shrimp tasting as delicious as possible with that signature Giovanni's food truck flavor!
Keep Shells On: For that traditional Hawaiian flavor, don't worry about peeling your shrimp! The skin helps it get nice and crispy when cooked.
Fresh or Frozen: You can use either fresh or frozen shrimp here! Both taste great with this insanely good garlic butter sauce.
Serve With Lemon: I served my shrimp with pineapple, but I've also seen it served with a lemon wedge for a pop of zesty goodness. You can also squeeze fresh lemon juice on top for brighter flavor.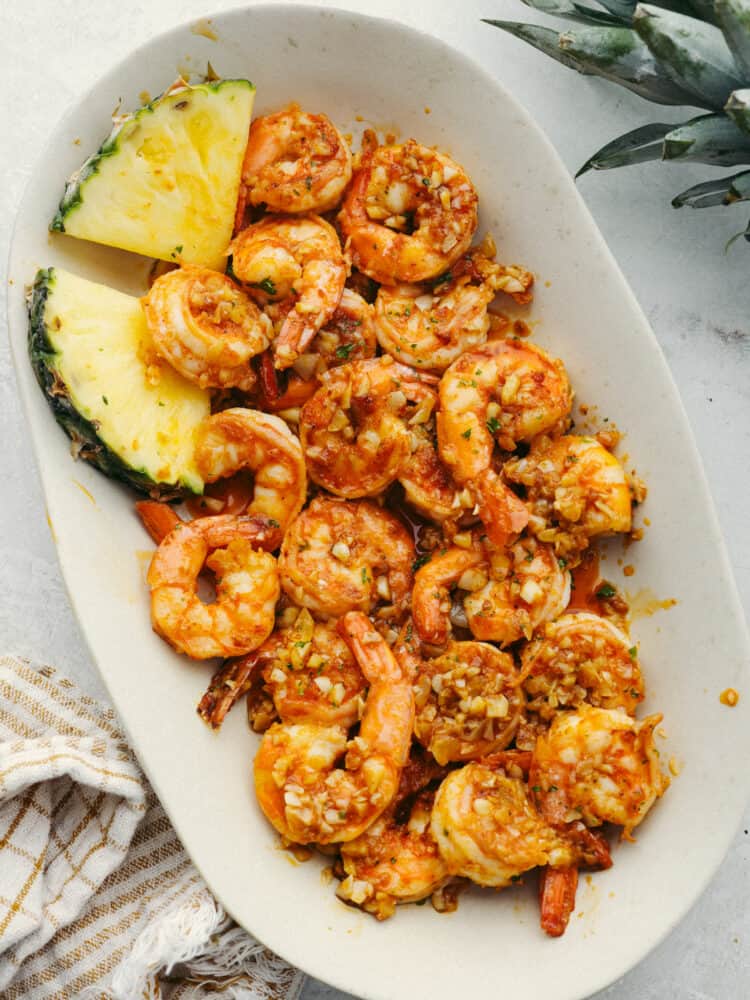 Storing Leftovers
This shrimp is best served fresh, but can be stored in the fridge for up to 3 days in an airtight container. Reheat over medium heat on the stove until warmed though. Make sure internal temperatures reach 145 degrees F before consuming. Enjoy!
A Reader's Review
"Amazing! This was exactly how we remembered Giovanni's shrimp (sans tourists & balmy Island weather). Now to track down a purple potato taco recipe, my Haleiwa fantasies will be realised."
Nellie