This website may contain affiliate links and advertising so that we can provide recipes to you. Read my privacy policy.
Honey Butter Baked Chicken is a rich and flavorful dinner that has tender baked chicken made with only four ingredients! The blend of honey and butter is the perfect combination for a flavorful chicken dinner.
Honey Butter Baked Chicken
This is one of those recipes that is good to bring out of the archive every once in a while to change it up. It is super easy to put together and has a really good honey flavor to it. Honey butter chicken is the perfect combination of sweet and savory chicken that bakes it perfectly. Every bite is tender and juicy packed with so much flavor.
Baked chicken is always a favorite of mine during the busy week. It is simple to whisk together all the ingredients, pour over top of the chicken and bake while I am able to help with other things around the house. My girls love how easy this chicken recipe is and knows just how to help me in the kitchen to make it. Add a couple side dishes and make this baked chicken dinner a complete meal.
Honey Butter Chicken Ingredients:
Seriously, only four ingredients to make this simple baked chicken recipe! It comes together so quickly and easily, even you will be amazing at the flavors and tenderness this chicken dinner has to offer.
Chicken Breasts: Fresh, thawed chicken ready to be baked.
Honey: Thickens the sauce and adds a hint of sweetness!
Margarine or Butter: Melted and stirred in for a buttery flavor blend.
Mustard: Adds a tangy mustard taste to the chicken while cooking.
Salt: Just a pinch!
How to Bake Chicken:
Simply add all the ingredients together and pour over the chicken. Bake it for one hour and dinner is made! It is perfect for a busy weeknight or a simple dinner your family can help with in the kitchen.
Prepare oven: Preheat oven to 350 degrees Fahrenheit.
Whisk Together: Combine honey, butter, mustard and salt in a mixing bowl.
Chicken: Arrange chicken breasts in a shallow baking pan laying flat. Pour whisked ingredients over chicken evenly.
Bake: Bake for 1 hour, basting the chicken every 15 minutes.
What to Serve with Honey Butter Chicken:
Adding side dishes with this baked chicken is a great idea to make this a complete meal. Bread, salad and a vegetable or fruit is always a great balance for dinner time. I love to serve this chicken recipe with a various of side dishes that are quick and easy to make while the chicken is baking for one hour.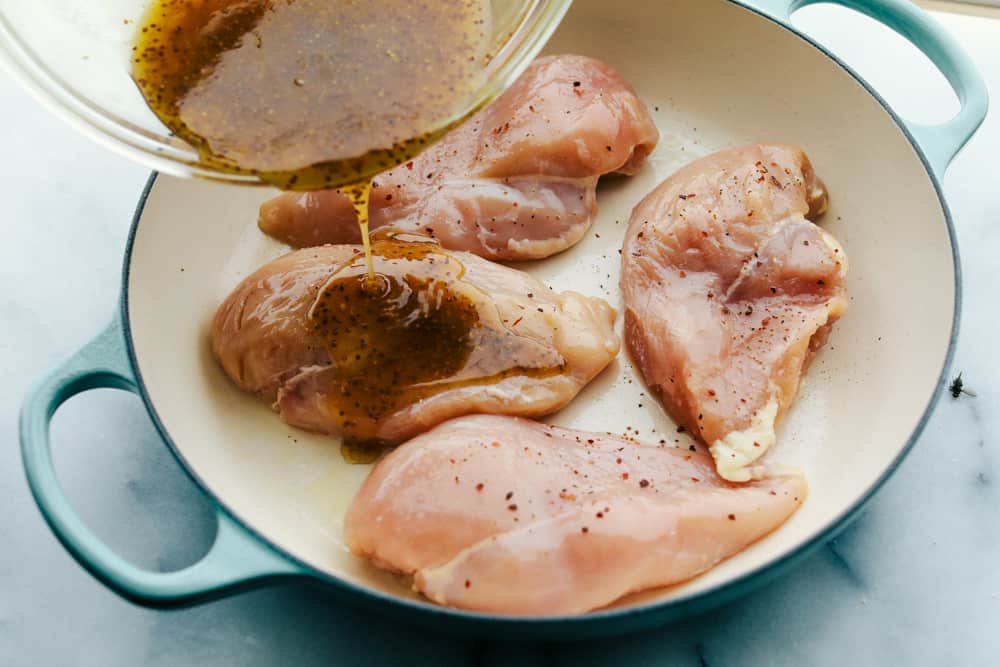 Storing Baked Chicken:
Baked chicken is easy to make with the perfect blend of honey, butter and mustard. It is simple to bake and clean up is even easier. Let the chicken completely cool before adding it to the bag or airtight containers. This dinner will reheat easily and quickly when ready!
Refrigerator: Add the left over chicken to a ziplock bag or airtight container and place in the refrigerator for 2 to 3 days long.
Freezer: Place the chicken in a ziplock bag releasing all the air. Laying the chicken flat, place the chicken on in the freezer for about a month long. When ready to reheat, move the chicken into the refrigerator over night and let it thaw completely before warming up.
Warming Up: Bake it in the oven at 350 degrees Fahrenheit or place in the microwave flipping it every minute until it is warmed through. Add a side salad or some potatoes and you have a delicious meal all over again!
More Amazing Baked Chicken Dinners: