This website may contain affiliate links and advertising so that we can provide recipes to you. Read my privacy policy.
Insanely Delicious Hot Crab Dip makes the perfect party appetizer. This delicious and addicting crab dip is ready in just 30 minutes and will instantly wow the entire crew!
Everyone loves a great dip, because we all love to play with our food sometimes. If you are looking for more incredible dips you have to try my 5 Minute Dip, Ranch Dip or this easy Rotel Dip!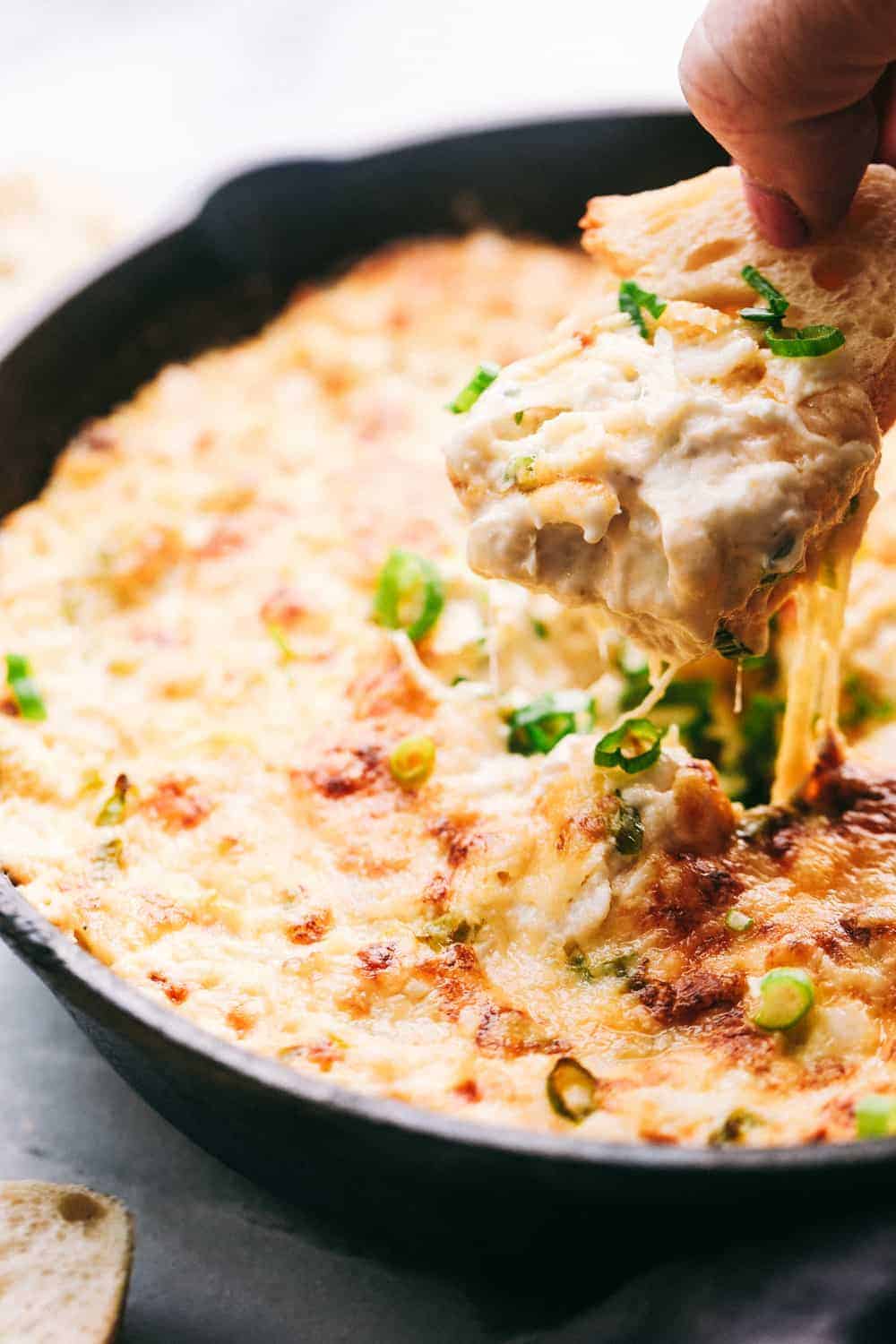 Hot Crab Dip
Whether it is football season, baseball season, basketball season, party season, you get the idea, this dip has to be on your list of things to make! Hot crab dip is creamy, cheesy and full of flavor. It is super savory without being fishy. When I put this on the table it is one of the first things to disappear. Hand down one of the best appetizers EVER!
When it says hot crab dip, it is not spicy hot, but temperature hot. The dip is served and kept hot to keep all the cheese ooey and gooey and oh so delightful. You can definitely make it spicy if you prefer. Just add a bit of hot sauce to the mix. This crab dip is so quick and easy, it's going to be one of your new go to recipes! If your worried about it being overly fishy, don't be. This is the perfect way to eat crab and not even know it!
Ingredients for Delicious Crab Dip
Be sure to buy lump crab meat, and not imitation crab meat. There is a huge difference and you will be able to to taste it. Look for it in the canned meat section with the tuna.
Cream Cheese: Soften the cream cheese by leaving it at room temperature for about half an hour or microwave it or 30 seconds.
Sour Cream:  Helps thin the cream cheese and adds a great bit of tang.
Mayonnaise: Adds more creaminess and flavor
Cheddar Cheese: Finely shredded
Garlic Powder: Garlic is an impeccable flavor in the dish.
Paprika: You will love the color and flavor it adds.
Worcestershire Sauce: This adds depth and a great umami flavor.
Lemon Juice: Helps balance the dish.
Salt and Pepper: Add more or less to taste.
Lump Crab Meat: Look for this in the canned meat aisle by the tuna.
How Do You Make Hot Crab Dip?
This couldn't be any easier. Just throw everything into a bowl and stir and bake. Hot crab dip is so good but so easy it's almost crazy.
Preheat your oven to 350 degrees.
Mix: In a medium sized mixing bowl, combine cream cheese, sour cream, mayonnaise, cheddar cheese, garlic powder, paprika, Worcestershire sauce, lemon juice, salt and pepper. Stir together until combined and fold in lump crab meat.
Bake: Spread in a small casserole dish and bake for 20-25 minutes until heated through and bubbly. Serve with a slice baguette or tortilla chips.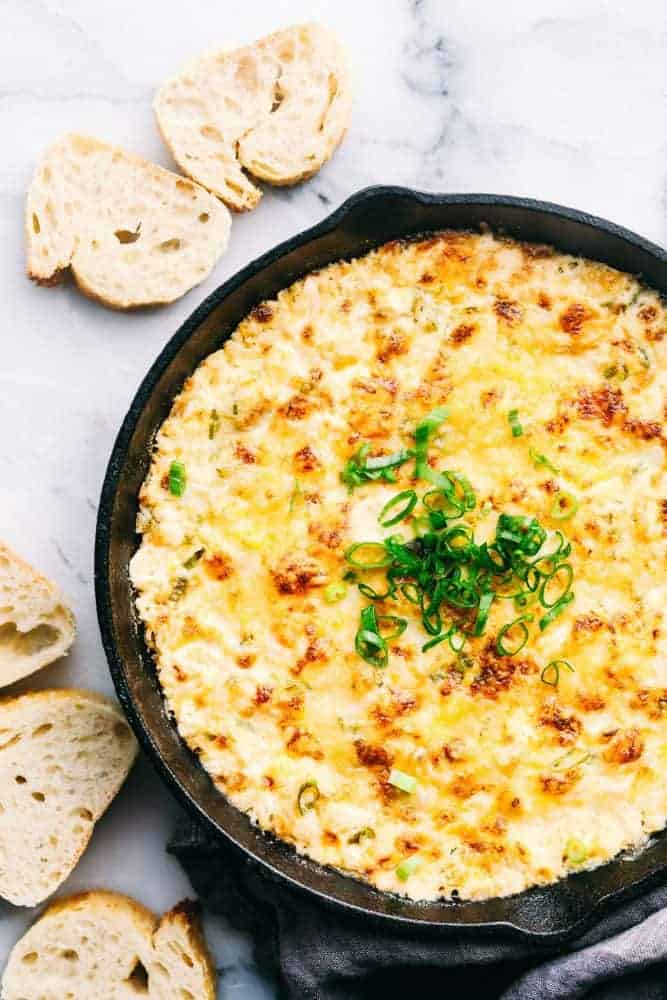 What Is Lump Crab Meat?
Lump crab meat comes from the body of the crab. They are smaller than the Jumbo lump crab, but still sturdy.  Lump crab meat is usually found in a can, although some butchers will carry it too. It is a blend of broken pieces of jumbo lump and a special grade of crab meat. You can mix it with a fork without worrying that it will break apart into mush. This is perfect in dip recipes, salads, casseroles, and crab cakes
Imitation Crab: Imitation crab is just what it implies, not real, but fake. Imitation crab is highly processed food made by combining minced fish with starch, egg whites, sugar, salt and additives to mimic the flavor, color and texture of real crab meat. It's not exactly what you want in your hot crab dip. Steer clear of it if you can.
Can I Use Fresh Crab Meat? Yes, you can. Fresh crab meat is typically sold in plastic containers over ice at the market. These crabs have been steamed or boiled but will cost a little bit more.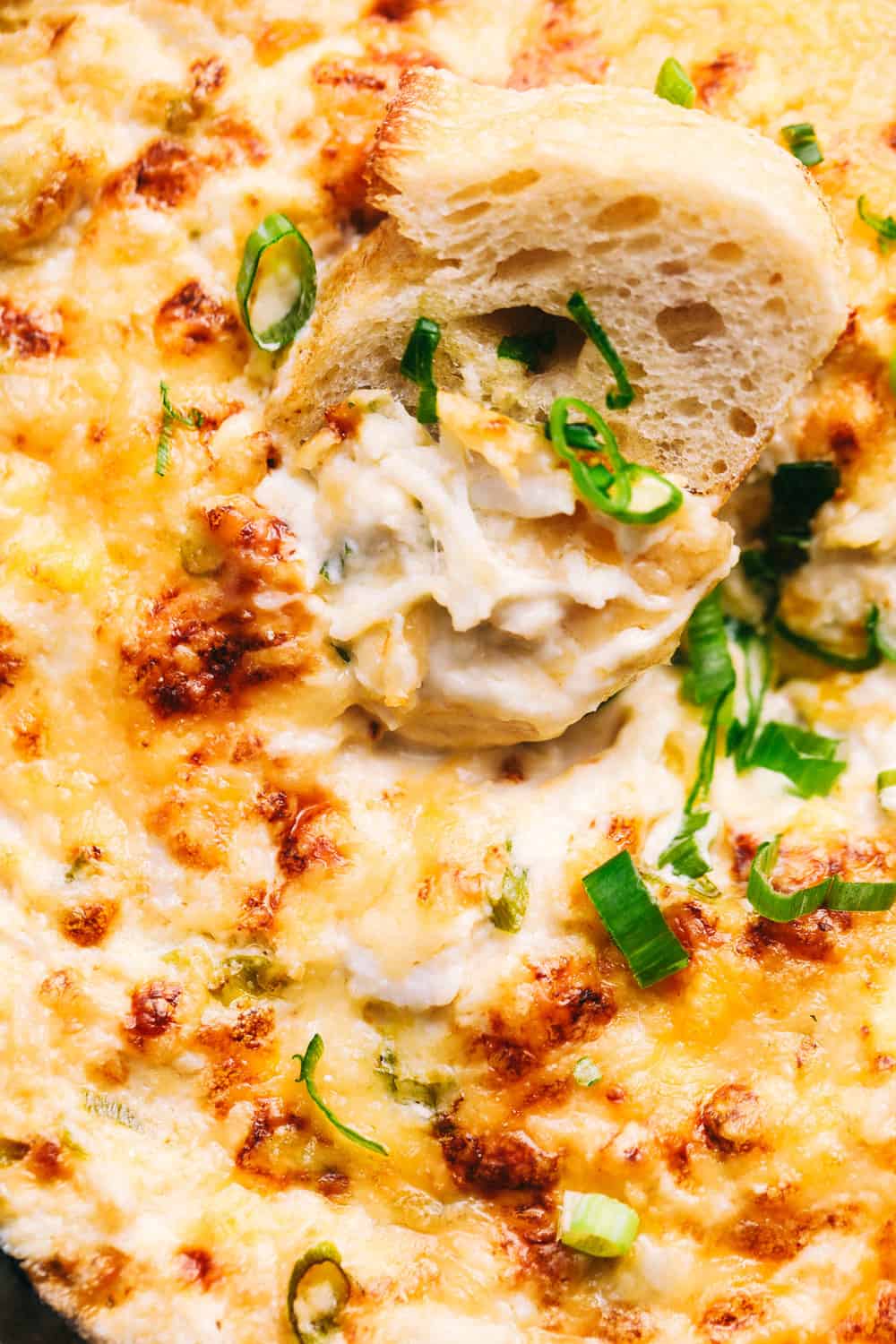 Tips for Insanely Delicious Hot Crab Dip
Keeping it simple and keeping it easy makes this one of the best appetizers to try!
Crab: Be sure to drain the crab well. If there is too much liquid left in the crab, it can make the dip watery and too thin. Check for any bits of shell as well. There are often some bits of shell that stow away in the canned crab and it's unpleasant to bite into.
Cheese: Use a medium or sharp cheese, but nothing that will overpower the wonderful taste of crab. Buy a block and gate your own. Using pre shredded cheese is usually coated in preservatives and anti caking agents which will prevent the cheese from melting nicely.
Spicy: If you want to add a bit of a kick and some extra heat, add some hot sauce or diced canned jalapenos to the mixture.
Keep it hot: If need the crab dip to stay hot for a long period of time, once it's baked transfer it to a crockpot and keep it on low. You might lose some of that golden top, but it will stay warm and melty.
Make Ahead: You can make this dip up to 2 days ahead of time. Mix altogether but do not bake. Cover tightly and keep in the fridge. Remove from fridge half an hour before baking.
Serve it with: We love chips, buttery crackers, crostini, baguettes, celery, carrots and cucumbers.
Leftovers:  If you actually have leftovers, store them for up to 3 days in the refrigerator. Reheat in the microwave or in the oven. Do not freeze.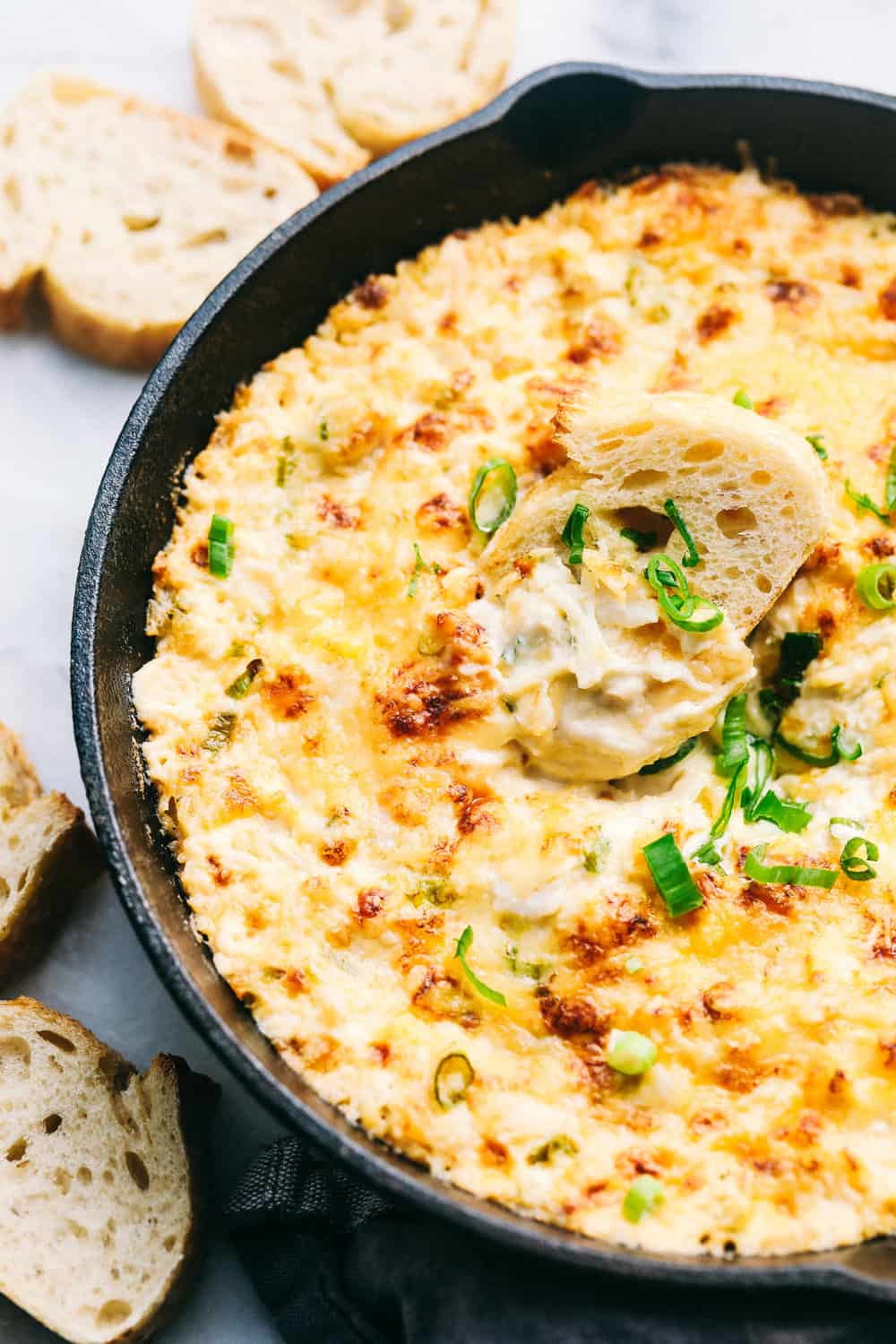 Looking For More Hot And Cheese Dips? Look No Further!
Dips are great, it gives all permission to play with our food. If you want to dunk, skim, scoop or just daintily dip your choice of finger foods in scrumptious, flavorful dips. I have the perfect ones right here! Dips are one of the best choices when it comes to appetizers, party foods, or snacks. They are customizable, portable and come hot, cold, spicy, mild, and even in sweet varieties. If you need a few ideas to get you started, these are some tried and true winners to try.