This website may contain affiliate links and advertising so that we can provide recipes to you. Read my privacy policy.
These turkey burgers are loaded with flavor and perfect for summer grilling! Easy to prep ahead and freeze to enjoy all summer long.
Summer is on its way and we are all about the grilling these days! If you love grilling as much as we do, check out these Asian Barbecue Burgers, this Awesome Grilled Salmon with Avocado Salsa or these Grilled BBQ Chicken Tacos for more ways of grilling this summer.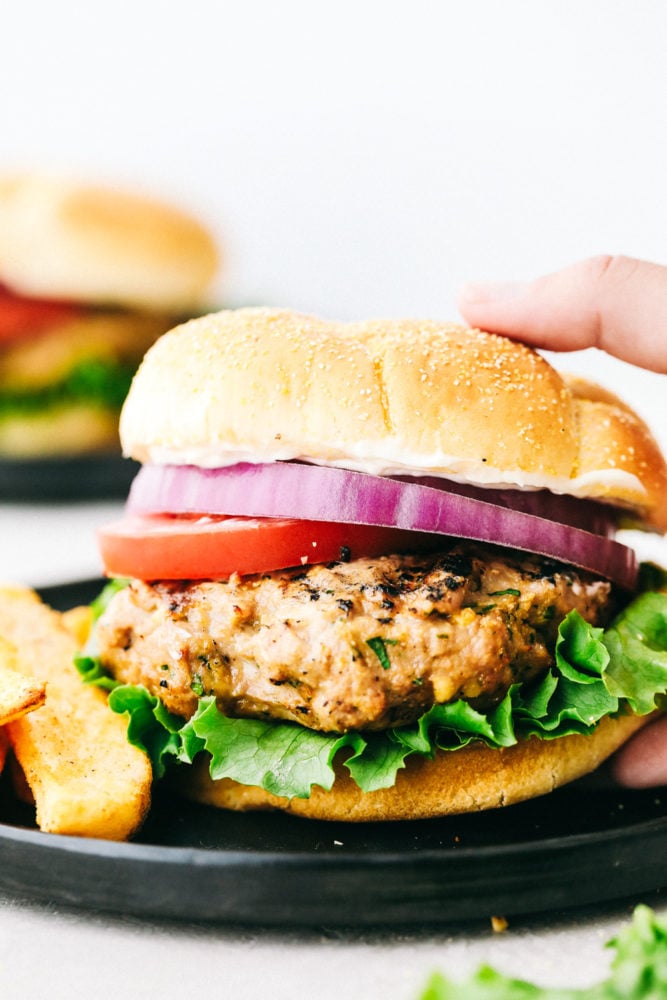 Grilled Turkey Burgers
We love swapping beef for ground turkey to make our favorite recipes a little lighter but they are still big on flavor! These healthy turkey burgers are one of our favorite dinners to make in the summer time. They are light and tasty with a flavorful amount of deliciousness. The ground turkey is so lean and flavorful. Adding in the remaining ingredients to create a round patty makes these burgers over the top. This is a MUST make this summer time.
These turkey burgers are seasoned with onion, garlic, and lots of herbs and seasoning (and just the right amount of spice!). I like to add a bit of barbecue sauce right to my turkey burger mix to give them even more barbecue flavor! This summer these grilled turkey burgers are going to be a hit. My hubby loves to make these and does a great job keeping them juicy and tender. Add all your favorite toppings on your burger and your favorite bun. Impress your family with this flavorful juicy turkey burger!
Juicy Turkey Burger Ingredients:
Easy and simple ingredients that will go along way. The turkey meat is the most important and adding in the filing just enhances each patty to the fullest!
Ground Turkey: 93/7 is a great turkey meat and what I used.
Bread Crumbs: The bread crumbs will help keep the burger patty from falling apart while being grilled.
Dijon Mustard
Worcestershire Sauce
Garlic 
Egg:  Holds it all together
Salt and Pepper to taste
Let's Grill a Turkey Burger from Scratch:
Grilling up some turkey burgers during the summer time just got easier with this homemade version. We love how quick and easy these burgers are to make. They turn out so tender and juicy every time.
Make a Turkey Patty: Throw your ground turkey, seasonings, barbecue sauce, egg and bread crumbs into a big bowl and mix it up just until combined — you don't want to over mix!
Shape your Burgers: Be sure to make your patties a little larger than your buns because they will shrink up on the grill as they cook.
Lay Patties Flat: Place your patties on a parchment lined plate or baking sheet and pop in the freezer for 20-40 minutes. I find this helps them to keep their shape and not fall apart on the grill. It's not totally necessary, but you'll have to be a little more careful with the flipper if you don't give them a bit of a chill.
Grill Patties: Grill for 5-6 minutes per side, until browned and the internal temperature reaches at least 165 degrees Fahrenheit.
Tips to Keep Turkey Burgers Juicy:
My recipe is deliciously flavored and keeps the turkey moist and rich throughout the process from making a turkey patty to grilling it. Here are a few extra tips to ensure the turkey burger is prepared and grilled to perfection!
Milk: Add a little milk to the turkey burger mixture. This can help keep the meat moist as well as tender while grilling.
Butter: Just to ensure a moist and juicy burger even if it is over cooked, adding a slice of butter to the tops of each patty before cooking helps eliminate any mishaps.
Overcooking: It is best to use a meat thermometer to check the burgers while grilling. Turkey burgers can be overcooked and dry out easily. Once the internal degrees reaches 165 degrees Fahrenheit, remove them from heat immediately.
Top your Burger:
For a stackable burger add in all of your favorite toppings in between your buns. Here are a few ideas!
Avocado 
Red Onions 
Tomatoes 
Lettuce
Pickles
Bacon
Fried Egg
Ketchup
Mustard
Mayonaise or Miracle Whip
Fry Sauce
Barbecue Sauce 
What Goes Well with Turkey Burgers?
These Turkey Burgers are some of our favorite to whip up for a healthier twist on burgers but they still have the full burger effect. Adding fries, salad and even topping over the turkey burger is perfect for making a complete meal.
Making Burger Patties Ahead of Time:
Burger patties, beef or turkey, are great for making ahead in the summer as they can easily be refrigerated or frozen.
Refrigerate: Simply prepare the patties as the recipe instructs, then place in a single layer or stack with wax paper in between layers. Cover and refrigerate up to 24 hours.
Can you Freeze Patties? Yes! Place patties in a single layer on a baking sheet on parchment paper. Freeze for 2 hours or until firm. Remove from the baking sheet and place in a large freezer bag or air tight freezer container and freeze for up to 3 months. You can grill right from frozen!
More Delicious Burger Recipes to Try: