This website may contain affiliate links and advertising so that we can provide recipes to you. Read my privacy policy.
Mexican Shrimp Skillet is full of thick, plump shrimp with black beans, golden yellow corn, ripe cherry tomatoes, chopped bell peppers, black olives mixed together in my famous taco seasoning all in sautéd in one pan. All under 20 minutes!
The perfect combination of shrimp and cajun seasoning! If you love the cajun shrimp flavors try this Cajun Shrimp and Sausage Vegetable Skillet, Creamy Shrimp Fajita Pasta Skillet or 20 Minute Skillet Blackened Shrimp Fajitas.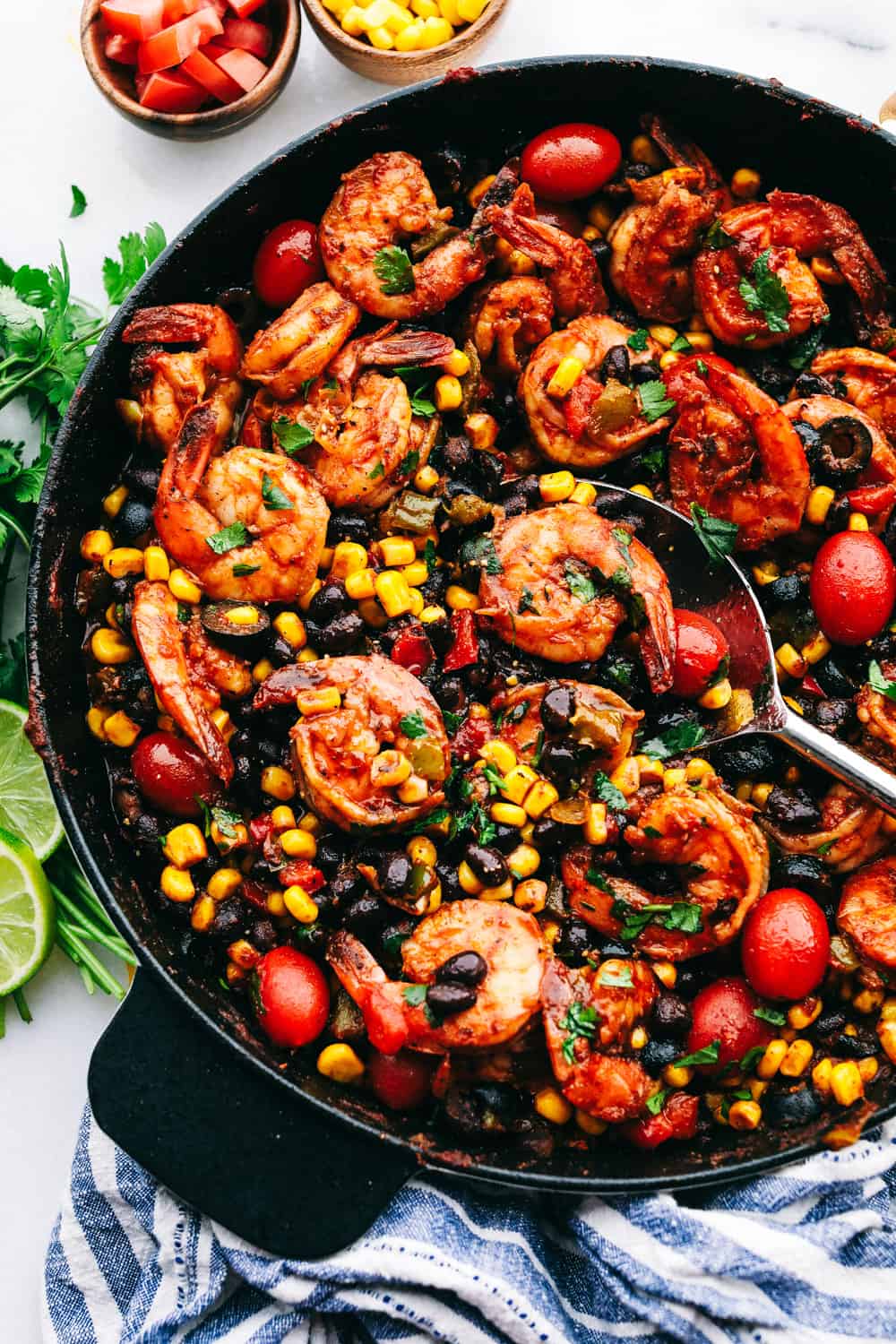 Mexican Shrimp Skillet
There is color, there is flavor and it is tried and true Mexican flavor shrimp skillet!
Such a great one pan, easy weeknight meal that the family will love.
It is simple to make and comes together in less than 20 minutes!
This Mexican skillet has all the flavor added to it plus the bonus of including shrimp into the recipe.
One pan is just what you need to cook this skillet recipe. I love how easy and tasty this becomes!
What goes in a Mexican Shrimp Skillet:
Simple ingredients that don't take long to prepare.
Chopping bell peppers and using a few canned ingredients makes this an easy dinner to make.
The cherry tomatoes brings out so much flavor and using my homemade taco seasoning just adds to the one pan skillet dinner.
All in all, you can't go wrong with this main dish for your next family dinner!
Olive oil: helps brown the vegetables and shrimp.
Red and Green Bell Peppers: chopped and diced then sautéed until tender.
Shrimp: large peeled and deveined fresh shrimp.
Taco Seasoning: try The Best Homemade Taco Seasoning from my site.
Corn: can cooked.
Black Beans: drained and washed with cool water.
Cherry Tomatoes:

 

washed and whole. 

Olives: chopped from a can.
Cilantro: when ready to serve, garnish over top. 
How to make Mexican Shrimp Skillet:
Sauté bell peppers and shrimp: In a large skillet, add the olive oil and turn to medium high heat. Add the bell peppers and sauté until almost tender.
Cook the shrimp: Add in the shrimp and cook until they are opaque and cooked through about 3-4 minutes.
Mix together vegetables and seasoning: Add in the taco seasoning, corn, black beans, tomatoes, olives, and cilantro and mix until it is incorporated.
Tips for making Mexican Shrimp Skillet:
Should I use fresh or frozen shrimp? This will taste great with fresh or frozen shrimp. If you are using a frozen shrimp be sure to give them time to defrost before cooking them into the skillet.
How to defrost frozen shrimp quickly? Place shrimp in a colander and run cold water over the shrimp until they have thawed. Once thawed, pat this down completely making sure they are dry before cooking or place in the refrigerator over night or until thawed from the refrigerator.
Shrimp: Peeled and deveined is the best way to go. It is less hassle and they are already prepared for you! There are varying size shrimp to choose from. 21-30 size is the size you will want to choose.
Cooking shrimp: The shrimp will begin to curl as you are cooking. They will turn to a light pink color and cook quickly.
What to serve it with it: Mexican, white or brown rice is our favorite, cauliflower rice, coleslaw or quinoa or make a taco and wrap it in a tortilla or lettuce wraps.
How to make homemade taco seasoning? My recipe The Best Homemade Taco Seasoning has several seasonings that are a perfect match for this Mexican shrimp skillet. It is the best because of how flavorful it is. It can last in a sealed container for up to 3 months.
Add Toppings to this Mexican Shrimp Skillet:
You can't go wrong with making this Mexican shrimp skillet recipe with all the extra toppings.
Turn this skillet into another amazing recipe with all the extra toppings to create a more flavorful dish.
These toppings are pre-made, pre-bought even or simple to cut and prepare for a quick alternative recipe.
Try all or a few of them the next time you  are this Mexican shrimp skillet!
Shredded Cheese 
Avocados sliced 
Sour Cream
Salsa
Greek Yogurt
Onions diced up
Guacamole 
Variations for making Mexican Shrimp Skillet:
Heat: If you love spicy things try adding in jalapeños, chili powder or red pepper flakes.
Protein: When you are not a fan of shrimp try using chicken, salmon or another type of fish and beef. Choosing other types of protein needs to be cooked more depending on the type of protein it is.
Citrus: Lime juice just adds that pop of flavor to cool down and twist the meal around a little bit.
Canned Food: Simplify your life and making this Mexican shrimp skillet. Any canned food is best when making this skillet recipe. '
Beans: Make this with pinto beans, white beans or even chickpeas.
Tomatoes: Fresh tomatoes are best but you can also use the diced tomatoes instead of the cherry tomatoes.
Vegetables: Add in extra vegetables like zucchini or squash, cauliflower, spinach or kale.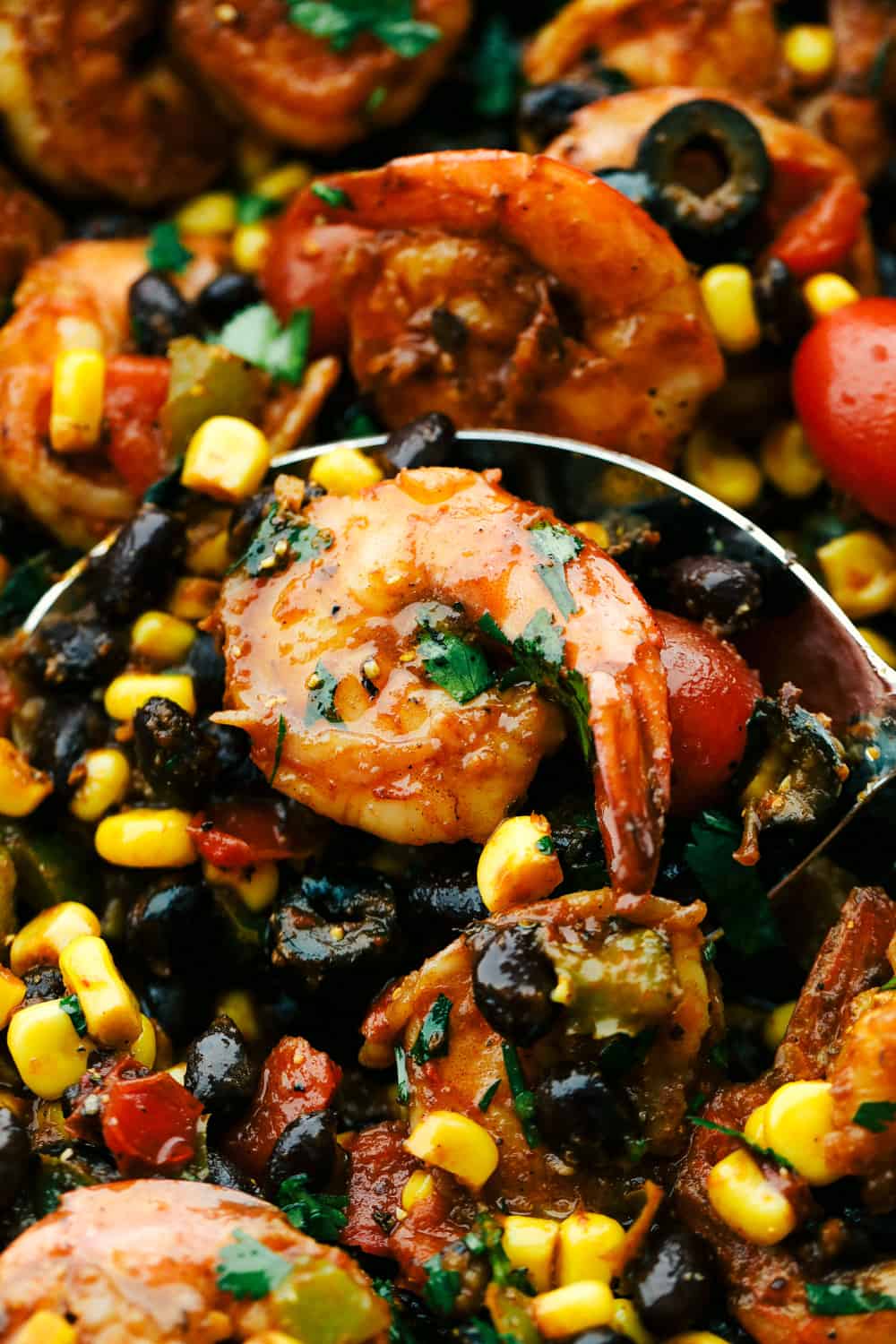 Storing Mexican Shrimp Skillet:
Can you make this Mexican shrimp skillet ahead of time? Yes, this is a great meal plan or preparing for dinner. Simply make the Mexican Shrimp Skillet according to the directions. Once it is cooled down, store the leftovers in an airtight container for up to 3 days in the refrigerator.
Can you freeze Mexican shrimp skillet? Yes! This is a great make ahead freezer friendly dish. If you are planning on freezing this, it is best to do this without the shrimp. If you do have the shrimp in the skillet ahead of time. Separate the shrimp from the vegetable mixture and freeze in separate bags. When ready to warm up, thaw overnight in the refrigerator.
Warming up: When ready to warm up the Mexican shrimp, place in the microwave warming up slowly. Over the stovetop is also a great choice and stirring occasionally until it is warmed up thoroughly.
More Delicious Mexican Recipes: