This Moroccan-style cauliflower salad is made with warm spices, sweet raisins, citrus dressing and a hint of orange zest. It's paleo, gluten-free, and a perfect side dish.
---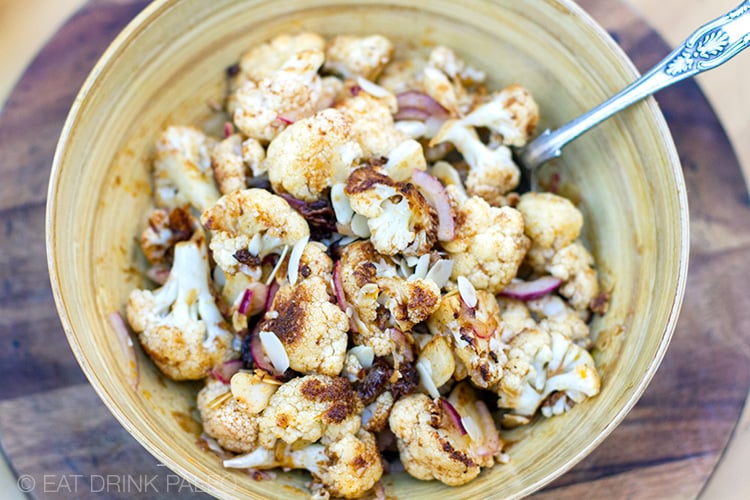 This week, I had half a head of cauliflower leftover from making some cauliflower rice and I wanted to make something new with it. I love roasting cauliflower but as we don't have an oven in the van, I thought that perhaps I can pan-fry it until crispy and golden brown and then throw in a few bits and pieces to make a salad.
I decided to go with a Moroccan theme here and thought that the earthiness of warm spices like cumin and cinnamon would go well with nutty cauliflower. I then wanted to give it some sweetness – that's where raisins come in – and balance it out with a little citrus zing. I had an orange, so I added a little zest and juice, and this salad took on a slightly autumnal, and almost Christmasy, feel.

Cook's notes
You have a choice of pan-frying or roasting the cauliflower. The recipe below provides instructions for cooking it in a frying pan, but if you use the oven, heat it to 200 C / 400 F and mix the cauliflower pieces with the spices and olive oil before spreading it on a flat baking sheet and cooking it for about 20-25 minutes.
Raisins could be replaced with diced dried apricot or sultanas.
I've added some shaved almond flakes but these are optional if you want to make a nut-free version.
The recipe below is for this salad as a side dish between 2-4 people but you can also make a larger batch of this. This goes well most proteins but especially with chicken or lamb.
Try it as a side dish to crispy skin baked chicken with herby sauce or my slow-cooked Moroccan lamb stew. And, if you love cauliflower and want more recipes with it, check out my shrimp and cauliflower fried 'rice', these low-carb cauliflower hash browns, or this popular crack cauliflower with spicy sauce.
Print
---
---
Heat coconut oil or olive oil (about 2 tablespoons) in a large frying pan over medium-high heat. Add the cauliflower florets to the pan (I put them flat side down first) and cook for about 5 minutes, until golden brown and crispy. Use tongs or a fork to turn each piece over and cook for 3-4 more minutes.
Evenly, sprinkle the spices and salt over the cauliflower pieces and add the almonds. Stir through over heat for a minute, allowing the spices to release their aromas. Turn the heat off and set aside.
While the cauliflower is cooking, make the salad dressing. Combine all ingredients in a mixing bowl and set aside to infuse.
Transfer the warm cauliflower to the salad bowl and mix through, making sure everything is well coated. Serve with some fresh herbs on top or as is.
---
---
SAVE THIS CAULIFLOWER RECIPE TO PINTEREST