This website may contain affiliate links and advertising so that we can provide recipes to you. Read my privacy policy.
One Pot Creamy Chicken Mushroom Florentine is ready in under 30 minutes! Everything is made in just one pot and it is filled with sun dried tomatoes, spinach, mushrooms and the creamiest pasta!
For a similar recipe to this one, I also make an excellent skillet creamy chicken mushroom Florentine.  Its not one pot but it has the same delicious flavors I love!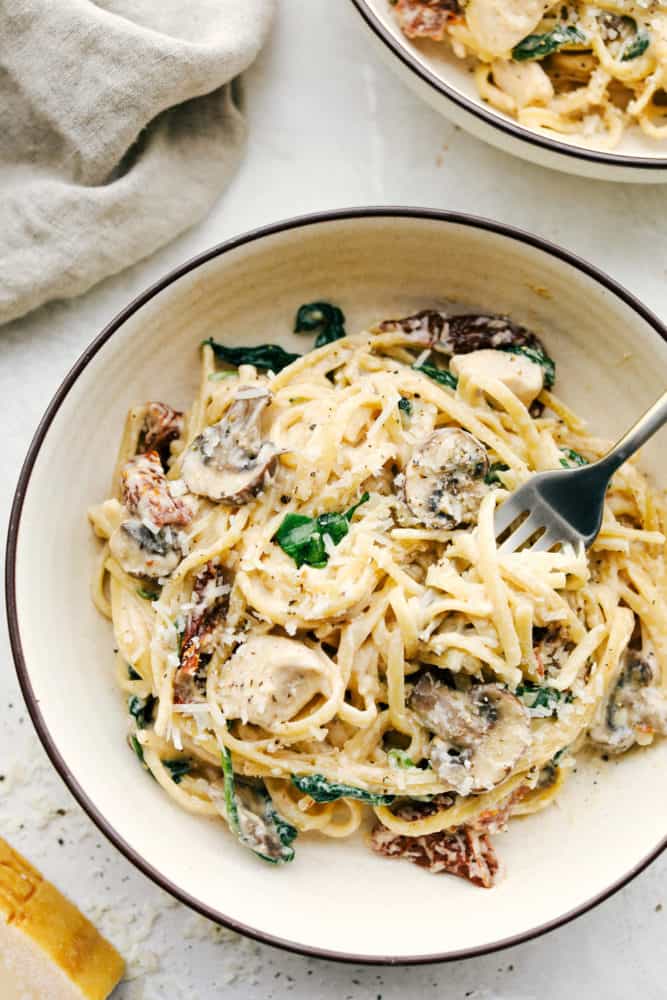 One Pot Creamy Chicken Mushroom Florentine
It's that time of the year when I am trying to eat healthy, but I'm craving pasta. I still choose to enjoy a pasta meal at least once a week.  So, when I do indulge, I want to know it is going to be worth it!!  Well, let me tell you, this creamy chicken mushroom florentine is so worth every carb gram!  The creamy pasta sauce with fresh mushrooms and spinach is so perfect with the chicken.  The sun dried tomatoes give the final hit of flavor and texture! It is insanely delicious and not super hard to make!
This chicken florentine looks and tastes like a fancy gourmet meal, but is really simple and easy to cook in one pot!  I love to make it when I am entertaining because the flavors are crowd pleasing and everyone is so impressed with the dish. If you are looking for a meatless option, you can even make this as a creamy mushroom florentine without the chicken and it is just a delicious that way as well. Whether it is a weeknight at home, or an elegant dinner party, this recipe is one I find myself pulling out time and again!
Chicken Mushroom Florentine Ingredients:
This meal is so flavorful and filled with so many delicious ingredients. Sun Dried Tomatoes, mushrooms, chicken, and spinach all cook in the creamy sauce and get tossed in the pasta.
Boneless skinless chicken breasts: Cut into one-inch pieces so they will cook easily and quickly.
Butter: Unsalted or salted will work, just adjust your salting at the end accordingly.
Olive oil: Use a high quality oil to cook the sun-dried tomatoes, garlic, and mushrooms.
Garlic cloves: Minced garlic gives a rich, nutty taste to the cream sauce.
Sun dried tomatoes: I love the intense sweet and tart flavor of these tomatoes!
Small mushrooms: Sliced and cooked with the garlic and tomatoes in olive oil.
Flour: Add a small amount of flour to the garlic and oil.
Chicken broth:  This is in place of the white wine that many use in cooking this dish.
Half and half:  Sweetens this creamy sauce.
Salt and pepper: To taste!
Garlic powder: Even more garlic flavor? Always!
Linguine: Break in half for easier cooking and serving.
Grated parmesan cheese: Fresh grated makes a huge difference, trust me!
Fresh baby spinach:  Thawed frozen spinach works in a pinch, but fresh is best.
 How to Make a One Pot Meal:
It is ultra creamy and absolutely delicious! I know that you will not regret making this meal for your family. It is going to be a huge hit!
Cook the chicken breasts: In a large skillet over medium high heat add the butter and cook the chicken until golden brown and no longer pink.
Add ingredients to same pan to cook: Add the olive oil and cook the garlic, sun dried tomatoes, and mushrooms until tender. Add in the flour and cook for another minute.
Wisk sauce and simmer: Slowly add the chicken broth, half and half, salt, pepper, and garlic powder and whisk until incorporated.
Cook pasta: Cover and cook for 10-15 minutes or until the pasta is tender.
Garnish and Serve: Remove from the heat and add the parmesan cheese and spinach and stir until the spinach starts to wilt. Serve immediately.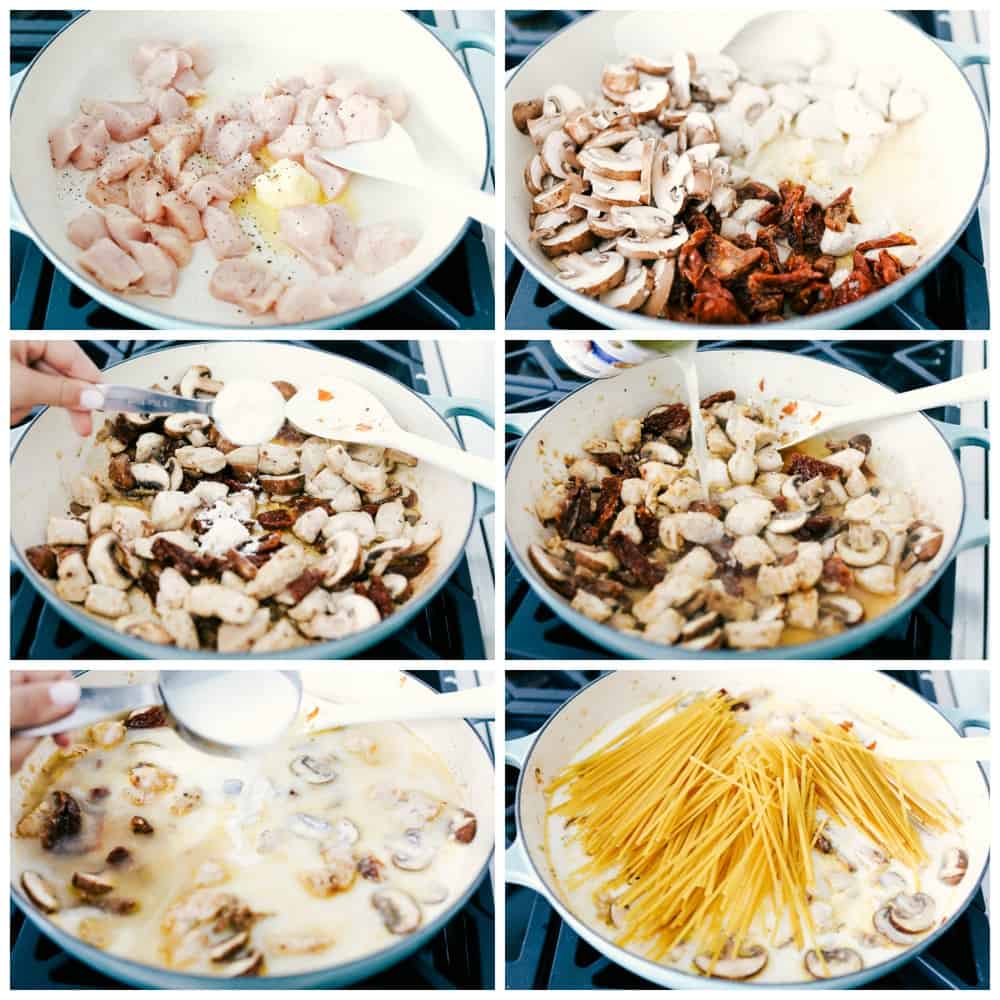 Tips for One Pot Recipes:
Can I just get a hallelujah for one pot meals? They have saved me this week and this one is ready in under 30 minutes and one of the most delicious meals you will ever make!
Assemble the ingredients before you start.  Keeping your ingredients organized helps to keep cooking time down and you can verify you have everything you need before beginning.
Start by cooking the meat first.  The flavors the meat leaves in the bottom of the pan get incorporated through all the layers to come after.
Add ingredients in descending order of cooking time.  Things that need the longest cooking time should go in first.
Chop sun-dried tomatoes in smaller pieces so that they are not too overpowering.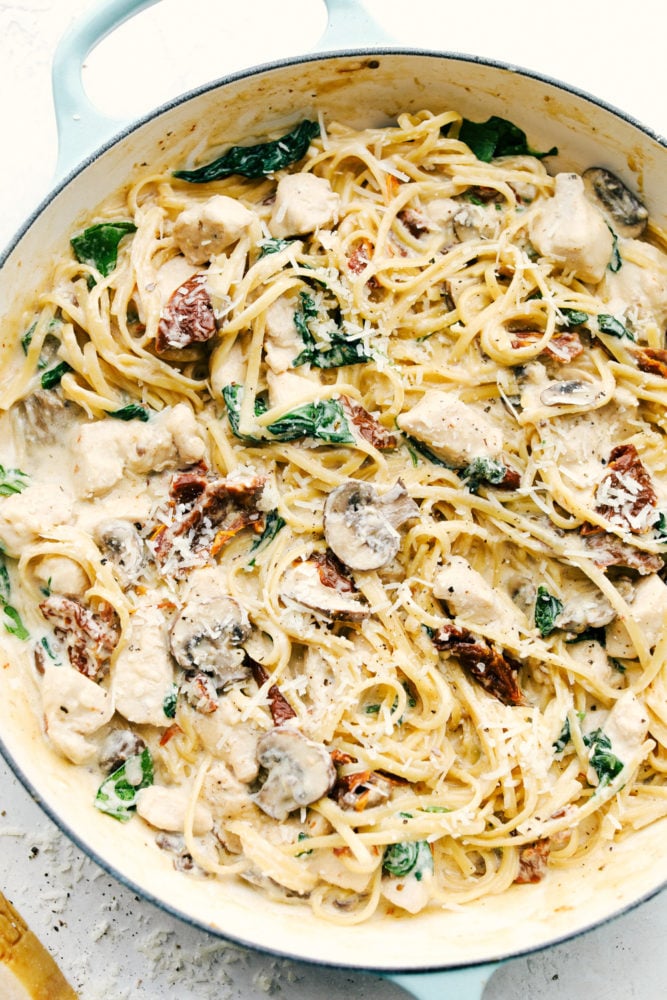 Variations or Substitutions:
Whole milk works great in place of half and half.
If you love black or green olives, now's your chance! Add a ½ cup to this recipe!
Serve with mashed potatoes or pasta on the side if you are good with adding a dish or two to wash in the end.
Frozen spinach will work, however I prefer fresh spinach since the flavor and texture are so much better.
Switch out the chicken breasts for boneless skinless chicken thighs or even boneless pork chops.
Add more of the flavors you love.  This recipe is super easy to adapt to suit your family, so get creative.  The creamy chicken goes great with diced red onion, sliced zucchini, and artichoke hearts too!
If you are feeling cheesy, try mixing in other cheeses like mozzrella, asiago or fontina cheeses.  They would give this creamy florentine even more dynamic flavor.
Garnish with 1 bunch of green onion (both the green and white parts)
Storing Chicken Florentine
The best part about one pot meals is that you don't dirty a lot of dishes to make an extraordinary meal. The less dishes I have to do, the more happier of a mom I am. Everything cooks in one pot and even the pasta cooks in the creamy sauce.  Store your chicken florentine within 2 hours of cooking in airtight containers.  Then, leftovers can be stored in the refrigerator for up to 3 days.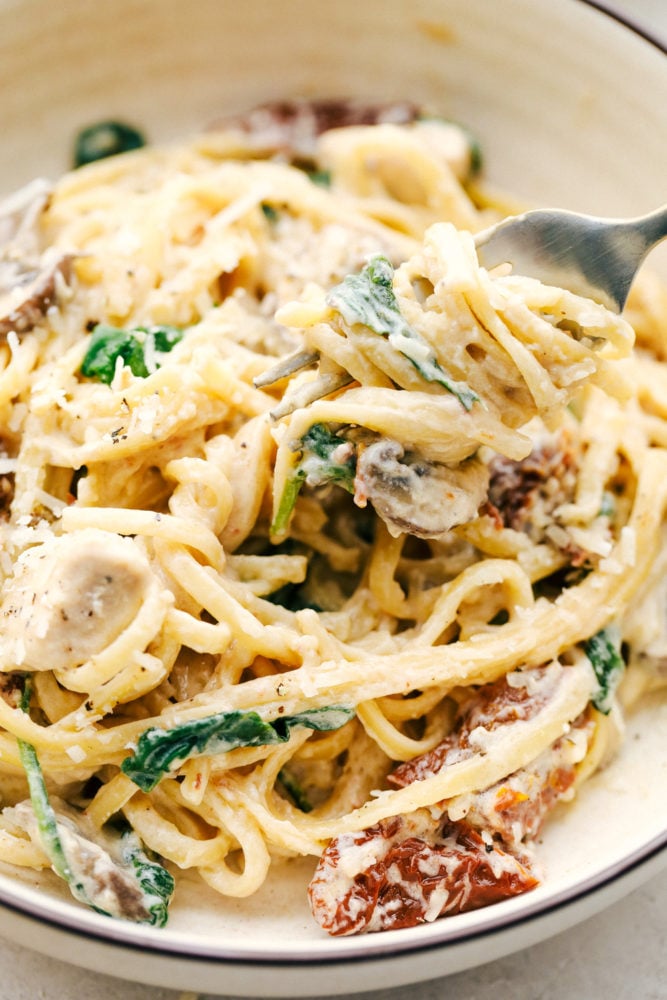 More One Pot Meal Recipes You will Love!
Save