Sticky-sweet pork, juicy pineapple, fresh herbs, jalapeño, and crispy onions all served over a bed of fluffy coconut rice. SO GOOD!
This is a fan favorite recipe that's part of our Fall 2022 SOS Series! View the full series.
---
Let's tuck right into this comforting, super-satisfying bowl of yum. Immediately. Get your fork. Hurry, hurry.
I mean, sticky-sweet pork with that caramelized pan-fry goodness, the juicy chunks of pineapple, a handful of fresh herbs, slices of jalapeño, and crispy onions (yes, crispy onions! so underrated!) is all getting served over a hot pile of super luscious coconut rice (remember this rice from that delicious Ginger Peanut Chicken?), and WOW to the EEE. I hope you actually got your fork already because this is not a bad situation. Not at all.
The rich flavor, the caramelized texture, the totally indulgent and fragrant coconut rice… I mean, this is hands-down one of my favorite (easy! lifesaving! SOS!) meals of the season.
Why Pork and Pineapple Are a Match Made In Food Heaven
Nothing quite beats the sweet, tangy pop of fresh pineapple, really with anything…but it's such a special flavor alongside pork in particular. It's a sweet-salty combo that cannot be beat! And when you grill or sear the pineapple and all those natural sugars start caramelizing and turn into the most delicious sticky-saucy-sweet situation? HELLO WHAT A DREAM.
In fact, pineapple has a natural enzyme in it that tenderizes meat. That's not so much at play here because you are not marinating in the pineapple juice itself, but just saying, even science wants them to be together! 
So, if you are for some reason feeling weird about fruit and meat mixed together, please know that this is the absolute best and you will want to keep eating it forever. And then if you need other ways to love the pineapple pork combo, maybe you want to try these pork tacos with a little pineapple salsa.
Or get thee to some tacos al pastor! Or…do people still put pineapple rings on their holiday ham prep? See! It's a thing!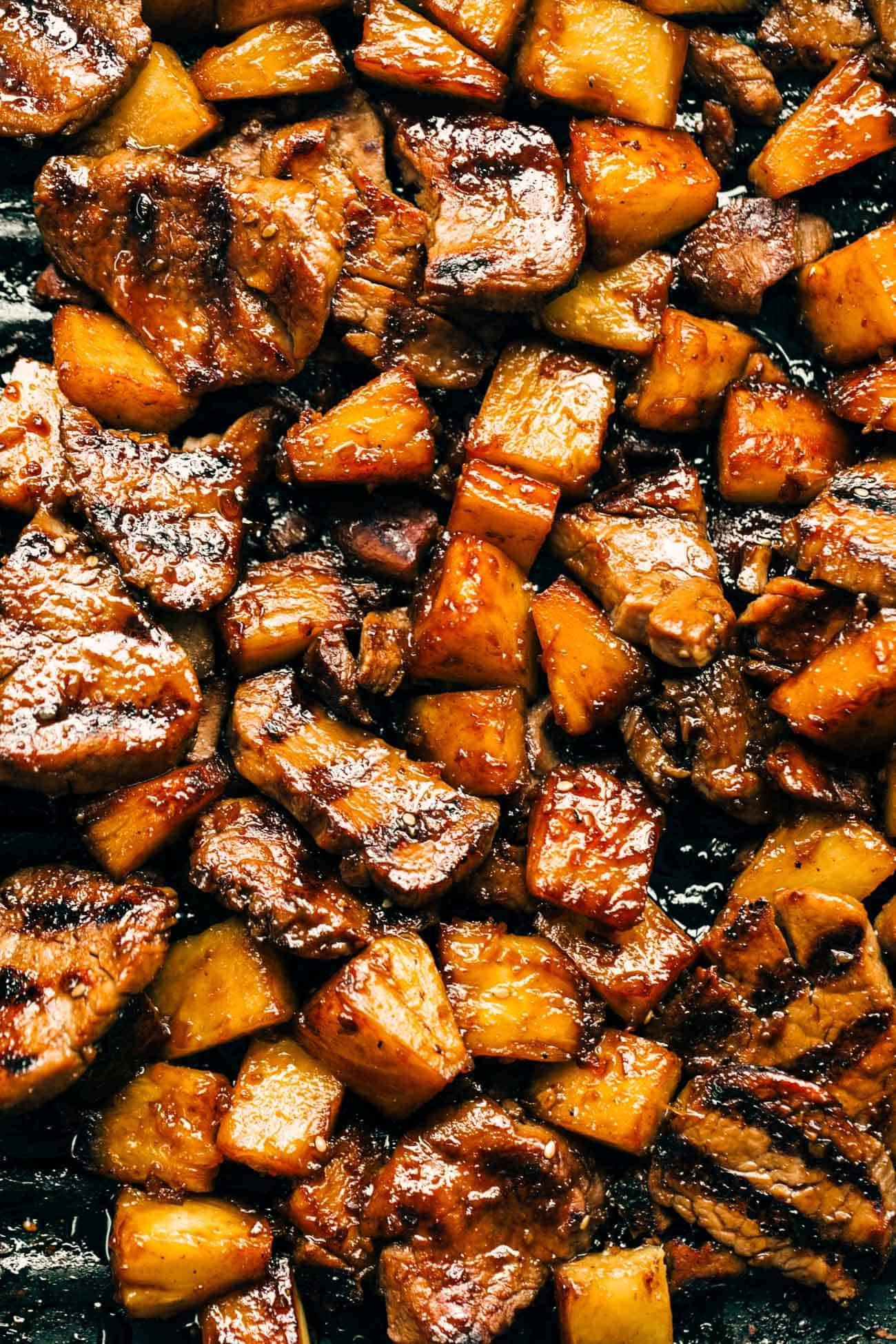 This Pineapple Pork Comes with a Deliciously Short Ingredient List
Since this is part of our SOS series, I promised you a short, friendly ingredient list and this recipe will deliver. Here are your five major players for this bomb weeknight recipe:
pork
pineapple
teriyaki sauce – store-bought, no guilt, SOS series FTW!
coconut milk
rice
Cilantro, jalapeños, and crunchy onions are also obviously encouraged in borderline inappropriate quantities, but not required.
This recipe honestly feels like a gift that someone gives you at dinnertime and you get to unwrap it bite by bite, dinner by dinner, the next 2-3 days, or sadly, less, depending on how long your leftovers last. Which, in our house, was not long at all. A double batch would not be a bad idea.
It's sticky, caramelized, comforting, and just a lil crunchy. I can't quit it.
How To Make This Pineapple Pork
Not much to bring this addicting little number together. There is a teeny little marinate step, but it is very low-key and low-stress. A few hours is ideal, but also if you forget altogether, just pop it in that sauce when you pull ingredients out of the fridge. NBD!
Make your rice. Toss all the coconut milk, water, and rice in the Instant Pot and then beep-boop you're done! (You can also do it on the stovetop/rice cooker if that's your jam – see the FAQ below.)
Caramelize your pork. Pull that pork out of the sauce and toss it in a hot pan. You want it to be able to sear and caramelize so make sure you don't dump the sauce in too (then it will steam the pork, not as ideal!)
Pineapple and finish. Once the pork has a nice sear, toss your pineapple chunks in to get it all nice and caramelized and saucy. You can also add a little more teriyaki at this point if your heart calls for it. 
That's it! Then top with some fresh jalapeño and cilantro and a truly embarrassing amount of crispy onions, if you're doing it right.
Pineapple Pork with Coconut Rice: Frequently Asked Questions
I don't like pork. What can I use as a substitute?
Chicken would work well here or, for a vegetarian option, tofu would be great.
Is this spicy?
This dish has a lot of flavor, but it isn't spicy. If you're concerned about spice though, try omitting the jalapeños.
I have leftover crispy onions. What else can I use them for?
First, how? These underrated little things beg to be eaten by the handful! If you have extra crispy onions, please visit the Crunchy Roll Bowls next. SO YUMMY!
Where do I buy crispy onions?
You can find them at almost any grocery store near the canned green beans or some Asian markets sell them, too.
I don't have an Instant Pot. How can I cook the rice?
Cooking the rice in a rice cooker or just on the stove top should work well. To make it on the stove, you can add 2 cups of rice, 1.5 cups of water, and a 14-ounce can of coconut milk to a large pot and bring it to a boil. Once it's boiling, you can reduce the heat to a simmer, cover the pot, and cook the rice for about 15-20 minutes.
Watch How To Make This Recipe
Print
Description
Sticky-sweet pork, juicy pineapple, fresh herbs, jalapeño, and crispy onions all served over a bed of fluffy coconut rice. SO GOOD!
---
---
Prep: Marinate the pork with 1/4 cup of the sauce for 2-3 hours, or a full day. This is low-key and low-stress. Just do it whenever you think of it.
Rice: Add the rice ingredients to an Instant Pot. Cook on high pressure for 3 minutes, followed by a natural pressure release for 10-15 minutes (just let it sit there). Release the steam, fluff with a fork, season with a little salt, and attempt not to eat the whole thing.
Pork: Heat a tablespoon of olive oil in a nonstick skillet or grill pan over medium high heat. Add *just* the pork, discarding the excess sauce – if you add all the sauce with it, it will steam the pork instead of caramelizing it. Leave the pork undisturbed in the hot pan for a few minutes at a time to get better caramelization. Throw the pineapple in there and let it get saucy and caramelized, too. Add a few additional tablespoons of sauce AFTER you've gotten it nice and brown.
Serve: Top your luscious rice with a scoop of the saucy pineapple pork and finish with lime zest, cilantro, crunchy onions, and little slices of jalapeño. 
Notes
Use more sauce if you need it – all the store bought sauces are a little different in their thickness and some might need more than 1/4 cup to marinate. We have one that is a sesame teriyaki and it's SO good, but it's really thick, almost like a hoisin sauce, so the amounts vary between that one and the SoyVay brand shown here which is a little more runny. The main thing is that you don't want too much sauce to go into the pan when you brown the pork, otherwise it will steam instead of fry / caramelize.
Prep Time:

5 minutes

Cook Time:

25 minutes

Category:

Dinner

Method:

Sauté

Cuisine:

American
Keywords: pineapple pork, pork recipe, coconut rice
Recipe Card powered by
---
More Pork Favorites To Enjoy!
---
Time To Show You Off!
---
One More Thing!
This recipe is part of our collection of delicious rice recipes. Check it out!