While sardines are impressively nutritious, most people don't like their stronger fish taste, especially when they come in a tin. In today's recipe, I will show you how to make Canned Sardine Fishcakes, which is one of my favourite ways to enjoy this fish. This recipe is gluten-free, Whole30 and Paleo-friendly.
---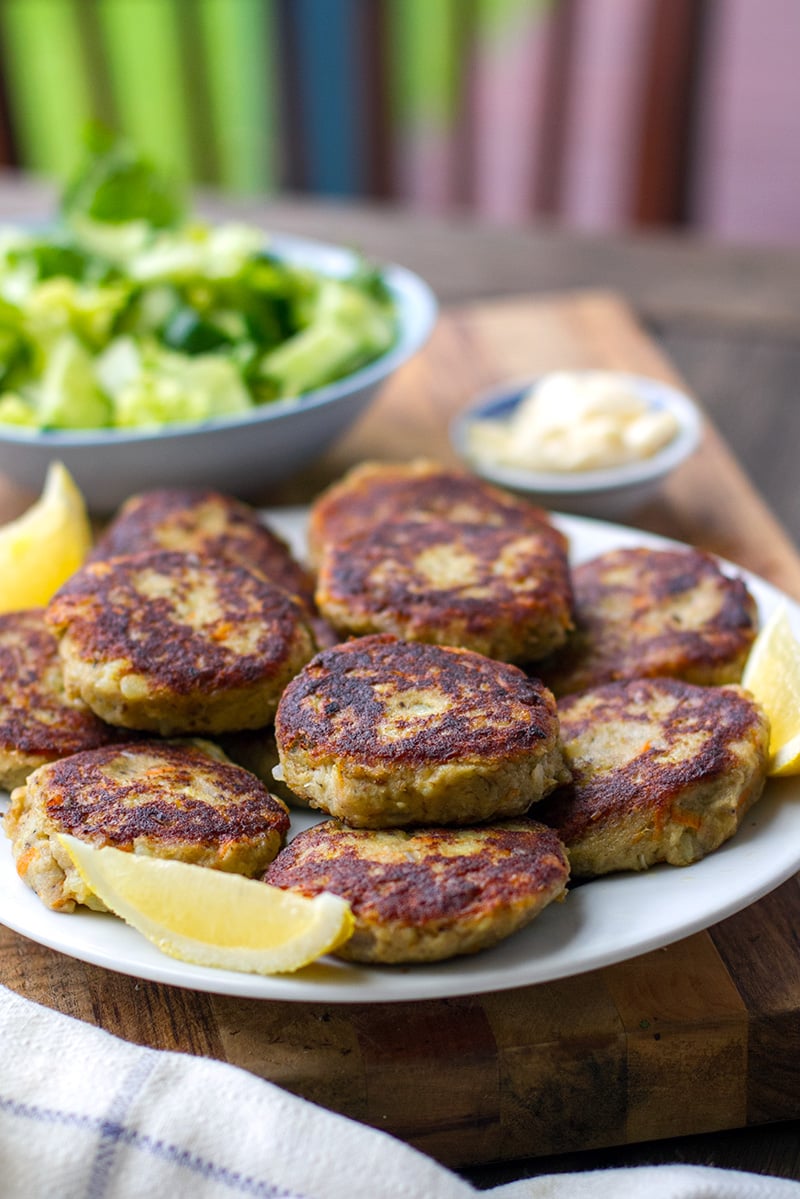 Ah, sardines! Just like with the nutritious liver, you know you should eat more of them but it's hard to enjoy this fish compared to a more subtle tasting salmon or cod. Personally, I don't mind the strong flavour but I do have a few tricks up my sleeve for how to eat them, such as in my forshmak sardine dip salad or paired with a citrus zucchini salad.
Today's fishcakes are another example of how you could potentially enjoy canned sardines specifically. I have to point out that fresh sardines, grilled and sprinkled with salt and parsley are TOTALLy different to their tinned brothers and sisters. So, the recipe here is for tinned fish as that's the one most people avoid due to the stronger flavour (and all those little bones).
Benefits Of Sardines
Before you turn your nose on this recipe, consider (just for a second) just how nutrient-dense sardines are. They are packed with vitamins and minerals such as B12, zinc, selenium and calcium,  and are super high in omega-3 fatty acids and protein.
Plus, they are super sustainable and low in mercury compared to bigger fish. They are some of the best foods to eat to support your mitochondrial health (your cells), to fight inflammation, and to support bone density.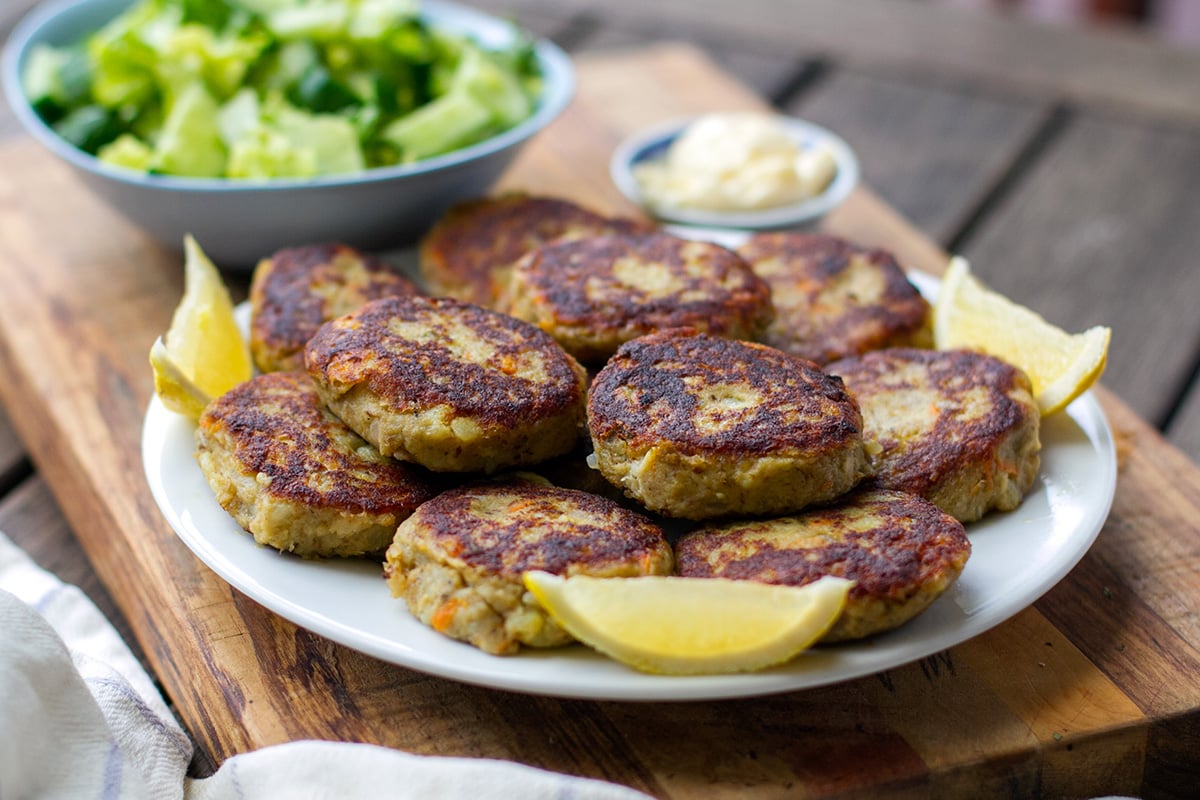 How To Make Sardine Fishcakes
These sardine fishcakes are made with white potato, onions and carrots and just a touch of paleo-friendly flour such as cassava or tapioca. There is an egg inside as well, but you could potentially get away without it.
I personally eat white potato and it's widely eaten within the paleo and real food community (it's Whole30 approved!), but you are welcome to use sweet potato instead. I often make fishcakes with sweet potatoes.
White potato is full of starch (the good kind, actually) and gives these patties a lovely, soft texture and helps to cut down that fishy flavour. Another thing that lifts these fishcakes to a pleasant sphere is the garlic aioli and lemony salad served on the side.
You can easily whip up both while the fishcakes are frying. All in all, it's a very nutritious dinner or lunch! I sure hope you give these guys a go and maybe…just maybe…you too can start to enjoy sardines.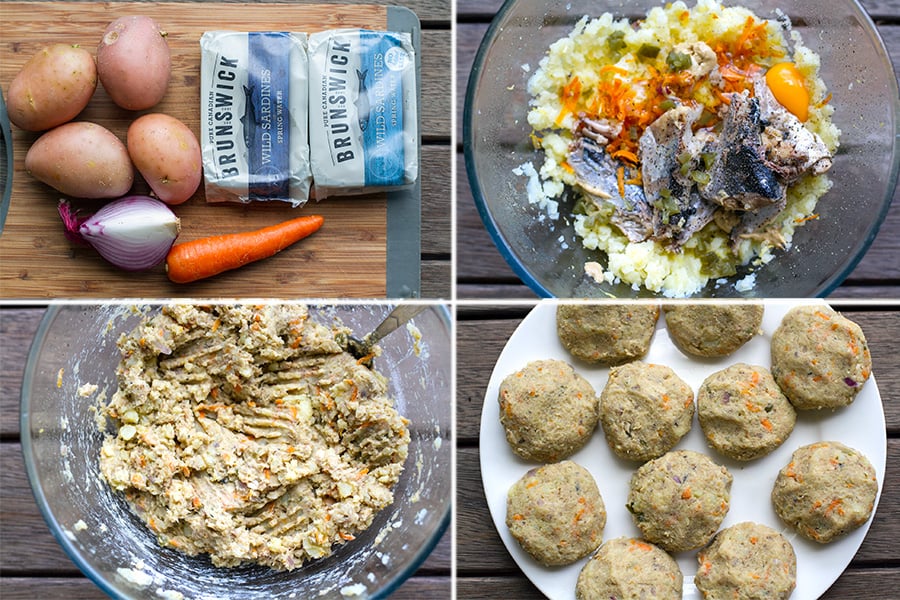 Print
---
---
Place potato in a pot and cover with cold water, add half a teaspoon of salt. Bring to a boil, then cook for 15 minutes until soft. Strain and transfer the cooked potato to a mixing bowl, mash it roughly and allow to cool down.
In the meantime, saute the onion and carrots in a tablespoon of olive oil for 2 minutes, until softened. Transfer to the potatoes and cool all vegetables for 15-20 minutes.
Add the rest of the fishcake ingredients, except for the flour, and mash together really well. Finally, add the flour and mix through.
Shape the mixture into small patties and arrange on a plate or a tray. You can store these in the fridge overnight covered with some Clingfilm or you can cook them right away.
Heat a few tablespoons of coconut oil or macadamia oil (or ghee) in a frying pan over medium-high heat. Add the fishcakes and cook for 4-5 minutes each side, until golden brown crust forms.
While the fishcakes are cooking, combine the aioli ingredients in a bowl and mix well. Toss the salad with the lemon juice, olive oil, salt and pepper and set aside.
Serve the fishcakes with a dollop of aioli and salad on the side. Enjoy!
---
Save This Sardine Recipe To Pinterest