This website may contain affiliate links and advertising so that we can provide recipes to you. Read my privacy policy.
Slow Cooker General Tso Chicken is a super easy meal with an amazing sweet and savory sauce with a little bit of heat! This is way better than takeout!
Asian food and slow cooker just go together, it gives time for the meat to soak up all those intense flavors. For instance in this slow cooker Chicken, Beef and Kung Pao Chicken, the flavors just explode because of the long slow simmer.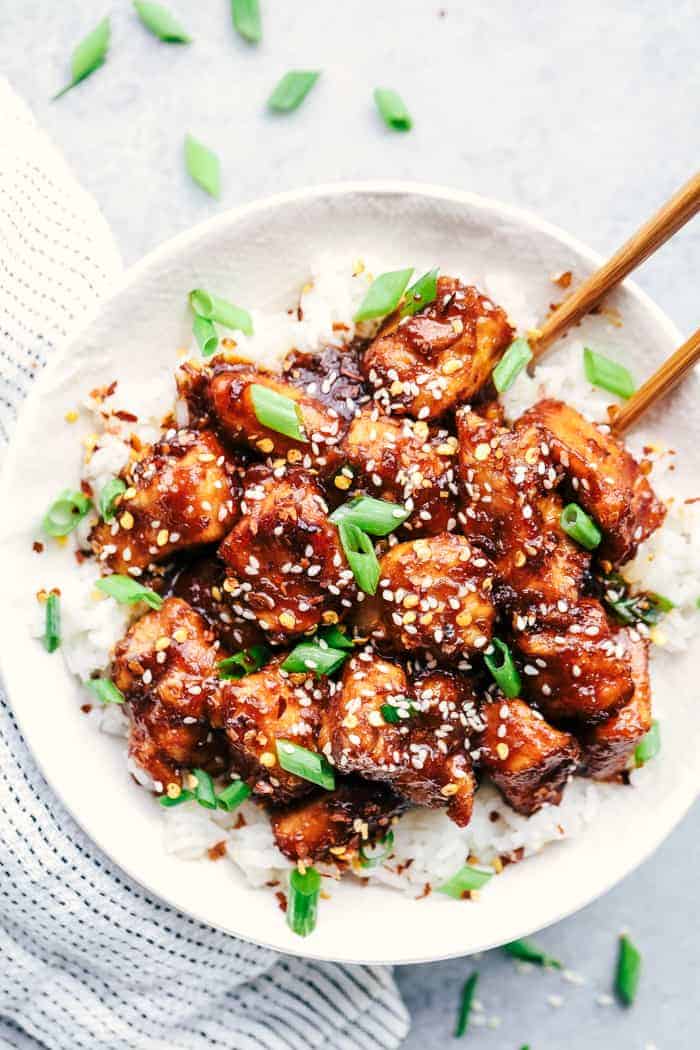 General Tso Chicken
I made this recipe four years ago and the pictures weren't doing it justice. We love asian inspired meals here at our family so of course this was one of the first recipes to make its debut on the blog. We have it quite often at our house and it is incredible. I love being able to make better than takeout right at home!  It was time to update the pictures on here and my family was reminded about how much we love it. Everyone devoured it including my youngest two year old.
The rich and dark sauce in this meal is incredible. It is sweet and savory with just a little bit of heat. I always have to hold out the red pepper flakes until the end just for my kiddos, but it has such incredible flavor. The sauce is thick on the chicken and it is perfect served over rice with some vegetables.  I know this is a meal that your family is going to love! You will make it again and again.
Ingredients For Slow Cooker Chicken
Simple ingredients that combine to create magic in the slow cooker. You are going to love this easy way of getting better than take out at home.
Chicken Breasts: Skinless, boneless and cut into one inch cubes.
Cornstarch: This will create that crispy outside.
Vegetable Oil: To fry the chicken in before slow cooking.
Hoisin Sauce: This sweet and salty sauce can be found in the asian aisle with the soy sauce, and other asian sauces.
Soy Sauce: Can use regular or low sodium with great results.
Brown Sugar: Adds a bit of sweet to combat the heat.
Garlic: A necessary ingredient for this incredible chicken.
Rice Wine Vinegar: Adds that bit of zing that's awesome.
Sesame oil: Adds intense flavor.
Dry Ginger: Blends easy and has just the right amount of flavor and heat.
Crushed Red Pepper: This brings the heat.
Green Onions, Sesame Seeds, Additional Red Pepper Flakes: These are all optional but all worth the extra effort to have them ready to go.
Making Incredible Slow Cooker General Tso Chicken
Start by adding a simple breading to the outside, then pan fry the edges for just a few minutes. This is an extra step, but you will love the crispy edges. The chicken has a tender and juicy center by doing this extra step. If you want to just dump the chicken in with the sauce and let it do its thing you can as well.
Mix: In a mixing bowl add the chicken and cornstarch. Toss until the chicken is completely coated in the cornstarch.
Brown: In a medium sized skillet over medium high heat add oil and cook the chicken until the chicken is slightly brown but not cooked throughout. Put in the bottom of a slow cooker.
Whisk: In a small mixing bowl whisk together hoisin sauce, soy sauce, brown sugar, garlic rice wine vinegar, sesame oil, ginger and crushed red pepper. Pour on top of chicken in the slow cooker.
Cook: Cook on low heat for 3-4 hours or until chicken is cooked throughout.
Serve: Serve over rice and garnish with green onions, sesame seeds and red pepper flakes if desired.
Note:  If you are cooking the chicken without browning in the skillet first, when chicken is finished cooking, remove the chicken and add 1 Tablespoon cornstarch to the sauce. Add the chicken back to the crockpot and cook for an additional 15 minutes until the sauce thickens up. Chicken could also take longer to cook, closer to 4 hours.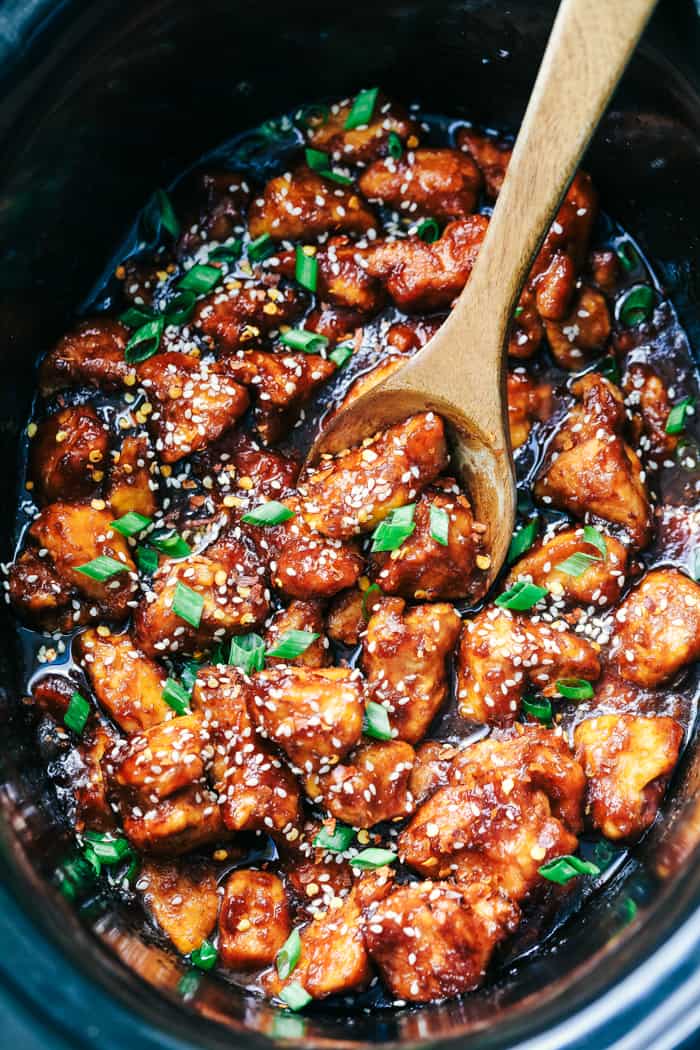 Tips for Tender and Juicy Chicken
This is truly one of my all time favorites along with Crispy Sweet and Sour Baked Chicken or Baked Honey Sesame Chicken. I can't decide, but either way they are all super easy, and super delicious.
Chicken: I used boneless skinless chicken breasts, but you can also use boneless skinless chicken thighs. Be sure to cut them all the same side so they'll cook evenly.
Coating: It's true you don't have to pre brown them in the oil with the cornstarch, but the extra crispiness and coating make it more like a restaurants. Plus it just tastes so much better. If you choose not to do this step. Be sure to check the notes for how to thicken the sauce.
Serve: Our favorite way to eat this is over rice. But this is also great over brown rice, cauliflower rice and quinoa.  It would also be amazing over a salad or roasted vegetables.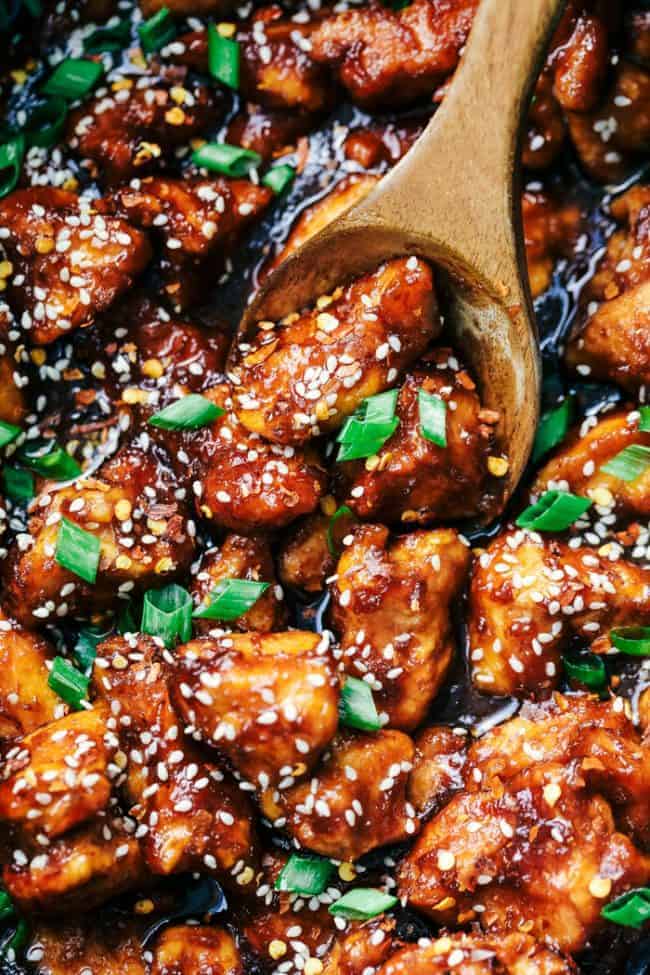 How to Store Easy General Tso Chicken
America loves its Asian food. You know you are getting great quality ingredients with incredible flavor in the comfort of your own home. You have to try these tried and true recipes! You are going to love them.
Store: Keep for up to 4 days in the fridge in an airtight container.
Freeze:  In an airtight freezer safe bag for up to 3 months. Let thaw in the fridge overnight and rewarm on the stove in a skillet or microwave.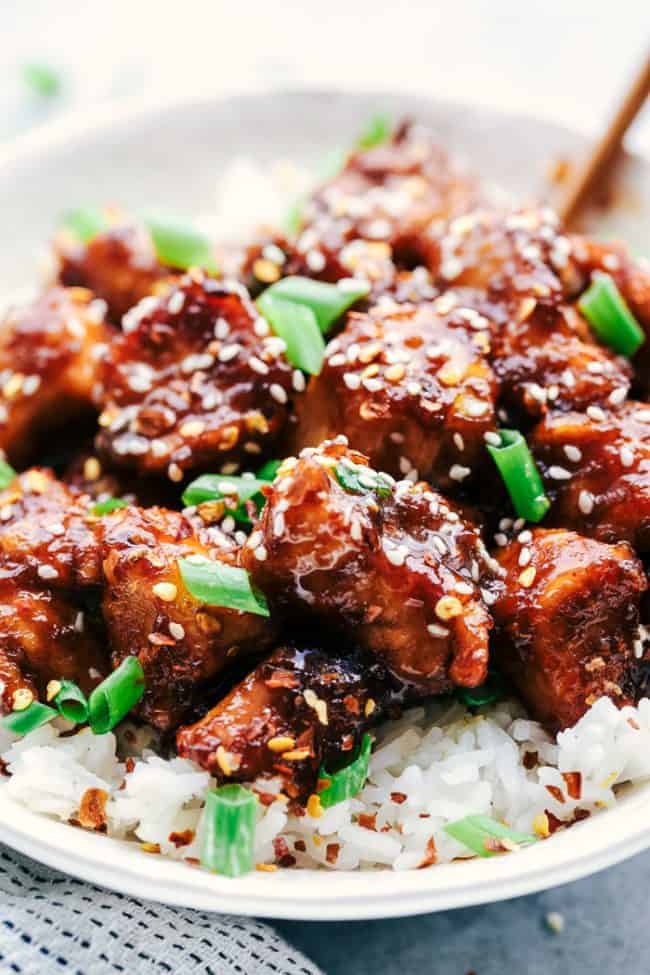 More Asian Inspired "Better than Takeout" Recipes
 This was the old picture. Wasn't too awful compared to some but I didn't even spell Tso's right! haha