This website may contain affiliate links and advertising so that we can provide recipes to you. Read my privacy policy.
Slow Cooker Teriyaki Chicken is a simple saucy, sweet and tangy chicken served over tender long grain rice that truly satisfies. The aroma that will fill your kitchen will make your mouth water all day, the hardest part of this will be waiting till it's done. It's so simple and so flavorful, it'll become a standard in your recipe rotation.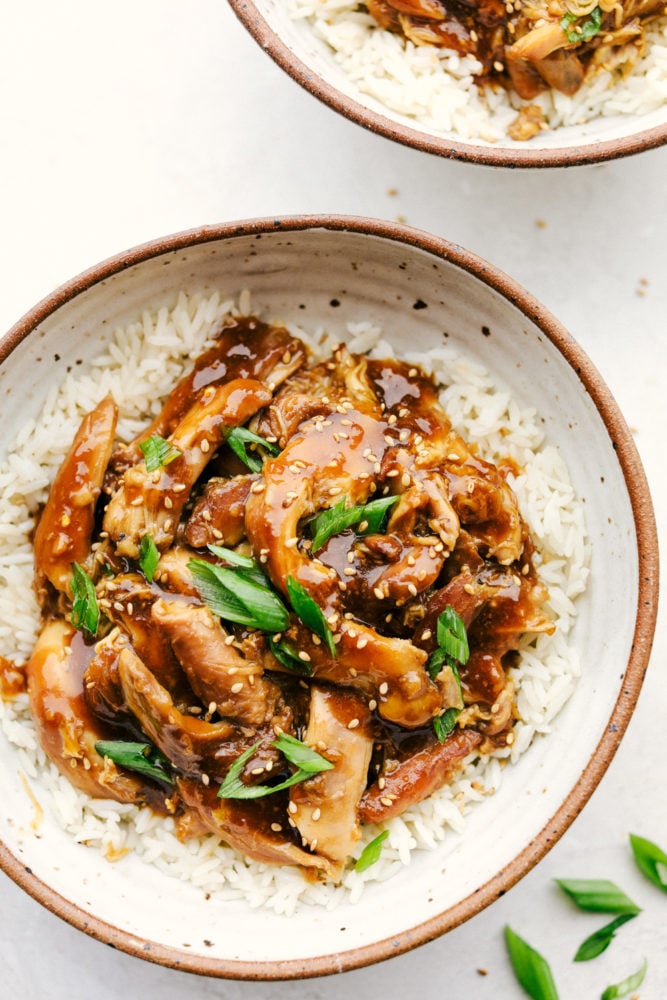 Teriyaki Chicken Recipe
Teriyaki is one of the most favorites of the Asian flavors around. The combination of garlic, ginger, soy sauce, sugar and vinegar is like magic. Teriyaki sauce makes everything taste better. From Shrimp to veggies to steak. It just goes with so many things.
Slow Cooker Teriyaki Chicken is rich and flavorful and so easy to throw together. Slow Cooker meals are a favorite go to when life gets busy and this will be a winner.  Tender chicken is drenched a thick sweet sauce with minimal preparation but will taste like you slaved all day. This is so good!
Teriyaki Chicken Ingredients:
Simple ingredients come together quickly for the perfect meal.
Chicken Thighs: Save time by buying boneless skinless chicken thighs. Otherwise you'll want to de-bone and skin your chicken thighs.
Sugar: Balances out the soy sauce to make the perfect sauce.
Soy Sauce: You can use low sodium soy sauce if you'd like.
Cider Vinegar: Adds zing and tenderizes the chicken.
Ground Ginger: Makes the sauce sing.
Minced Garlic: You can use jarred minced garlic.
Pepper: Try using fresh ground pepper for the best flavor.
Cornstarch:  Thickens the sauce.
Cold Water: needed to dissolve the cornstarch
Rice: Long grain brown or white rice is best.
How to Make Teriyaki Chicken in the Slow Cooker:
Using the Slow cooker makes every thing easier. Just a few simple steps is all you need to impress.
Place: Put the chicken in the slow cooker.
Mix: In a large bowl mix the sugar, soy sauce, cider vinegar, ginger, garlic and pepper. Pour it over the chicken.
Cook: Cook on low for 4-5 hours till chicken is tender.
Remove: When the chicken is done remove and shred on a platter and keep warm.
Sauce:  Skim the fat from the cooking liquid. Place the liquid in a pot and bring to a boil. Mix the cold water and cornstarch together in a small bowl. Slowly add to the sauce and stir till thickened.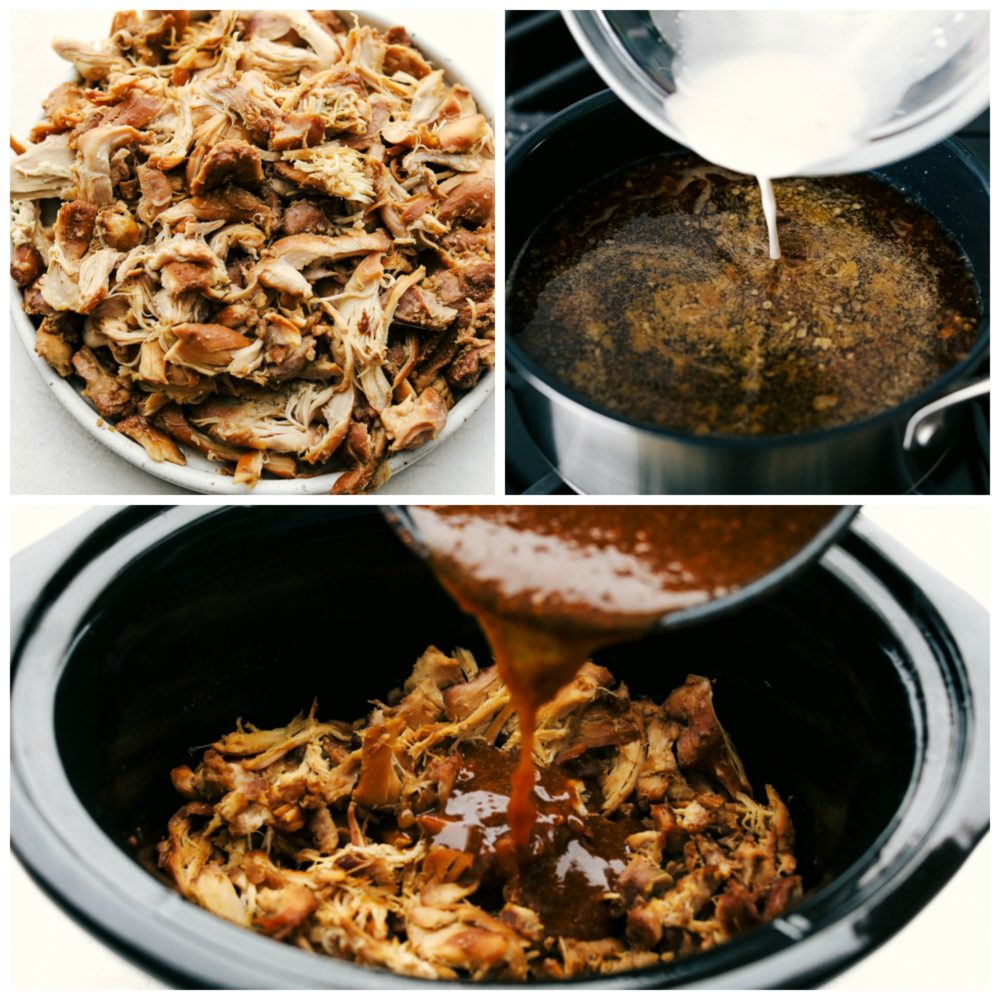 Teriyaki Tips and Variations:
You will love how versatile this recipe is, it'll be everyone's favorite.
Chicken: The recipe calls for boneless skinless chicken thighs, but chicken breasts can easily be used and will be super tender and flavorful.
Trim the Fat: Which ever kind of chicken you use, you'll want to trim off any excess fat.
Honey: If you're looking for a sugar substitute try honey. It's sweeter than sugar so you can use less. It will add a nice deep richness to the sauce. Try using 2/3 cup honey instead of the sugar.
Sauce: If your sauce seems too thin even after adding the cornstarch. Mix another 1 teaspoon of cornstarch with 2 teaspoons of cold water and add. Continue to add the cornstarch slurry till you get the thickness you desire. It will thicken as it cools.
Flavor: If you want to intensify the flavor use fresh garlic and fresh grated ginger for a deep rich flavor.
Serving and Storing Slow Cooker Teriyaki Chicken:
Slow cooker chicken is so easy and so versatile, you'll love having some leftovers.
Double: This is an easy recipe to double and save half for later.  Leftovers often taste better anyway as flavors continue to meld together.
Variations: Besides rice you can try serving it over quinoa. Roast or steam vegetables and turn the meal into a stir fry or a rice bowl. Use the chicken in sandwiches or to top a Teriyaki Chicken salad.
Store: Leftovers can be stored in the fridge for up to 5 days and in the freezer for up to 3-4 months.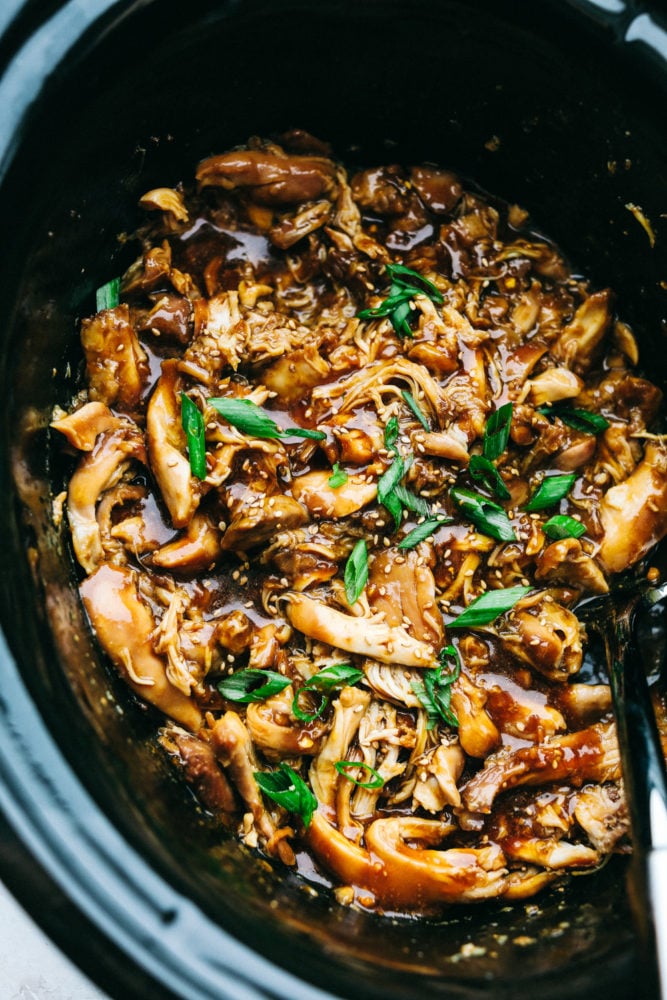 More Tempting Teriyaki Recipes:
Teriyaki is such a tantalizing flavor, try these other great recipes with this amazing taste.