I've fallen hard for the distinctive flavor of French Tarragon, and these Tarragon-Mustard Deviled Eggs are a wonderful way to use it. 
PIN Tarragon-Mustard Deviled Eggs to try them later!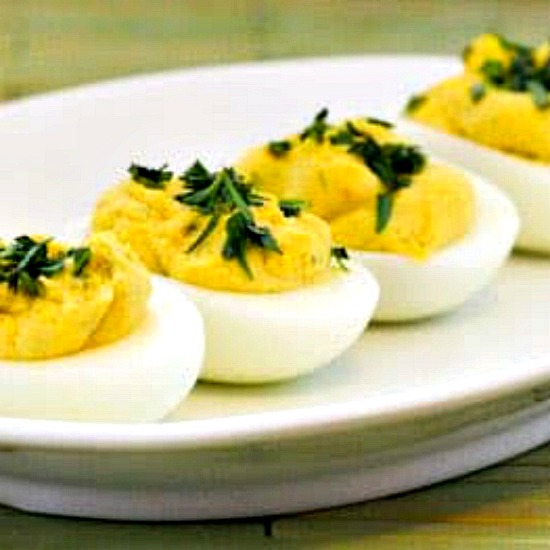 Last year I tried French Tarragon for the first time, and became completely addicted to the flavor of this somewhat assertive herb. The idea for using tarragon with mustard to make Tarragon-Mustard Deviled Eggs was something that popped into my head recently. It was a complete experiment, which I'm happy to report turned out well. In fact, the first time I made this I didn't especially like the photos, so I just gobbled up those eggs and made another batch a few days later to photograph again!
I shared a lot of information about tarragon when I wrote about Chicken with Tarragon Mustard Sauce and Tarragon Chicken Salad, so if you're not familiar with this herb, you can read there about the types of tarragon. I find French Tarragon is very easy to grow from a plant purchased at the garden center, and anyone who likes fresh basil is probably going to like this flavor! And if you make the Tarragon-Mustard Deviled Eggs and decide you really like tarragon like I do, check out my tips for Cooking with Fresh Tarragon!
What ingredients do you need for this recipe:
eggs
finely chopped fresh tarragon, plus a bit more for garnish
white wine vinegar
mayo (see notes)
Dijon mustard (affiliate link)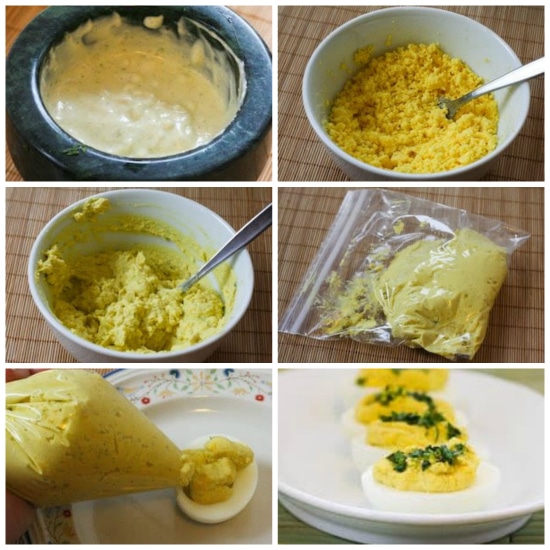 How to make this recipe:
(Scroll down for complete recipe with nutritional information)
While your perfect hard-boiled eggs are cooling, mash or blend together the minced tarragon, white wine vinegar, mayo, and Dijon mustard. I used a mortar and pestle to mash up the tarragon and vinegar, and then mixed in the other ingredients.
When eggs have cooled, peel them and cut in half lengthwise. Remove yolks and mash them finely with a fork.
Mix the tarragon/mustard/mayo mixture with the egg yolks, and combine well. There will be some small flecks of green in this mixture, which I thought looked nice.
I like to put the yolk mixture into a sturdy plastic bag, and then cut off the tip to make a piping bag. Then you can squeeze out the yolk mixture into the egg whites. Easier and less messy!
Here's my best attempt at filling an egg with one hand while taking a photo with the other hand, but I think you can get the idea. Even when you're taking pictures at the same time, this is a really easy way to fill deviled eggs.
Garnish eggs with some chopped tarragon and serve!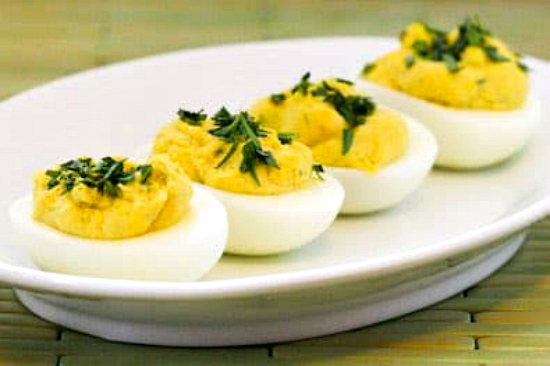 The Tarragon Obsession Continues:
Sauteed Chicken Breasts with Tarragon-Mustard Pan Sauce
Broccoli and Cauliflower Salad with Feta and Tarragon Vinaigrette
Grilled Chicken with Tarragon-Mustard Marinade
Green Goddess Salad Dressing
Tarragon Shrimp Salad
Want More Deviled Eggs?
My Favorite Recipes for Deviled Eggs (and 200+ creative deviled egg recipes from other bloggers)
Ingredients
8 eggs (see notes)
1 tsp. finely chopped fresh tarragon, plus a bit more for garnish
1 tsp. white wine vinegar
3 T mayo (see notes)
2 tsp. Dijon mustard
Instructions
Follow instructions to make perfect hard-boiled eggs.
While eggs are cooling, mash or blend together the tarragon and vinegar. (I used a mortar and pestle, but you could do this in a flat bowl with a heavy glass.)
Mix in mayo and Dijon mustard, and let this mixture sit while the eggs are cooling.
When eggs are cooled, carefully cut in half lengthwise and remove yolks to a bowl. (I always ruin a few, which is another reason I like to make extra.)
Mash yolks well with a fork, then mix in tarragon/mustard/mayo mixture.
You can fill the eggs with a spoon, but I like to put this mixture in a small plastic bag, cut off one corner, and squeeze the yolk mixture into the egg white halves as shown above.
Garnish finished eggs with additional chopped fresh tarragon if desired. (If you're not sure how much your guests like the taste of fresh tarragon, you might want to skip this.)
Notes
I like the eggs generously filled, so I usually boil one or two extra for extra yolks, but this recipe is intended to make 12 deviled egg halves, with two halves being considered a serving. Use regular or light mayo, whichever you prefer.
Recipe created by Kalyn.
Nutrition Information:
Yield:
6

Serving Size:
1

Amount Per Serving:
Calories: 144Total Fat: 12gSaturated Fat: 3gTrans Fat: 0gUnsaturated Fat: 8gCholesterol: 251mgSodium: 184mgCarbohydrates: 1gFiber: 0gSugar: 0gProtein: 9g
Nutrition information is automatically calculated by the Recipe Plug-In I am using. I am not a nutritionist and cannot guarantee 100% accuracy, since many variables affect those calculations.
Low-Carb Diet / Low-Glycemic Diet / South Beach Diet Suggestions:
Eggs are a very low-carb food, and Tarragon-Mustard Deviled Eggs would be a great appetizer, lunch dish, or snack for any phase of the original South Beach Diet and other low-carb eating plans.
Find More Recipes Like This One:
Use Appetizer Recipes to find more recipes for deviled eggs. Use the Recipes by Diet Type photo index pages to find more recipes suitable for a specific eating plan. You might also like to Follow Kalyn's Kitchen on Pinterest to see all the good recipes I'm sharing there.
Historical Notes for this Recipe:
This recipe was first posted in 2008, and since then my obsession with French Tarragon has continued to grow! The recipe was last updated in 2021.
We are a participant in the Amazon Services LLC Associates Program, an affiliate advertising program designed to provide a means for us to earn fees by linking to Amazon.com and affiliated sites. As an Amazon Associate, I earn from qualifying purchases.