This website may contain affiliate links and advertising so that we can provide recipes to you. Read my privacy policy.
The BEST Grilled Shrimp is the perfect weeknight meal because it is super quick, full of flavor, and so easy to make.  Everyone will absolutely love and devour it!!
A couple of my most popular shrimp recipes include Creamy Tuscan Garlic Shrimp or Creamy Garlic Shrimp Alfredo. They both include my tried and true creamy homemade sauces and are a must try if you love shrimp!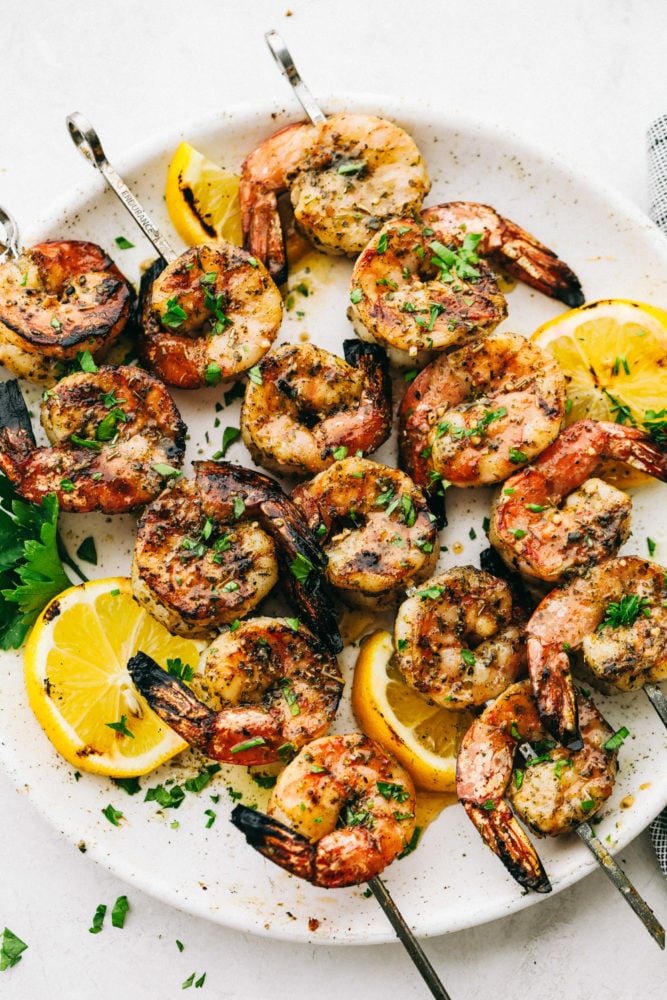 Grilled Shrimp Recipe
Grilling shrimp is a great way to cook this very popular seafood. The grill gives them a fantastic smoky flavor and adds to the perfect tangy spices of the marinade.  Due to the size of the shrimp, you will need to put them on skewers so they won't fall through the grate. I prefer jumbo shrimp for size but this will also work well with smaller size of shrimp. The marinade is that best part of the shrimp and takes them to the next level!
This shrimp recipe is perfect for a quick meal during the week or a side dish along with steak or  lobster. Marinating them is simple and so worth the juicy, flavorful result. This is the best grilled shrimp I have had in a long time.  It will be a go-to meal for a long time to come too!
Shrimp Ingredients:
For the best results, marinade the shrimp ahead of time. This marinade is so simple to make and many of the ingredients are things you will already have as staple ingredients. The savory and tangy juices combined with the grilled shrimp is amazing!
Jumbo Shrimp: You will need about a pound peeled and de-veined.  Either frozen or fresh will work, but I prefer using fresh so I can skip the thawing process and get the best flavor possible.
Salt and Pepper: Add salt and pepper to taste before soaking the shrimp in marinade.
Red Wine Vinegar: Adds a tangy taste and tenderizes the
Garlic Cloves: Rich depth of flavor
Italian Seasoning: Use a store bought mix, or make your own by adding a pinch of basil, oregano, rosemary, and thyme.
Lemon Juice: The acidity will help break down the shrimp and tenderize it.
Soy sauce: Either regular or low sodium will work great, it is just up to your preference.
Dijon mustard: Bold flavor and a bit of acid to tenderize.
Worcestershire sauce: Adds savory, sweet and tangy flavors to the marinade.
Grill Up Some Shrimp!
If you are in need of a quick meal for a weeknight, this grilled shrimp is a fantastic option. It cooks up so quickly. Whisk up this tangy marinade and impress your family with all the flavors. Then, just grab your shrimp and toss it on the grill, and its done in less than 5 minutes!
Season and Marinate shrimp: Salt and pepper the shrimp. In a medium sized bowl combine olive oil, red wine vinegar, garlic, Italian seasoning, lemon juice, soy sauce, Dijon Mustard and Worcestershire sauce.  Add the shrimp and let marinate for at least one hour or overnight.
Grill Shrimp: Preheat grill to medium high heat. Thread the shrimp on the skewers.  Place on the grill. Grill on each side for about two minutes until cooked through.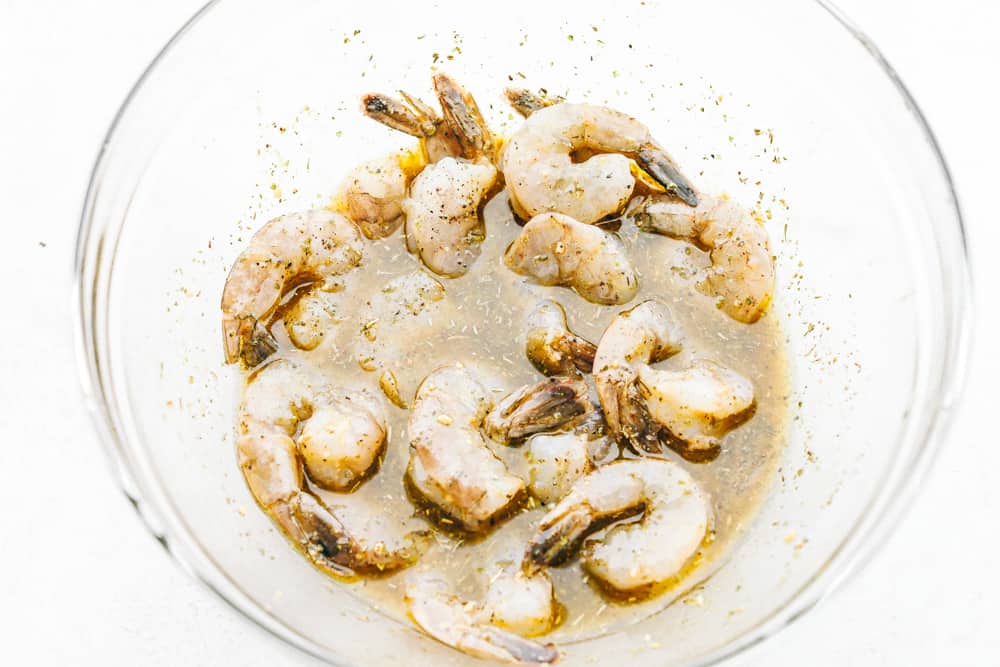 What to Serve with Shrimp:
I love to pair this grilled shrimp with some thin angel hair pasta and my amazing Homemade Alfredo Sauce.  A quick salad and some steamed veggies on the side are also a great pairing.  My family loves the combination and fills us all up, even the teenage boys.
The good thing about this grilled shrimp is that it goes with anything really, but if you need a few ideas to get you started, here are my suggestions…
Tips to Make the BEST Grilled Shrimp:
Do not overcook: Shrimp are fully cooked when they turn a pink color and look opaque and white on the inside. Pull them off the grill as soon as they are done.
Rinse: Clean your shrimp before cooking them. Rinse in cold water to remove any debris, pieces of shell, etc.
Cook from frozen: Save yourself time and cook your shrimp directly from frozen. No need to thaw first.
Pre-cooked shrimp: You can grill pre-cooked shrimp. Essentially you will just be heating them on the grill so it will take less than cook time. You just want to leave them long enough to warm them.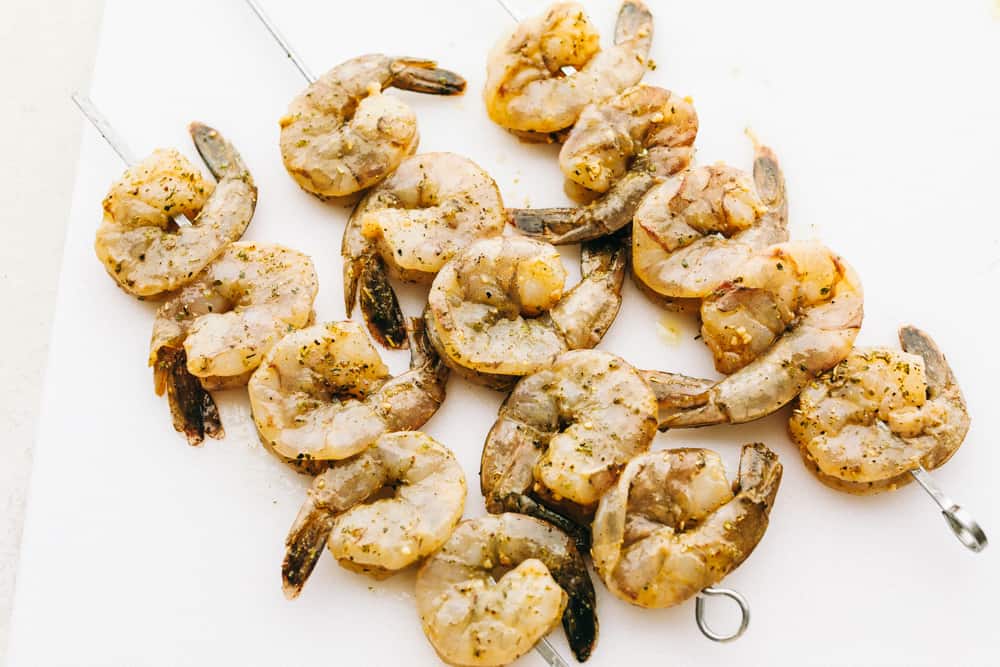 How to Store Shrimp:
Properly storing your shrimp before, during, and after grilling is very important.  Bacteria grows very quickly at temperatures between 40-140 degrees. You will always want to think about keeping your food either colder than 40 degrees or warmer than 140 degrees.  Food should only be left at room temperatures for a maximum of 2 hours.
Grilled shrimp storage should follow these guidelines:
Tightly pack:  Store shrimp in a shallow airtight container or heavy-duty aluminum foil or plastic wrap.
Refrigerator: 3-4 days cooked, 1-2 days raw
Freezer: 3 months cooked, 3-6 months raw
To re-heat cooked shrimp from frozen: Thaw in the refrigerator and then keep 3-4 days max before cooking. Do not re-freeze.  If you thaw in the microwave or in cold water, it needs to be eaten right away, then discarded.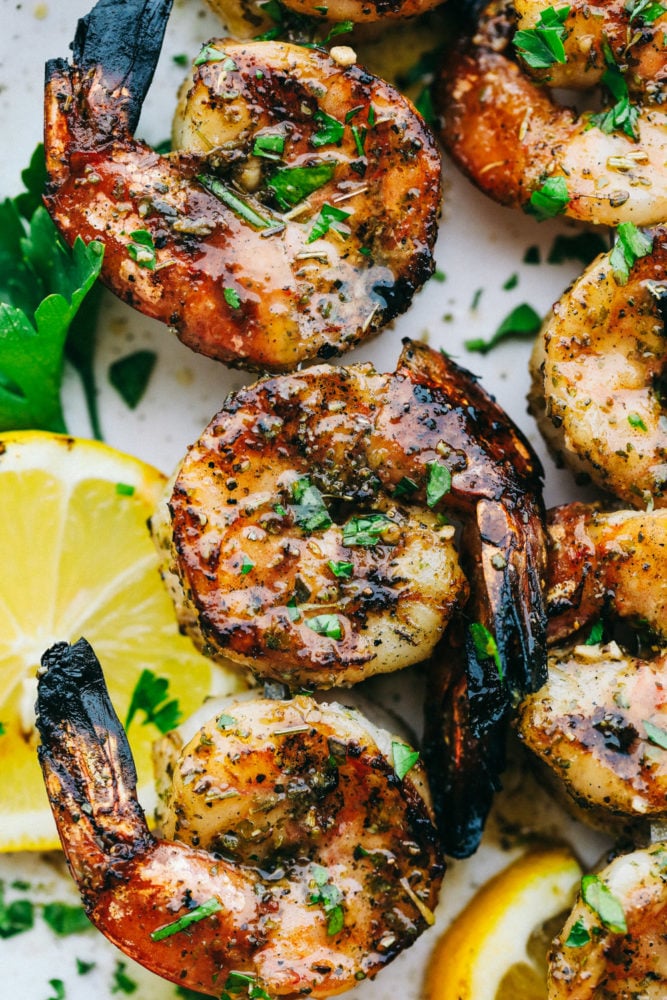 More Delicious Shrimp Recipes: