This baked honey soy chicken wings recipe is an absolute weeknight game-changer. With just a handful of ingredients and a single baking dish, you'll have a mouthwatering protein dish ready with minimal fuss. Enjoy it with rice, noodles, or veggies, tailored to your dietary preferences. And if you're paleo or gluten-free, don't worry—I've got you covered with helpful notes!
---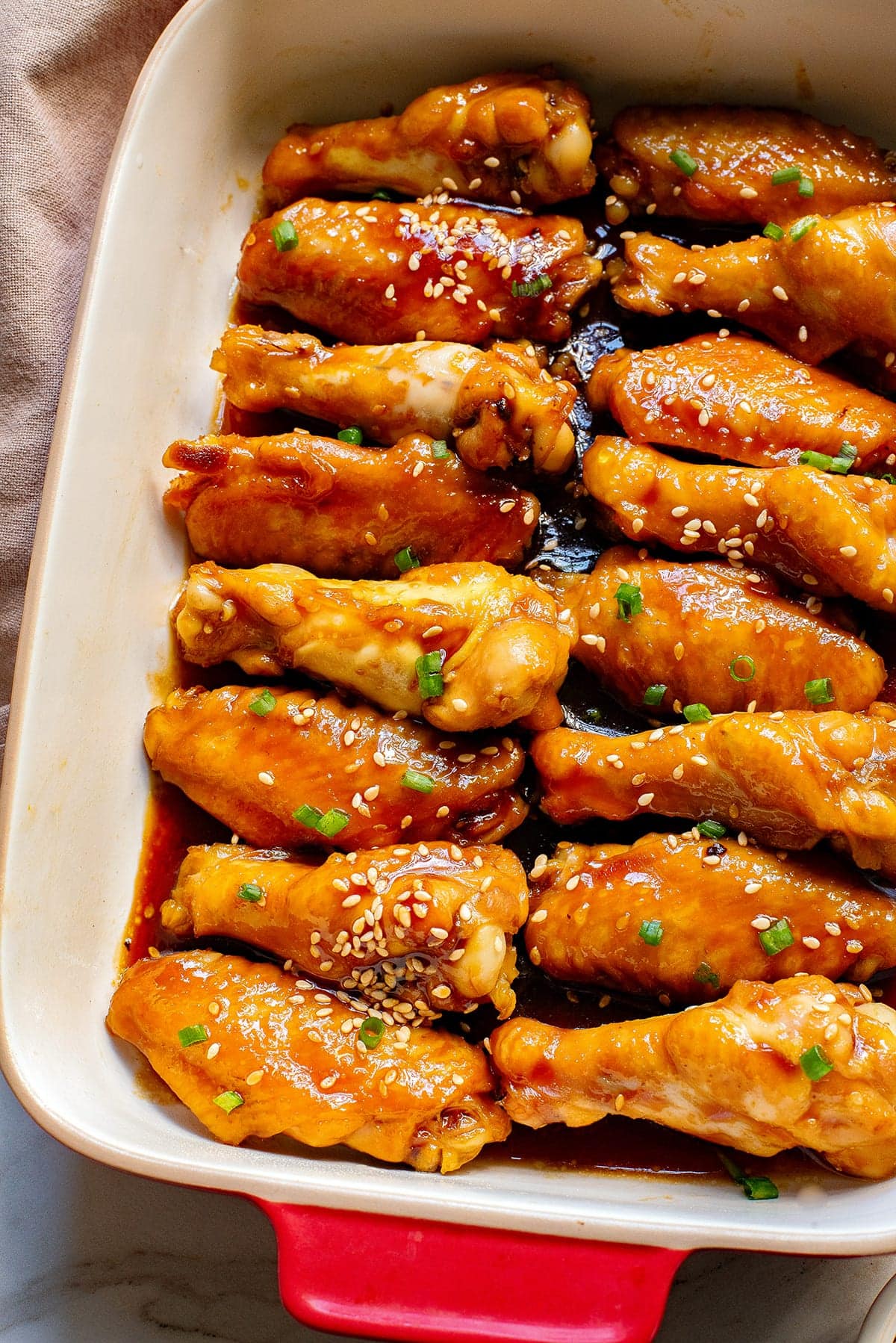 In This Post:
About Baked Honey Chicken Wings
Guys, a quick intro to the recipe. First of all, what makes it so frequently cooked and loved in my house is that for something so simple, it packs a lot of flavour. It's one of those chicken recipes that you would make when you just can't be stuffed spending too much time in the kitchen.
It uses budget-friendly chicken wings (don't we all need that right now?!?) but you can easily replicate it with drumsticks, chicken thighs or even sliced breast. The wings are baked in a simple sauce of honey, soy and white wine (I provide alternatives) with a touch of garlic and sesame. That's it!
That simple honey soy sauce infuses the chicken wings while they bake and slowly reduces and caramelizes, so that you're left with a delicious, sticky glaze coating.
While the chicken wings are baking, you have just enough time to prepare rice or cauliflower rice, noodles, veggies or salad.
This honey soy chicken recipe is a crowd-pleaser, kids-approved, affordable, and healthy. Let me show you how to make it.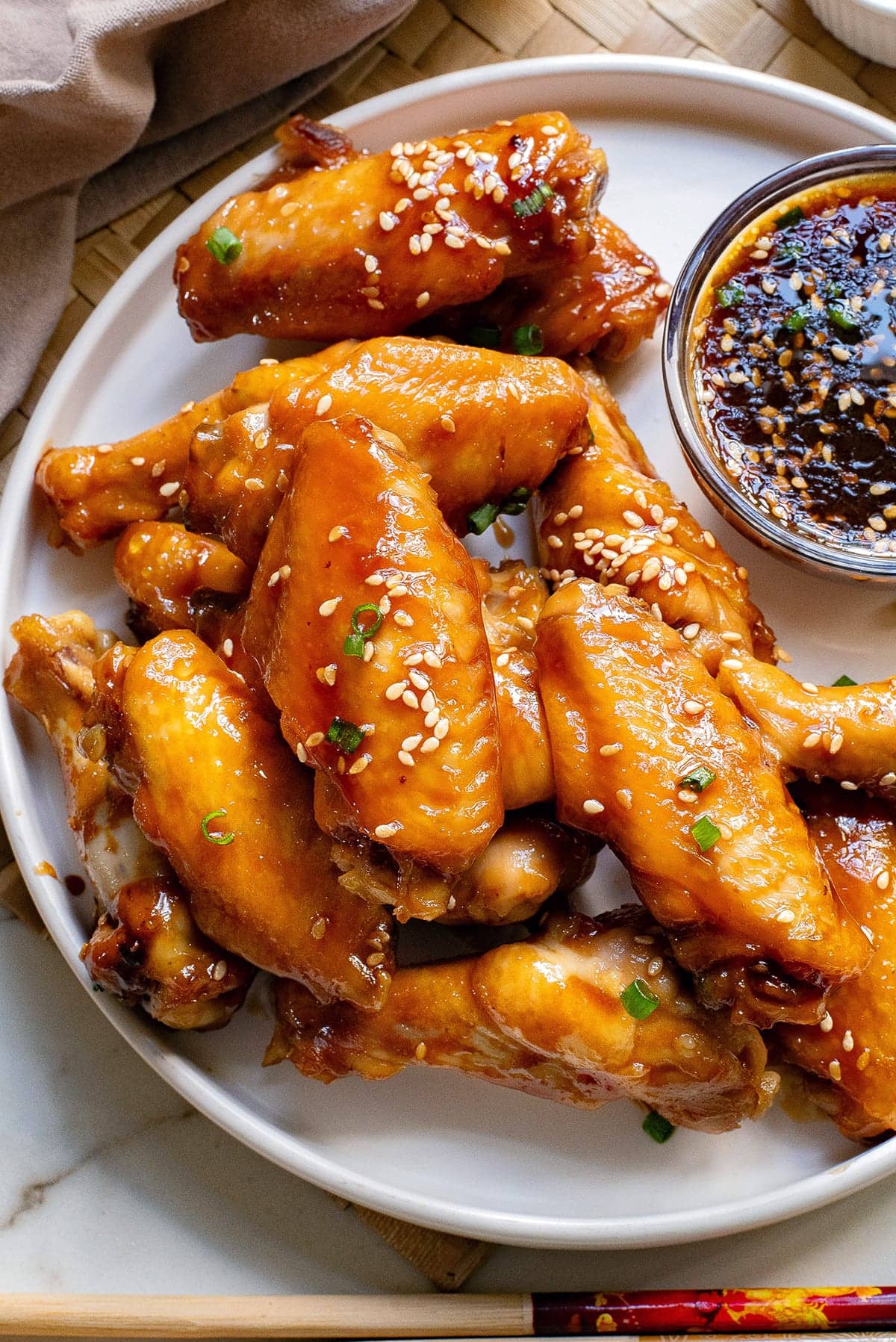 ---
💡 If you like Asian recipes, make sure to check out my Thai chicken drumsticks (also baked in the oven), Korean spicy chicken (if you love that sticky glaze), low-carb chicken satay with spicy peanut sauce and my popular bang bang chicken.
---
Ingredients
Let's go over what you need to make this dish:
Chicken wings – I use a mix of drumettes and wingettes (is that what they're called?). Make sure to pat them dry before adding to the baking dish. I usually do about 4 pieces per serving, depending on whether you're feeding adults and kids or just adults.
Honey – any runny honey is good here.
Soy sauce – I like my cooking on a saltier side so I use regular soy sauce but you can swap for low-sodium version. For gluten-free, use Tamari or gluten-free soy sauce and for Paleo, use coconut aminos in the same quantities.
Garlic – you can use garlic powder or a couple of minced garlic cloves. Feel free to omit it completely if avoiding garlic.
White wine – adds a little depth and acidity, can be whatever you have on hand. If no white wine available, use 2 tablespoons water and 1 tablespoon lemon juice or rice wine vinegar.
Sesame seeds – not essential but I love them on chicken wings, they add a little nuttiness. If you love the flavour of sesame, you can add a teaspoon of sesame oil to the sauce.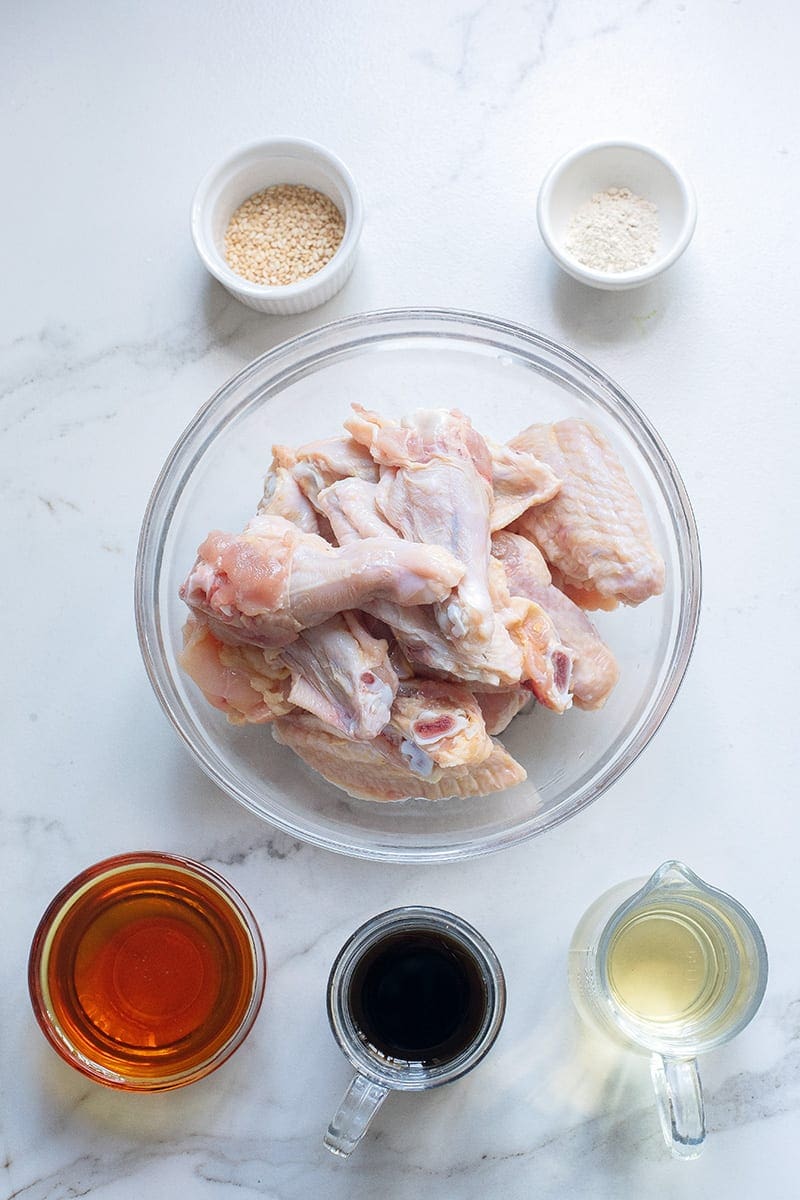 How To Make Honey Soy Chicken Wings In The Oven
Find the full list of ingredients, nutritional info and tips in the recipe card below. Here are some step-by-step pictures to guide you along.
Step 1. Preheat the oven to 200 C / 395 F.
Step 2. In a small bowl, stir together, soy sauce, honey, white wine and sesame seeds.
Step 2. Add chicken wings in a 9×13 inch baking dish. Sprinkle garlic powder and toss.
Step 3. Pour the sauce over the chicken wings.
Step 4. Bake in the oven for 30 minutes. You can turn the wings half way through. Remove. Garnish with more sesame and chopped green onions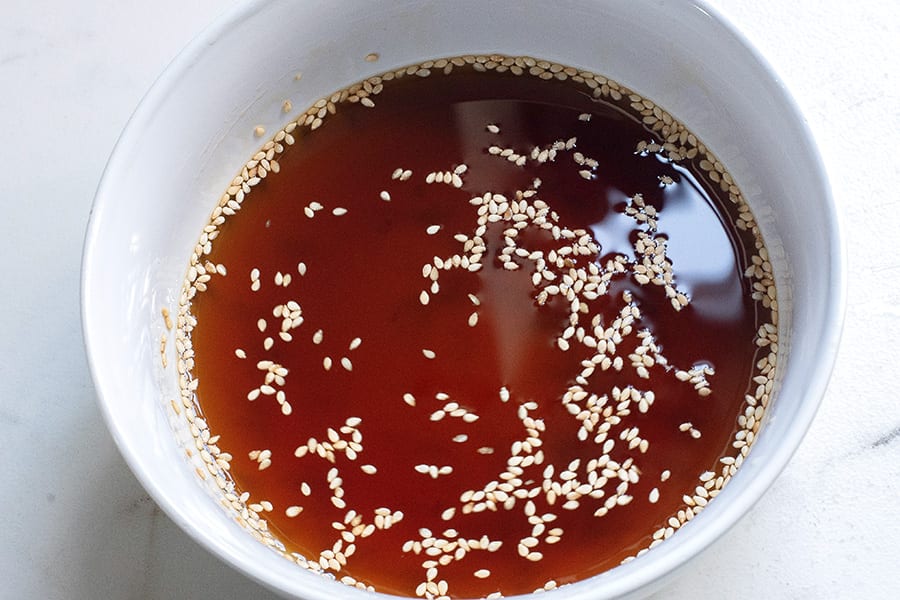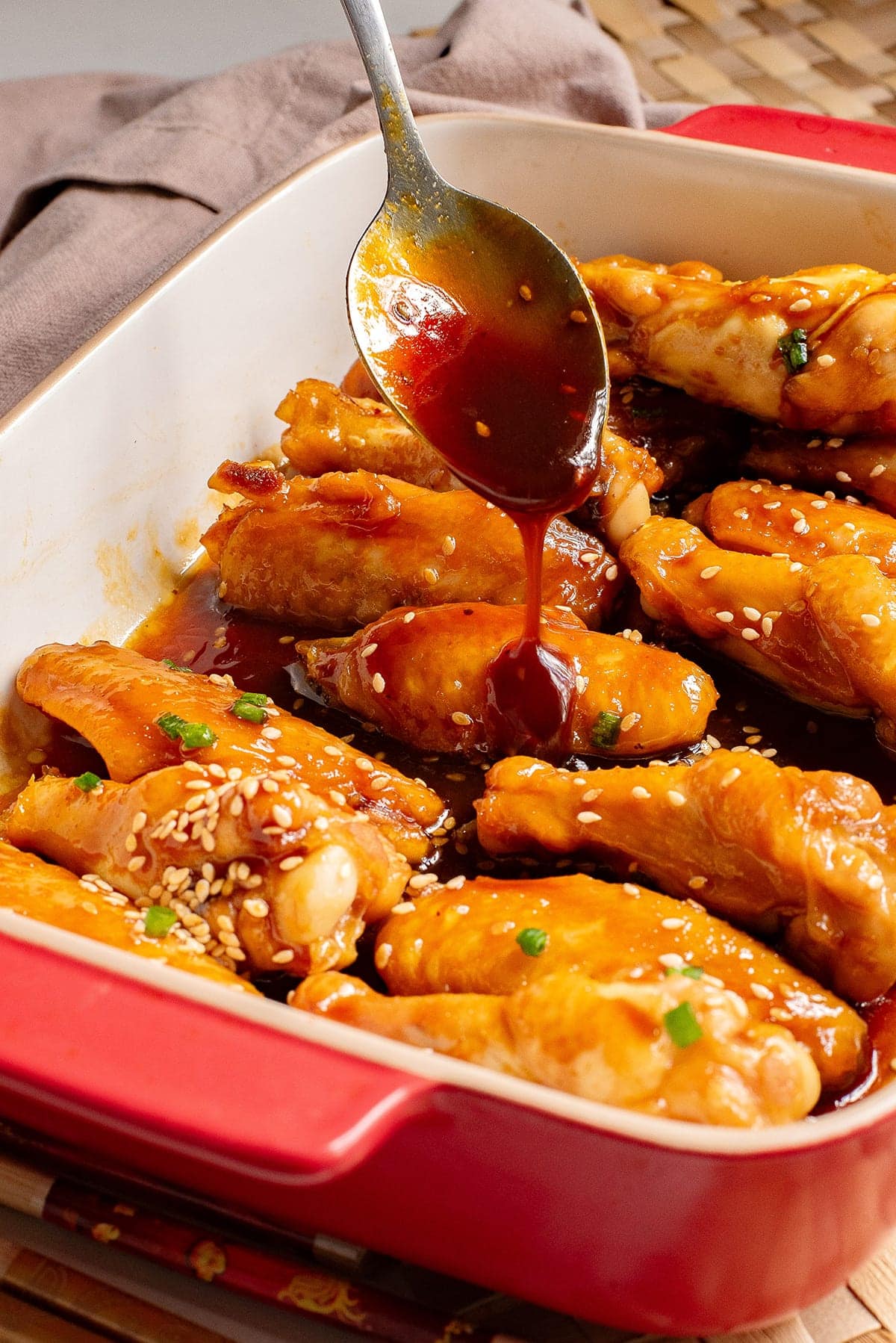 What To Serve With Baked Honey Chicken Wings
Depending on your dietary requirements, you can serve these chicken wings with a variety of side dishes:
Rice or noodles – these are the most obvious sides given the Asian flavours in the chicken; in addition, rice and noodles are great for holding onto that delicious honey soy sauce. For a low-carb, paleo version, try my cauliflower coconut rice or cauliflower fried rice.
Stir-fry vegetables – make a super quick stir-fry of broccoli, carrots, sweet peppers, onions and whatever else you have on hand. I throw in some garlic and a splash of soy sauce or Tamari and lemon juice. I love this copycat Panda Express super greens stir-fry from I Heart Umami.
Quinoa – for a protein-rich, gluten-free option, try the wings with a side of fluffy quinoa. Works just as well as rice.
Mashed potatoes – Okay, I know I am mixing East and West here but they go surprisingly well, especially if you have kids and they love their mash.
Eat them as they are – perfect for game night, finger food or as an appetiser, the wings can be presented on a platter with the extra sauce for dipping.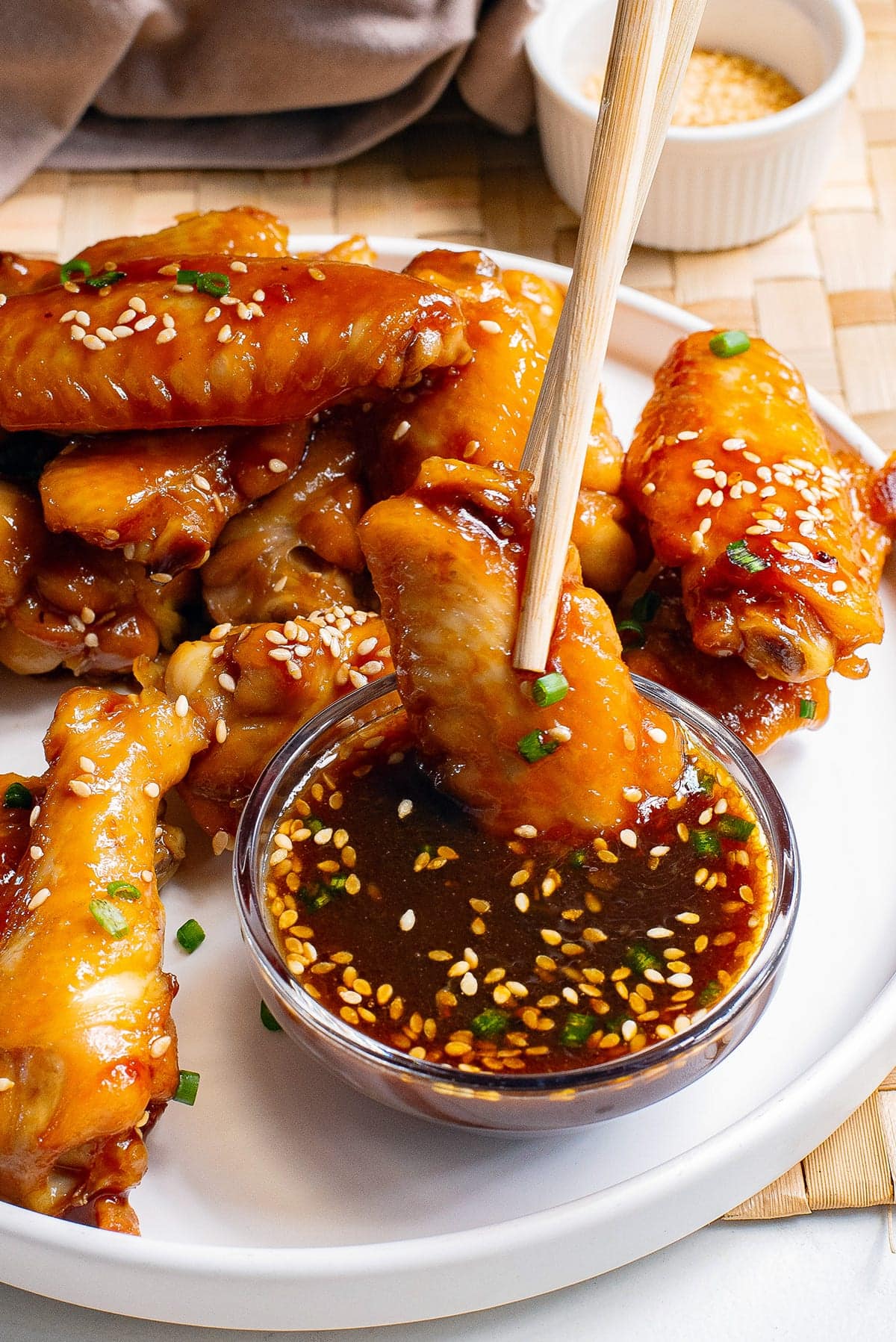 Recipe Tips
For that perfectly brown chicken and caramelised sauce, make sure the oven is hot! It might seem like they are not really browning to begin with but that will happen as you get closer to the end. If you want to give them more browning, pop the baking dish under a hot broil/grill for a few minutes at the end.
If you like thicker, stickier glaze, you can remove the chicken after baking, then transfer the sauce into a small pan and place it on medium-high heat for a few minutes. Let the sauce bubble away and reduce, stirring frequently. Adding a dollop of butter will give it extra gloss and richness.
You can marinade the chicken in the pre-mixed sauce ahead of time. This will give your wings even more flavour.
If you like more sauce, feel free to make a double batch. Follow the point above about reducing and thickening the sauce after baking (if needed).
Full Recipe 
Find the full list of ingredients, instructions, and a nutritional breakdown below. If you have questions or cook this recipe, please let me know in the comments, and make sure to rate this recipe so it's easy for others to find.
Print
---
Description
This recipe for baked honey soy chicken wings is so easy and delicious that you'll start making it on a weekly basis. With only a handful of ingredients, you will have a main protein dish on the table with minimal effort. Serve with rice, noodles or veggies, as suits your diet.
---
---
Preheat the oven to 200 C/ 395 F.
Pat-dry the chicken with some kitchen roll. Add the chicken wings to a 9×13 inch baking dish or something similar. Sprinkle with garlic powder and toss.
In a small bowl, stir together, soy sauce, honey, white wine and sesame seeds. Pour over the chicken wings.
Bake in the oven for 30 minutes.

You can turn the chicken pieces over half way through.

Remove. Garnish with more sesame and chopped green onions
---
Notes
You can also use chicken thighs (bone in, skin on) or drumsticks.
In place of wine, use 2 tablespoons water and 1 tablespoon lemon juice or rice wine vinegar.
Soy sauce can be replaced with Tamari or coconut aminos.
Store in the refrigerator in an airtight container for up to 5 days. Freeze for up 2 month.
Nutrition
Serving Size:

4 pieces

Calories:

382

Sugar:

18.1 g

Sodium:

508.9 mg

Fat:

9.1 g

Carbohydrates:

20.4 g

Fiber:

0.4 g

Protein:

50.9 g

Cholesterol:

128.3 mg
Keywords: Chicken Wings, Honey Garlic Chicken Wings, Baked Chicken, Easy Dinners
More Delicious Chicken Recipes