I love these Low-Carb and Keto Baked Swedish Meatballs; use pork breakfast sausage if you want this recipe to be Keto.
PIN the Baked Swedish Meatballs!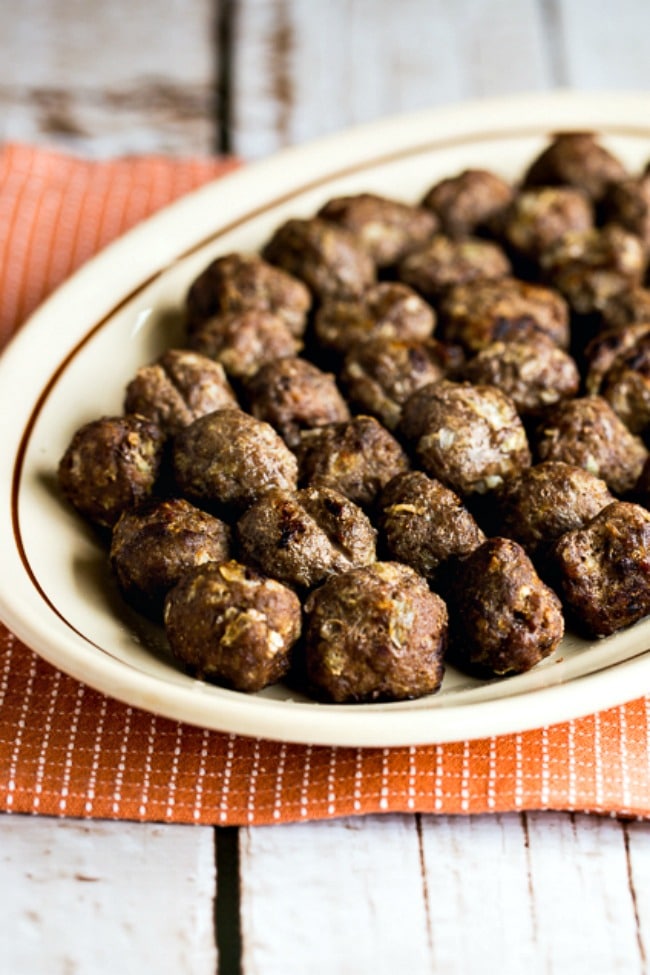 I love these Baked Swedish Meatballs, and if you're looking for low-carb and Keto Appetizers Recipes, these are a great choice for anyone who's watching their carbs and they seemed like a perfect to feature for Friday Favorites this week! And if your experience to Swedish Meatballs is limited to Ikea Swedish Meatballs, it might be only the seasonings used in this recipe that are familiar.
I loved so many things about this recipe for Swedish Meatballs that I spotted years ago on a Swedish food blog: the finely chopped onion, that it didn't use breadcrumbs or serve the meatballs with a creamy gravy, and the way they were baked instead of fried.
The biggest change I made was make the meatballs with a combination of turkey breakfast sausage and ground beef. You could certainly use pork sausage too if that's what you prefer! I tested the recipe with my niece Kara, and we both thought these meatballs were delicious.
What ingredients do you need?
Are these Swedish Meatballs gluten-free?
Of course not using breadcrumbs to hold the meatballs together makes them gluten-free, FTW! Most sausage will be gluten-free, but check the package to be sure.
Can the Swedish Meatballs be made ahead and kept warm?
I haven't tried making these meatballs ahead and keeping warm in a slow cooker, but I'm pretty sure it would work if you'd like to serve Swedish Meatballs for game-day food! If anyone makes these and keeps them warm that way, please come back and let us know how that turned out!
Want more ideas for low-carb meatballs?
Check my round-up of Low-Carb and Keto Meatball Recipes for even more ideas for meatballs for dinner or game-day noshing.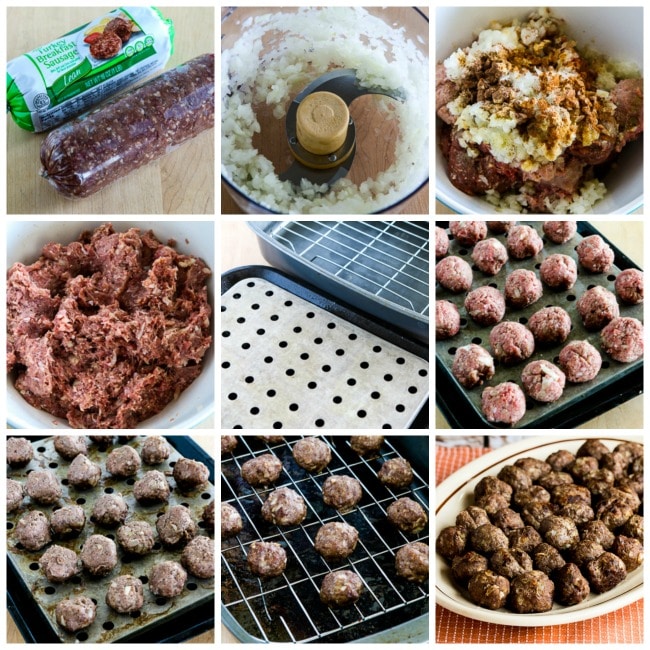 How to Make Baked Swedish Meatballs:
(Scroll down for complete printable recipe including nutritional information.)
I used half ground beef and half ground turkey sausage, but use pork sausage if you prefer.  Crumble meat into a bowl and let it come to room temperature.
Be sure the onion is very finely minced so it can be well-distributed through the meat. I used my beloved Cuisinart Food Processor (affiliate link) to chop the onion, which worked well.
Add the onions and spices to the bowl, and gently mix with clean hands.;
I'm a fan of baking meatballs and meatloaf on a rack so the fat drips down. We used two different baking racks that we rigged up from what I had in my kitchen, but the meatballs on the wire rack definitely cooked more quickly and browned better on all sides, so use that type if you can. Cooking on a rack like this is probably not 100% necessary, but there will be some liquid that oozes out and baking on a rack lets that drip down away from the meatballs.
Spray the rack with olive oil. Use a tablespoon-sized measuring spoon to scoop out meatballs and form them with your hands. We made about 40 small meatballs, about 10 servings for an appetizer.
Bake meatballs 20 minutes or slightly longer; until they're slightly browned and cooked through. (We turned the ones on the rack with smaller holes half way through, but the ones on the wire rack didn't need to be turned.)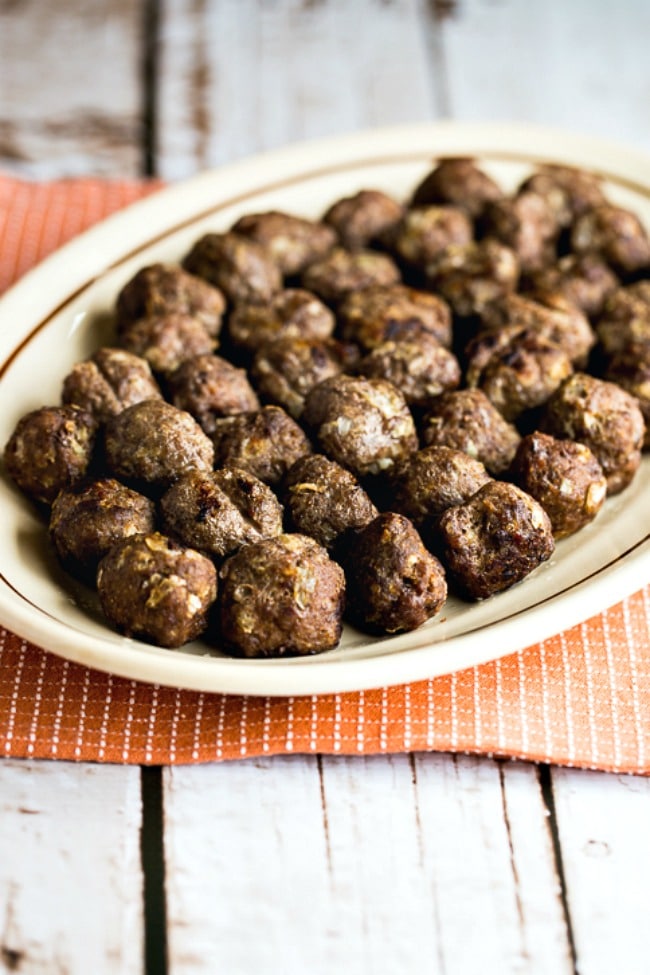 Make it a Meal:
For a low-carb meal you could make the meatballs a little bigger and serve with something like Many Peppers Greek Salad or Arugula, Kale, and Gorgonzola Salad.
More Tasty Meatballs You Might Like:
Weekend Food Prep:
This recipe has been added to a category called Weekend Food Prep  to help you find recipes you can prep or cook on the weekend and eat during the week!
Ingredients
1 lb. ground beef
1 lb ground turkey breakfast sausage (see notes)
1 small onion, diced very small
1 T garlic puree (also called ground garlic)
1/2 tsp. Veg-Sal (see notes)
1/4 tsp. white pepper
1/2 tsp. ground ginger
1/2 tsp. ground cardamom
1/2 tsp. ground allspice
1/4 tsp. ground cinnamon
Instructions
Preheat oven to 400F/200C.  Put meat in mixing bowl and allow to come to room temperature while you finely chop onion. I used my beloved Cuisinart Food Processor (affiliate link) to chop the onion, which worked well.
When the meat is room temperature, mix in onions, garlic, Veg-Sal, pepper, ginger, cardamom, allspice, and cinnamon. Mix with your clean hands just until spices and meats are well combined; don't over-mix the ingredients.
Mist pan or grilling rack with olive oil or non-stick spray.  (Baking on a wire rack with a baking sheet underneath it will make the meatballs cook more evenly and it also lets any liquid that oozes out drip down away from the meatballs.)
Use a tablespoon-sized measuring spoon to measure out meat, forming small meatballs by rolling with your hands and placing them on the rack as you go. We made about 40 small meatballs, but they can be a bit larger if you prefer, just adjust the cooking time.
Bake until meatballs are slightly browned and cooked through,  about 20 minutes for small meatballs.  Serve hot.
Notes
Use ground pork or pork sausage if you prefer. If you don't have Vege-Sal (affiliate link) use a slightly smaller amount of regular salt.
Nutritional information based on appetizer-size serving of four meatballs.
This recipe was originally from Anne's Food, and slightly adapted by Kalyn.
Nutrition Information:
Yield:
10

Serving Size:
1

Amount Per Serving:
Calories: 235Total Fat: 16gSaturated Fat: 5gUnsaturated Fat: 8gCholesterol: 113mgSodium: 332mgCarbohydrates: 2gFiber: 0gSugar: 0gProtein: 19g
Nutrition information is automatically calculated by the Recipe Plug-In I am using. I am not a nutritionist and cannot guarantee 100% accuracy, since many variables affect those calculations.
Low-Carb Diet / Low-Glycemic Diet / South Beach Diet Suggestions:
These Baked Swedish Meatballs will be good for any type of low-carb diet, although you'd want to use pork sausage if you're making them for Keto. With low-fat ground beef and low-fat ground turkey sausage or ground turkey, the meatballs are a good dish for all phases of the original South Beach Diet
Find More Recipes Like This One:
Use Appetizers or Oven Dinners to find more low-carb recipes like this one. Use the Diet Type Index to find recipes suitable for a specific eating plan. You might also like to Follow Kalyn's Kitchen on Pinterest to see all the good recipes I'm sharing there.
Historical Notes for this Recipe:
This recipe was posted in 2007 and I've made it many times since then! It was last updated with more information in 2021.
We are a participant in the Amazon Services LLC Associates Program, an affiliate advertising program designed to provide a means for us to earn fees by linking to Amazon.com and affiliated sites. As an Amazon Associate, I earn from qualifying purchases.