Banana chicken curry is a delicious and unique twist on traditional Indian korma curry. Inspired by the flavours and spices of korma, this dish combines tender chicken with sweet and creamy banana for a perfect balance of savoury and sweet. This easy-to-follow recipe is perfect for those looking to spice up their dinner routine with a touch of exotic flavour. Serve over rice steaming rice or cauliflower for a complete and satisfying meal. Paleo, Whole30 and gluten-free. Recently updated!
---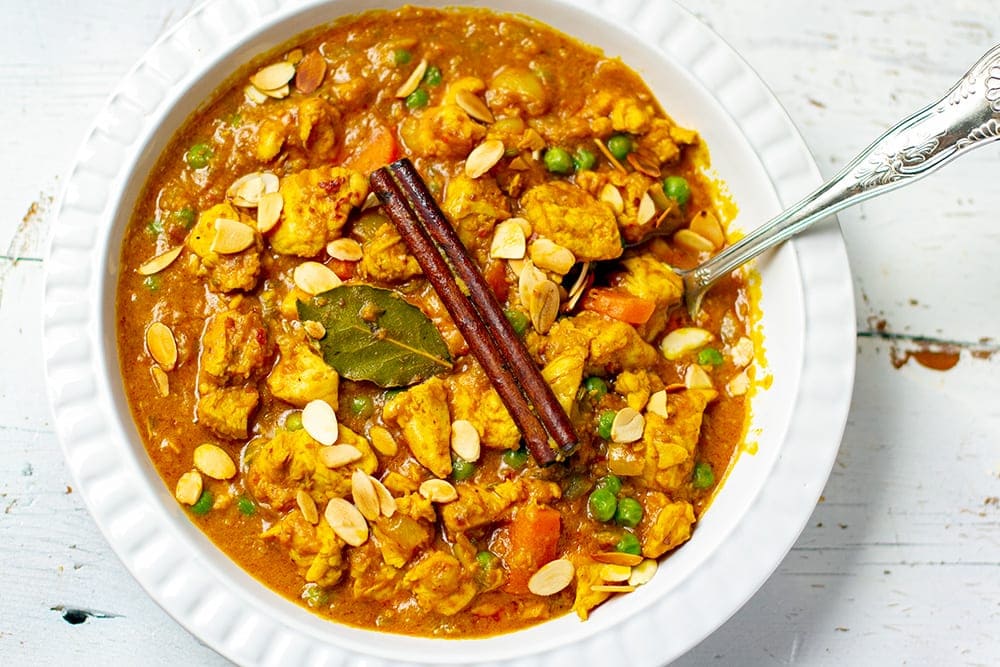 ---
Yes, you read that right. Banana chicken curry! Before you turn your nose at the idea of having banana and chicken mixed together, hear me out. I promise that this is one cracker of curry and is definitely worth trying.
Last week I was reading a book, in which the author was describing how surprisingly well banana goes with chicken. It also talked about banana and coconut, which I knew. The same week I had a regular korma curry from a local Indian. Sitting there I thought that if banana goes well with chicken and banana goes well with coconut, then all three should go well together. And then I thought about that chicken korma and the idea for this recipe was born.
What Is Korma Curry?
Korma is a dreamy Indian curry with a creamy sauce made from yogurt, cream, and spices like cardamom, cinnamon, and coriander. It's usually mild and can have meat like chicken, beef, or lamb, and veggies like onions, carrots, and bell peppers. It's the perfect comfort food, best served with fluffy rice or warm naan bread. Yum!
Banana Chicken Curry (A La Korma Style)
Now, the curry purists might point out that this is not an authentic korma because I'm not using yoghurt or I'm not using garam masala, but this is an adaptation.
It's a dairy free curry with all of the flavour elements you would expect from the original but it has an amazing complexity and natural sweetness that comes from the banana. 
Let me point out that the banana flavour is very subtle in this dish, especially once it's cooked. Banana flavour becomes very mild and beautifully integrated with other spices and seasoning.
Whether you're a banana fan or not, trust me when I say that this banana chicken curry is amazing. I have high curry standards so I wouldn't recommend something that I didn't think would be worthy of sharing.
My partner and I enjoyed it so much that I'm going to cook it again this week. Plus, it's super easy. I served it with cauliflower rice and some collard greens and broccoli with garlic and ginger. You can have it with regular rice or quinoa, or any other vegetables.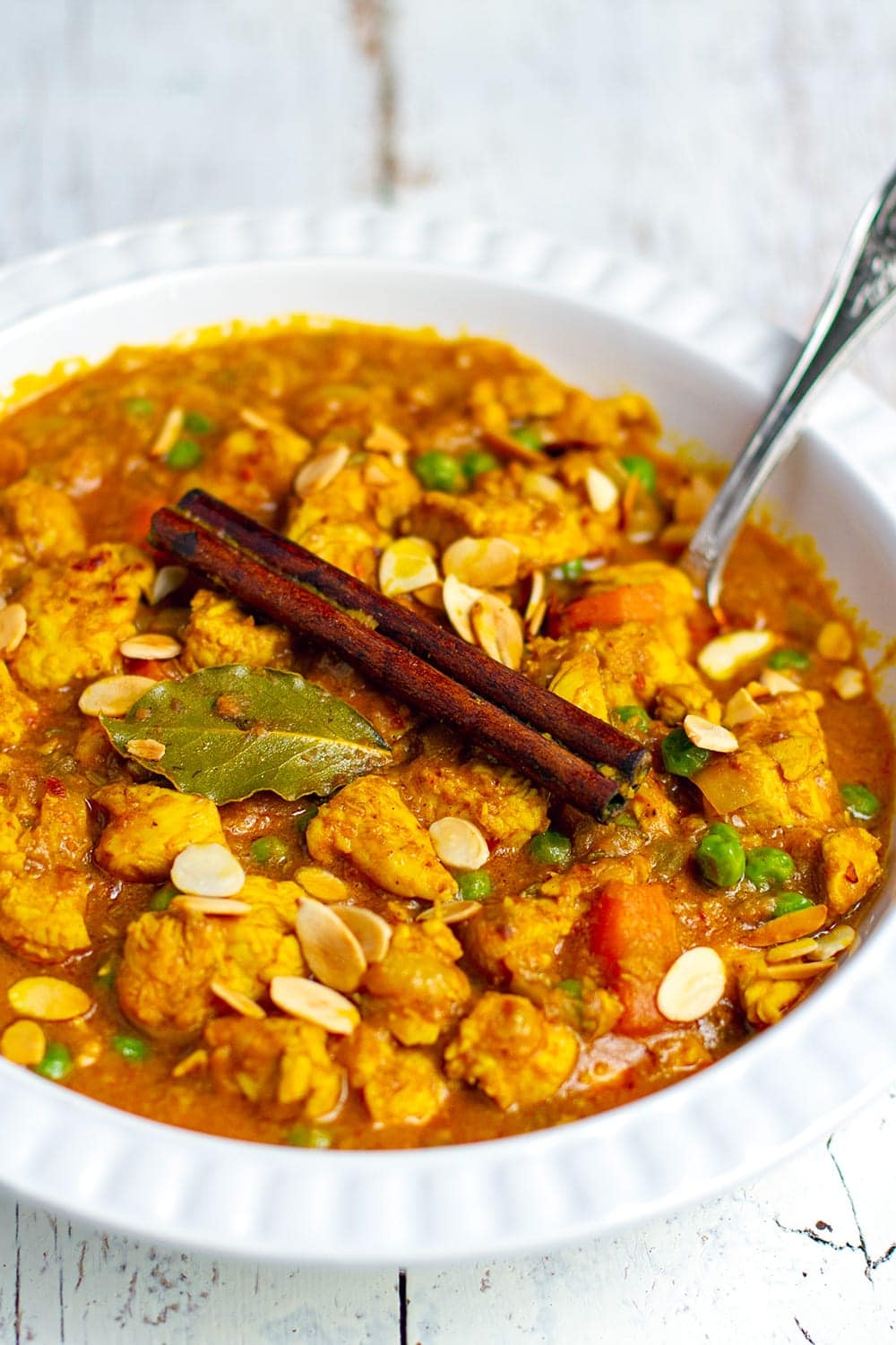 ---
More Curry Recipes
---
Full Recipe & Ingredients
Find the full list of ingredients, instructions and extra cooking notes below. If you have questions or cook this recipe, please let me know in the comments and make sure to rate this recipe so it's easy for others to find.
Print
---
Description
Banana chicken curry brings a fun and tasty twist to classic Indian korma. With a mix of korma's famous spices and the addition of sweet and creamy bananas, this dish is a flavour explosion. Tender chicken takes centre stage in this easy recipe, making it the perfect dinner option for those wanting to add some excitement to their meal routine. Serve over rice or cauliflower for a yummy and filling meal.
---
---
Add almond flakes to a medium frying pan and heat over medium heat. Cook for about 2 minutes, stirring frequently, until toasted and golden brown. Stir more frequently in the last 30 seconds as they will start to toast very quickly. Remove to a bowl.
Place banana, coconut cream/milk, garlic, tomato puree and water in a food processor. Add half of the toasted almond flakes (reserve the rest for later). Process until smooth, scraping the sides.
Heat ghee in a heavy based saucepan over medium heat. Add onion and sauté for two minutes, then add ginger and stir through for about 30 seconds.
Add chicken and carrots to the pot and stir through. Then add all of the spices and salt and stir through until well combined. Pour the coconut banana mix into the saucepan, add lime or lemon juice, stir and bring to boil. Then cover with a lid, turn the heat to medium-low and cook for 15 minutes.
After 15 minutes, add the thawed-out peas, stir, uncover and cook for a further 5 minutes (no lid on).
Serve topped with the remaining almonds and fresh coriander or mint.
---
Notes
You can make this chicken korma with other meat, prawns or vegetables. If using prawns, cook the sauce with some vegetables first and then add the prawns in the last few minutes of cooking as they don't need much time at all.
For a vegetarian version, I recommend making it with cauliflower, green beans and mushrooms. Frozen peas can be replaced with green beans or broccoli. If making a larger batch, double the ingredients.
Storage: Keep leftovers in an air-tight container in the fridge for up to 2 days. This curry will freeze well. Add a little water when reheating. This can also be made in a slow cooker.
Nutrition
Serving Size:
Calories:

448

Sugar:

8.3 g

Sodium:

721.2 mg

Fat:

17 g

Carbohydrates:

18.6 g

Fiber:

4.8 g

Protein:

36.5 g

Cholesterol:

98.8 mg
Keywords: Banana, Curry, Korma, Chicken, Indian, Paleo, Whole30
How To Make Chicken Curry With Banana
Here are some step-by-step photos to guide you along this recipe.