Chipotle Orange Shrimp with Cilantro Rice! Tender shrimp in a sweet-meets-smoky cream sauce piled high on cilantro-speckled rice with a side of tangy cucumbers.
This is a fan favorite recipe that's part of our Fall 2022 SOS Series! View the full series.
---
Holy yummm.
I love all of the SOS series recipes but I REALLY LOVE THIS RECIPE, all caps necessary.
First of all, juicy, tender, sweet, and delicate shrimp is just automatically really SOS-friendly because it's so fast to cook (like, five minutes fast) and tastes like you live at a fancy restaurant. So there's that.
But secondly, that creamy chipotle orange sauce. WUT. It's so good. Who even knew?! It's creamy and smoky and sweet – the flavor combination of fresh orange zest and a bold chipotle pepper is a total surprise and yet feels comforting and familiar at the same time. It packs some heat, for sure, but it's also really luscious and cozy because heavy whipping cream takes everything to the next level (♡) and also because a pile of hot steamy rice will never not be comforting. The zippy cucumbers wake the whole thing up and cut through the richness of the sauce with a little zap and zing and crunch, and just, wow. I love this recipe. Did I say that already?
Ingredients We're Working with Today
There are a few elements at play here which makes it rank just a little higher on the SOS scale – similar to the Harissa Meatballs with Whipped Feta. But never fear: nothing is difficult. Nothing is overwhelming. Our ingredient list stays short and sweet.
shrimp
orange
chipotle
cream
cilantro
cucumbers
A few pantry staples like salt, garlic, oil, and vinegar round it all out into a complete and total spicy shrimp miracle.
If you need even more shortcuts – skip the cucumbers in favor of an easy no-cutting-board-required side salad. Or use cauliflower rice or pre-cooked rice. But if you can spare the extra five minutes to slice up a cucumber and cook your own rice, you will not be sad about it.
I could cry tears of joy just looking at this saucy, creamy, spicy goodness.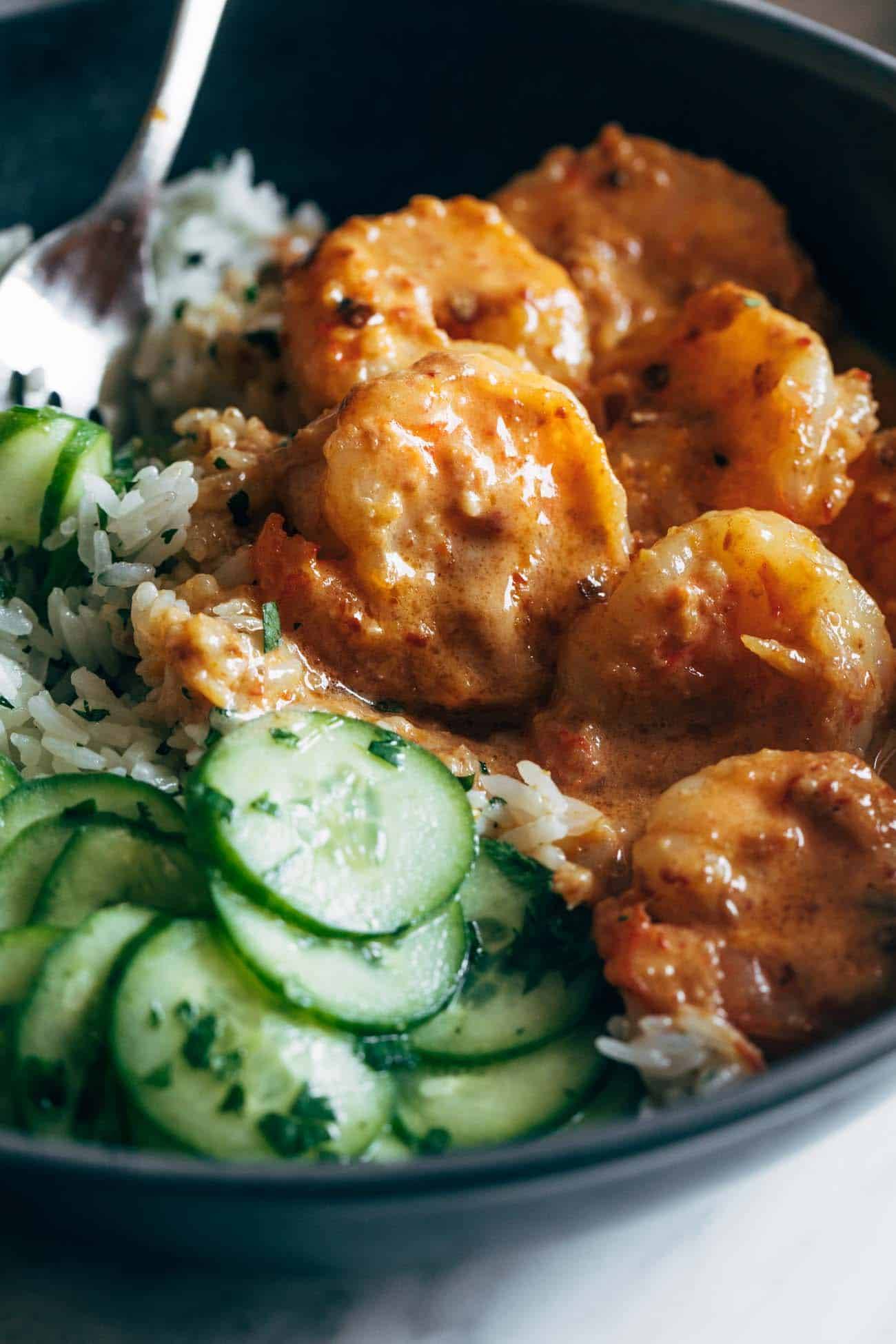 Treat your people! Treat yourself! I mean, because seriously. This one is a TREAT.
Prefer To Watch Instead Of Read?
Chipotle Orange Shrimp with Cilantro Rice: FAQs
Is this dish pretty spicy?
Yes – it has some heat to it from the chipotle pepper. Just use just half of a chipotle pepper for a milder version.
How can I make this dairy-free?
You can sub the cream for canned full-fat coconut milk! It's good, just not quite as creamy.
This sounds amazing, but I'm allergic to shrimp. Any substitution ideas?
Salmon or chicken could work or some crispy pan-fried tofu for a vegetarian option!
Source notes: I got this idea from my old beloved Cooking Light cookbook Fresh Food Fast which now feels so retro! But man, I love that old thing. There's a recipe for chipotle orange shrimp in the book – I made a few changes based on some of my preferences, but the flavor idea came from that cookbook. Thank you, CL!
Print
Description
Chipotle Orange Shrimp with Cilantro Rice! Tender shrimp in a sweet-meets-smoky cream sauce piled high on cilantro-speckled rice with a side of tangy cucumbers. 
---
Chipotle Orange Sauce:
1

chipotle pepper (or half of

one

pepper, for a less spicy version)

3/4

cup

heavy cream

2

cloves garlic

1/2 teaspoon

salt
zest of

one

orange
Shrimp and Rice:
a drizzle of olive oil

1

pound

uncooked shrimp, tails removed, patted dry

1/2 teaspoon

cumin

1 1/2

cups

white rice (I like jasmine rice or just plain long grain rice)
a big handful of chopped cilantro
optional, for serving: zippy cucumbers (see notes)
---
Notes
Zippy Cucumbers: Thinly slice a few small cucumbers. Toss with a little olive oil, salt, sugar, and white vinegar. Tada!
Blending: The heavy whipping cream will start to get a whipped texture the longer you blend it, so don't over-blend! We just want the garlic and chipotle mostly smoothed out so they can incorporate into the sauce. I use a little mini-chopper for this. If you accidentally find yourself with a whipped texture that's okay, it'll settle down and loosen up once it warms up in the pan.
Shrimp: You do not want your shrimp to be watery, so if you're using frozen shrimp be sure to fully thaw it and pat the excess water out before sending it to the pan. If there's some moisture in the pan before adding the sauce you'll want to drain that out (but that shouldn't be an issue as long as your shrimp is thawed and dry when it goes into the pan). Also: the shrimp is also good with a pinch of sugar added to it for a little sweetness, or the juice of the orange squeezed in!
Prep Time:

15 minutes

Cook Time:

15 minutes

Category:

Dinner

Method:

Stovetop

Cuisine:

American
Keywords: shrimp bowl, shrimp and rice, shrimp recipe
Recipe Card powered by
More Shrimp Recipe Goodness