This website may contain affiliate links and advertising so that we can provide recipes to you. Read my privacy policy.
Whip up a comforting meal with this delicious Crockpot Chicken and Gravy recipe. Cooked to perfection in the slow cooker, the result is tender, juicy chicken smothered in a rich gravy, making it the perfect companion to rice or potatoes for a hearty and satisfying dinner!
Crockpot meals are such a hit at my house. They are so flavorful and delicious, and they are so easy! Try out this Crockpot Huli Huli Chicken, this yummy Crockpot Olive Garden Chicken with Pasta and this Crockpot Tuscan Chicken for more delicious chicken dinner ideas!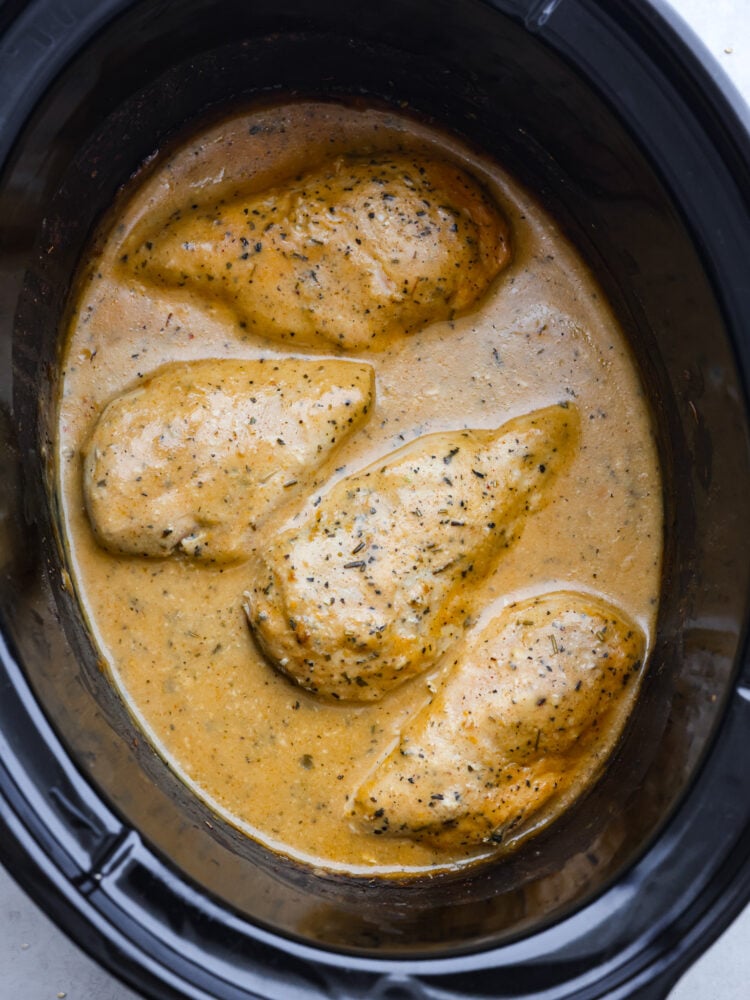 Crockpot Chicken and Gravy
Get ready for a delicious home-cooked dinner with this amazing slow-cooker chicken recipe. You only need a few ingredients to make this dinner so it comes together for anyone. Just put the boneless chicken breasts in the crockpot, let them cook on low for a while, and ta-da! You'll have tender and juicy chicken.
Whether you enjoy it with fluffy rice or creamy potatoes, this dish will make you want more. I especially love adding in a yummy salad or some delicious Brussel sprouts for a veggie but feel free to cook up whatever you like! Get ready to enjoy every yummy bite and feel the joy of an easy and tasty homemade meal.
Ingredients in Crockpot Chicken
This crockpot chicken and gravy is a hearty, classic dish that your entire family will love. Check out the recipe card at the bottom of the post to find a list of all of the exact ingredient measurements.
Chicken broth: This is used as a base for the gravy.
Cream of chicken soup: You can use store-bought or try out my homemade recipe for cream of chicken soup.
Chicken seasoning: A blend of herbs, spices, and seasonings that will enhance the chicken flavor in this recipe.
Chicken gravy mix: This will create a rich and savory gravy to go with the chicken.
Boneless skinless chicken breasts: The star of the show, the chicken breasts take on the delicious taste of the gravy, making this meal hearty and packed with great taste.
How to Cook Crockpot Chicken and Gravy
If you have 5 minutes to prep this meal, then you are all set! This comes together so easily and you just have to let the slow cooker do all of the work!
Combine Ingredients: In a large crockpot, pour your chicken broth, cream of chicken soup, chicken seasoning, and chicken gravy mix. Stir to combine.
Add Chicken: Place your whole chicken breasts into the crockpot and set it to low.
Cook: Allow the chicken to cook for 5-6 hours on low. You can also cook on high for 3-4 hours.
Shred: Once the chicken is fully cooked, remove it from the crockpot and shred or cut it into pieces and place it back into the crockpot.
Serve: Serve your chicken over rice or potatoes and enjoy!
Can I Use Frozen Chicken Breasts?
Yes! It will take longer to cook if you're using frozen chicken breasts instead of fresh ones in this recipe. You'll need to increase the cooking time to 6-7 hours on low or 4-5 hours on high. It's important to ensure the chicken reaches an internal temperature of 165°F (74°C) to be safe to eat. Use a meat thermometer to check if it's done. Remember, the cooking time may vary depending on the size and thickness of the frozen chicken breasts, so keep an eye on it and adjust as needed.
Tips and Variations
There are so many ways to change up this crockpot chicken and gravy to make it different every time. Then, you can cook it even more often!
Change up the spices: Get creative with different herbs and spices to make your chicken taste special. Try using rosemary, thyme, paprika, garlic powder, or Italian seasoning. Customize the flavors to your liking.
Creamy gravy: To make your gravy richer and creamier, add ingredients like cream cheese, sour cream, or heavy cream while cooking. These will give your gravy a smooth texture.
Add onions and garlic: Make your chicken and gravy even more flavorful by adding sautéed onions and garlic. Cook them separately until they turn golden and smell delicious, then mix them into the chicken broth and other ingredients.
Try some mushrooms: If you're a fan of mushrooms, try adding sliced mushrooms to the crockpot. They bring a rich, earthy taste that goes well with chicken and gravy. You can cook them in a pan before adding them to the crockpot for extra flavor.
Don't forget about vegetables! You can include carrots, potatoes, bell peppers, green beans in the crockpot. Just adjust the cooking times based on how tender you like your vegetables.
Storing Leftovers
Here are simple steps for storing leftover crockpot chicken and gravy:
In the Refrigerator: Once your chicken has cooled, separate the chicken from the gravy and store them in separate, airtight containers in the fridge. Put the containers in the fridge within two hours of cooking. The chicken and gravy can stay in the fridge for 3-4 days.
In the Freezer: If you have a lot of leftovers or want to store them for longer, you can freeze them. Put the chicken and gravy in freezer-safe containers or bags and label them with the date. They will last about 2-3 months.
Thawing and reheating: When you're ready to eat the leftovers, thaw them in the fridge overnight if they were frozen. Heat the chicken and gravy in a microwave, on the stovetop, or in the oven until they're warmed through. Stir occasionally to make sure they heat evenly.