This website may contain affiliate links and advertising so that we can provide recipes to you. Read my privacy policy.
Garlic Chicken and Broccoli Cashew Stir Fry is the easiest meal to make and only requires one skillet! This meal is packed with amazing flavor and crunchy cashews and will become an instant favorite!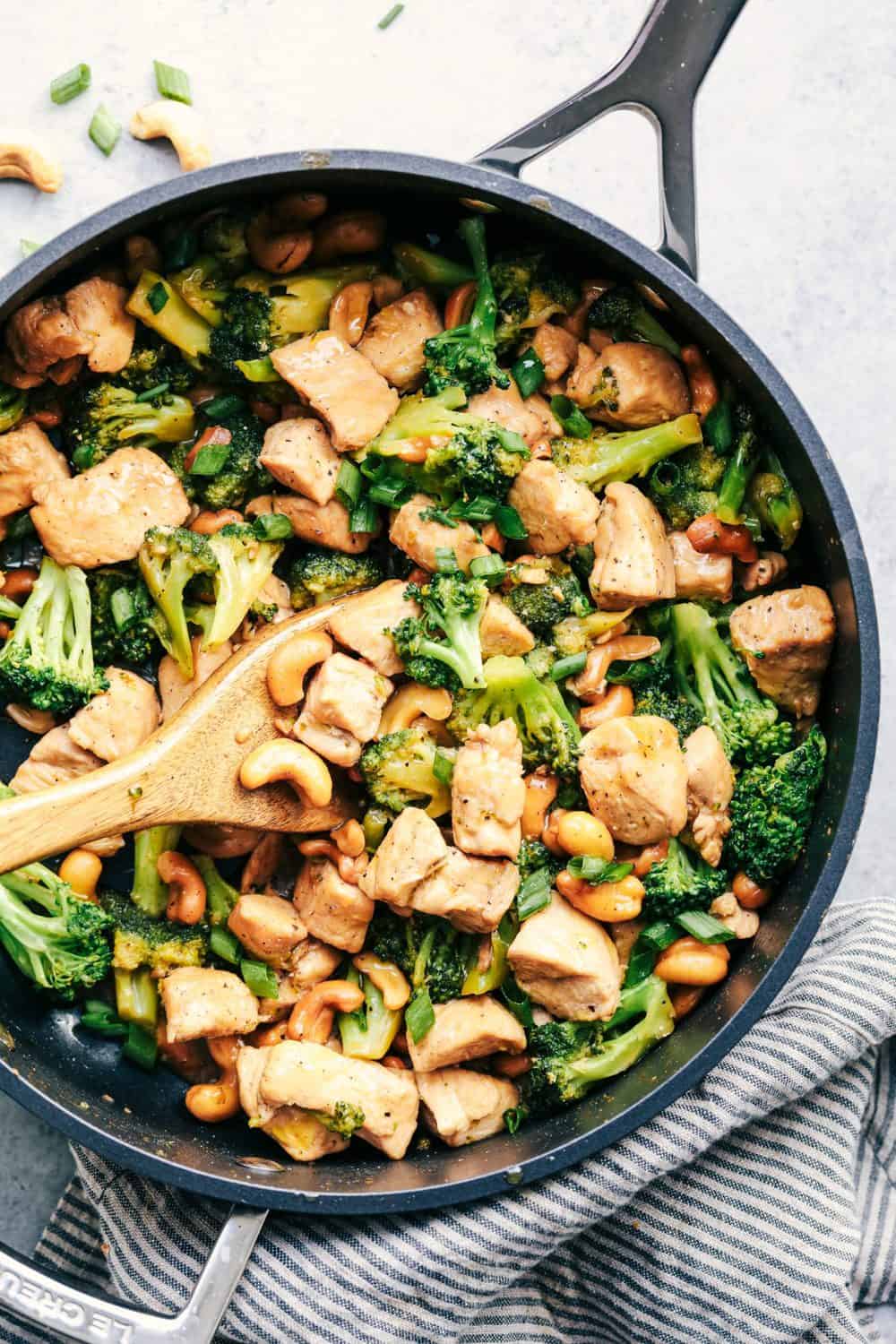 Garlic Chicken and Broccoli Cashew Stir Fry
My son had his tonsils out this week. Thankfully he is older and even though he is in pain he is handling it like a boss. Being a teenager and not being able to eat #allthefood for a week has been the hardest on him. Last night he was so hungry and wanted pizza so bad that he ate it bite by bite and was so happy despite the pain. He is such a good kid and it is hard to see your kids go through stuff like this but he has been awesome about it.
The week before he got his tonsils out I decided to make him a meal every night. We love a good quick and easy stir fry and cashews are life. So I made this quick and easy stir fry that was a huge hit with the family.
How to make stir fry
Heat a medium sized skillet to medium high heat. Add in chicken and sauce and cook until chicken is no longer pink.
Add in your veggies and chicken broth and continue to cook until vegetables are tender.
Add in a cornstarch slurry to help thicken the sauce. Serve your dish over rice and garnish with green onion.
It came together in less than 30 minutes and the flavor was incredible. The garlic chicken glaze over the stir fry is quite possibly the best we have had. I love having a meal in one and broccoli is one of the only veggies that I can get the kids to eat. All of the flavors came together perfectly and we especially loved the hidden crunchy cashews throughout.
This is the perfect easy meal for feeding the family and will become a new favorite!
Honey Garlic Chicken Stir Fry 
Wonton Shrimp Stir Fry