This website may contain affiliate links and advertising so that we can provide recipes to you. Read my privacy policy.
These vegan kabobs are the most delicious side dish that you MUST try! These grilled honey soy mushroom skewers are the perfect side dish for any entree, and you won't be able to stop at just one!
I absolutely love mushrooms! They soak in flavor so incredibly well, and they go with just about everything. Try out these grilled portobello burgers, these delicious stuffed mushrooms, or these creamy garlic parmesan mushrooms!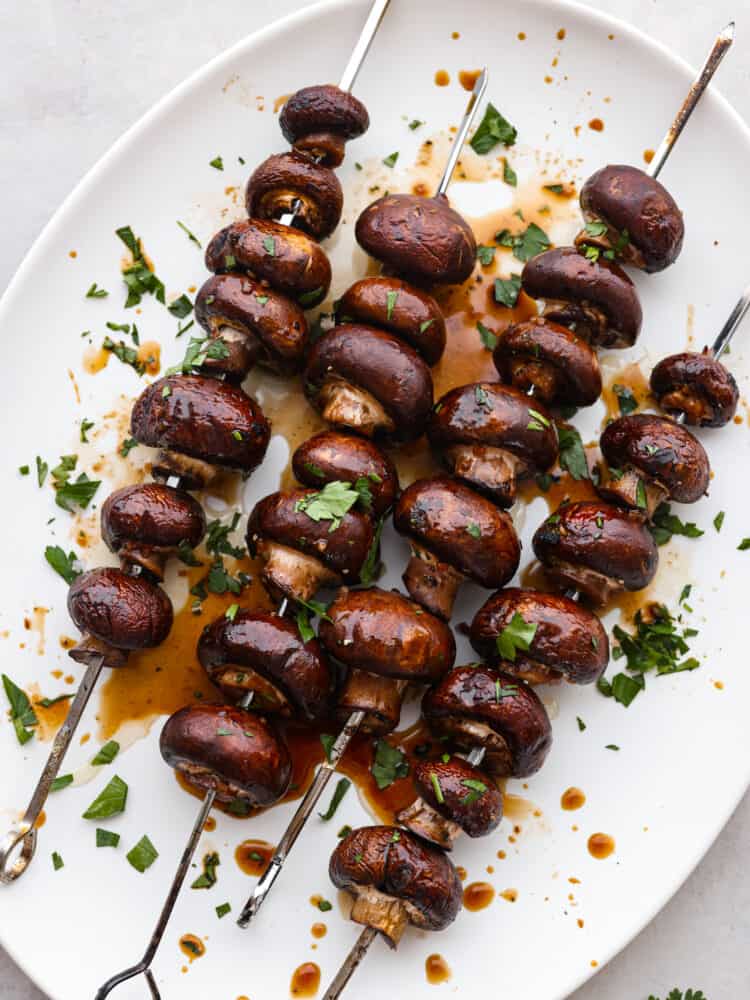 Grilled Honey Soy Mushroom Skewers Recipe
I love vegetable skewer recipes! They are so delicious and easy, and these grilled honey soy mushrooms are no exception. They are soaked in the best (and I mean the best) sauce of all time! It complements the taste and texture of the mushrooms perfectly, and you will be licking the skewer clean!
Not only do these taste insanely delicious but the perfect char marks and taste that you get from putting them on the grill is unmatched. It amplifies the delicious texture, and really, you can't stop at just one. Try these out at your next BBQ and serve them next to some delicious grilled vegetables and some burgers. Your guests will keep coming back for more!
Ingredients for Mushroom Skewers
These grilled honey soy mushroom skewers are so delicious and only need a few ingredients to make them! Don't forget to soak your skewers beforehand, so they are ready when you want to start grilling! Check out the recipe card at the bottom of the post for exact measurements.
Bella Mushrooms: These have a delicious and earthy, meaty taste to them.
Soy Sauce: This acts as the base of the sauce and brings in a tangy and savory flavor.
Honey: This balances out the soy sauce.
Olive Oil: You can also use vegetable oil or canola oil if that's all that you have on hand.
Garlic Cloves: If you don't have any fresh garlic cloves, then you can use minced garlic from a jar. ½ a teaspoon equals about 1 clove of garlic.
Salt and Pepper: These enhance all of the flavors in the sauce.
How to Make Grilled Honey Soy Mushroom Skewers
Once you have let your mushrooms marinate for 30 minutes, these mushrooms cook up in no time at all! Soon, you will soon be gobbling these mushrooms right up!
Marinate: Add the mushrooms to a medium-sized bowl. In a small bowl, whisk together the soy sauce, honey, olive oil, garlic, salt, and pepper. Pour on the mushrooms and toss to coat. Let marinate for 30 minutes.
Cook: Thread the mushrooms on the skewers. Then, place them onto a medium-high grill and cook for 3-5 minutes, turning once.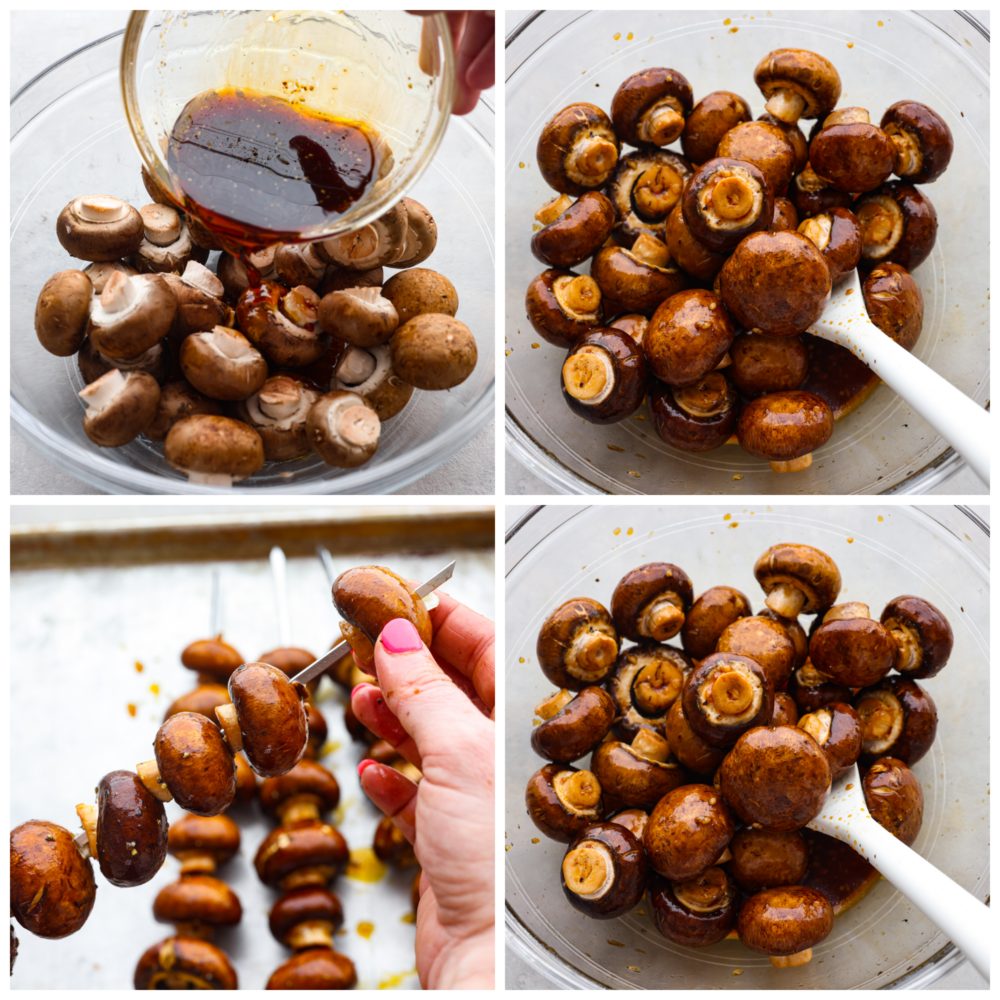 How to Prepare Skewers for the Grill
There is a little bit of preparation of your skewers before you put them on the grill! Wooden skewers can burn easily on the grill. To prevent this, let your skewers soak in warm water for about 30 minutes before you add your grilled honey soy mushrooms onto the skewers. I like to soak them at the same time that my mushrooms are marinating so that everything is ready for the grill at the same time.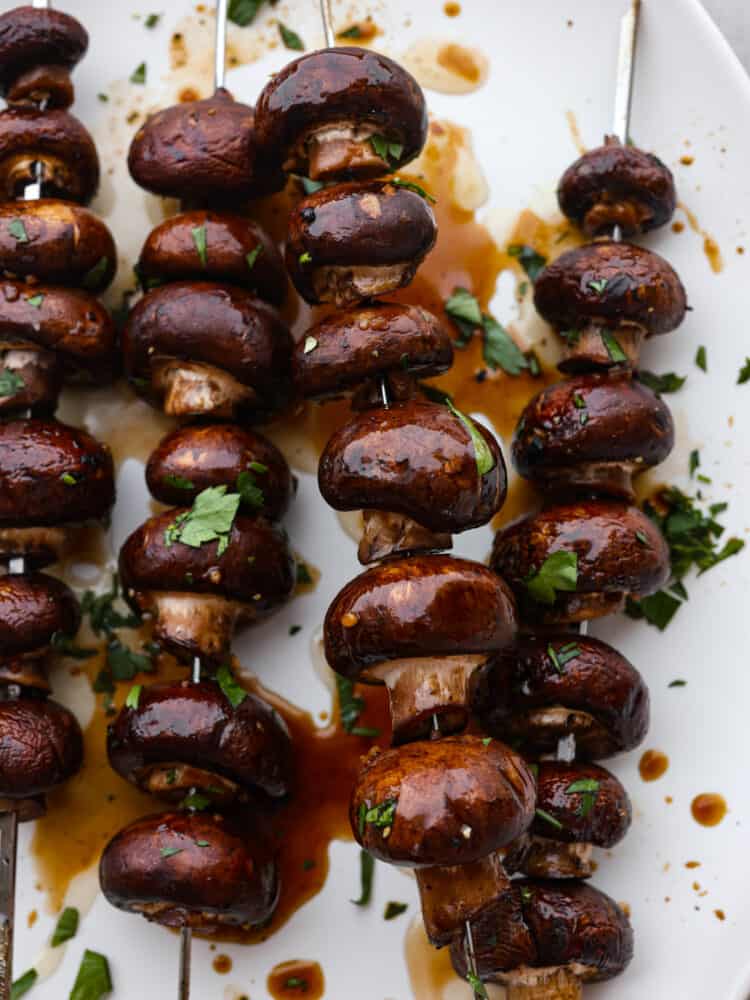 How to Store Leftovers
If you have leftovers of these grilled honey soy mushroom skewers, you can easily store them for later! Just wrap them in some foil and store them in an airtight container. They will last about 3 days. You can warm them back up on the grill or a skillet!