This delicious, healthy Broccoli Soup is thick and creamy without using dairy or coconut cream. Topped with a robust nut and olive pesto, it's flavoursome and satiating. This soup recipe is gluten-free, paleo Whole30, vegan-friendly, and rich in anti-ageing antioxidants. This post was recently updated!
---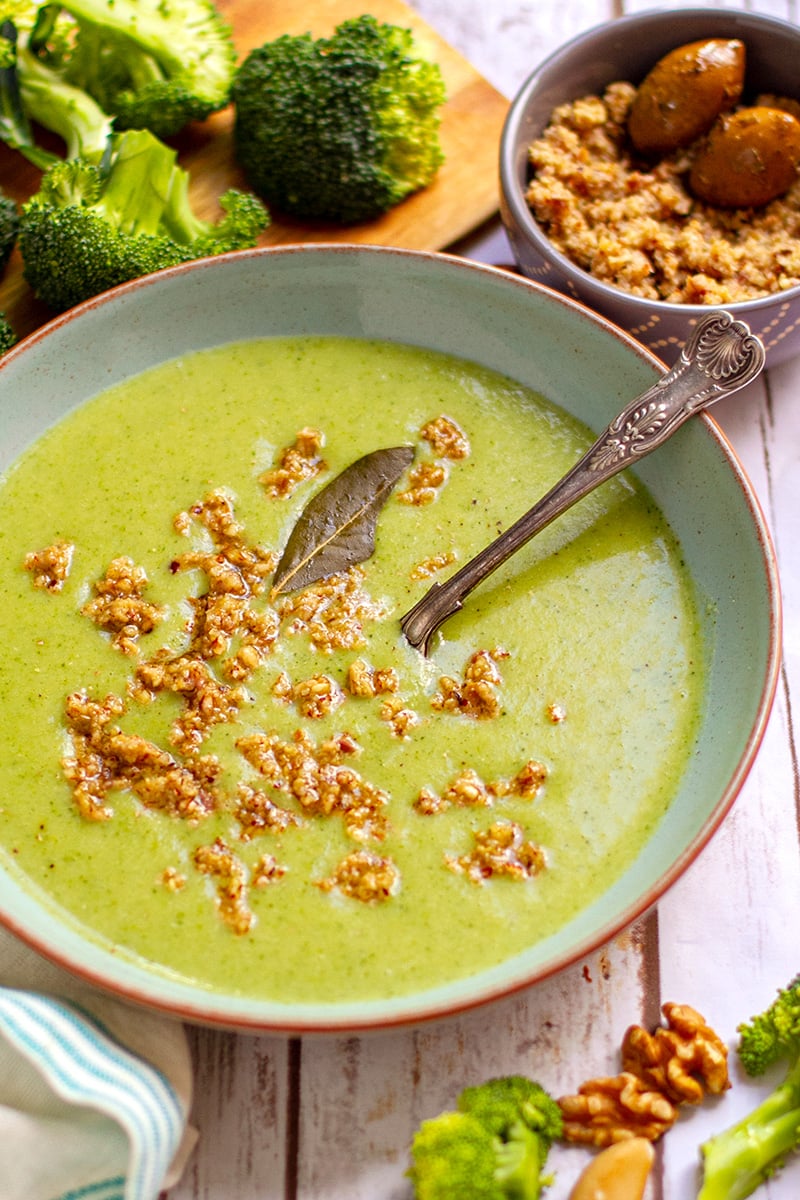 Healthy Broccoli Soup
I love this broccoli soup for its health benefits AND taste. Made with nutritious vegetables, and lots of healthy fats from olive oil, nuts, and olives, it is very high in antioxidants, vitamins and minerals. 
I originally made it as Whole30 and paleo broccoli soup, so I didn't use any dairy or flour to thicken it. I also didn't want the coconut flavour, so I avoided using coconut milk or cream. So what makes it thick and creamy?
Well, the hack is using some white potatoes. The starch in the potato is great for both thickening and making this soup more satiating. It adds that velvety, thick texture. If avoiding nightshades, feel free to use sweet potato or swedes/rutabaga instead. Are Potatoes Paleo? An In-Depth Analysis
This soup is quite satiating and can be served as a main dish. And, with only about 25-28 grams of net carbohydrates per serving, it will suit those following a low-carb or carb-restricted diet, plus it's gluten-free and vegan-friendly!  
Olive Pesto
To go with the soup, I made a nut and olive pesto. It's similar to an olive tapenade – nutty, salty, garlicky with a note of bitterness. While the soup is tasty as is, I use this pesto as a bit of condiment or topping. It adds a more intense and interesting flavour and some crunchy texture.
These toppings would also work well instead of the pesto: crispy bacon bits, fried shallots, shredded chicken or diced smoked chicken, sun-dried tomato pesto or basil pesto.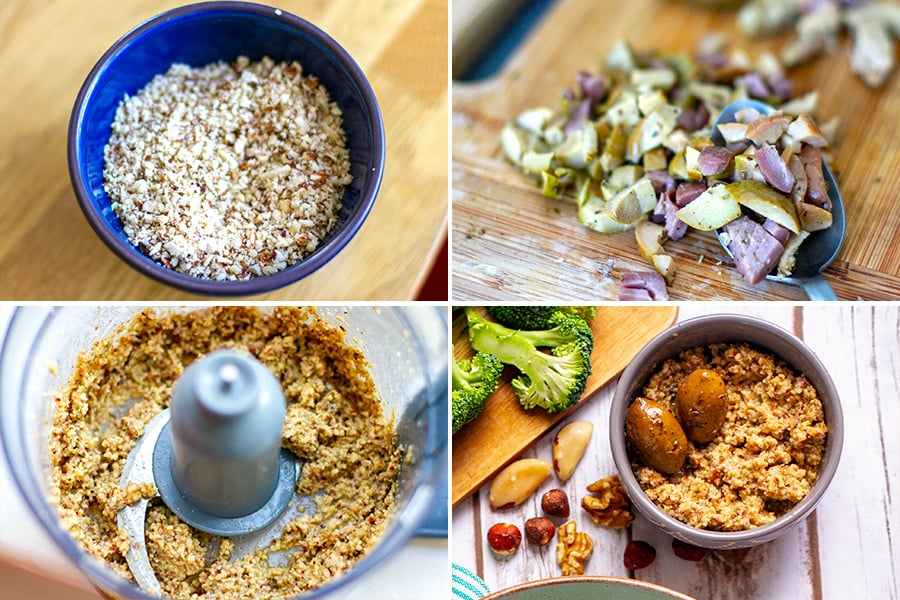 Nutrition Notes
For a vegetarian dish, it's very nutrient-dense. I call it an anti-ageing soup with high amounts of antioxidants (vitamins C and E, zinc and selenium, indoles, and allium sulphur compounds). 
It's also rich in vitamin K, which you need for bone health and blood clotting, and many essential minerals. Protein is decent with 8 grams per serving thanks to the nuts pesto, and you'll be getting plenty of fibre, too. 
This healthy broccoli soup is paleo, gluten-free, Whole30, vegetarian and vegan-friendly. 
Nutrition Macros
Per serving (with olive pesto): 365 calories, 35 g total carbs, 7.5 g fibre (28.5 g net carbs), 8 g protein, 24.7 g fat.
More Healthy Broccoli Recipes
---
How To Make Healthy Broccoli Soup
Find the full list of ingredients, instructions and extra cooking notes below. If you have questions or cook this recipe, please let me know in the comments and make sure to rate this recipe so it's easy for others to find.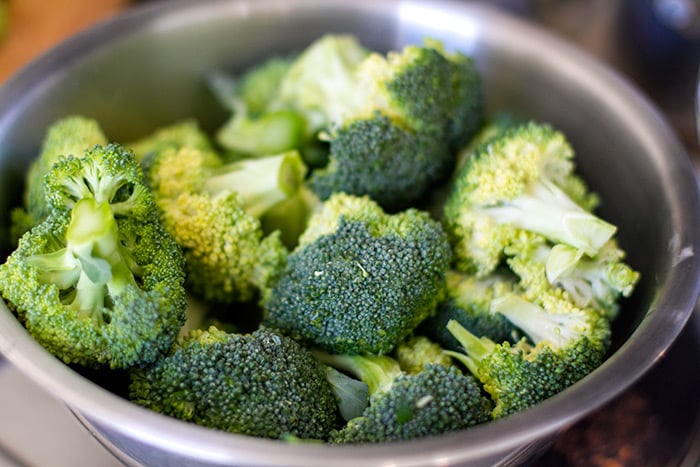 Print
---
Description
You will love this healthy yet delicious broccoli soup served with a topping of nut and olive pesto. This soup is nutrient-dense and full of antioxidants, plus it's Paleo, Whole30, gluten-free and vegan-friendly. It's easy to make and is great for batch cooking and freezing.
---
For broccoli soup
For the nut & olive pesto
---
Add olive oil, onion, salt and lemon zest to a large saucepan and heat over medium heat. Sauté for 3 minutes until softened and lightly golden.
Add celery and diced potatoes, stir and cook together for a minute.
Add the stock, water, and cumin powder and stir through. Cover with a lid and bring to a boil. Cook over medium heat for 10 minutes, then add the broccoli, garlic, pepper and bay leaves. Cover with a lid and bring the heat to high. Cook for 5 minutes until broccoli has softened but hasn't lost its green colour.
Remove from heat and transfer the contents of the soup – in batches – to a food processor or a blender (remove the bay leaves). Process into a smooth puree, then return to the saucepan and add stir in the lemon juice.
While the soup is cooking, prepare the pesto. Place the nuts into a food processor with an S-blade attachment and grind into crumbs. Add the rest of the ingredients and process together until ground up and blended into a course, pesto-like consistency. Remove to a bowl.
Serve the soup in bowls with a tablespoon of pesto stirred in.
---
Notes
Instead of using the vegetable stock and water combo, you can use 1.5 litres of water and two organic, natural vegetable stock cubes. If the stock you're using is quite salty, reduce the amount of salt added at the beginning and taste for seasoning at the end instead.

Beef or chicken bone broth

 is also fantastic to use and will make this soup even more nourishing. 

You can use cauliflower instead of broccoli.
Nutrition
Serving Size:
Calories:

367

Sugar:

8.4 g

Sodium:

1279.2 mg

Fat:

24.7 g

Carbohydrates:

35.2 g

Fiber:

7.5 g

Protein:

8.1 g

Cholesterol:

0 mg
Related: Are Olives Good For You?