Learn how to make delicious and healthy turkey patties with cranberry pesto, which can be served with any side dish you like from a lovely green salad to roasted vegetables or mash. Whether you want something a little different for Christmas or Thanksgiving or you're simply looking for some new and creative ground turkey recipes, this recipe is a definite must-try! These turkey rissoles are gluten-free and paleo-friendly.
---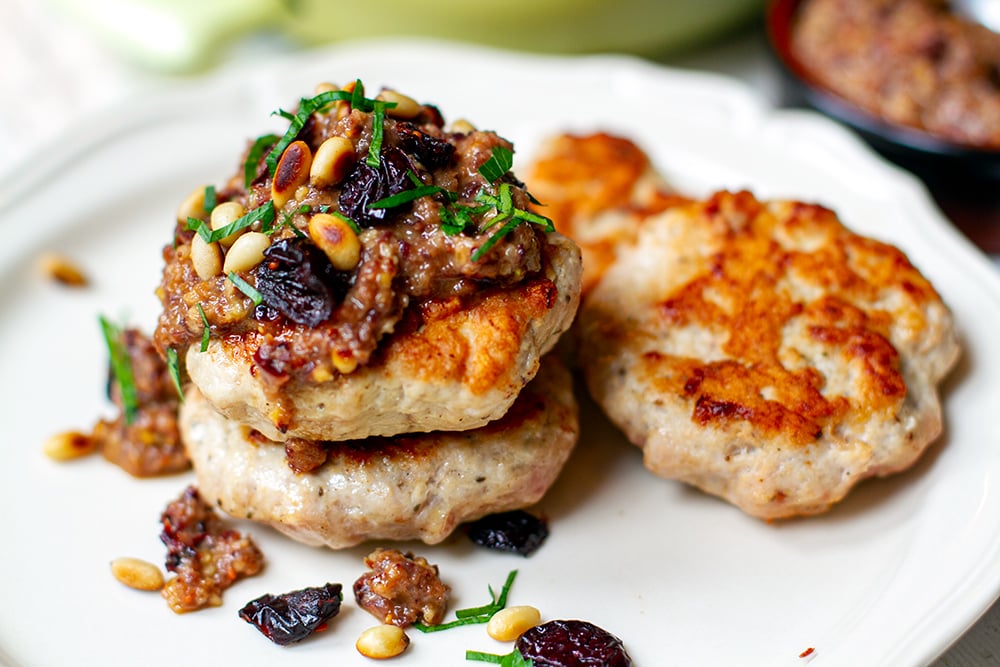 Turkey Rissoles With Cranberry Pesto
This turkey rissoles recipe is inspired by flavours of Thanksgiving – roast turkey, cranberry sources and nuts – but you don't need to wait till November to enjoy these yummy patties.
When I developed this recipe, I wanted to create a simple dish using up ground turkey meat that can be enjoyed both during the festive season and any time of the year. The turkey mince patties are served with tart and flavoursome cranberry and pine nut pesto – it has that perfect combination of savoury and sweet.
What I Love About This Turkey Patties Recipe
Turkey is a great source of protein, B vitamins and selenium, while cranberries are full of vitamin C and antioxidants. The pesto also contains pine nuts, which are full of manganese, vitamin E and vitamin K and healthy olive oil. To complete the meal, all you need are some green veggies on the side.
Whether you call 'em patties or rissoles, these are quick and easy to make so you'll have a healthy dinner on the table in no time. And, if you want something fuss-free yet festive for Thanksgiving or Christmas this year, I hardly recommend this recipe! You can make the patties mix and the pesto ahead of time and pan-fry them just before you need. 
I also love making extra as they keep well in the fridge and make for an excellent lunch or snack.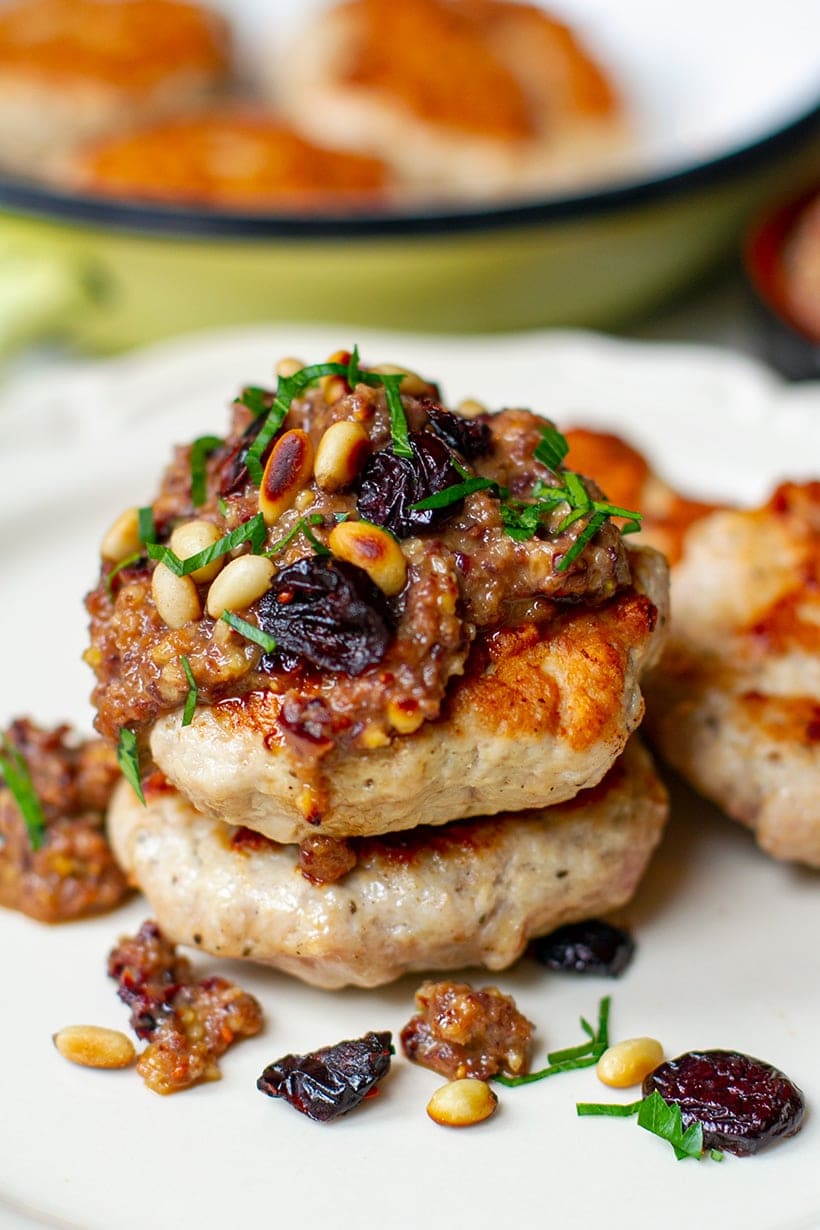 ---
More Turkey Recipes
---
Print
---
Description
Learn how to make delicious and healthy turkey patties (or rissoles in Australia) served with cranberry and nut pesto for that festive yet simple dish that can be enjoyed any time of the year but especially for Thanksgiving or Christmas. Gluten-free and paleo-friendly recipe.
---
For the pesto
For the patties
---
Soak cranberries in a small bowl of hot water for about 20-30 minutes.
Add pine nuts to a medium-hot frying pan and cook for about two minutes, stirring frequently, until lightly toasted and browned.
Transfer most of them to a food processor (I like to reserve a few for garnish). Add the rest of ingredients and soaked cranberries. Add 2-3 tablespoons of the water, in which the cranberries were soaking. Process into a pesto-like paste, for about 30 seconds, scraping the sides a couple of times. Transfer to a ramekin.
Combine ground turkey mince with the rest of ingredients in a large mixing bowl. Use your hands to work the meat and incorporate all the ingredients. Using wet hands, roll small batches of mince into balls and flatten into round patties.
Heat about a tablespoon of oil or ghee in a large frying pan over medium-high heat. Add the patties and cook for 4-5 minutes on each side, adding a little more oil when flipping them over if needed.
Serve patties with a side of cranberry pesto and your favourite veggies.
---
Notes
Other nuts or seeds such as sunflower or pumpkin could be used instead of pine nuts, especially if you're on the budget. Pine nuts do give it that special touch if you can splurge out.
The meat mixture can be made into meatballs or even meatloaf.
Nutrition
Serving Size:

2 patties with 2 teaspoons pesto

Calories:

390

Sugar:

9.7 g

Sodium:

611.2 mg

Fat:

26.7 g

Saturated Fat:

5.1 g

Carbohydrates:

13.1 g

Fiber:

1.4 g

Protein:

27.1 g

Cholesterol:

92 mg
Keywords: paleo, gluten-free, pesto, pine nuts, turkey, poultry