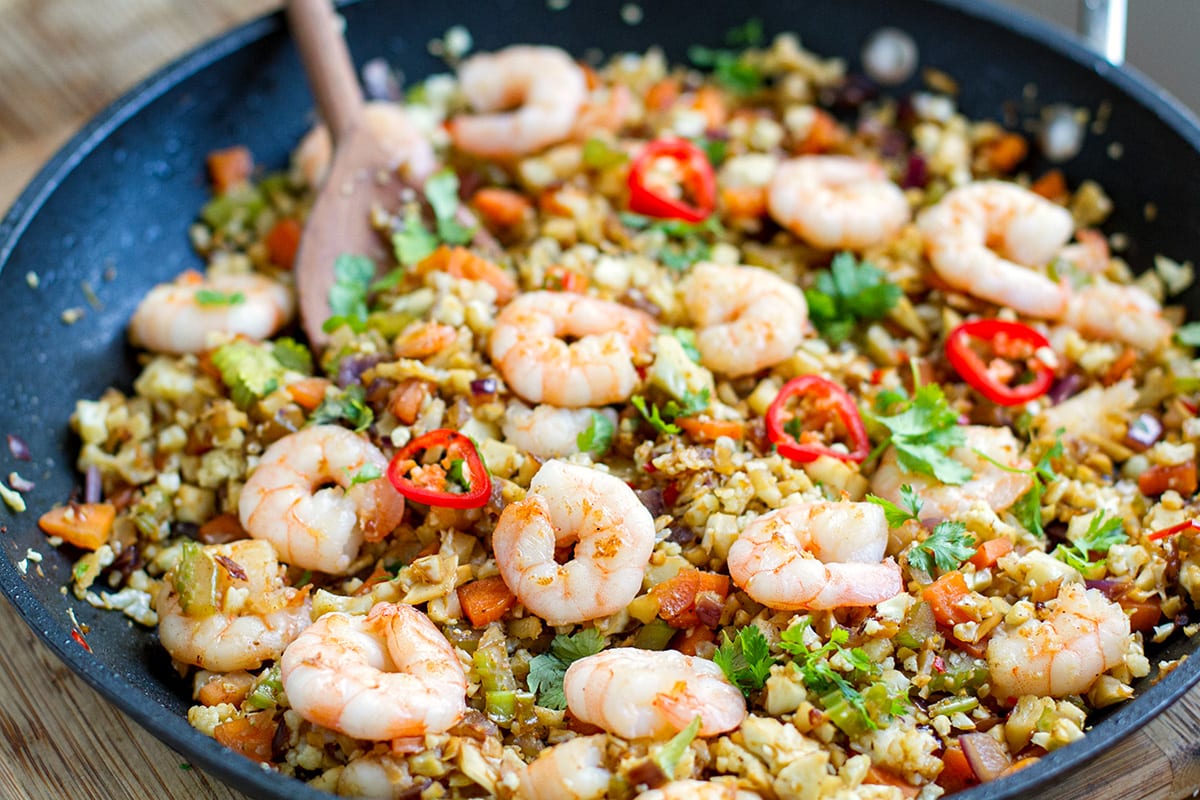 If you've never made cauliflower rice before, you're in for a pleasant surprise with this recipe. Made with aromatic lemongrass, chilli and garlic, this cauliflower shrimp fried 'rice' is super quick and easy, and will make you fall in love with the concept of finely diced cauliflower as a healthier, low-carb substitute to white rice.
I am also using sautéed onions, celery and carrots in this dish – which provide lots of gut-beneficial fibre – and mineral and protein rich prawns. It's a tasty complete paleo meal that is my free paleo program, keto and Whole30 friendly.
Cook's notes
To make the cauliflower rice, you can either use a food processor or your mad knife skills. For this recipe, I used a medium head of cauliflower which I chopped finely using a chef's knife. If you're using a food processor to grind up the cauliflower into small rice-like pieces, make sure to process the florets in batches, using an S-blade.
I used frozen king prawns/shrimp which I defrosted in hot water for 15 minutes before cooking. I find frozen shrimp works really well in stir-fries and fried 'rice' and it's much more affordable than buying fresh, raw prawns. Plus, they come pre-peeled, saving you a lot of prep time.
You can find fresh lemongrass in most bit supermarkets and Asian grocers, but if it's not available in your area, you can use a tablespoon of grated ginger instead. The recipe is more of a template and you are welcome to substitute some ingredients. For example, you could add some curry powder and turmeric to the mix; diced cooked chicken or ham could be used in place of shrimp; fried pork mince or beef mince can be added into the 'rice' mix as well.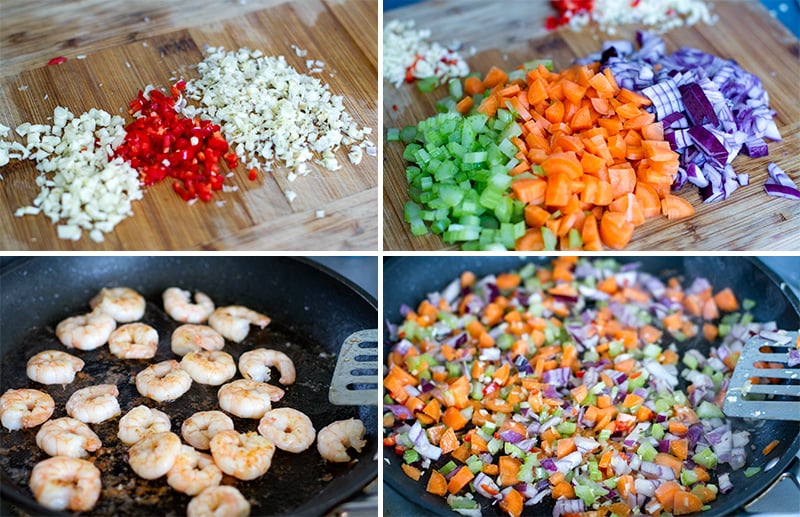 Print
---
---
Heat a tablespoon of coconut oil in a large frying pan oven high heat and add the prawns. Sprinkle with a little sea salt and stir-fry for 2-3 minutes, until the prawns curl and change colour. Transfer to a bowl.
Reduce the heat to medium-high and add an extra tablespoon of coconut oil. Add the lemongrass, chilli, onions, carrots and celery and stir-fry for 3 minutes, until softened and fragrant.
Now add the finely diced cauliflower and the rest of the ingredients (except for the coriander) and stir-fry for 2-3 minutes. Add a few tablespoons of water if the frying pan gets dry.
Stir in the prawns right at the end to reheat and top with fresh coriander. Serve right away, while hot.
---
SHARE THIS RECIPE ON PINTEREST