Perfect for summer BBQs and dinner parties, this fabulous gem lettuce salad with yogurt ranch dressing and toasted hazelnuts and cranberries is the simplest thing to make. It's gluten-free and low-carb and can be made with a dairy-free ranch instead.
---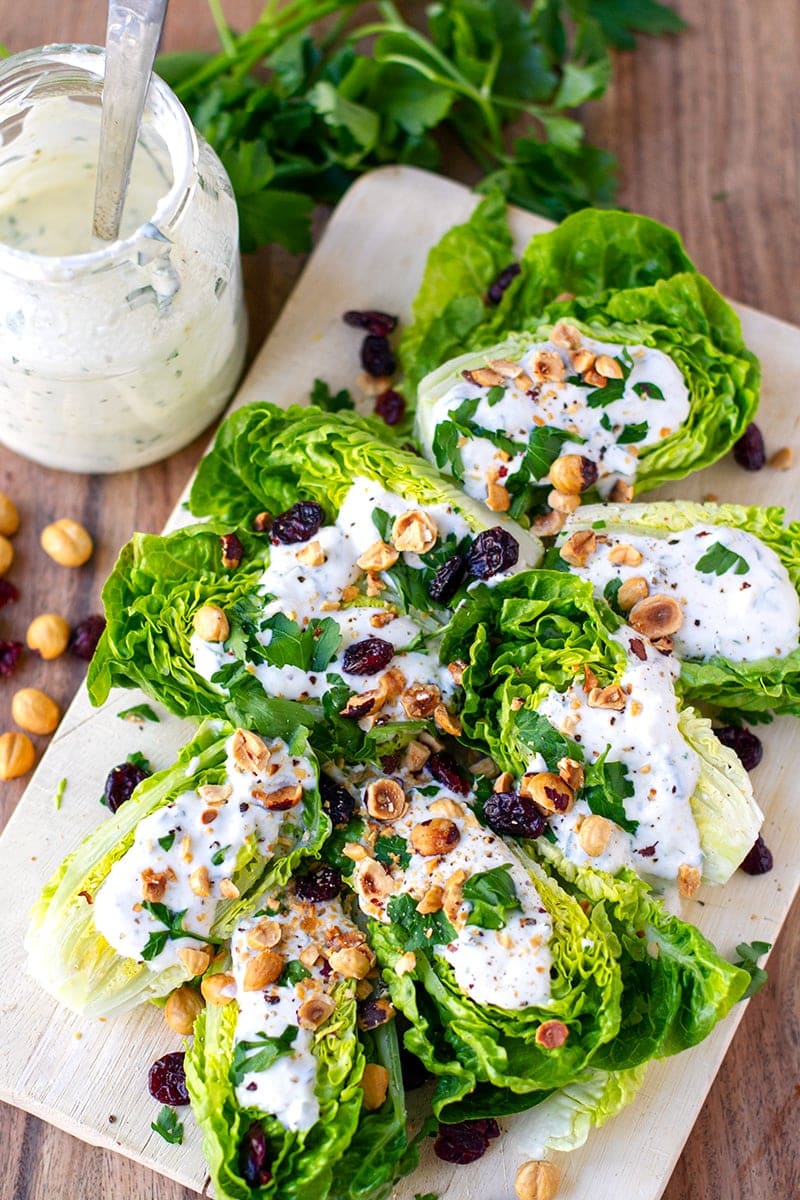 Lettuce Salad With Yoghurt Ranch
This simple yet delicious green salad is made using gem lettuce, which is often described as s combination of butter lettuce and Romaine. I love using this particular lettuce because all you have to do is cut off the root and slice the head in two halves. You can, of course, use larger Romaine lettuce leaves, roughly chopped butter lettuce or iceberg lettuce wedges. 
The yoghurt ranch dressing comes as its own recipe on my blog but I have also included it in here. It's a healthy take on the American classic and is made with unsweetened, full-fat yoghurt (you can use a paleo and dairy-free ranch option too), fresh herbs, and a touch of garlic for a little kick.
The lettuce is generously drizzled with the ranch dressing and topped with toasted hazelnuts and dried cranberries, which both add amazing bursts of flavour and texture. You can use raw hazelnuts or almonds but I really, really recommend that you either buy the toasted/roasted variety or make them at home (I've provided simple instructions in the recipe notes).
This salad is perfect for a summer meal, barbecue or a picnic, as a side at a dinner party or to bring to a potluck feast, Thanksgiving or Christmas. This is a good salad for those of your doing the reintroductions phase of my paleo reset plan during the week we bring back the yoghurt.
You can find more healthy salad recipes here and make sure to check out my Salad A Day recipe book here.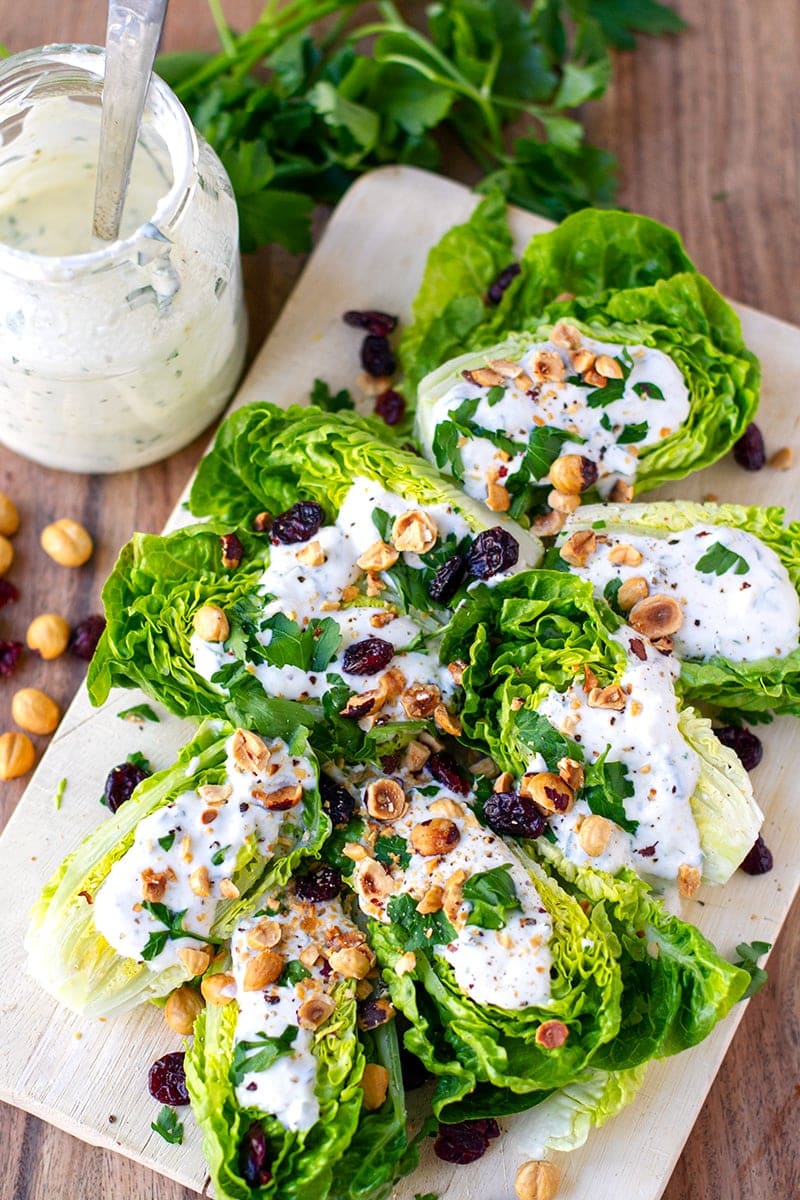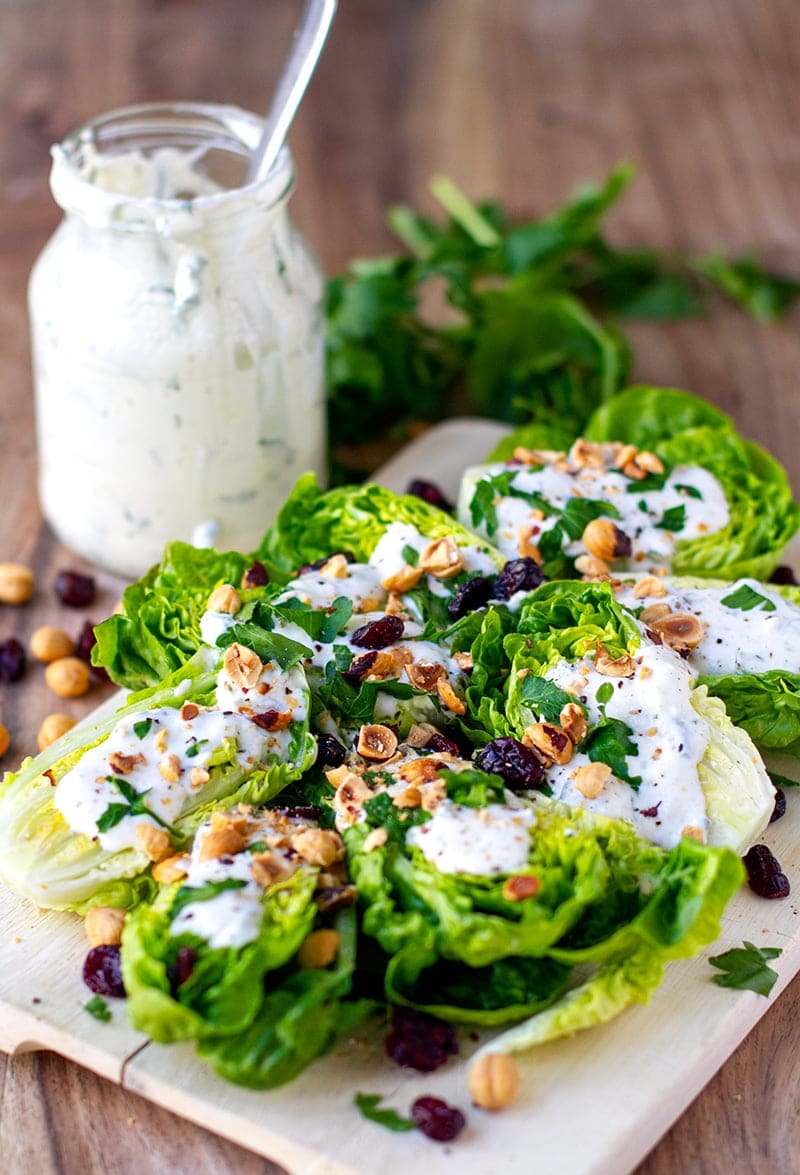 Print
---
Description
Topped with toasted hazelnuts and dried cranberries and drizzled with delicious, creamy ranch dressing, this green lettuce salad is nutritious and satisfying.
---
For the ranch dressing
For the salad
---
Combine the salad dressing ingredients in a bowl, whisk well and transfer to a jar. The recipe makes about 1+1/4 cups and you can keep the leftovers for other salads or serve with grilled veggies.
Give the lettuce halves a little wash and pat dry using paper towels (kitchen roll). Arrange the halves on a platter or on a chopping board.
Place the toasted hazelnuts on a chopping board and use a large knife to press down on the nuts (with the flat side!) to crush them in halves. I like to also roughly chop the cranberries.
Drizzle each half of the lettuce generously with the dressing and top with the nuts and cranberries. Feel free to sprinkle some fresh herbs on top. I love dill or parsley on this salad. Serve right away.
---
Notes
If using raw nuts, roast them in the 200 C/ 400 F oven for about 5 minutes, stirring them a few times. Keep an eye on them so they don't burn, you may need more or less time. You can also toast them in a frying pan for 5-10 minutes over medium-high heat.
Make-ahead tip: prepare all salad elements and store the cut lettuce in an airtight container for up to 2 days or cut it just before serving; the dressing should be good for 3-5 days.
Keywords: Ranch, Picnic, Summer, Healthy, Lettuce, Salad Recipes