Combining all the benefits of the Mediterranean diet and Keto diet in one dish, these low-carb Greek Chicken Bowls are bursting with colours and flavours (plus, all the nutrients!). Skillet grilled seasoned chicken is paired with the Greek salad staples of tomatoes, cucumbers, onions, olives and feta cheese. Served with a side of refreshing, garlicky Tzatziki sauce or dressing, whichever way you want to roll with this gluten-free, low-carb chicken recipe.
Such a simple yet satiating and nutritious chicken salad bowl is great for lunch (at home or in the office) or as a quick and easy weeknight dinner. This delicious recipe is from the Cast Iron Keto cookbook by Alex and Lauren Lester (read more about the book below).
---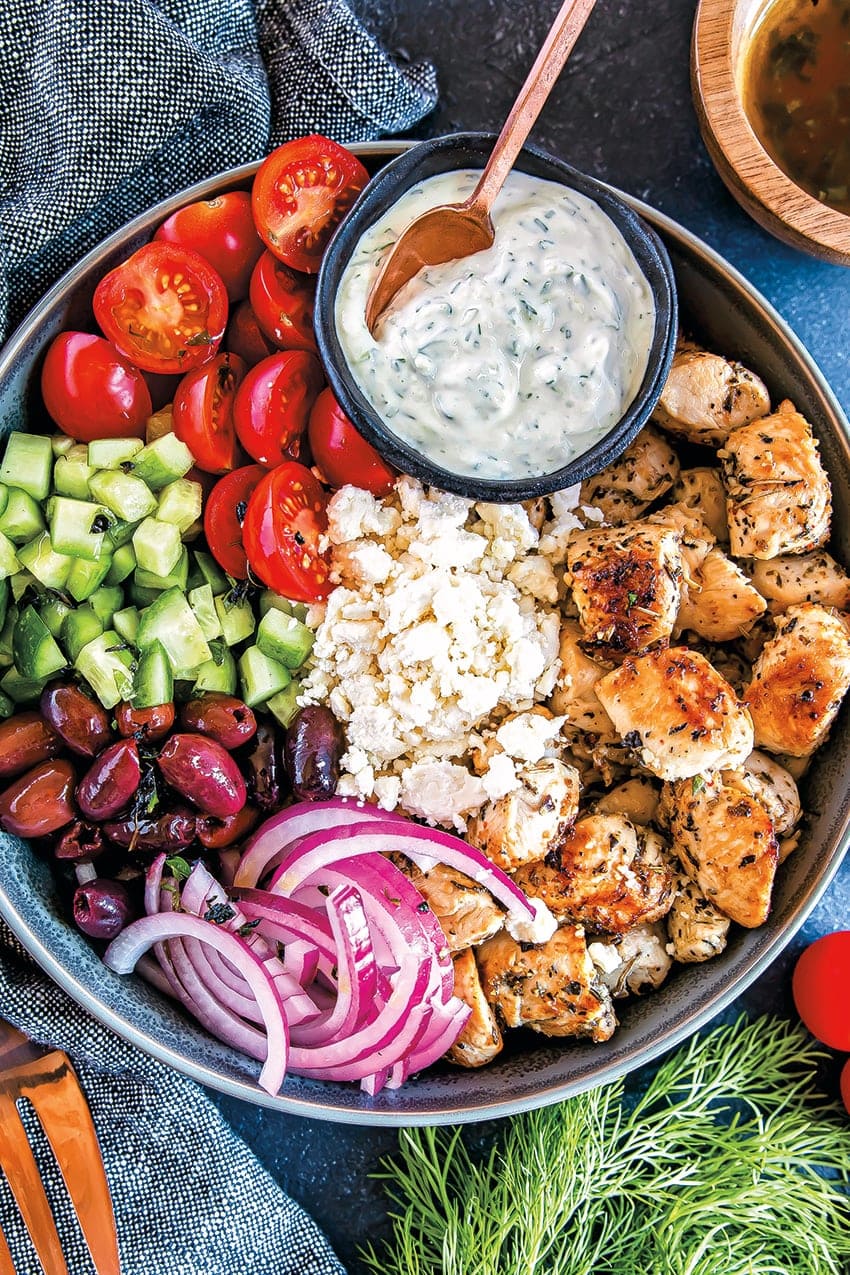 Greek Chicken Bowls
If you're looking for tasty low-carb chicken recipes, this Greek bowl of goodness is a must-try. It's a type of meal I love to make: easy, quick and nutritious while delivering 100% flavour.
We've got protein, lots of healthy fats and just enough veg to give you that boost in vitamins, antioxidants and fibre while keeping the carb count low.
Plus, it's great for meal prep: you can get every element ready ahead of time and store in the fridge for a few days.
Cooking With Cast Iron Skillet
As I mentioned above, this recipe for Greek chicken salad bowls is from a keto cookbook that focuses on cooking with a cast iron skillet. I personally love a good cast iron pan as it's a bit like a Swiss Army Knife in the kitchen. 
You can a cast iron skillet in the oven, on the stove or over a campfire.
You can use it to grill meat, bake a frittata or make a cookie. 
It's an investment BUT it is practically indestructible and will you a lifetime as long as you take good care of it.
If you're short on space, it can save you some by serving multiple purposes. 
It's nontoxic! Unlike nonstick cookware, cast iron contains no harmful chemicals like PFOA, making cast iron the perfect choice for a health-minded kitchen.
Even though the chicken for this dish was grilled in one of these marvellous skillets, you can use your regular frying pan or the barbecue grill to achieve similar results!
Greek Seasoning For Chicken
In my opinion, the key to making this dish an absolute standout is a good Greek seasoning for chicken. There are many good brands of premixed herbs and spice blends on the market like this one or this one. 
I often make my own Greek seasoning by mixing some of these staple ingredients: salt, pepper, dried oregano, dried thyme or rosemary, garlic, paprika, and sometimes even cinnamon. You can add other herbs like parsley, marjoram, dill, peppermint or chives. Lemon zest – dried or fresh – is always a great touch!
More Keto Recipes
Full Recipes For Greek Chicken Bowls
Find the full list of ingredients, instructions and extra cooking notes below. If you have questions or cook this recipe, please let me know in the comments and make sure to rate this recipe so it's easy for others to find.
Print
---
Description
Combining all the benefits of the Mediterranean diet and Keto diet in one dish, these low-carb Greek chicken salad bowls with Tzatziki dressing and feta are super easy to make and are great for lunch or dinner. Recipe from Cast Iron Keto cookbook by Alex & Lauren Lester, read the review below!
---
Greek Chicken
1 lb (455 g) boneless, skinless chicken breast, cut into 1-inch (2.5-cm) cubes

3 tbsp (45 ml) olive oil

2 tbsp (30 ml) lemon juice

1 tbsp (15 ml) red wine vinegar

1 tbsp (3 g) Greek seasoning (see notes below)

1⁄4 tsp sea salt

Tzatziki sauce
8 oz (224 g) full-fat plain Greek yoghurt

1⁄2 medium Persian cucumber, grated

2 cloves garlic, grated

Zest of 1 medium lemon

1 tbsp (15 ml) fresh lemon juice

2 tbsp (8 g) minced fresh dill

Sea salt, as needed

Black pepper, as needed

Red Wine Vinegar Dressing
3 tbsp (45 ml) olive oil

1 tbsp (15 ml) red wine vinegar

1 tsp minced fresh oregano

Sea salt, to taste

Salad Toppings
1 large Persian cucumber, diced

1 cup (150 g) cherry tomatoes, halved

1⁄2 cup (58 g) thinly sliced red onion

1⁄3 cup (33 g) pitted Kalamata olives

4 oz (112 g) feta cheese, crumbled
---
To make the chicken, combine the chicken, oil, lemon juice, vinegar, Greek seasoning, and salt in a sealable container. Marinate the chicken in the refrigerator for 30 minutes or up to overnight.
To make the tzatziki, stir together the yoghurt, cucumber, garlic, lemon zest, lemon juice, dill, salt, and black pepper in a medium bowl. Refrigerate the tzatziki until you are ready to serve.
Heat a 10-inch (25-cm) or larger cast-iron skillet over medium-high heat. Add the chicken and marinade to the skillet. Cook the chicken for 3 to 4 minutes per side, until it is brown and its internal temperature reaches 165°F (74°C).
To make the red wine vinegar dressing, whisk together the oil, vinegar, oregano, and salt in a small bowl.
To assemble the bowls, divide the chicken among four individual serving bowls. Top the chicken with the cucumber, tomatoes, onion, olives, and feta cheese. Pour the red wine vinegar dressing over the bowls and top each bowl with the tzatziki just before serving.
---
Notes
You can buy ready-made Greek seasoning like this or this one  (more exy but a nicer brand in my opinion). You can also make your own by mixing salt, pepper, dried oregano, dried thyme or rosemary, garlic powder, paprika and cinnamon.
Cooking times above don't include the time for marinating the chicken which can be anywhere between 10-15 minutes and overnight. The longer you leave it, the more flavour it will have.
Nutrition
Serving Size:

1 bowl with 100-120 g / 3-4 oz chicken

Calories:

496

Sugar:

6.5 g

Sodium:

1022.8 mg

Fat:

32.3 g

Saturated Fat:

9.4 g

Carbohydrates:

12.6 g

Fiber:

2.3 g

Protein:

40.4 g

Cholesterol:

170 mg
Reprinted with permission from Cast Iron Keto cookbook by Alex and Lauren Lester, Page Street Publishing Co. 2020. Photo credit: Lauren Lester
---
About The Cast Iron Keto Cookbook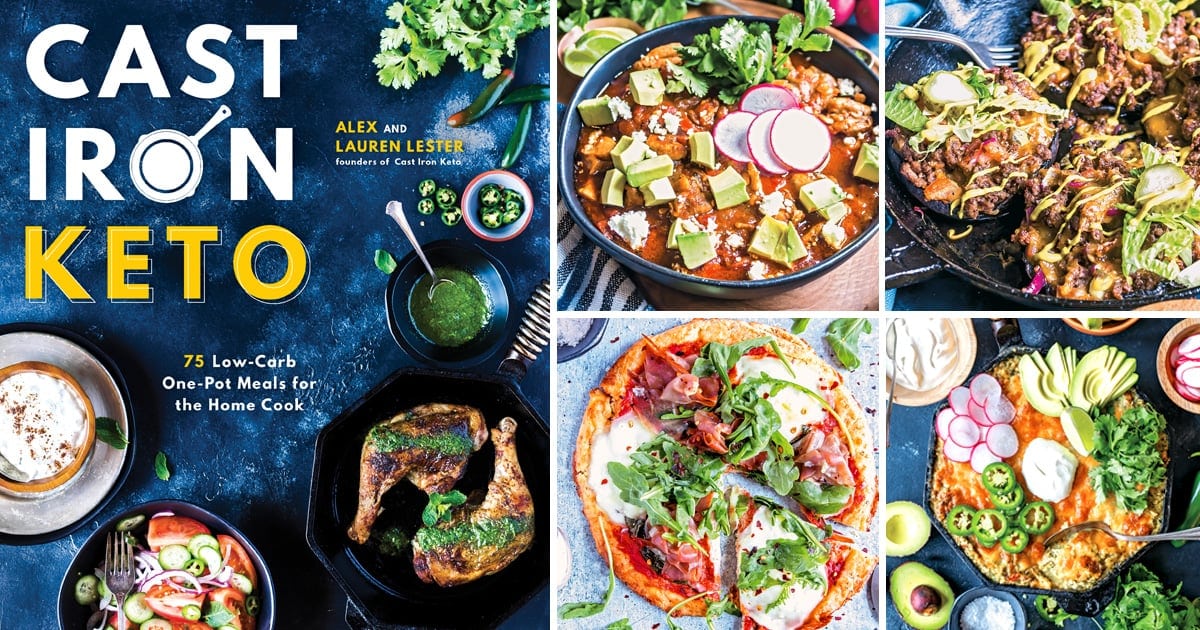 Alex and Lauren Lester from the blog Cast Iron Keto have put out a book by the same name containing 75 recipes for low-carb, one-pot dishes made in our most beloved kitchen tool – the cast iron skillet. If you're looking to simplify the cleaning process and maximise flavour while keeping things keto, this book is unquestionably for you.
The book is divided into six sections: land, sea, date night, brilliant bowls, sensational salads, Meatless Mondays: vegetarian. The cast-iron skillet is either used to cook the whole dish as a one-pot creation or to make one of the key elements of the dish (e.g. grilled or roasted protein)
What Sets This Cookbook Apart
In this book, you'll learn a lot about Alex and Lauren both, and why each respectively chose a ketogenic approach in order to live their fullest life. You'll then learn about both the basics of keto and why low-carb can be a stellar choice if you're looking to transform your health or relationship with food.
Oh, and you'll learn more about cast iron cooking and why it's such a great investment! Many of us already know the joys of cast iron cooking such as easy cleanup, the long-lasting material, and cast iron being a non-toxic choice.
This collection is most certainly one for the meat lovers out there as most recipes contain primarily meat and have less emphasis on veggies than other keto cookbooks. This will give you an edge on cooking up perfect cuts of meat every time while also giving you inventive new ideas like the casserole take on a classic Reuben sandwich or blackberry pork chops.
You'll also find a few adaptations for grain dishes like a recipe for ramen. However, these dishes are primarily focused on recipes that need less altering to make low-carb – and the authors do a really good job too.
Unlike many other keto cookbooks I've featured recently, this one doesn't have any treats or desserts, which I actually quite like. The focus is on savoury, balanced meals! 
Keto Recipes On My Must-Try Recipes
Italian sub sandwich casserole
Creamy crab bisque
Prosciutto and arugula pizza
Cheesy rotisserie chicken casserole
Big Mac burger bowls
Cheesy Chile Rellenos (stuffed chile peppers)
Overall, this book is meant to elevate your cast iron skills and capacity with new ideas you never thought to make either low-carb or in a single pot. Whether you're fully committed to keto or just enjoy reaching for fewer grains and starches at dinner, this book makes a fabulous staple for menu planning, meal prep, entertaining, or just plain getting food on the table.
You can find the Cast Iron Keto cookbook on Amazon here and in other stores. More info here.
About The Authors
Alex and Lauren Lester are the creators of the popular blog Cast Iron Keto. They have worked with brands such as Kiolbassa Smoked Meats, Moon Cheese Snacks and Pacific Foods, and their recipes have been featured in Shape, Chowhound, Greatist, and more. After travelling the country in their RV, Alex and Lauren settled down in the Pacific Northwest. You can find them on Instagram here and Facebook here.
---