This healthy and delicious mushroom stew recipe is a fabulous vegetarian dish featuring fresh and dried mushrooms for maximum flavour, plenty of vegetables and a touch of cream. If you're looking for mushroom dinner ideas or for a meat-free main, make sure to give it a go.
---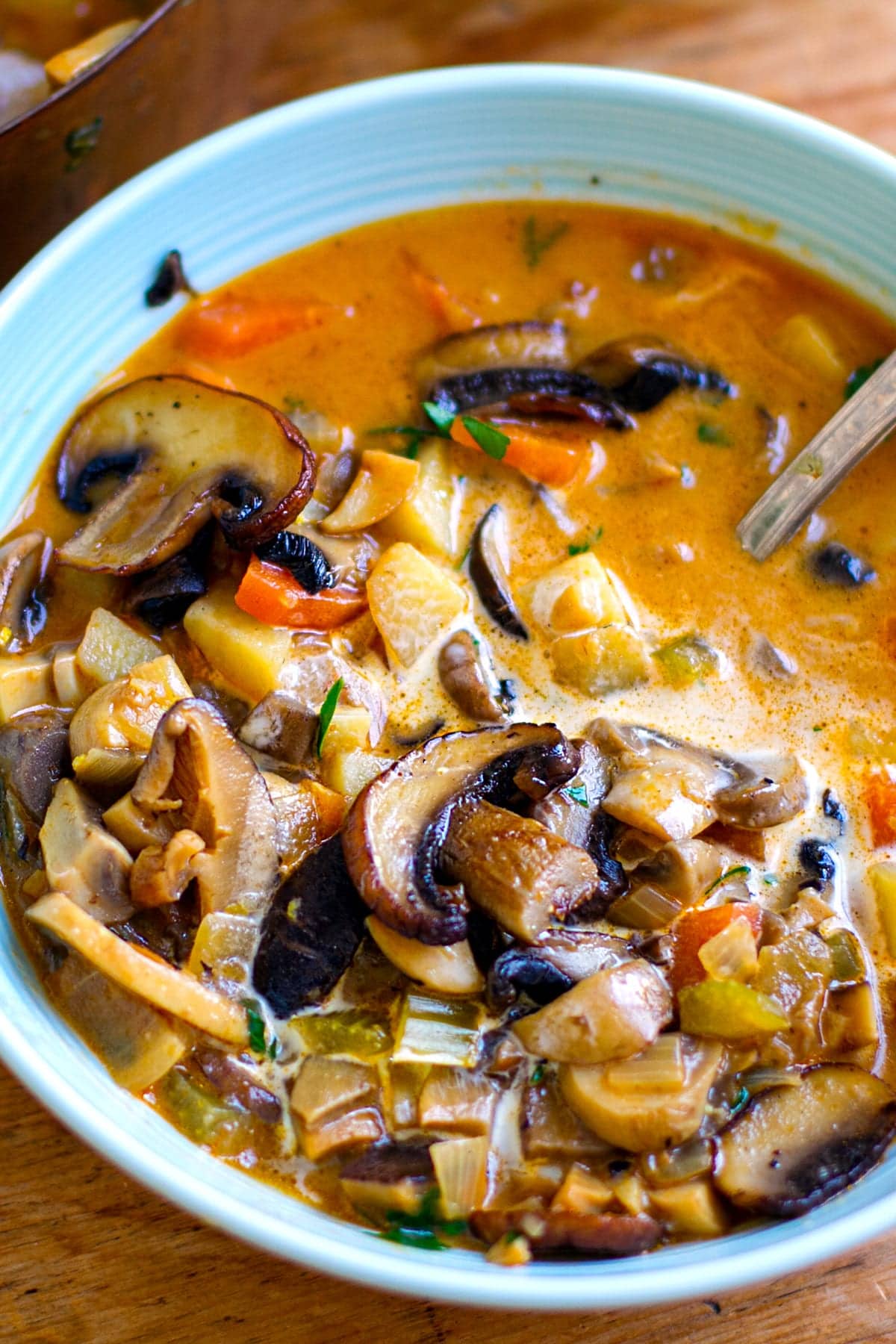 In This Post:
Mushroom Stew Recipe Overview
I first created this mushroom stew recipe for my Paleo reset program and it was used during one of the reintroduction weeks, when the participants were bringing back dairy. I wanted to have a vegetarian main on the menu and so this stew was born. I now often make it for our meatless Mondays or whenever I feel like a cosy stew or soup.
This mushroom stew is vegetarian and gluten-free friendly and it's packed with vegetables like onions, celery, carrots and potatoes to give it some substance. It's made using fresh and dried mushrooms for maximum flavour. And with a touch of cream and butter, it's rich and velvety without being too heavy. In fact, it's quite low in calories on its own.
If you eat bread, serve it with a lovely piece of sourdough, garlic bread or croutons. If you want to keep it light and low-carb, enjoy it on its own. I love a sprinkle of grated Parmesan on top as well.
🍄 If you're a mushroom lover, make sure to check out my other vegetarian recipes such as this grain-free mushroom and leek tart, this lentil mushroom Stroganoff, or the mushroom cauliflower and walnut taco 'meat'.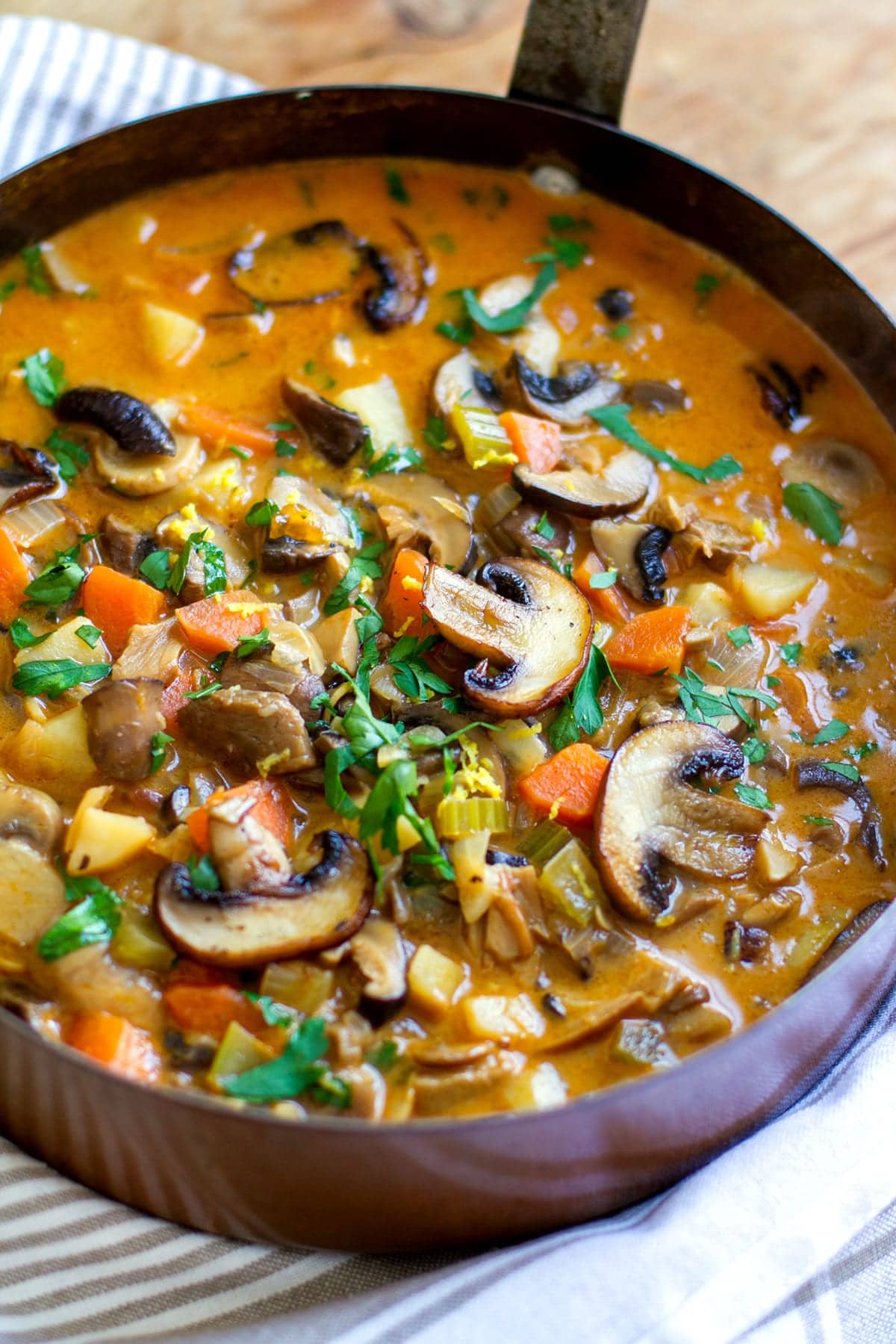 Ingredients For Mushroom Stew
Mushrooms – you can use any fresh mushrooms available to you -the more, the merrier! I had regular white mushrooms and some Swiss Browns, but you could throw in portobello, oyster, shiitake, and so on. Using additional dried mushrooms like shiitake or porcini adds fantastic wild mushroom, forest flavour. Personally, I think they are worth the extra cash but are not essential if you can't find any, especially if you can source a variety of fresh ones.
Base veggies – we have the usual suspects here such as onion, garlic, celery, and carrots and I am adding potatoes for some carbs and substance. You can throw in other vegetables like zucchini, peppers, cauliflower, parsnips or sweet potatoes.
Liquids – vegetable stock and the soaking water from rehydrating the mushrooms.
Extra flavours – I love using flavour enhancers such as tomato paste and soy sauce (or Tamari or coconut aminos for gluten-free) as well salt and pepper. You can also throw in some dried herbs like rosemary or Thyme. Butter for sautéing the vegetables and mushrooms adds lovely flavour to the stew as well.
To finish – I use a little flour to thicken the stew and heavy cream to make it extra creamy and delicious.
---
How To Make Mushroom Stew
Find the full list of ingredients, nutritional info, and instructions in the recipe card below. Here are some step-by-step pictures to guide you along. There are essentially 5 key steps to making the stew.
Step 1. Rehydrate the dried mushrooms and reserve the liquid to add to the stew.
Step 2. Sauté onions, celery, carrots and potatoes in some butter or oil, this is the based for the stew.
Step 3. Sauté all the mushrooms (fresh and chopped rehydrated ones) in a little butter and olive oil with some garlic and lemon.
Step 4. Combine the vegetables and the mushrooms, add the stock, tomato paste, soy sauce and cook everything until tender.
Step 5. Thicken the stew with some flour and add the cream. Taste for seasoning and finish with lemon zest and parsley.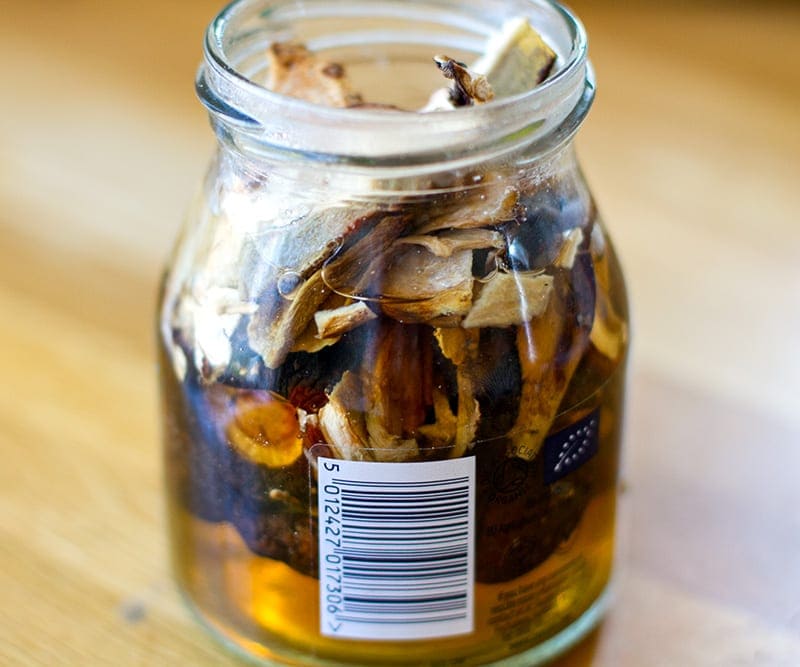 Variations
Add extra plant protein – you can throw in a can of lentils, beans or some cooked quinoa into the stew for extra plant-based protein.
Add chicken or beef – you can also add shredded rotisserie/leftover chicken or thinly sliced beef steak to make this a meaty mushroom stew.
Make it like a curry – use coconut cream instead of regular cream and add some ginger and curry powder to give it more Asian flavours; you can also add extra soy sauce, a little lime juice and fresh coriander (cilantro) to finish. This would be a great dairy-free option.
Make it cheesy – Stir in grated Cheddar and Parmesan at the end to make it even more delicious and comforting.
What To Serve With This Stew
This mushroom stew is hearty, however it is vegetarian and the lack of protein does keep it on a lighter side. If that's what you're after, then enjoy it as it is but if you want to add more substance to the meal, I recommend the following:
Bread – regular bread, low-carb, paleo or whatever floats your boat would be great as a side as you can dip it into the stew; I love toasted sourdough or bread rolls and will sometimes make garlic bread.
Croutons – add a few croutons on top to add extra calories and complimenting texture.
Rice or quinoa – pre-cooked rice or quinoa, or even lentils or beans, can be added to the stew or served alongside.
Extra toppings – you can complete the meal with extra toppings such as grated cheese, sour cream, cooked chicken, chickpeas, and so on.
For extra flavour – the stew is garnished with parsley and lemon zest, which add aroma and flavour, but you can also experiment with fried shallots, chilli garlic oil, extra grated Parmesan, chilli flakes, or other fresh herbs.
---
Full Recipe 
Find the full list of ingredients, instructions, and a nutritional breakdown below. If you have questions or cook this recipe, please let me know in the comments, and make sure to rate this recipe so it's easy for others to find.
Print
---
Description
This healthy, vegetarian mushroom stew is packed with vegetables and made using fresh and dried mushrooms for maximum flavour. With a touch of cream and butter, it is rich and velvety without being too heavy.
---
Dried Mushrooms
Stew Base
Mushrooms
Finishing The Stew
---
Soak the dried mushrooms.

Place the dried mushrooms in a jar or a bowl and add the boiling water. Submerge and let them soak for 10-15 minutes until rehydrated. Reserve the soaking liquid.

Make the stew base.

In a large saucepan, heat 1 tablespoon of butter over medium heat and add the onions, carrots, celery and potato. Sprinkle with 1/2 teaspoon salt and stir for 2-3 minutes, until softened and lightly browned.

Cook the soup.

Add 3 cups of stock and the reserved liquid from rehydrated mushrooms. Turn the heat up and bring to a boil. Then turn the heat down to medium-low and cover with a lid. Cook for about 5 minutes.

Cook the mushrooms. 

In parallel to cooking the soup, heat 1 tablespoon of butter and 1 tablespoon of olive oil in a frying pan. Add the remaining chopped onions and another 1/2 teaspoon of salt and sauté for 2 minutes until softened. 

Chop the rehydrated mushrooms. Add those and the chopped fresh mushrooms to the pan. Stir and cook for 3 minutes on high heat, stirring a few times. The mushrooms will release lots of juices at this stage. 

Now, add the salt, garlic, pepper and lemon juice. Cook for 5 more minutes, over medium-high heat, until the mushrooms are slightly browned and softened. 

Combine the soup base and mushrooms. 

Add the pre-cooked mushrooms to the soupy base followed by tomato paste and Tamari (or soy sauce) and bring back to high heat. Once it comes to a boil, turn the heat down to medium, cover with a lid and cook everything for 10 more minutes. 

To finish the stew, whisk 1 tablespoon of flour (your choice) with 2-3 tablespoons of water or the liquid from the stew. I usually do this in a small bowl using a fork. Make sure this slurry mixture is smooth. Pour it back into the stew, stir through and turn the heat off. The stew should thicken slightly.

Finally, stir in the cream and taste for salt and pepper. Sprinkle in lemon zest and fresh parsley and you're ready to serve.
---
Notes
Mushrooms: You can use a combination of fresh mushrooms available to you – the more, the merrier! Dried shiitake and porcini mushrooms add fantastic wild mushroom, forest flavour but are not essential if you can't find any. They are great to have in the pantry and are worth spending a little extra on.
Dairy: We are using a little butter and heavy cream. You can easily make this soup with ghee or olive oil instead of butter, or the cream can be omitted altogether. Coconut cream or plain yoghurt can also be used.
Like it cheesy? Add 1/2 cup of grated Parmesan or Cheddar to the stew.
Store in the refrigerator for up 4 days, reheat well. If freezing, leave out the cream and add it after defrosting.
Nutrition
Serving Size:

2 cups

Calories:

290

Sugar:

9.5 g

Sodium:

1167.5 mg

Fat:

15.4 g

Carbohydrates:

35.1 g

Fiber:

5.6 g

Protein:

7.2 g

Cholesterol:

32.2 mg
Keywords: Mushrooms, Stew, Vegetarian, Healthy, Gluten-Free, Mushroom Recipes, Mushroom Dinner Ideas
---
More Delicious Stew Recipes