This website may contain affiliate links and advertising so that we can provide recipes to you. Read my privacy policy.
One Pot Cajun Chicken Alfredo Pasta is an amazing one pot meal that is on the dinner table in less than 30 minutes! The cajun spice adds the perfect amount of flavor to the creamy alfredo sauce!
All in one pot for an easy meal and easy clean up! If you love one pot meals like I do, try this One Pot Creamy Parmesan Chicken with Mushroom Rice, One Pot Creamy Spinach Mushroom Artichoke Chicken or One Pot Beef Stroganoff.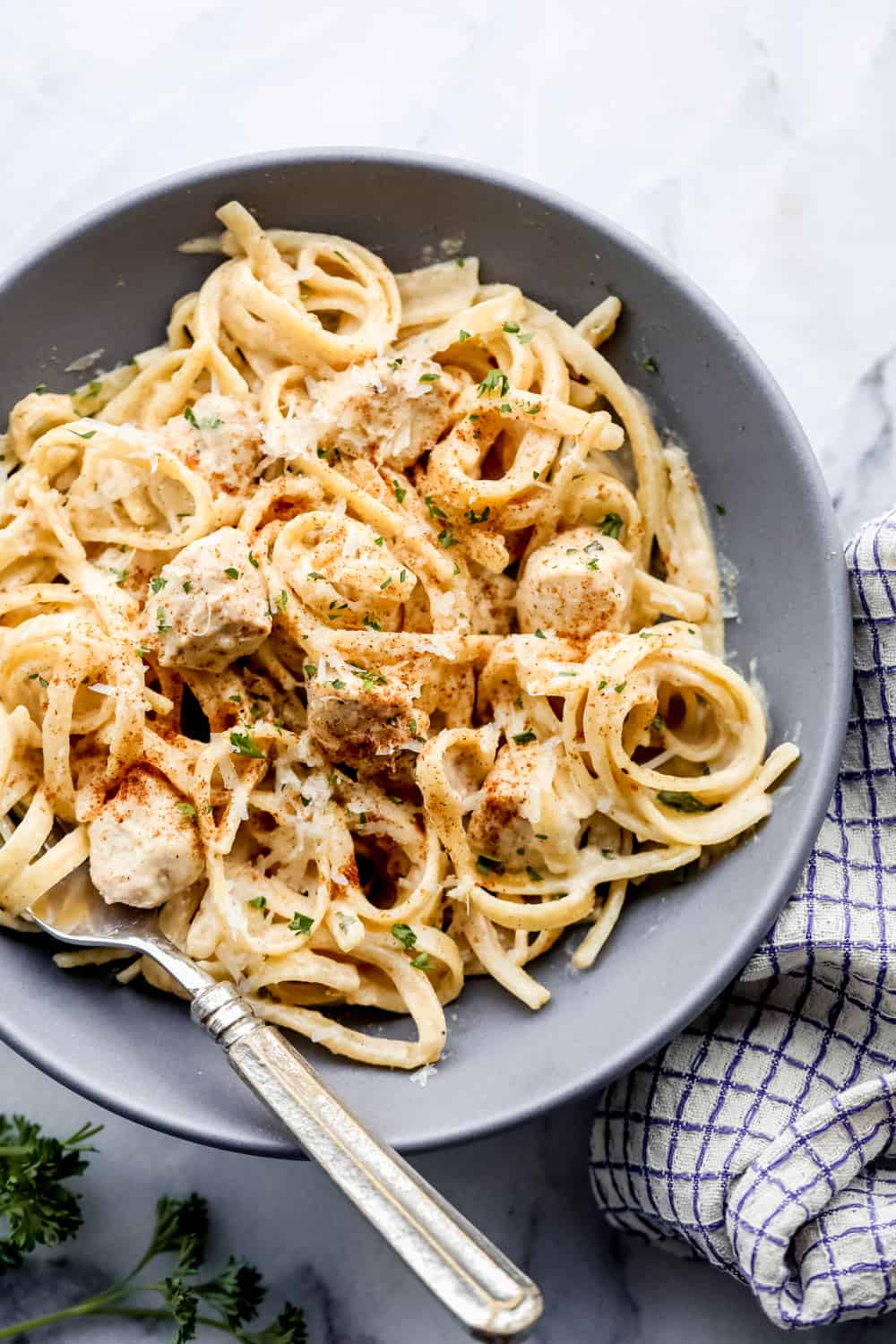 Cajun Chicken Pasta Alfredo
Me and one pot meals are BFF's lately. How nice is it to only dirty one pan and have a delicious and hearty meal for dinner?
They are fast, easy, and my family went crazy over this one!
It all started at Chili's with my love for Cajun Chicken Pasta.
I actually have a dang good copycat recipe here on the blog. I order every time, and my boys do too!
So I was thinking one day. Why don't I make this recipe in one pot that is quick and easy? So I did. And it was awesome.
The cajun flavor added so much flavor to this one pot meal. It added just the right amount of kick to the creamy alfredo sauce. It was amazing!
I loved throwing everything into the pot. Covering it for about 12 minutes and dinner was ready.
The cajun wasn't too spicy for the kids either. They gobbled it down.
Quick. Easy. One Pot. Delicious. I call this meal a success!
What you need to make cajun chicken Alfredo pasta
This is a tried and true recipe that I can't get enough of.
I love all the flavor combinations, fettuccine with chicken mixture and everything all in one pot!
It is a huge win for me.
Most ingredients you already have on hand and ready to go!
We love to make this recipe on a busy weeknight. It has never failed us.
30 minutes and we are all at the table together enjoying our meal.
Olive oil: this helps cook your chicken, adds a nutty flavor and prevents the chicken from sticking to the pan.
Boneless skinless chicken breast: cut into bite size chunks.
Cajun seasoning: you will love the flavors of cajun seasoning over top. This will be divided for you so it is not too powerful for kids.
Garlic cloves: minced and always brings on that subtle garlicky flavor.
Chicken broth: more of a salty flavor but this will help bring in more juices and tenderize the chicken and pasta.
Half and half: rich and creamy cream that will thicken the Alfredo Sauce.
Salt and Black pepper: just a pinch!
Garlic powder: add in the garlicky flavoring to this one pot meal.
Fettuccini pasta: thick, rich pasta that is best for soaking up Alfredo Sauce but not overpowering the chicken.
Grated parmesan cheese: blends right in and adds a rich cheesy flavor to the overall meal.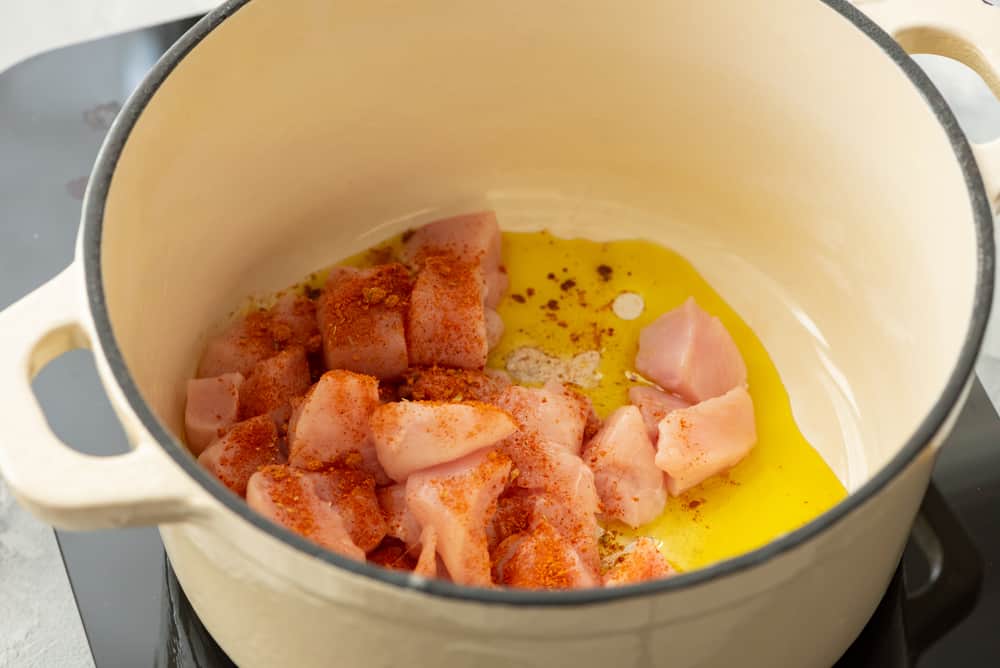 How you make cajun chicken Alfredo pasta
This is basically a basic type of recipe.
Cook your chicken, cook your noodles and mix it all together with seasonings and creamy deliciousness.
Chicken does not take long to cook through and your fettuccine noodles are even easier to cook.
I love the smell of the chicken and olive oil cooking together and then adding in the cajun seasoning and garlic just is a real hit.
Alfredo Sauce is one of my favorites too! If you are looking for more Alfredo Sauce recipes click here.
Prepare and cook your chicken: Heat the oil in a large pot over medium high heat. Add the chicken and season with 1 teaspoon cajun seasoning. Cook until the chicken is cooked throughout and no longer pink in the center. Add the garlic and continue cooking for 1 minute.
Prepare and cook fettuccine: Add the broth, half and half, 1 teaspoon cajun seasoning, salt, pepper, and garlic powder to the pot. Break the fettuccine noodles in half and add them to the pot.
Cook noodles and chicken together: Cover and bring to a rapid boil. Reduce heat to medium low and continue to cook for 10-12 minutes or until the noodles are al dente and there is only about ¼ inch of liquid along the bottom.
Add parmesan cheese: Remove from heat and stir in the parmesan cheese. Serve immediately.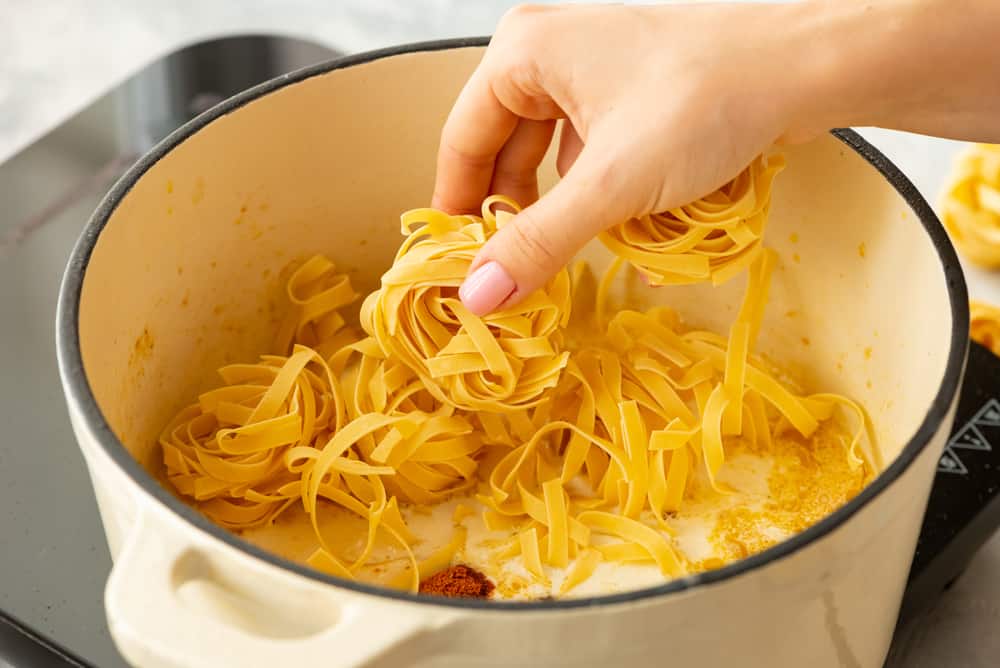 Tips for Cajun Chicken Alfredo Pasta
This cajun chicken Alfredo Pasta is straight forward and precisely perfect in most ways.
It is hard to substitute most things or add in other seasonings since it is mastered with those ingredients.
Here are some variations and tips to making the perfect cajun chicken Alfredo Pasta combination.
If you need to substitute anything just be sure that it will alter the taste, texture and even some of the meal.
If you are in a hurry, tenderizing your chicken breast by rolling or pounding it to make it thinner will help speed up the cooking process. I do not recommend this though. Thick chunks of chicken are a big hit with this meal.
If you are a cajun lover like me, when preparing your chicken you can directly rub your cajun seasoning on the chicken before you cook it.
Make sure that your oil in your one pot pan is hot before adding your chicken.
Substituting half and half for whole milk and light or heavy cream will work if you don't have half half.
Al dente means that it is cooked firm or until done.
You will want your pasta cooked al dente in the sauce. It will continue to cook as the sauce thickens and it is on the stove top.
Love another type of pasta?! Penne or bowtie even are great substitutes to this one pot meal.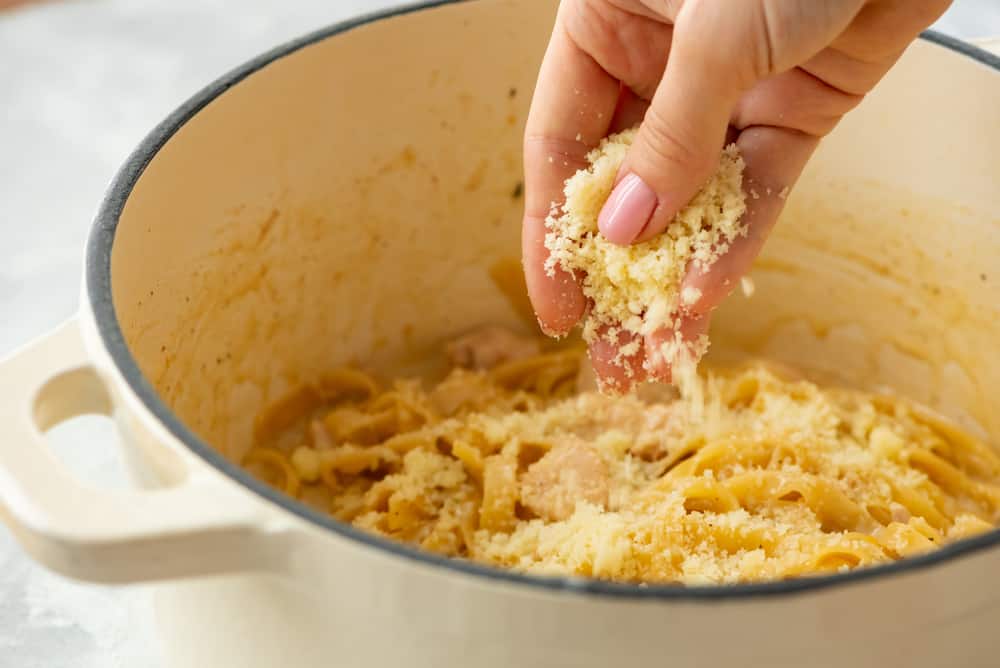 Storing cajun chicken Alfredo pasta
You will enjoy how easy this cajun chicken Alfredo Pasta is to make. It is one of kind and so delicious!
Every bite is going to have a sweet, savory and a kick of spice to complete this meal.
All you need in one complete meal.
You can make this ahead of time but it is best served right away after you add your parmesan on top.
When warming up you will see a separation in sauce and noodles.
I ensure you by slowly warming up the pasta and stirring continuously it will look back to normal.
Making ahead: Usually you will leave out the pasta when making ahead and adding that when warming up. In this case, that is the main ingredient. You will want to make it as is according to the recipe and put in pre-made Tupperware or an airtight container in the refrigerator until ready to serve. You can also let it sit on the stove top on low to keep warm, stirring it occasionally. Just add the parmesan right before you serve it.
Refrigerating: Same as making ahead. You will make this according to the recipe and add this to an airtight container to store in the refrigerator for 3 to 5 days.
Freezing: Unfortunately, this recipe is not the best for freezing. It can be done but you will need to be careful when warming up. This will be cooked and cooled completely. Add the chicken pasta into a freezer container and freeze for up to one month.
Warming up: This is the key to warming up the pasta: SLOWLY. haha. The slower, the better. It is quick to make but slow to warm up. You do not want the Alfredo to separate and have a hard time getting to combine again. Warm on low over the stovetop for best results, stirring it until it is warm and combined sauces. If you are in a hurry and need to use a microwave, warm up in 1 minute intervals. Stirring after every minute. Garnish with a little more parmesan cheese and stir together. Enjoy!
If you love cajun meals here are more to enjoy!