These healthy gluten-free quinoa falafels are a fun, tasty take on the traditional recipe served with a zesty Israeli salad of fresh tomatoes, cucumbers, red onions and herbs. This vegetarian-friendly dish is high in plant-based protein, fibre, nutrient-dense carbohydrates and is great for a meat-free dinner or lunch meal.
---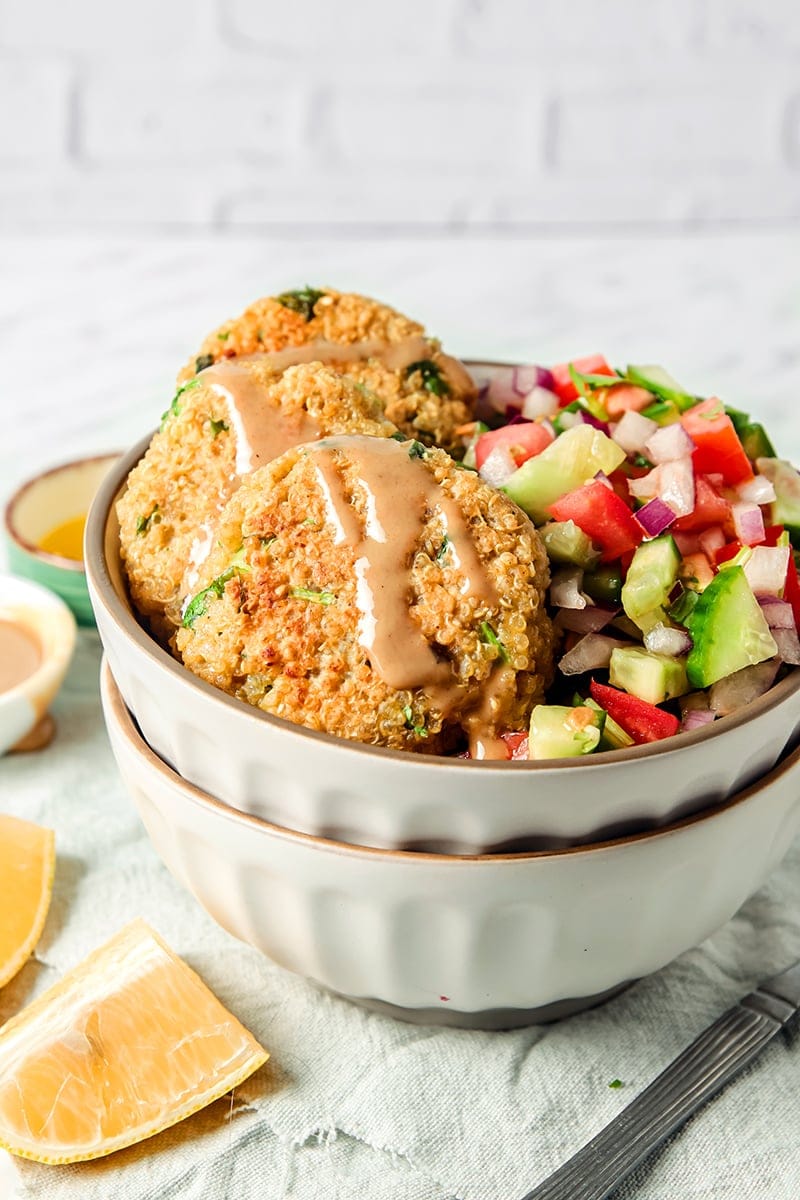 If I had to choose my favourite plant-based, vegetarian-friendly foods, falafels would be high on the list. Deep-fried or shallow fried balls or patties made with ground chickpeas or/and fava beans, spices and fresh herbs are much loved around the world. I wanted to make a different version of falafels using cooked quinoa (as it contains more amino acids in its protein profile) while still using some chickpea flour as a binder.
If you can't find chickpea flour (or besan/lentil flour), go for regular gluten-free flour or a mixture of coconut flour and almond meal/flour for a lower-carb version. For those following a paleo diet and wondering about quinoa, read this post.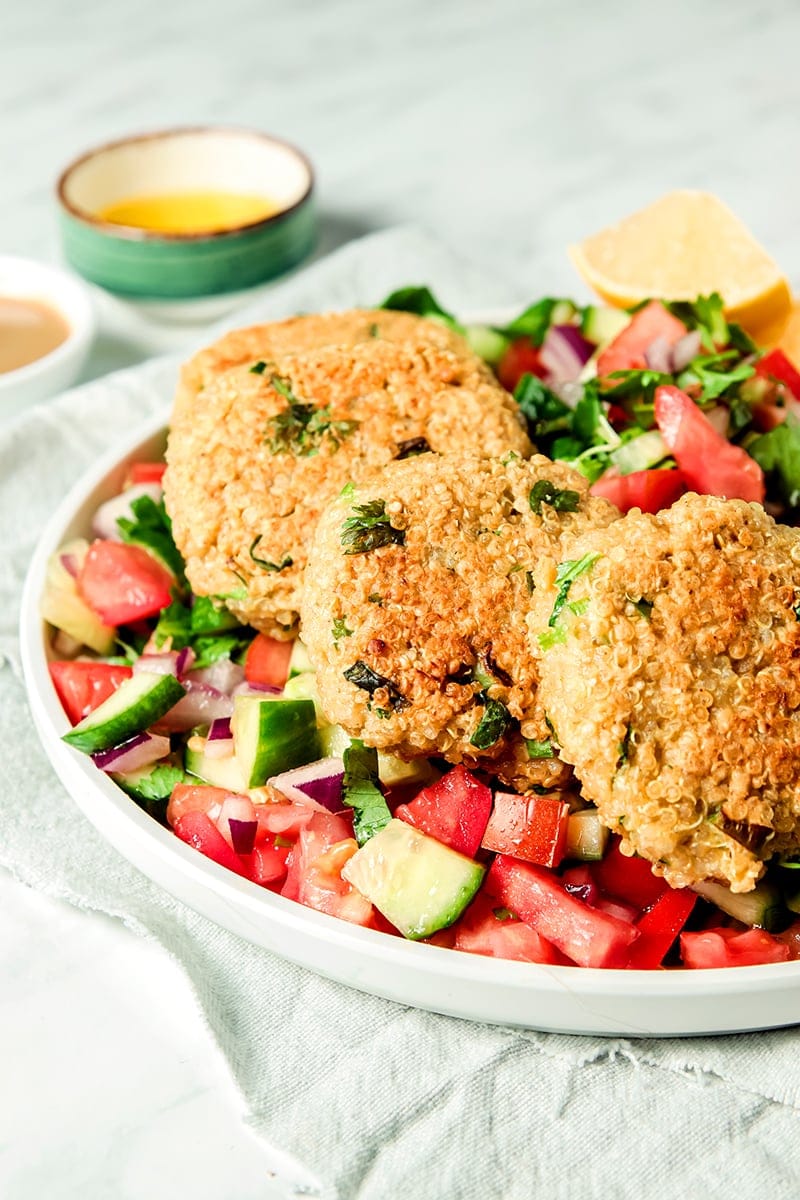 WHAT'S GOOD ABOUT THESE FALAFELS & SALAD
As I mentioned in the intro, this is a well balanced, satiating meal full of plant-based protein, healthy carbohydrates and fibre. Quinoa is a gluten-free pseudo-grain that is a complete protein, meaning it contains all essential amino acids. It's also full of vitamins and minerals. Chickpea flour is a good source of gut-friendly fibre and is also quite rich in protein and micronutrients. Add to that antioxidant and vitamin-rich tomato, cucumbers, onions and herbs, plus those nutrient-dense eggs, and we're looking at a very nutritious plate of food.
If you're after a vegetarian-friendly, nutrient-dense meal that is rich in protein, this is a good one! You can find the complete nutritional breakdown for this dish in the recipe card below.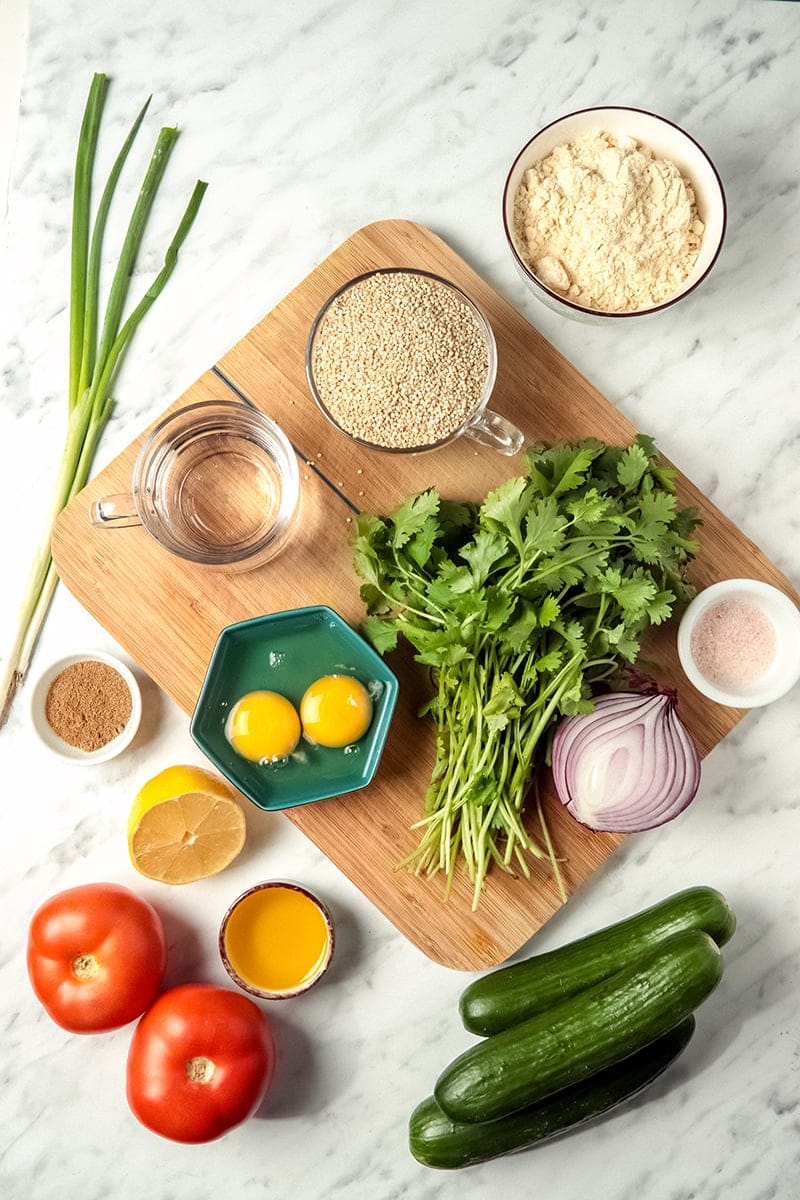 HOW TO MAKE QUINOA FALAFELS
There are two components to this meal: gluten-free quinoa falafels and cucumber, tomato salad. First, you have to make the falafels, which is pretty easy but requires a few steps. 
Step 1. Cook the quinoa until fluffy, strain and cool down. You can also use pre-cooked quinoa out of a pack for a speedy hack.
Step 2. While quinoa is cooking, prepare other ingredients for the falafel mixture: chickpea flour, coriander (cilantro), cumin, green onions, salt, eggs and garlic (optional but I love adding it in).
Step 3. Combine everything in a bowl into a sticky mixture. At the same time, preheat the oven to 200 C / 395 F. You can also pan-fry the fritters, in which case you don't have to use the oven and this might be a better option for summer.
Step 4. Shape falafel patties and place them on a lightly greased baking tray lined with parchment paper. Bake for about 25 minutes or until golden brown. If pan-frying, cook for 4-5 minutes in a bit of oil on each side.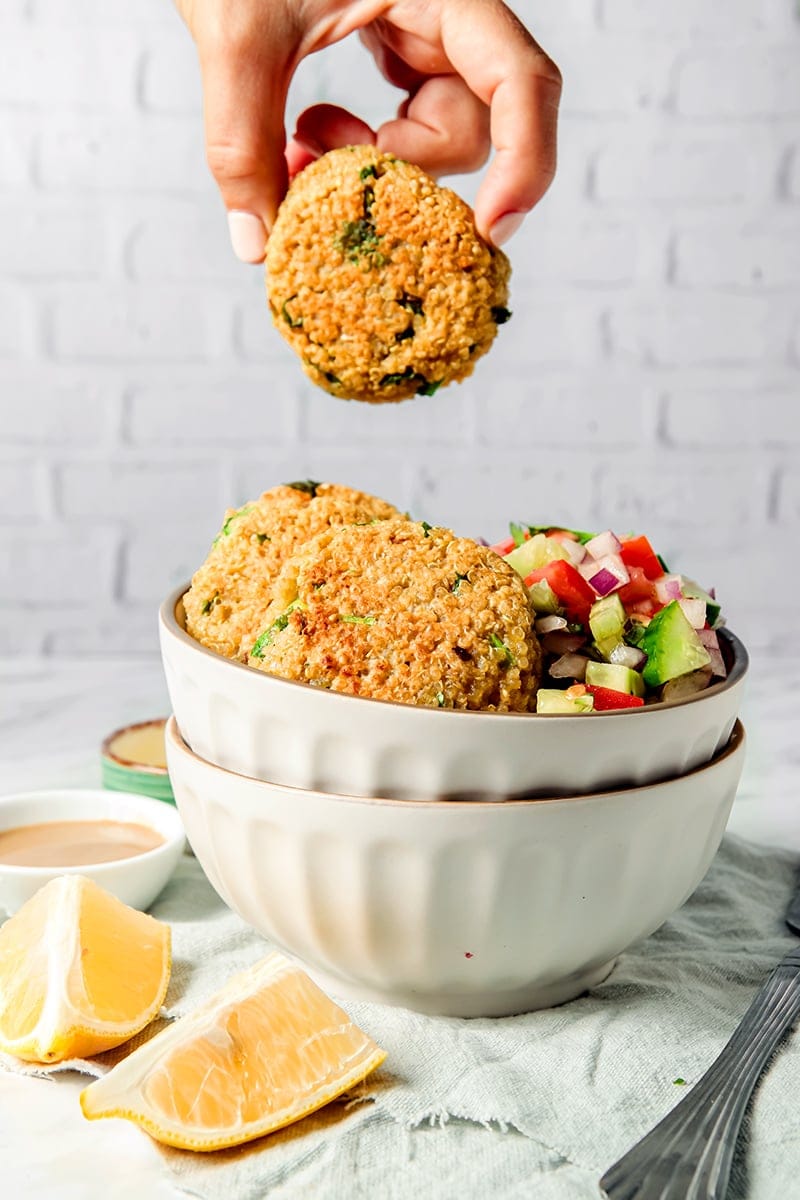 What is Israeli salad? 
Israeli salad (also known as Jerusalem salad) is a chopped salad of finely diced tomato, onion, cucumber, and sweet peppers or chilli peppers. It's a very popular dish in Israel and is often served as an accompaniment to main meals. However, it's one of those salads that is very, very similar to other well-known Middle Eastern salads like shirazi salad or Arabic salad. Variations come from additions of certain spices or herbs or the way the vegetables are cut. Regardless of the name, it's an easy yet delicious salad that goes well with our quinoa falafels. The key is to chop all vegetables into small, similar-sized cubes.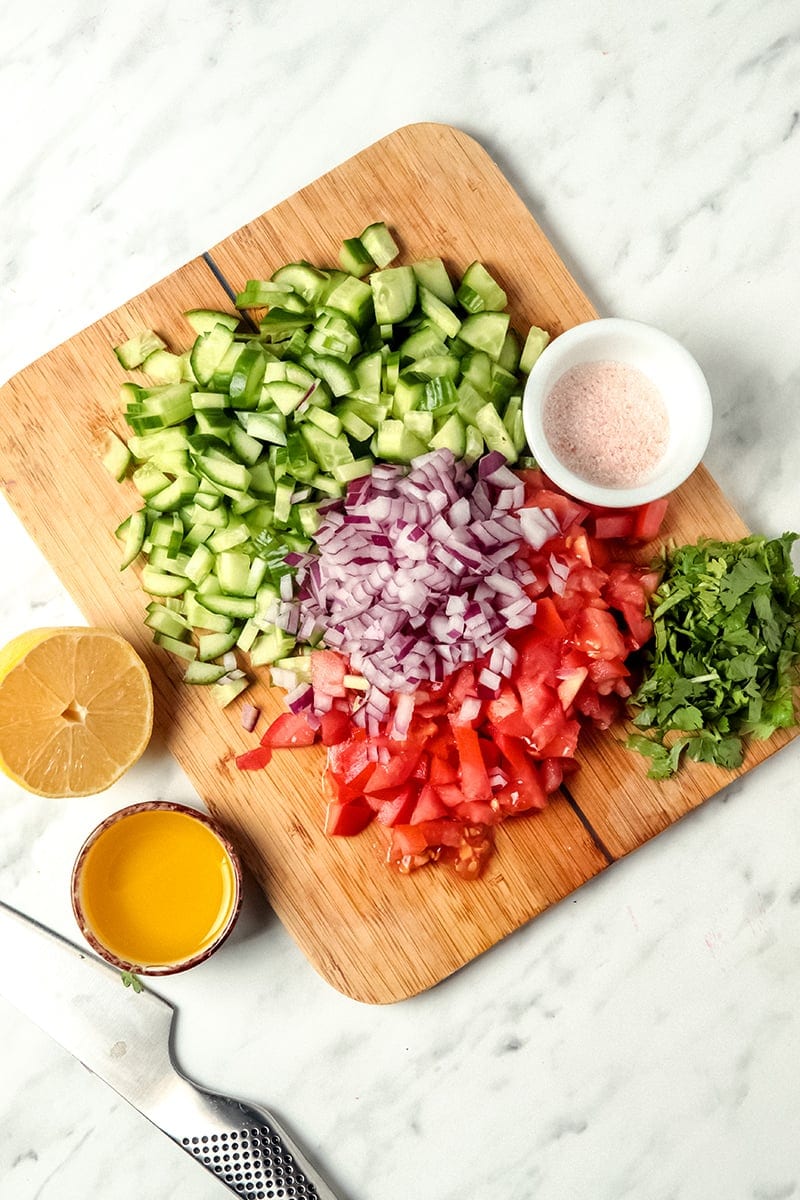 Make-ahead tips
You can make this meal ahead of time. You can prepare the falafel patties the day before and refrigerate them on a plate wrapped with some Clingwrap or covered. They will firm up in the fridge as well. Take out and bring to room temperature for 5-10 minutes before cooking. The salad can also be made ahead of time BUT don't dress it until just before serving or it will get pretty soggy. 
Baked or pan-fried falafels will keep in the refrigerator for 2-3 days and are great as leftovers for lunch or breakfast. The salad – once dressed – doesn't keep well in my opinion so make a smaller batch if needed or keep it without the dressing as mentioned earlier.
---
OTHER RECIPES YOU MIGHT LIKE
WATCH MY TOP 10 VIDEO RECIPES HERE
---
Print
---
Description
Baked or pan-fried, these gluten-free falafels with quinoa and chickpea flour are healthy and delicious. Served with zesty Israeli salad of cucumbers, tomatoes, onions and fresh herbs, this vegetarian-friendly meal is rich in protein, fibre and nutrients. Great for a healthy dinner or lunch.
---
---
Bring about 3 cups of water to a boil. Add quinoa to a medium pot and top with boiling water, stir and cook for about 15 minutes on simmering heat or until quinoa is fluffy. Strain any excess liquid and let the quinoa cool down. Then transfer to a mixing bowl.
If baking, preheat the oven to 200 C / 395 F.
Add chickpea flour, eggs, coriander, onions, garlic, cumin and salt to the cooked quinoa and combine well.
Form the patties with your hands and transfer them to a baking sheet lined with parchment paper. I greased the paper with a little olive oil first.
Bake the falafel patties for about 20-25 minutes or until they are golden brown.
You can also fry the patties in 2 tablespoons of oil, for 4-5 minutes on each side until golden.For the salad, chop the cucumbers, tomatoes, onion, coriander or/and parsley into small cubes. Place in a large bowl and toss with the olive oil, lemon juice, salt, pepper.
Taste and adjust lemon and salt to your liking.Serve falafels with the salad and any condiments you like. I love these with some tahini garlic sauce, harissa or aioli (garlic mayonnaise).
---
Notes
Chickpea flour is also known as besan flour, it's high in protein, fibre and carbohydrates but is gluten-free.  It can be replaced with gluten-free flour blend or a mix of almond meal and coconut flour for a lower carb/paleo-friendly version.
Nutrition
Serving Size:

2-3 patties with salad

Calories:

518

Sugar:

10.2 g

Sodium:

458.1 mg

Fat:

19 g

Saturated Fat:

3 g

Carbohydrates:

70.1 g

Fiber:

10 g

Protein:

20.3 g

Cholesterol:

93 mg
Keywords: Falafels, Chickpea Flour, Besan, Quinoa, Shirazi Salad, Jerusalem Salad, Gluten-Free, Healthy