This delicious and healthy Rotisserie chicken salad recipe with spinach and creamy dressing makes for a speedy lunch or light dinner with little prep and no cooking. Gluten-free, low-carb, and keto-friendly.
---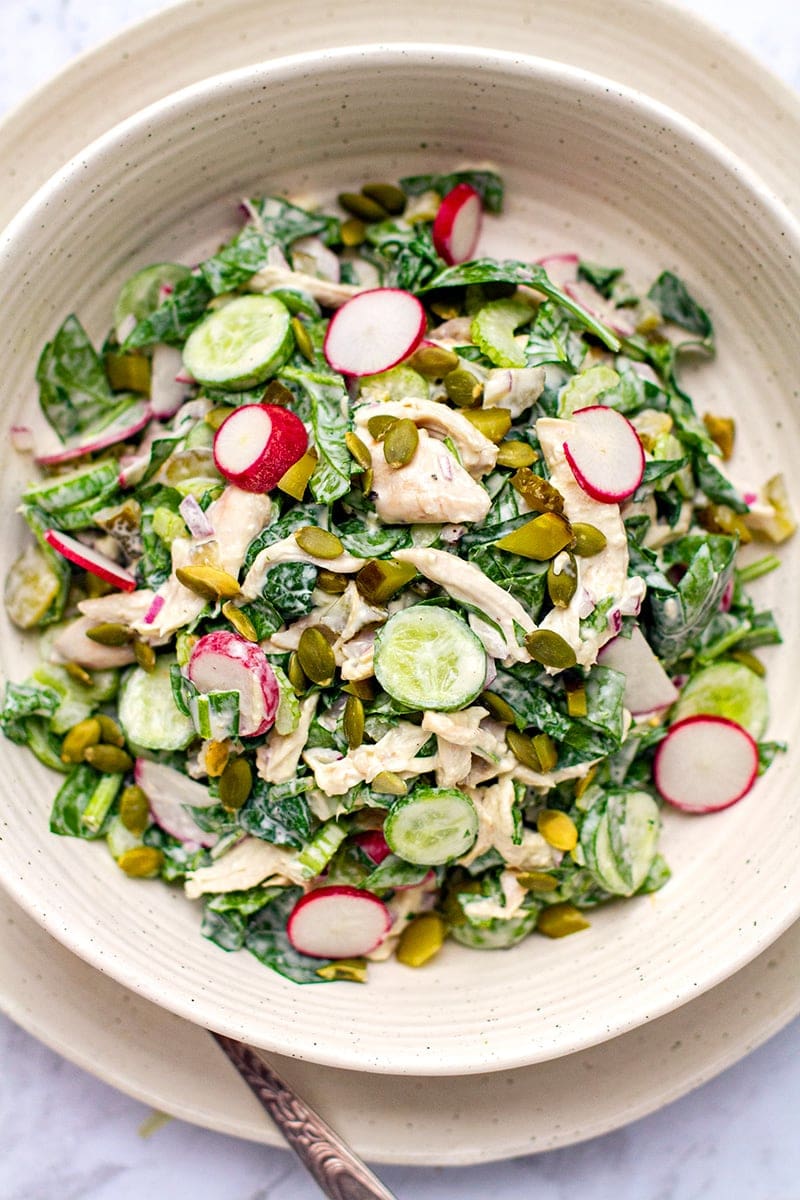 Rotisserie Chicken Salad Recipe
I love making this chicken salad with rotisserie chicken and spinach because it's nutritious and takes little time and effort, which is perfect if you're busy or too tired to cook.
I often pick up a roasted chicken (aka rotisserie chicken) from the supermarket deli or the chicken shop as part of our groceries. Having pre-cooked chicken in the fridge is super handy as you can make a variety of dishes and use the carcass to make chicken broth after. 
This one is a gluten-free and keto chicken salad featuring low-carb veggies and satiating fats but you could easily bulk it up with complex carbohydrates for a more substantial meal. Some of my favourite additions include roasted sweet potatoes, quinoa, chickpeas or brown rice. 
Ingredients For This Chicken Spinach Salad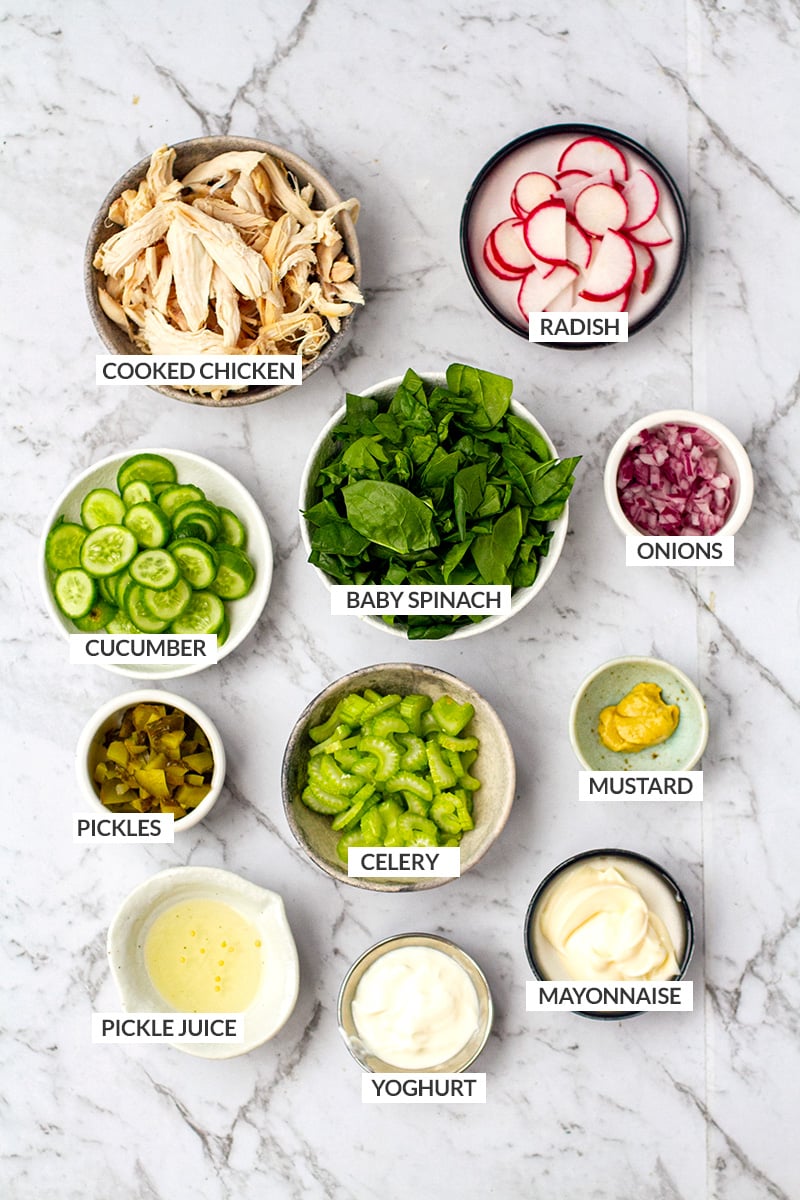 Rotisserie chicken: I like to use a combination of shredded chicken breast and thigh meat and I aim for about 120 grams or 4 ounces per serving. That should give you a decent amount of protein, which combined with the fibre of the veggies and the dressing makes this a satiating salad meal.  You can use leftover roast chicken, store-bought rotisserie chicken, or shredded baked or grilled chicken. 
Vegetables: I used mostly low-carb, high-fibre veggies here such as celery, cucumber, radish and baby spinach. I prefer to use darker leafy greens to get more nutrients in but humble iceberg or Cos lettuce will also work. 
Flavour enhancers: A little red onion for sharpness and gherkins/cucumber pickles for acidity and sweetness. Both of these are used in small amounts but they add a good punch of flavour to the salad. 
Creamy dressing: I used mayonnaise, full-fat yoghurt and Dijon mustard, plus a little salt and pepper to dress the salad. I like adding a splash of pickle juice/brine to thin out the dressing and add a little extra flavour. You can make rotisserie chicken salad with no mayo by using more yoghurt or by adding a splash of olive oil and lemon juice or white wine vinegar/apple cider vinegar. 

More Chicken Salad Recipes
Print
---
Description
This delicious and healthy rotisserie chicken salad is made with nutritious spinach and high-fibre vegetables and creamy mayonnaise and yoghurt dressing. Red onions and pickles add some fun flavors. This is a single-serve recipe but you can double or triple the ingredients for a larger batch. This chicken salad recipe is gluten-free, low-carb and keto-friendly. Omit yoghurt and increase mayo to make it paleo and Whole30 friendly.
---
---
Separate the meat from the chicken carcass and shred it into strips. You can use breast and thigh meat here. Aim for about 120 grams of meat per serving (that's about 1 chicken breast).
Chop the spinach and slice the vegetables; finely dice red onions and pickles/gherkins.
Combine all ingredients in the bowl together with the mayo, yoghurt and Dijon mustard. Add a pinch of salt and pepper. If you're not using yoghurt (which adds a little acidity and lightens up the dressing), add a splash of lemon juice or vinegar. Pickle juice also adds a little acidity.
Serve with a few pumpkin seeds or other seeds/nuts on top.
---
Nutrition
Serving Size:

Full serving

Calories:

393

Sugar:

6.8 g

Sodium:

966.3 mg

Fat:

23.6 g

Carbohydrates:

13 g

Fiber:

2.7 g

Protein:

31.7 g

Cholesterol:

93.7 mg
Keywords: Chicken, Salad, Rotisserie Chicken, Chicken Salad, Low Carb, Keto, Gluten-Free
What To Serve With Chicken Salad
This is a veggie-loaded chicken salad with leafy greens and it's fine to eat on its own, especially if you're after a low-calorie, low-carb meal. I like to top it with a few pumpkin seeds but you could also add any other nuts and seeds for both texture and extra fats/protein. 
As I mentioned above, you can serve a side of quinoa, rice, legumes or sweet potatoes (or other root vegetables) to add more carbohydrates to this meal. 
It's really delicious as a chicken salad wrap sandwich. You can use it as a ready-to-go filling and choose a low-carb wrap or bread or regular bread. As the salad is already dressed, you don't have to add any sauce but you could compliment it with a little cheese.  
How Long Is Chicken Salad Good For?
In general, the traditional American chicken salad made with fewer vegetables and with mayonnaise-based dressing is good for 2-3 days in the fridge.
If this rotisserie chicken salad is dressed, it should keep in the fridge for about a day before the veggies start to get soggy. You can extend its life by storing the salad and the dressing separately. In this case, 2-3 days in the fridge should be fine.
Mind you, this is a recipe for a single serving so if you doing some meal prep, double or triple the ingredients to make a larger batch of the salad.
Can You Freeze Chicken Salad?
This particular chicken salad is not suitable for freezing. You can separate the rotisserie chicken meat into portions and freeze those in airtight containers or ziplock bags. Defrost one or two whenever you need and make the veggies and the dressing fresh. 
Cooking tip: If the chicken salad contains mayonnaise, it's not suitable for freezing. The ingredients in the mayonnaise (emulsified oils and liquid) don't freeze well and can separate upon thawing. If the salad contains hard-boiled eggs, it shouldn't be frozen as the texture of the whites gets a bit gross in my opinion. Salad leaves and other watery vegetables don't freeze well either and should be left out of the salad.
You could toss the chicken with things like corn, grapes, peas, carrots, sweet potatoes, broccoli, quinoa, brown rice and those should be fine to freeze together. You can add fresh watery veggies, leafy greens and the dressing once the salad has been defrosted.  
When thawing a chicken salad, you will want to take it directly from the freezer to the fridge and leave it overnight. Don't try to speed up the process by leaving it out at room temperature or putting it in the microwave. You'll also want to check that the salad is completely dethawed before you start eating it.