This website may contain affiliate links and advertising so that we can provide recipes to you. Read my privacy policy.
This amazing slow cooker cashew chicken is way better than takeout! The chicken is breaded to perfection, the sauce is full of flavor and the cashews hidden throughout are the best part!
Make this a restaurant-worthy meal with these sides. My tried and true favorites will make it yummy, Wontons, Egg Rolls, and of course, Rice.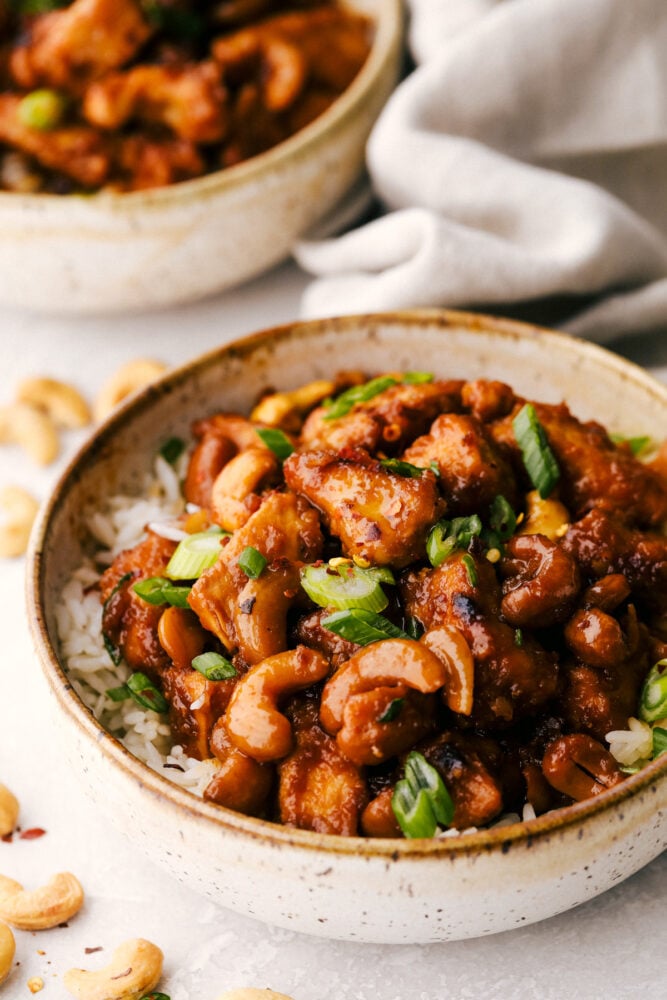 Slow Cooker Cashew Chicken Recipe
My love for cashews runs deep. One time I bought a big thing of cashews from Costco and ate the entire thing by myself. Cashews are amazing. And when added to this amazing Chinese slow cooker meal. Mind blown. If you haven't ever tried coating and browning the chicken before adding it to the slow cooker. It is a must, it makes a HUGE difference in taste and texture. It will take your Cashew Chicken to the next level. Instead of the sauce being thin, it thickens it up while it cooks and soaks the delicious marinade into the breading. As soon as it was done, I couldn't believe that something that delicious was just made in the crockpot.
Slow Cooker Cashew Chicken has to be seriously one of the best slow cooker meals that I have ever had! The cashews add so much amazingness to this meal and it was uh-mazing! Like I couldn't stop eating it amazing. This is one meal that you aren't going to want to pass up! I know that your family is going to love it as much as we did!
Ingredients For Cashew Chicken
Super simple ingredients that come together to make a divine dish.
Chicken breasts boneless skinless: About 4 pieces, cut into 1-inch pieces
Cornstarch: Coats the chicken to create the crust when pan-cooked.
Black pepper: Flavor booster.
Canola oil: This is a great choice to cook the chicken in.
Soy sauce low sodium: You can use regular if you want to.
Rice wine vinegar: Mild flavor that still has the tang.
Ketchup: Sweet and savory, perfect for the sauce.
Sweet chili sauce: Adds a touch of heat.
Brown sugar: Adds sweetness and caramelization.
Garlic cloves: Mince your garlic
Grated fresh ginger: Packs a punch of flavor and heat you will love.
Red pepper flakes: More heat.
Cashews: The nut of choice.
How to Make Cashew Chicken in the Slow Cooker
The slow cooker makes this so easy and so delicious. The extra step of browning the chicken is divine.
Prep the Chicken:Combine cornstarch and pepper in resealable food storage bag. Add chicken. Shake to coat with cornstarch mixture.
Brown: Heat oil in skillet over medium-high heat. Brown chicken about 2 minutes on each side. Place chicken in slow cooker.
Sauce: Combine soy sauce, vinegar, ketchup, sweet chili sauce sugar, garlic, ginger, pepper flakes, and cashews in small bowl; pour over chicken. (I like my cashews to be softer so I add them during the cooking process, if you want more of a crunch, add them right before serving)
Slow Cook: Cook on LOW for 3 to 4 hours.
Enjoy: Serve over rice. Makes 4-6 servings.
Other Ways to Cook Cashew Chicken
No Slow Cooker, No Problem: This can easily be made in a large skillet on the stovetop. After you saute the chicken add the sauce to your large skillet, let it simmer for 20-30 minutes covered. If you need to thicken the sauce more, make a cornstarch slurry of 1Tablespoon cornstarch and 2 Tablespoons cold water, mix and then stir into the sauce and bring to a gentle boil. Serve as desired.
Instant Pot: Sauté the chicken in the instant pot, once cooked remove and add the sauce. If you are getting a burn notice add half a cup of chicken broth. Pour on the sauce and manually cook for 20 minutes.
Tips and Variations for The Best Cashew Chicken
The fact that you can make this luscious of a meal in the slow cooker is insane. It seriously tastes like take out, only better!
Chicken: You can use chicken breasts or chicken thighs. If you do not like chicken, pork or beef are also good choices. Shrimp is not recommended as it does not do well in the slow cooker.
Breading and Frying: It takes an extra step and a few extra minutes, but it is totally worth it. Please try to work this step into your plans. You can thank me later!
Vegetables: Add some vegetables to round out the dish. Broccoli, zucchini, bok choy, snap peas, celery, mushrooms, edamame, and green pepper all make great choices. Add to the crockpot the last 30 minutes of cooking.
Cashews: I do not recommend using salted cashews as they will cause the dish to be too salty. If that is all you have, you can rinse them off and sauté them dry before adding them to the crockpot.
Serve: We love this dish on rice, but you can use brown rice, cauliflower rice, zoodles, ramen noodles, or quinoa.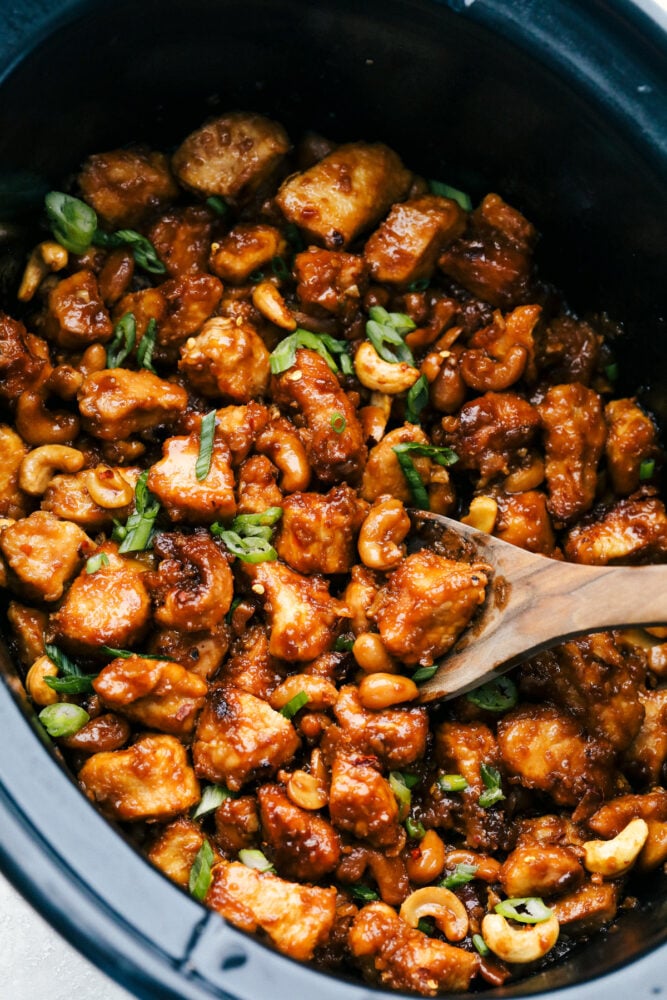 Storing Your Cashew Chicken
This dish tastes even better the second day.
Fridge: Keep in tightly sealed in the fridge for up to 5 days.
Freeze: Place the cooled cashew chicken in a freezer-safe bag or container that is air-tight and freeze for up to 3 months. When ready to use thaw in the fridge overnight. Heat in the crockpot for 1-2 hours or on the stovetop till warm and bubbly.
Make-Ahead Freezer Meal: Make a double batch of this insanely delicious meal and freeze one batch for later use. For the freezer meal, skip dredging the chicken as it will make it a bit messy. Add everything to a freezer-safe bag except the cashews. Press all the air out of the bag and freeze for up to 3 months. Thaw in the fridge overnight, add to the crockpot, and cook as directed by the recipe. Add the cashews and enjoy!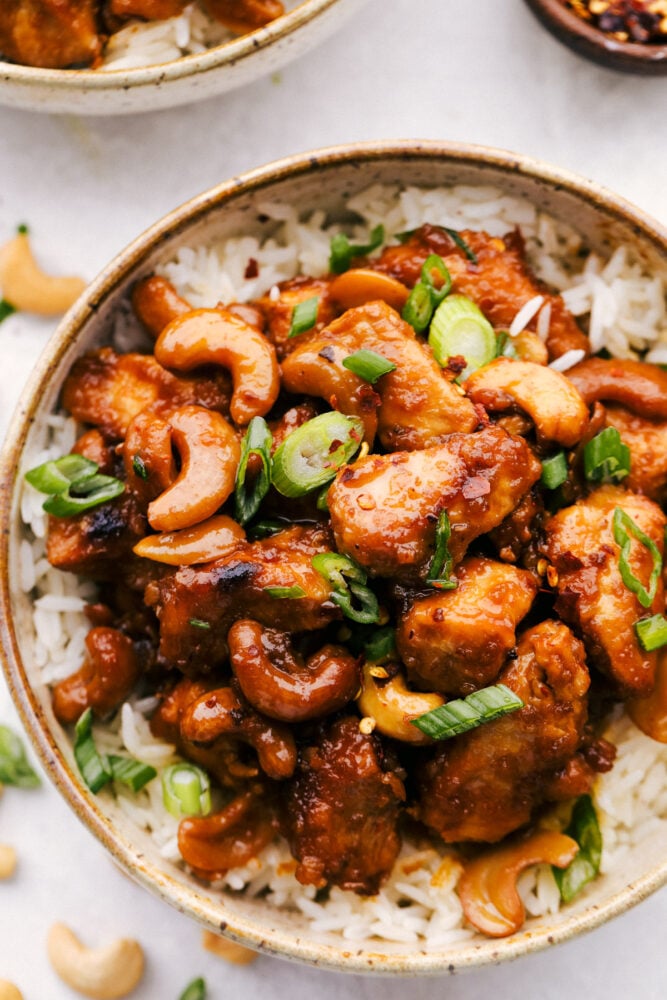 Save