This website may contain affiliate links and advertising so that we can provide recipes to you. Read my privacy policy.
Slow Cooker Chicken Pot Pie is creamy, hearty and addictively delicious. It's packed with tender chicken, crisp veggies, a sauce that will leave you coming back or more, and buttery store-bought biscuits. Perfect for cold and busy winter weeknights!
The slow cooker does ALL of the work in this Slow Cooker Chicken Pot Pie, so it's perfect for families on busy nights. If you're looking for more slow cooker recipes, check out Slow Cooker Thai Peanut Chicken, this Slow Cooker Honey Lime Chicken Tacos, Slow Cooker Pumpkin Chili, and this Slow Cooker Swedish Meatballs.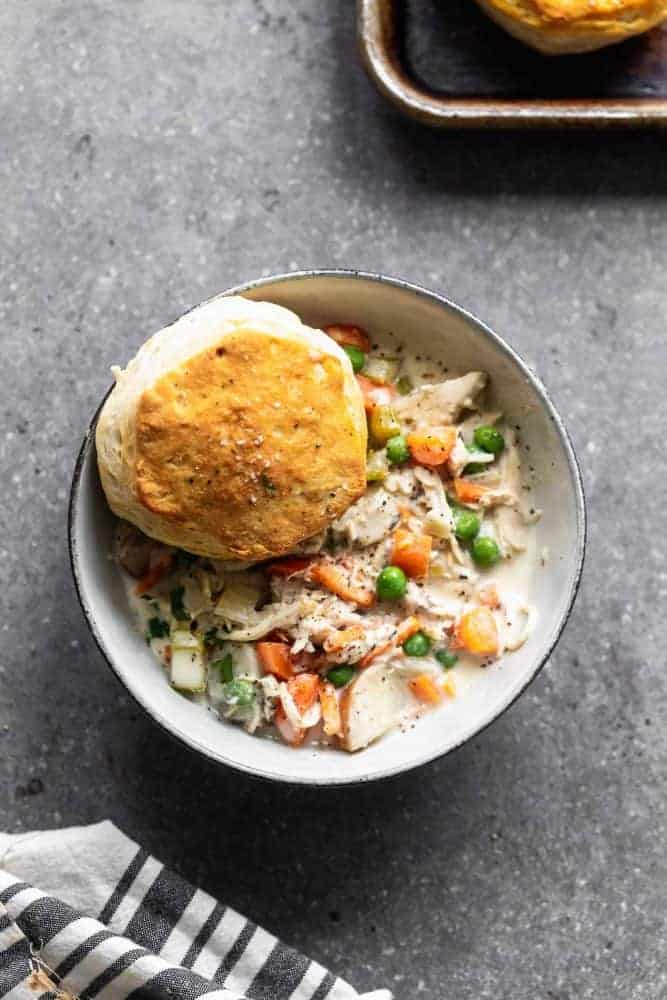 Slow Cooker Chicken Pot Pie
Ok, so it's winter. It's cold. We're just itching for spring to arrive. And we're still craving comfort food something fierce. I am at least.
Chicken pot pie is one of my go-to comforting meals in these brutal winter months, but it's not always something I want whip up on a busy weeknight, since it's not exactly the quickest meal.
Enter: Slow Cooker Chicken Pot Pie. By letting your slow cooker do all the work, you get all of the dreamy, comforting benefits of a classic, by barely lifting a finger.
Garlic, bay, chicken stock, and plenty of thyme give the filling maximum flavor, while crisp carrots and celery give the filling loads of texture. Use the flaky buttermilk biscuit to soak up all the creamy goodness at the bottom of each bowl!
How to Make Slow Cooker Chicken Pot Pie?
Prepare vegetables and seasonings: Add chopped carrots, celery, red potatoes, onion, garlic, dried thyme, salt and chicken stock to the slow cooker.
Cook the chicken breasts: Layer chicken breasts on top and let the mixture cook for four hours.
Shred chicken: Using a fork or beaters shred your chicken in the crock pot.
Whisk together: heavy cream, melted butter, and flour in a small bowl. Add the mixture along with the shredded chicken back to the slow cooker.
Cook in the slow cooker: Cook another 45 minutes to an hour or until the filling has thickened.
Bake the biscuits: While the chicken pot pie filling thickens, bake the biscuits in the oven.
Serve: Spoon the filling into bowls and top with flaky biscuits.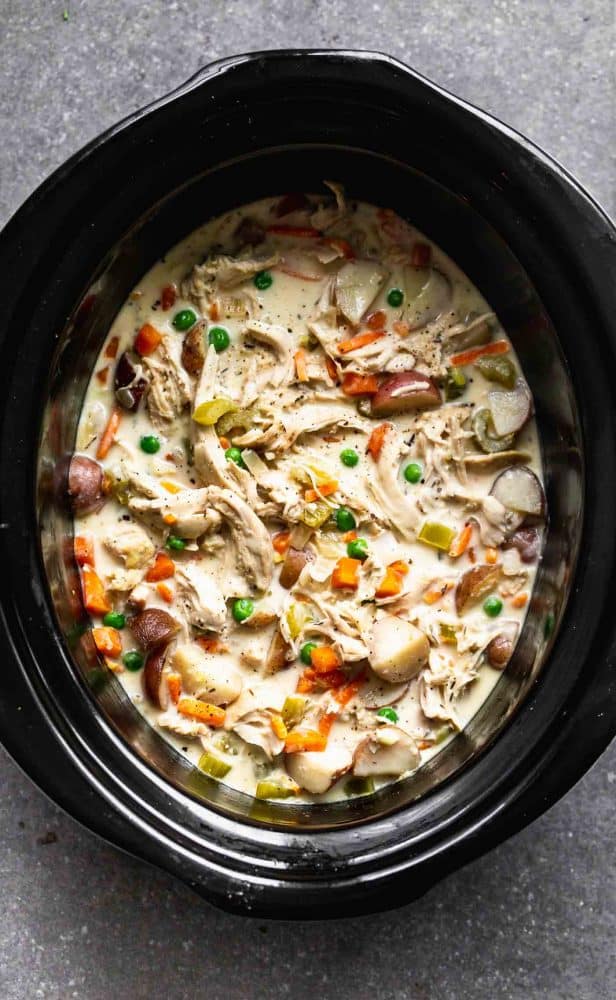 Can I use chicken thighs in place of breasts in this recipe?
Absolutely! Use whatever cut of chicken you prefer, just make sure they are both boneless and skinless, as this can alter the amount of liquid/fat in the finished product.
Can I use milk or half and half instead of cream?
I would not sub out the cream for anything else. It really gives it that luxurious mouthfeel you'd miss without it.
Can I add different vegetables??
Yes! Add whatever veggies you'd like, just make sure they have all have a similar cook time. You don't want to end up with mushy vegetables.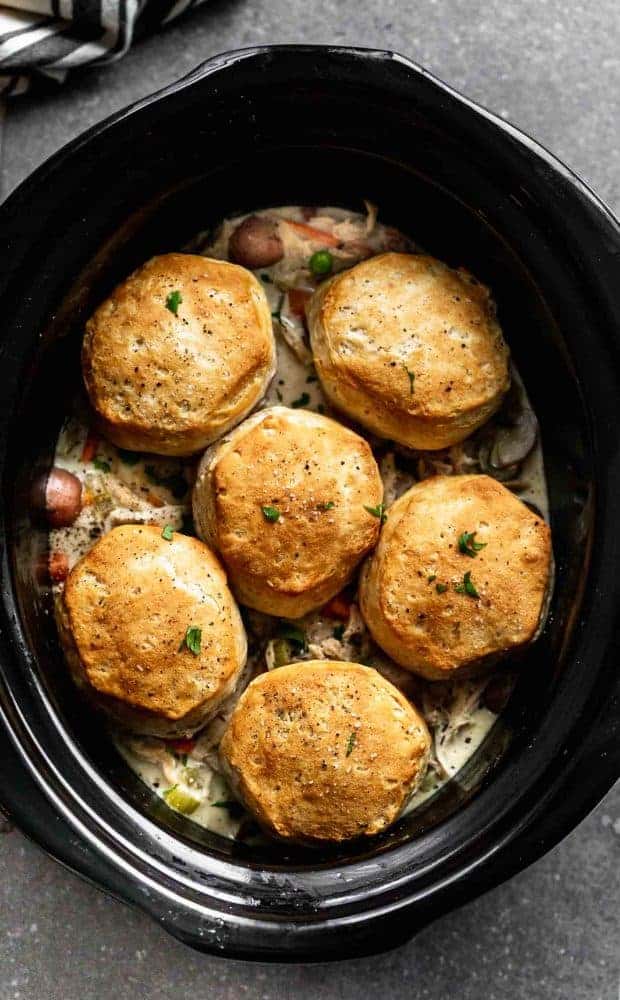 What sides can I make with Slow Cooker Chicken Pot Pie?