Amazingly creamy, saucy chickpea curry served over rice with a dollop of chili crisp and a side of cucumber salad. Ready in 20 minutes!
This is a brand new recipe that's part of our Spring 2023 SOS Series – in other words, EASY recipes! View our full collection of SOS recipes here.
---
What's In This Post
---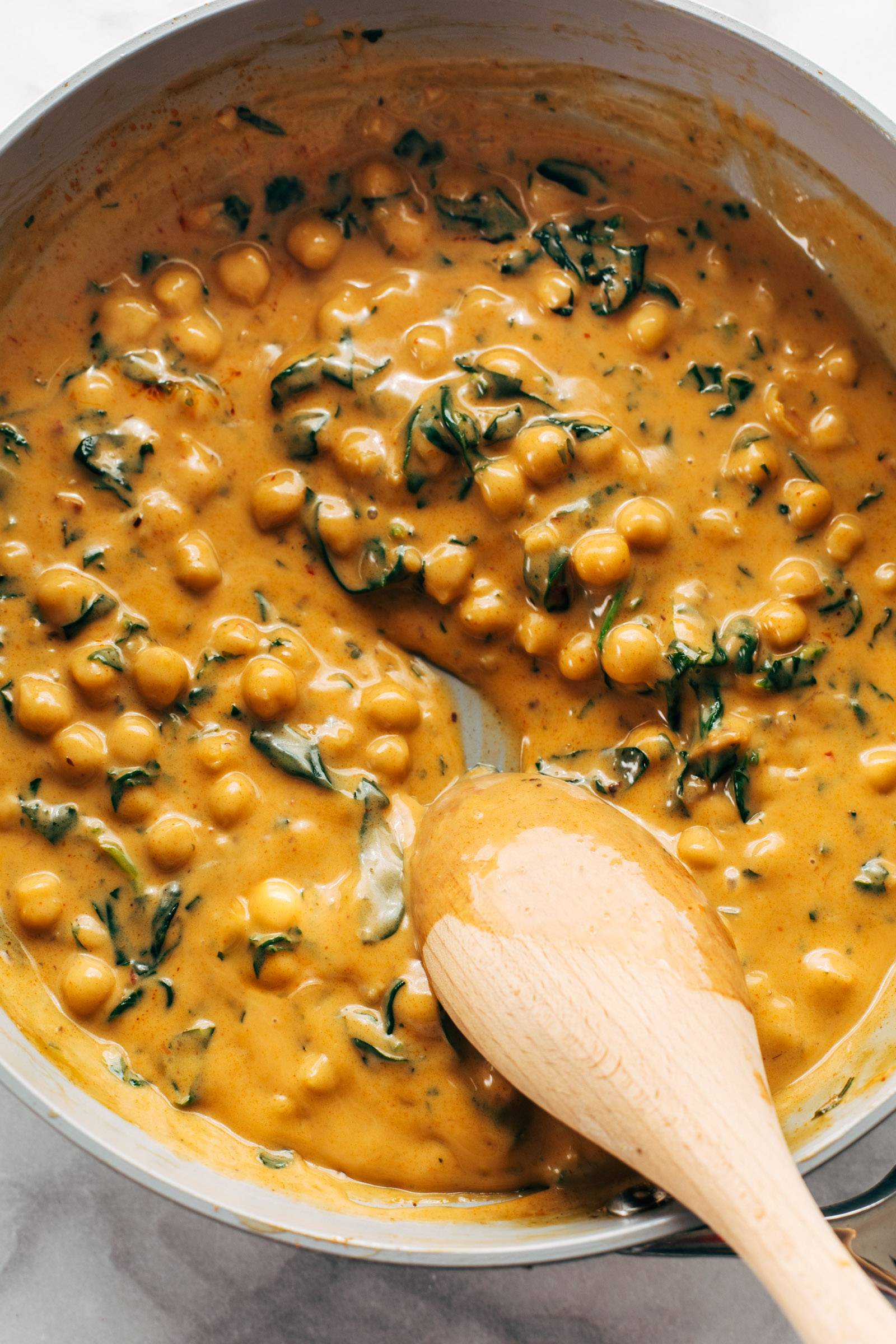 ---
Lindsay's Notes
How it happened is that I asked my sister Steph what she's been making for dinner lately, and she said, "I make that salmon recipe but I just use a can of chickpeas instead to keep it easy." And now, if you ask me what I'm making for dinner lately, I'm going to say the exact same thing because okay wow that is very delicious and it only takes ten minutes.
STEPH FOR PRESIDENT!
This chickpea curry is, well, it's everything. It's cozy, it's pantry-friendly, and maybe even a little elegant? *hair toss* even though it's super super easy? It's comforting without being heavy, nutritious without being boring, and beautiful without being high maintenance.
I came into this realization too late to include it in the photos here, but serving this with a little side of pickled cucumber salad (sliced cucumbers, sliced red onion, white vinegar, olive oil, salt, and sugar) is *chef's kiss* SOS perfection.
With or without the cucumber salad, I can definitely say that swooping the wooden spoon leisurely through that luscious sauce, piling the saucy goodness of chickpeas and spinach over steaming rice, and then drizzling the chili crisp over the whole thing… it's definitely a living-my-best-life type moment.
---
Chickpea Curry Video
---
Print
Description
Amazingly creamy, saucy chickpea curry served over rice with a dollop of chili crisp and a side of cucumber salad. Ready in 20 minutes!
---
---
Cook rice according to package directions.
Heat the olive oil over medium heat. Add the garlic and curry paste; sauté until softened and fragrant, about 1-2 minutes.
Add the brown sugar, coconut milk, and soy sauce. Bring to a low simmer until thickened slightly.
Add chickpeas and spinach; cook until chickpeas are heated through and spinach is wilted. Mash the chickpeas ever so slightly with the back of a wooden spoon if you want to change up the texture and make it more creamy.
Taste and adjust to your liking – we often add a squeeze of lime or some extra ginger or lemongrass, but it's really not necessary. The flavor is totally there even with the most basic ingredient list. Serve over rice with a dollop of chili crisp and a side of pickled cucumber salad if you want (and I promise you do want this – see notes). 
Notes
For the pickled cucumber salad, thinly slice 3 small cucumbers and a small chunk of red onion on a mandoline. Toss sliced cucumbers and red onion with 1 tablespoon white vinegar, 2 tablespoons avocado oil, and 1/2 teaspoon salt and 1/2 teaspoon sugar. Let them hang out for 20-30 minutes (more if you have time) and just serve with the curry! So good. My kids love these, too!
1 1/2 cups of rice will give you a bit more than you technically need – it's 4 hearty portions or 6 regular portions. We always use this amount, though, because my girls often want to eat the rice plain, and I'd rather have a bit of extra rice instead of not enough rice!
If your sauce is too runny, this is likely because of the brand of coconut milk. Typically when I use Asian brands of coconut milk (Aroy D or Chaokoh) I do not have this issue, and the sauce consistently turns out thick and luscious and creamy, almost like a gravy. If you find yourself with a runny sauce, just whisk one tablespoon of cornstarch into one tablespoon of cold water and add it to the bubbling sauce in the pan. Within a minute or two of gentle heat, you'll see it start to thicken up. Works like a charm.
Prep Time:

5 minutes

Cook Time:

15 minutes

Category:

Dinner

Method:

Saute

Cuisine:

Asian-Inspired
Keywords: chickpea curry, curry recipe, vegetarian curry
Recipe Card powered by
Chickpea Curry: Frequently Asked Questions
What is the best kind of coconut milk to use?
The texture of the sauce will vary a bit depending on brand. I like Aroy-D or Chaokoh canned coconut milk (full fat). If you use a coconut milk that is more on the runny side and the sauce isn't thick enough for you, you can add the cornstarch slurry as directed in the recipe notes.
Can you use light coconut milk?
Personally I prefer full-fat coconut milk for this (and most) recipes. If you do use light coconut milk, it will probably need a bit of thickener such as the cornstarch to get it creamy and saucy as pictured.
Can you use a different protein besides the chickpeas?
Yes, absolutely. I love this with just about everything – tofu, chicken, shrimp, salmon, etc. It is a magical sauce that makes everything taste amazing.
How could I add more vegetables to this?
I have added sliced bell peppers to the sauce, sautéing them first so they are nice and soft. This sauce also goes well with broccoli.
I also love serving this with a little pickled cucumber salad – instructions for that are in the recipe notes.
How do the leftovers keep?
This recipe makes for awesome leftovers. I especially like this for leftovers because the chickpeas do better in the fridge for longer than chicken or shrimp. This works great to make ahead and keep in the fridge for a week's worth of lunches! Store it separately from the rice, or just side-by-side in individual containers.
If you can, you may want to hold off on adding the spinach until just before serving – it's not necessary, but it would ensure that you don't encounter any mushy or slimy spinach in your leftovers.
Can I make this vegan?
Yes (if you use soy sauce)! That said, all curry pastes are different in what ingredients they use (and some do have fish products in them, like fish sauce or shrimp paste), so just be sure to check your curry paste to make sure that it is vegan.
Can I make this gluten-free?
To make this gluten free, just skip the soy sauce and double-check that the curry paste is gluten-free! (Use fish sauce or coconut aminos in place of the fish sauce.)
---
If You Like This, You Should Try: