For all the carb-conscious eaters who love celery, here are some great ideas for Tasty Carb-Conscious Snacks with Celery!
Click here to PIN Tasty Carb-Conscious Snacks with Celery!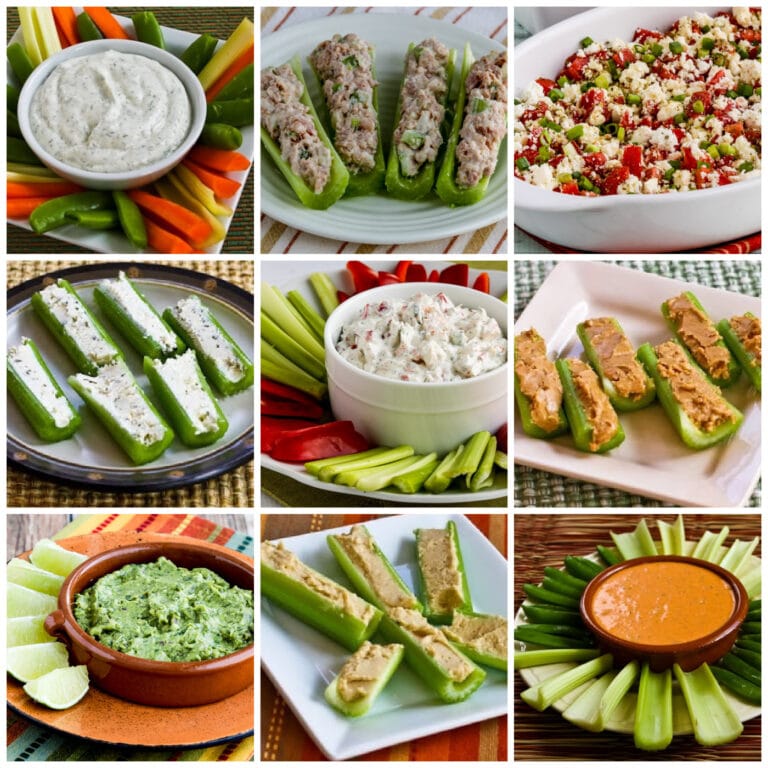 It's been years now since I started on my personal journey into carb-conscious eating, but I still remember how I looked forward to the snacks during those early days. And now I'm still someone who often can't get through the day without a snack!
And I love celery snacks, since celery is so diet-friendly and also such a great vehicle for delivering other flavors to your mouth. And I bet I'm not the only person who loves to find good celery snack ideas, so I thought I'd share this assortment Tasty Carb-Conscious Snacks with Celery! There are enough ideas here to satisfy you any time you need a snack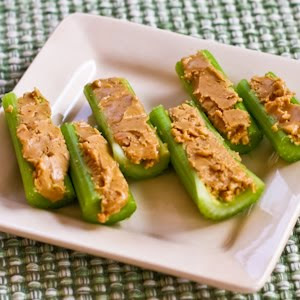 Let's start with celery stuffed with peanut butter, definitely something I'd enjoy as a snack. If you're eating peanut butter on any type of carb-conscious eating plan, it needs to be a natural peanut butter, without added sugar. Adams 100% Natural Peanut Butter (affiliate link) is my favorite brand. Peanut butter is a calorie-dense food, so limit the serving size if you're trying to limit calories. These are short little pieces of celery, but this is enough of a snack to satisfy me when I need something to munch on.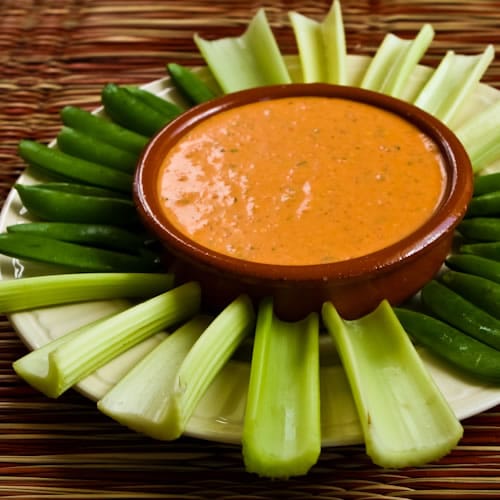 Roasted Red Pepper Dip with Feta is perfect for a snack or a party appetizer, and when it's served with celery it's a tasty low-carb treat.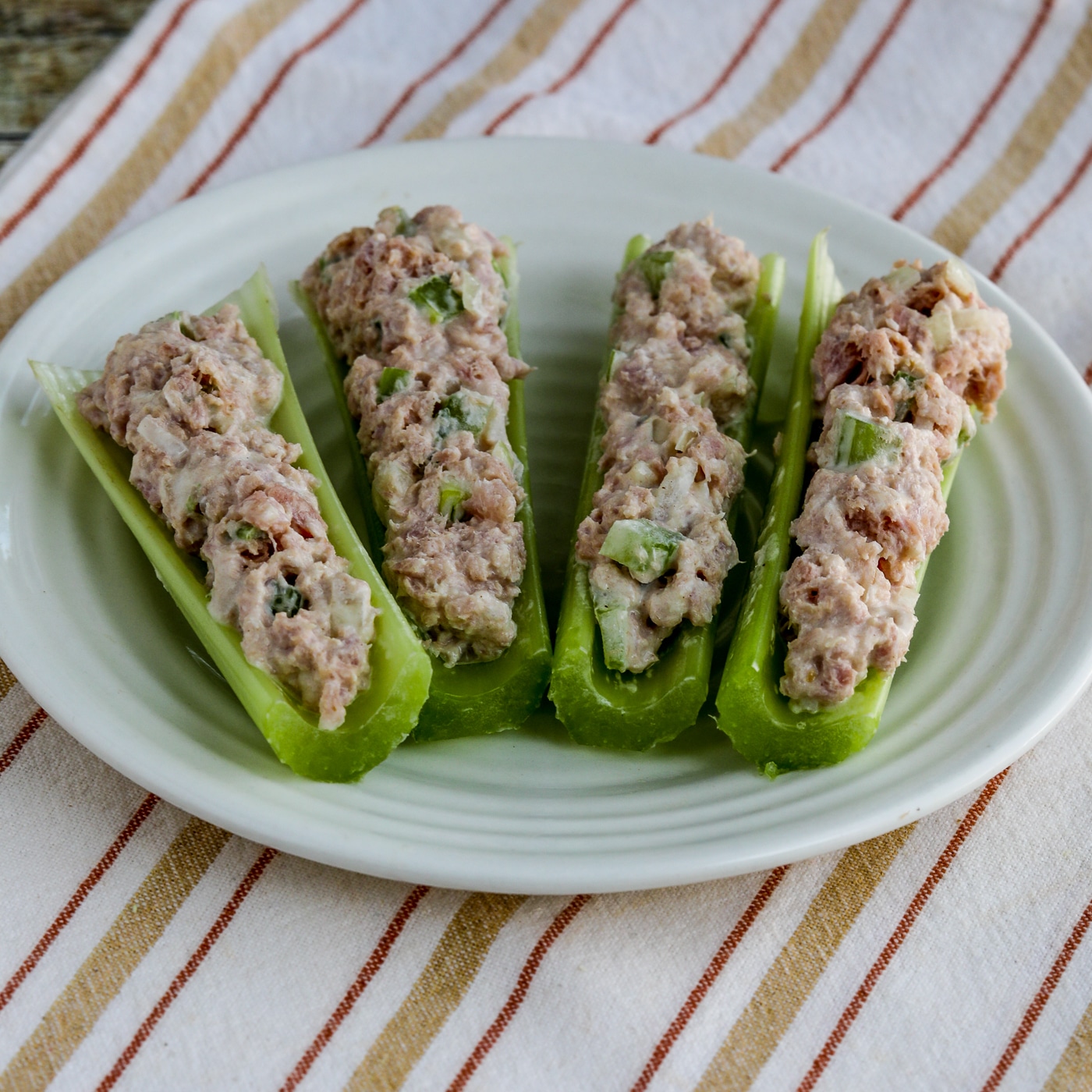 One of my favorite things to keep in the fridge for a snack is Deviled Ham Spread! I make it whenever I have leftover ham, and sometimes buy ham just to make it. And Deviled Ham Spread stuffed into celery is a tasty treat!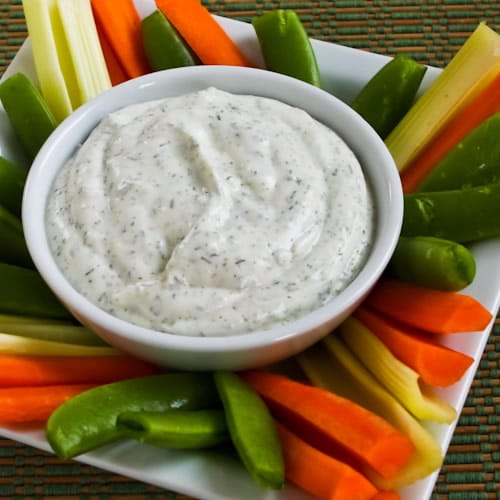 Grandma Denny's Homemade Ranch Dipis a huge favorite in my family, and this is delicious to eat with celery!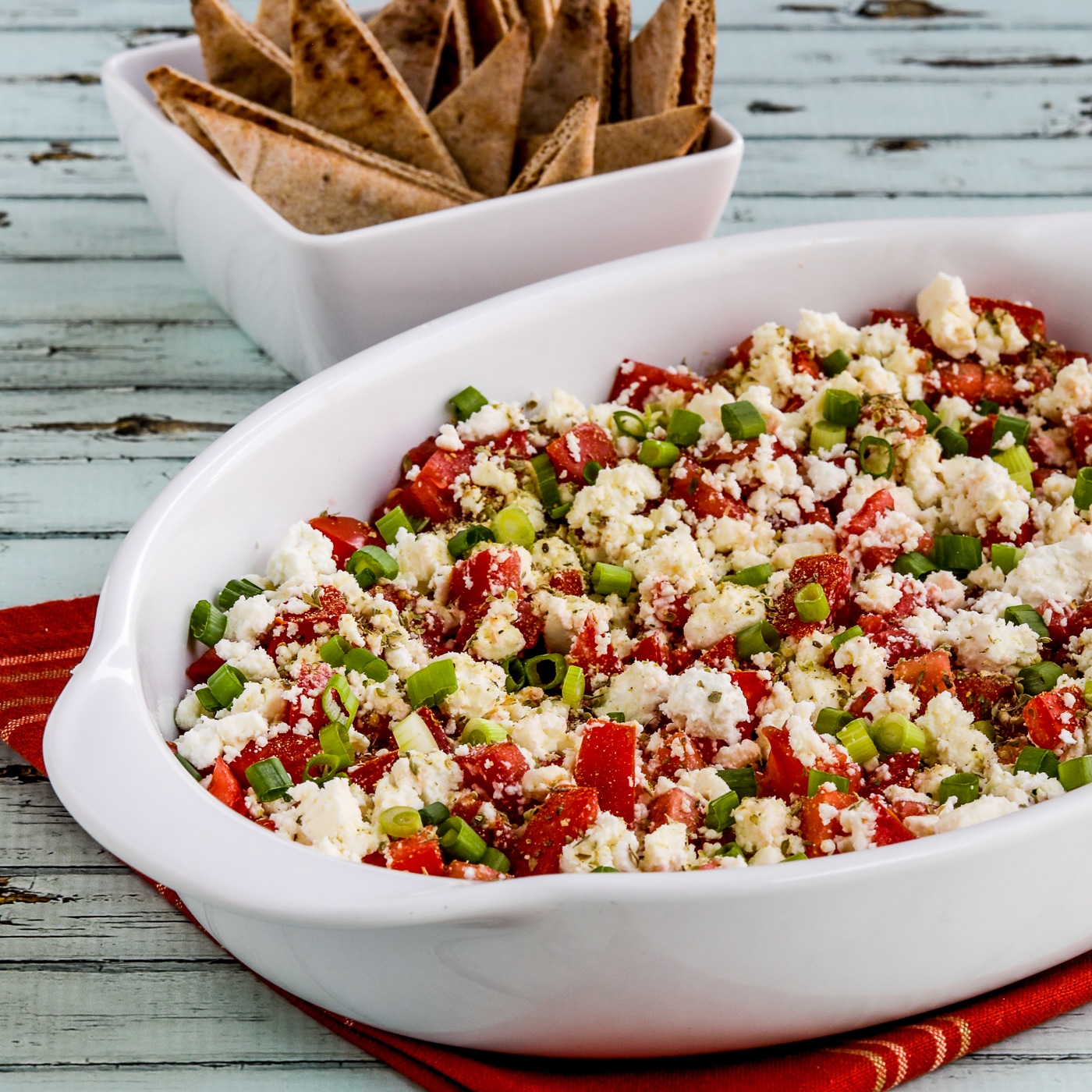 Greek Dip with Tomatoes and Feta is delicious with the Low-Carb Pita Bread that's shown in this photo. But if I wanted even fewer carbs that day, I would gladly scoop this up with pieces of celery!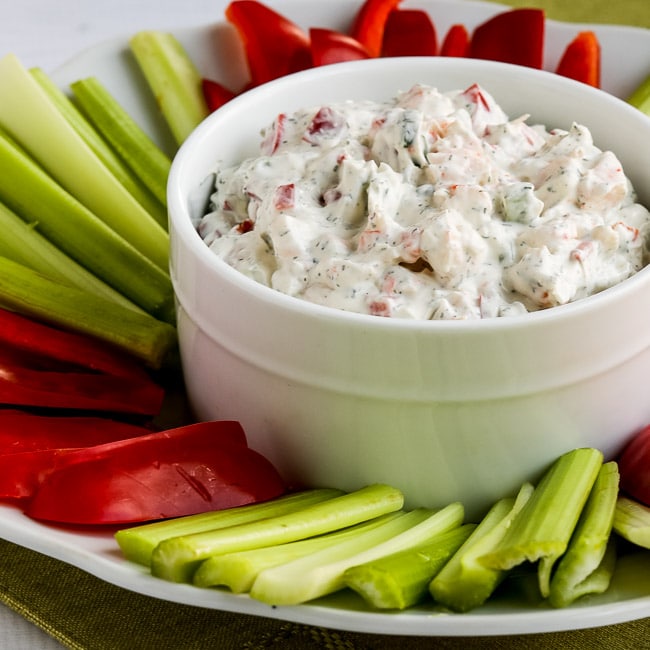 Sheila's Low-Carb Shrimp Dip is something I love to make for a party, but I also make this to keep in the fridge for a snack. And I love to scoop this up with celery!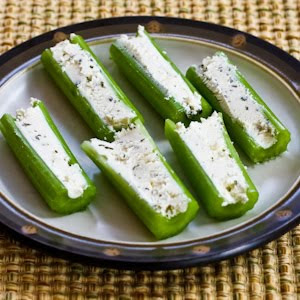 Spreadable garlic and herb cheese is something else I absolutely love stuffed into celery. There are many brands of this type of cheese available in supermarkets or specialty food stores, or search Garlic and Herb Cheese Spread (affiliate link) on Amazon.com and you'll find lots of options! Spreadable cheese like this is a great choice for low-carb diets, and it tastes great with celery!
This Perfect Guacamole is something I absolutely love, but I also like buying those little individual guacamoles that help with portion control. And whether you make guacamole or buy it already made, this is definitely something I'd love to eat with celery.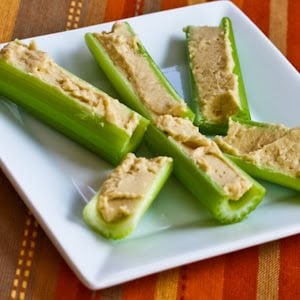 Hummus is something I eat in moderation, and I love to stuff it inside celery, or just eat with the celery as a dipper. I often buy the individual Kirkland Hummus at Costco for portion control. And hummus is easy enough to make from scratch and there are also recipes for low-carb hummus if you prefer that. Hummus does have some carbs, so watch the portion size if you're limiting carbs. I usually limit hummus to about 1/3 cup serving per day which is about 6 net carbs, so keep that in mind when you're eating hummus as a snack.
We are a participant in the Amazon Services LLC Associates Program, an affiliate advertising program designed to provide a means for us to earn fees by linking to Amazon.com and affiliated sites. As an Amazon Associate, I earn from qualifying purchases.